The fireworks over central London on 31 December 2013 looked very impressive on TV, but I knew that I wanted to see them first-hand on 31 December 2014…
I also knew that I didn't want to spend New Year's Eve stuck in crowds for hours on end, so decided to hook up with a couple of good exploring buddies and try our luck with getting on a rooftop for a more exclusive and loftier vantage point!
Our Explores
James and I got the train down from Norwich, and thanks to some eminently quaffable cava and prosecco we were more than merry by the time we decanted ourselves at London Liverpool St and met up with Dan of MrDan Explores…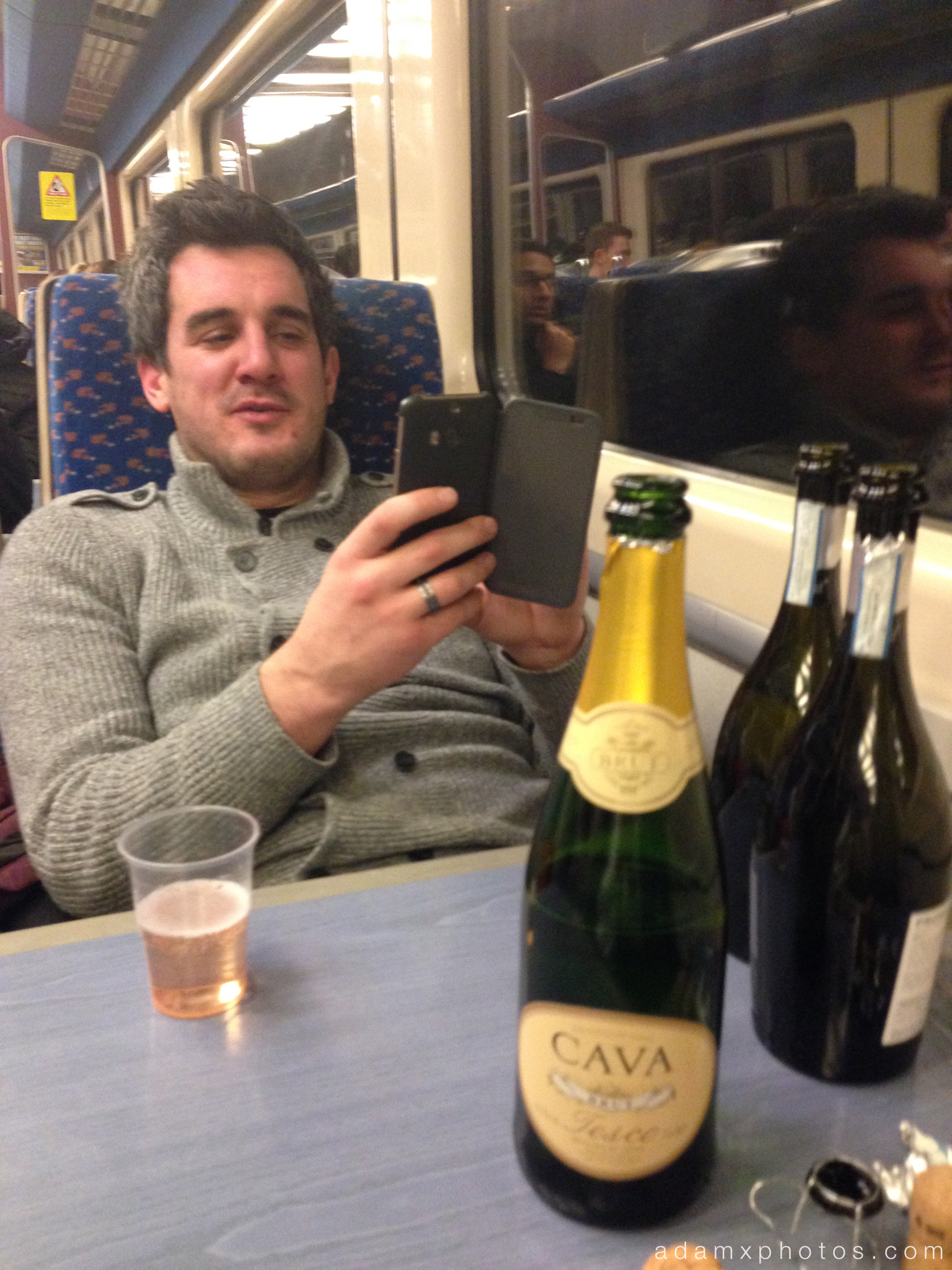 Yes, that is THREE bottles of cava between the two of us for the 2-hour train journey… it's important to pace oneself I feel…

…on the Underground, drinking more booze out of pink plastic cups… such pros!
Our plan was to try and get onto the roof of a hotel on the South Bank that Dan and quite a few other explorers had cracked in the previous months. Unfortunately NYE 2014 was the first in which a strict ticket-only policy had been imposed for some of the most desirable sections of central London. Our target hotel was stuck behind a cordon of police and security guards, with only wristband-wearing guests allowed through. We did our level best to blag our way past – James was allowed through to the hotel reception to discuss our mysteriously "lost" (i.e. non-existent) booking, but after 30 minutes of sweet talk getting us nowhere and midnight rapidly approaching we had to admit defeat and had to come up with an alternative plan.
Rooftop THM
With the streets packed, and the booze still flowing, our progress was slow and our options limited. We decided to try our luck at Rooftop THM, which I had explored but had an extremely narrow escape from security a few months earlier. Luckily we were successful, and by around 1130pm we had made it onto the roof, which we then had to ourselves for the next 80 minutes or so as we saw in the New Year with yet more bubbly!
Unfortunately we were quite a long way away from the main fireworks display by the London Eye and Houses of Parliament, but it was still a pretty good view…
As always, click on a photo to VIEW LARGE – these shots really do look a lot better large!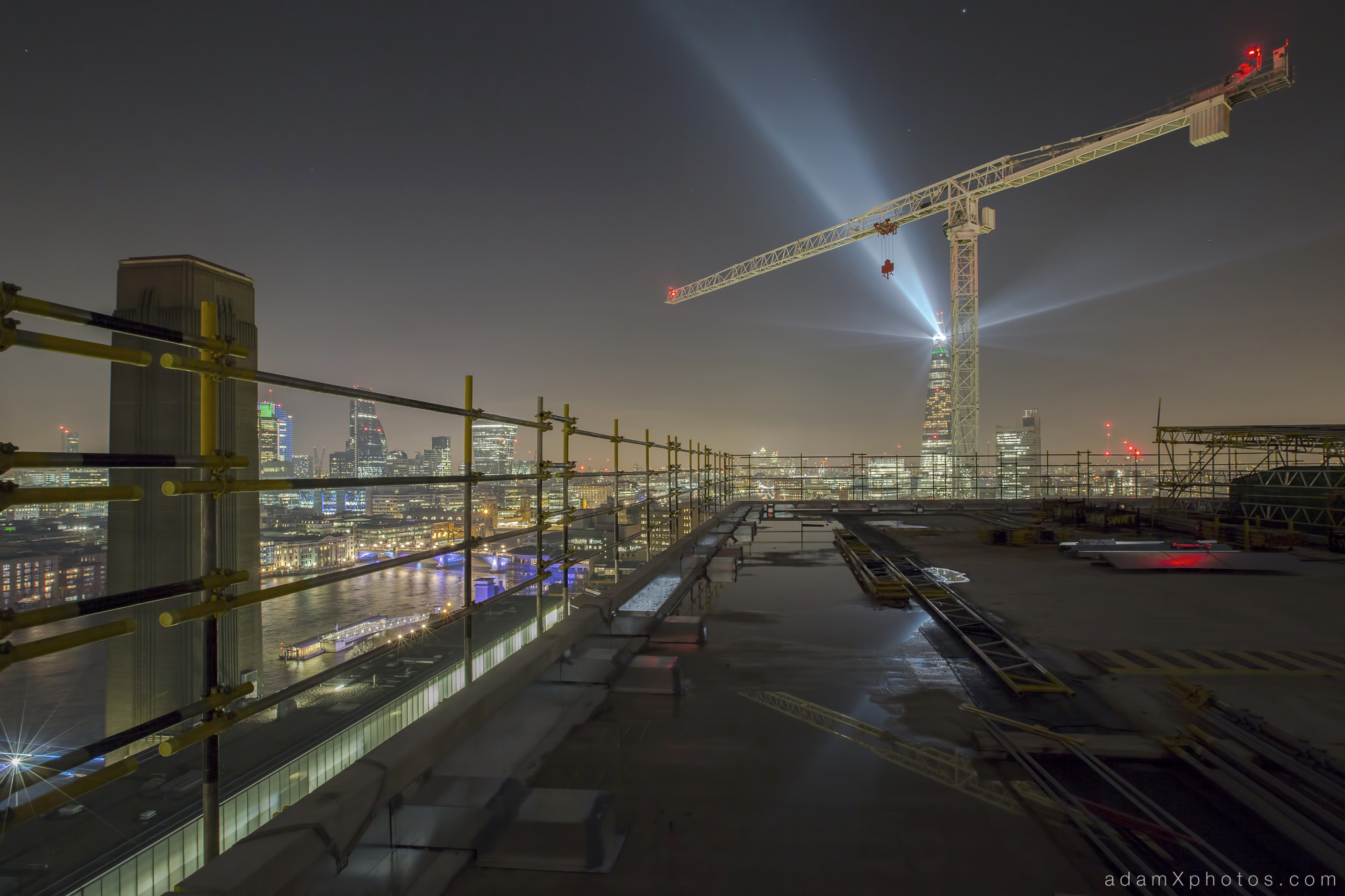 Looking East towards The Shard…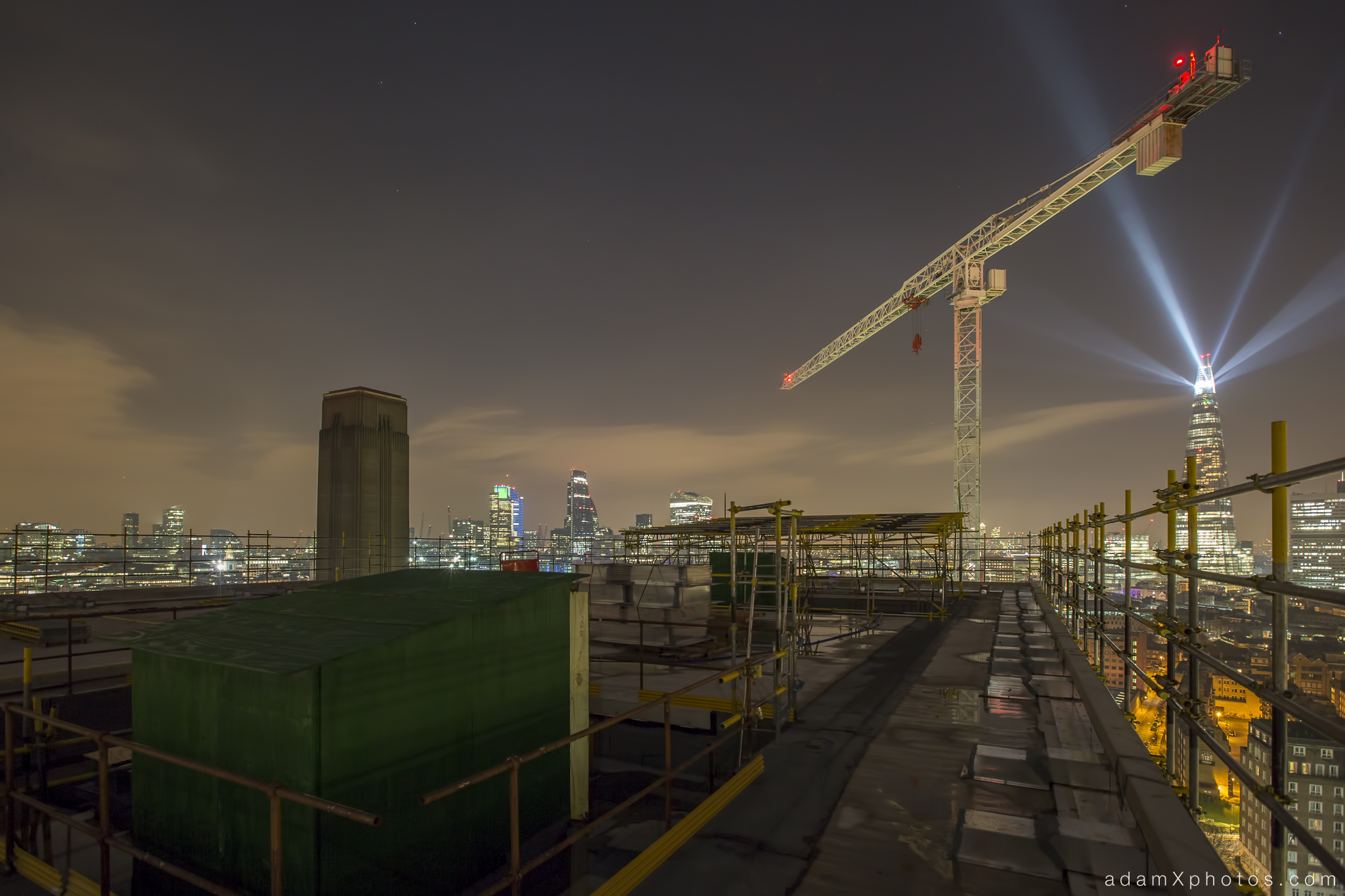 …and fireworks over St Paul's Cathedral…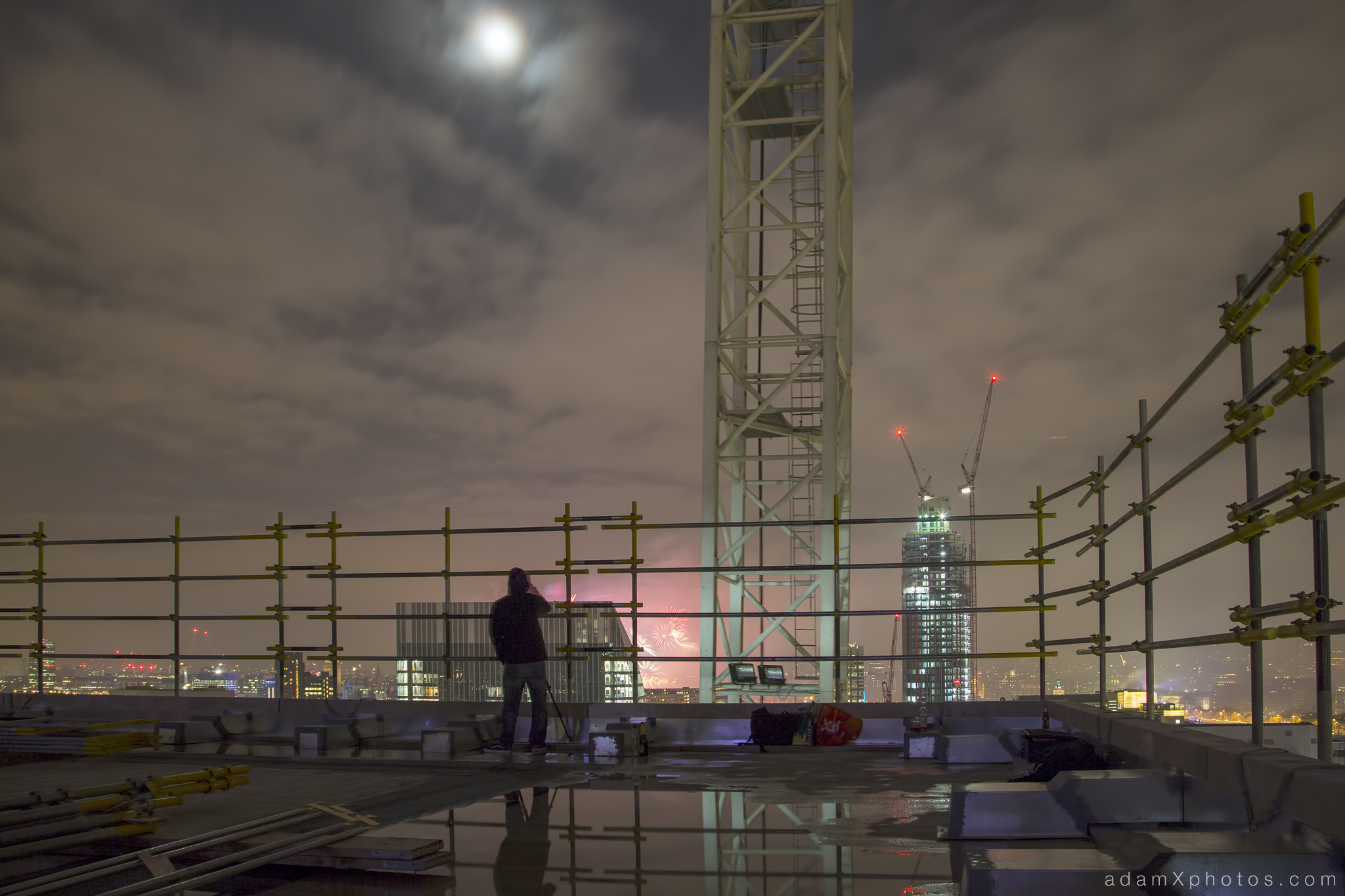 …some of the main fireworks were sadly obscured from view…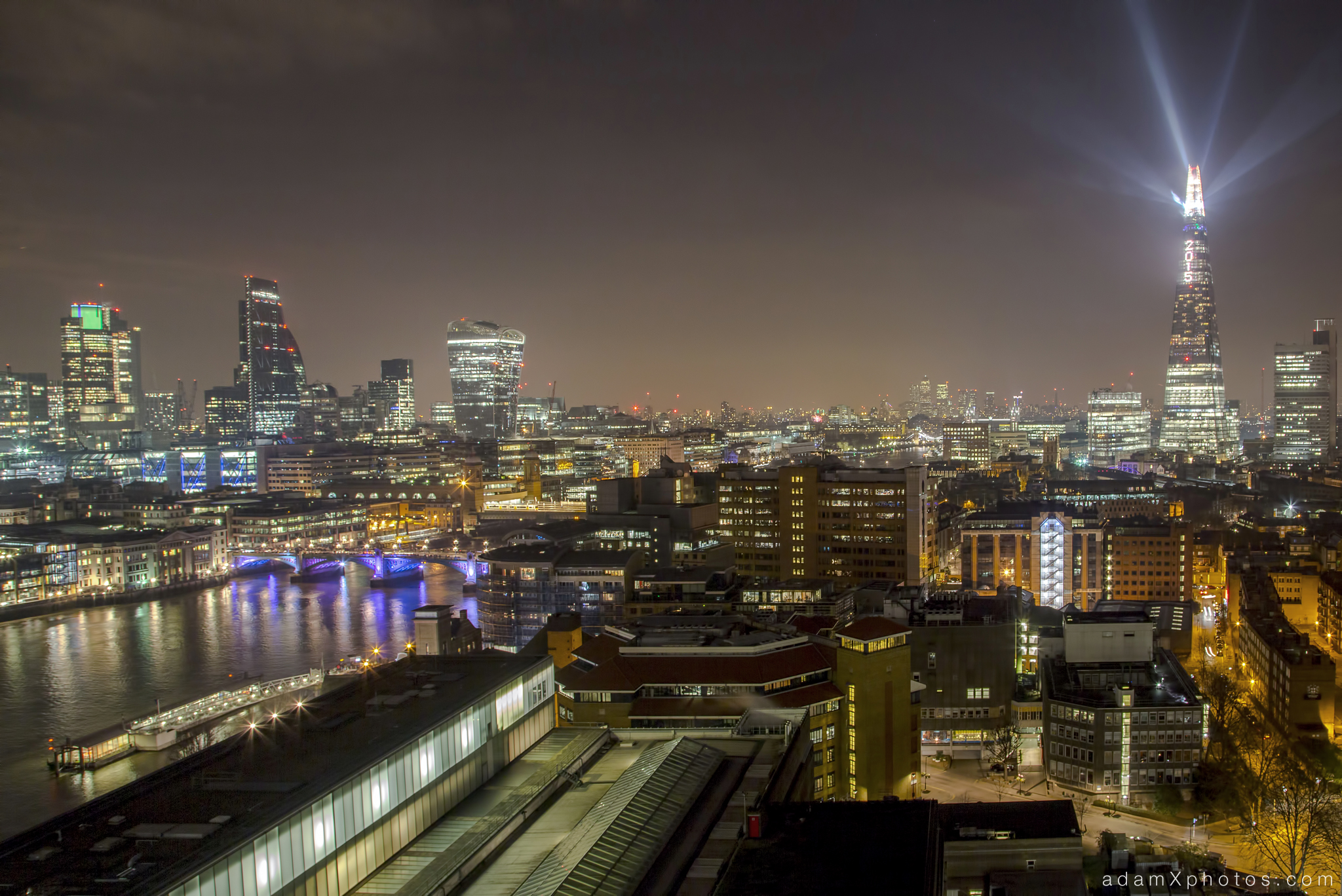 …but as midnight struck we enjoyed the sounds of celebration across the capital, a huge "2015" illuminated in lights on the side of The Shard…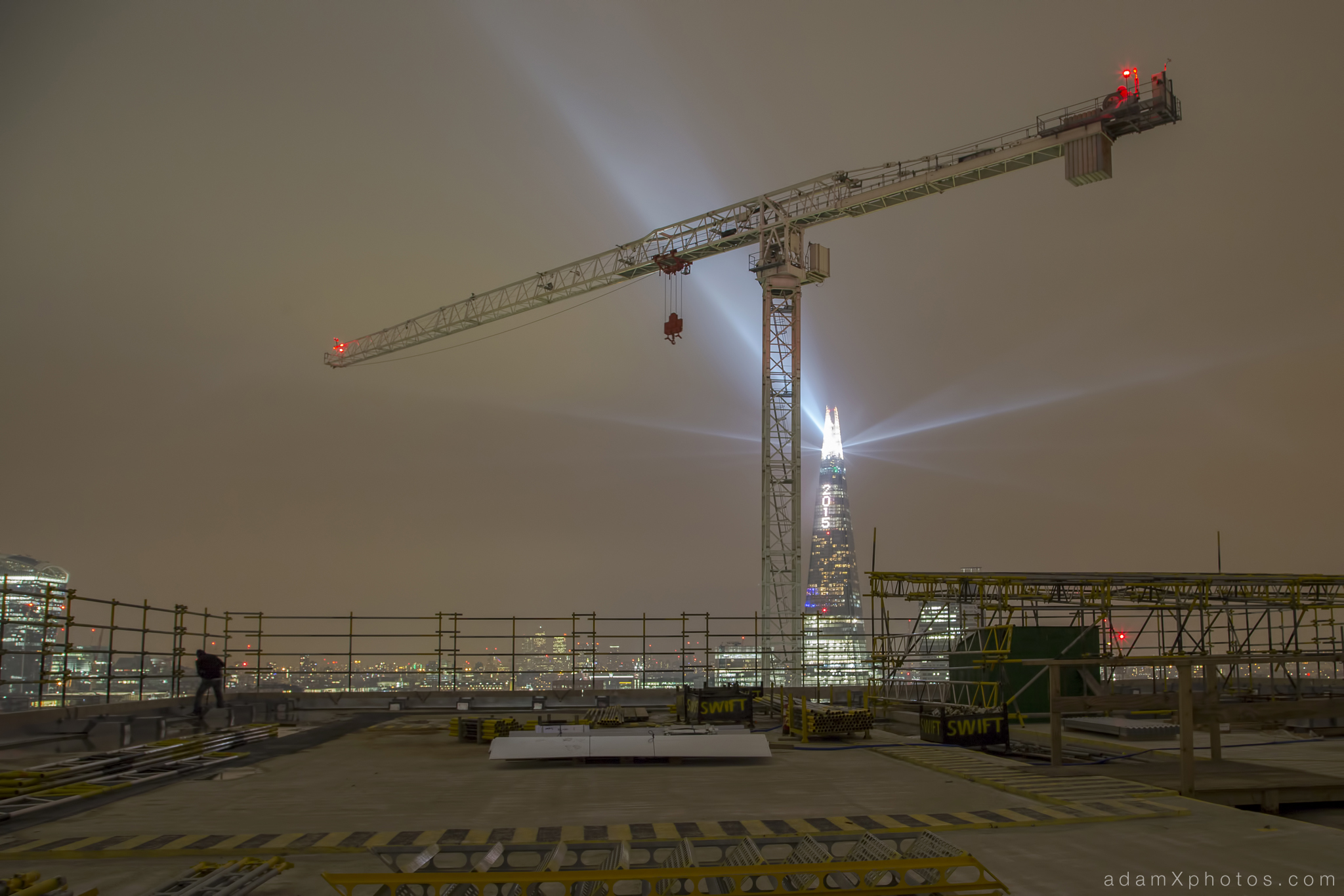 Dan and James admiring the view…
Shortly after midnight, having taken quite a few shots of the views out towards the river I took this cheeky shot over the side of the building. It was only when I got home and was looking through my photos that I noticed the two police cars parked below (bottom right – best to click on the photo to view large)…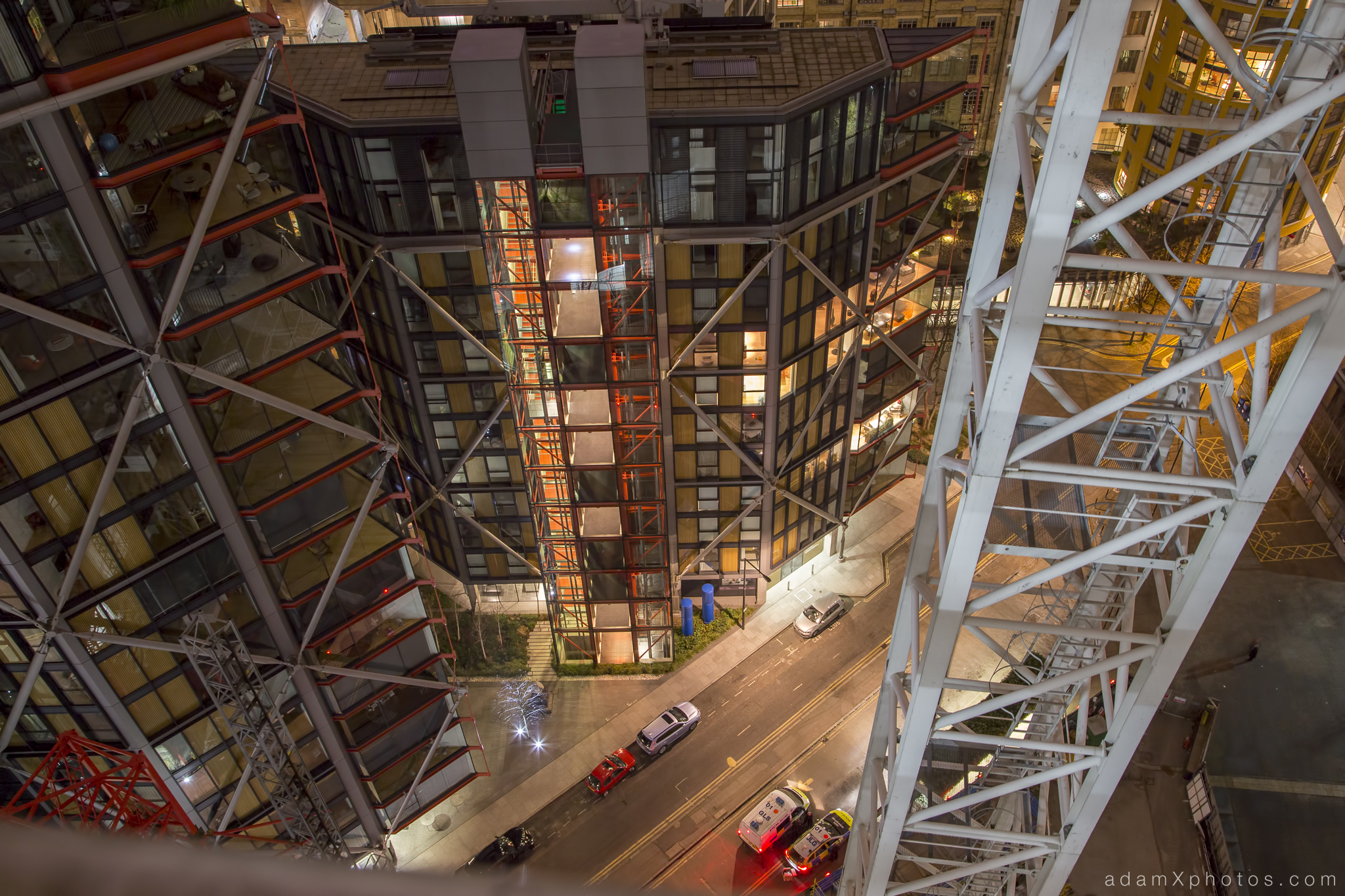 And then, at about 1240am we were suddenly interrupted when what turned out to be 3 police officers and the head of security for the building burst onto the rooftop! And they did quite literally "burst" onto the roof – breaking their way through an unfinished set of stairs – ironic that only ones causing any actual damage to the property were the police.
One of the police officers seemed particularly aggressive, and grabbed Dan and crossed his arms behind his back. I did my best to diffuse things by doing what I normally do in such a situation – being incredibly friendly and polite! I said some semi-drunken rubbish along the lines of "Oh hello! Happy New Year! I'm Adam, that's Dan, and James is over there – Ja-ames, come over here mate! We're sorry to have troubled you, we just wanted to take some photos of the fireworks".
After a quick stop and search and radioing of our details back to base to ensure that we really weren't on any Most Wanted lists, we were given a lecture by PC Angry about how they'd had 8 police cars and a police helicopter out. Well my photo only shows 2 cars, and it's perhaps fair to suggest that the police might already have had a helicopter in the vicinity on new Year's Eve, but nevertheless we made our apologies for taking up their time, and followed them down the many flights of stairs and back out onto the street.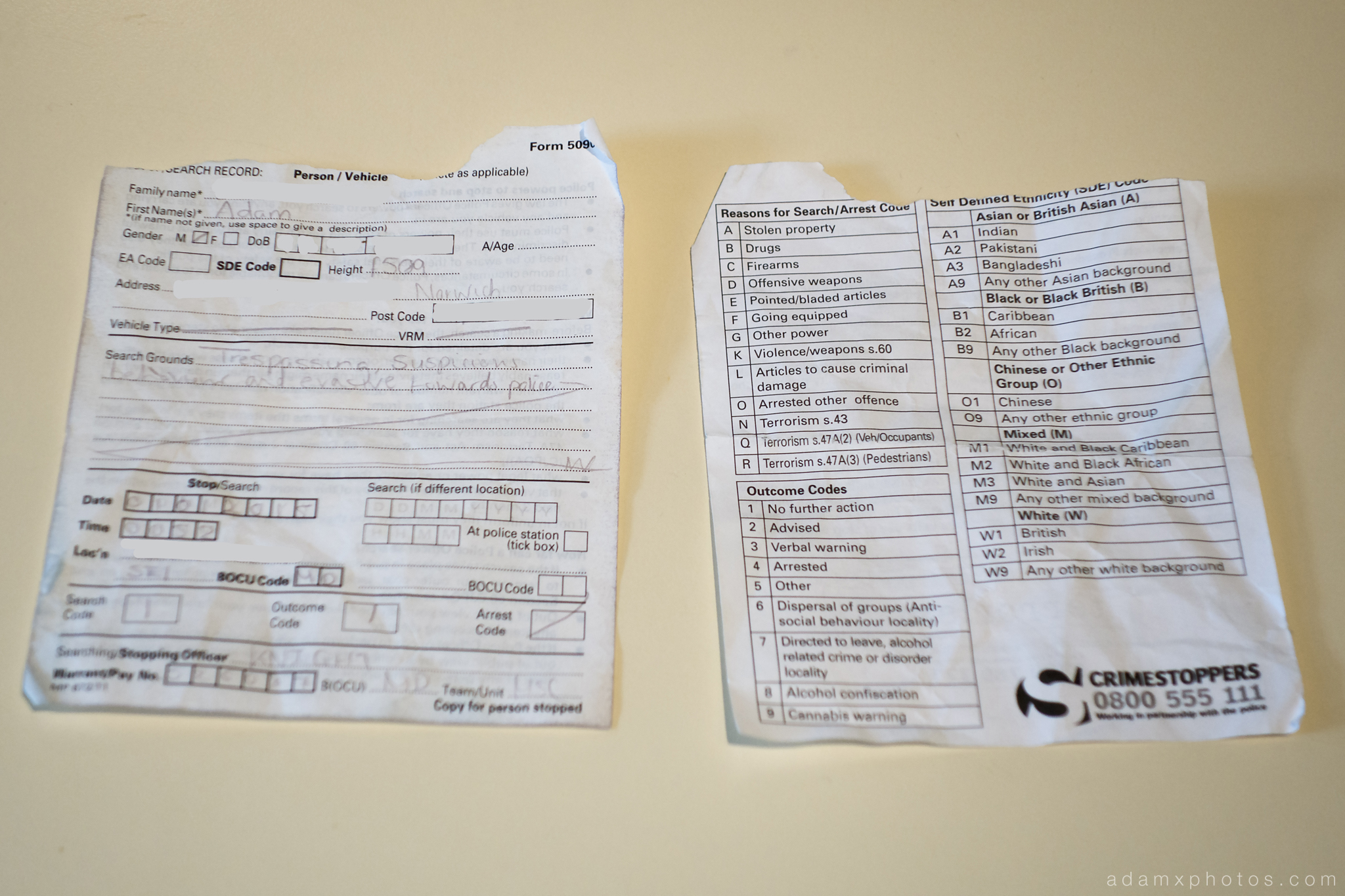 I've only actually bothered reading the stop and search sheet I was given when I was putting this blog post together – I've no idea what the reference to being "evasive of the police" means – walking over to them and immediately telling them who we were and what we were doing doesn't strike me as being particularly evasive – or perhaps they just meant having to make them climb the 20-odd storeys on foot to get to us! 🙂
Once the police had departed we walked a block down the road and stopped to share the last of Dan's champagne ("none of that cava rubbish") and discuss what had just happened. A few minutes later the head of security sauntered over to join us! We spent a good half an hour or so chatting with him – he turned out to be a top bloke, and seemed genuinely interested in what we do. I did my best to emphasise that we never cause any damage whatsoever, and only ever explore and photograph places with the best of intentions – basically I was on a drunken crusade to make sure that he gave the next explorers that get caught there as easy a time as possible.
Eventually we said our goodbyes to the head of security, and after a break for the obligatory McDonalds Dan took the lead on a great rooftop which he had done before…
Rooftop LB
After a long and tiring climb we spent a relaxing hour or so enjoying the views of 20 Fenchurch Street (aka the "Walkie Talkie" building) and the surrounding area.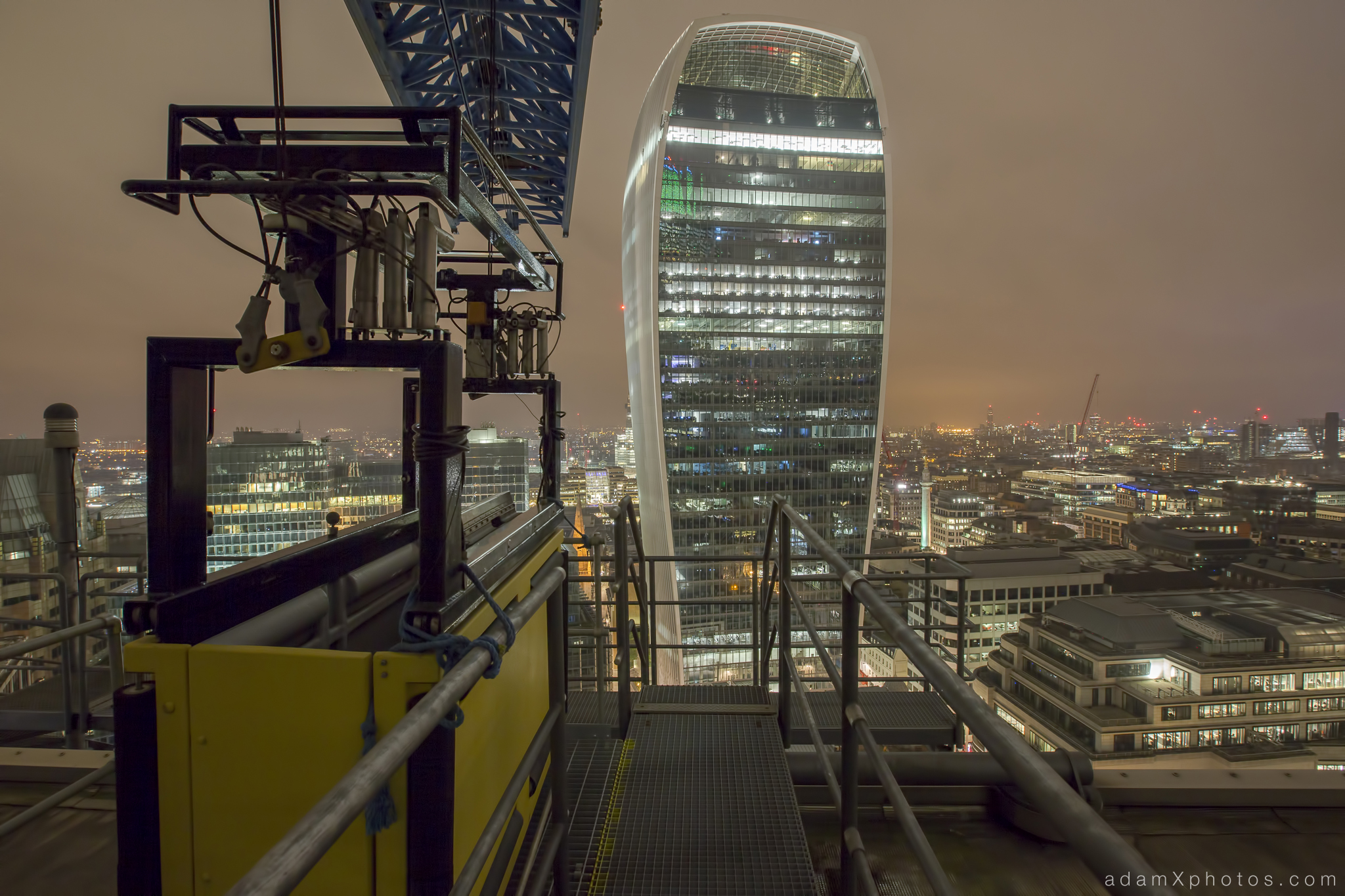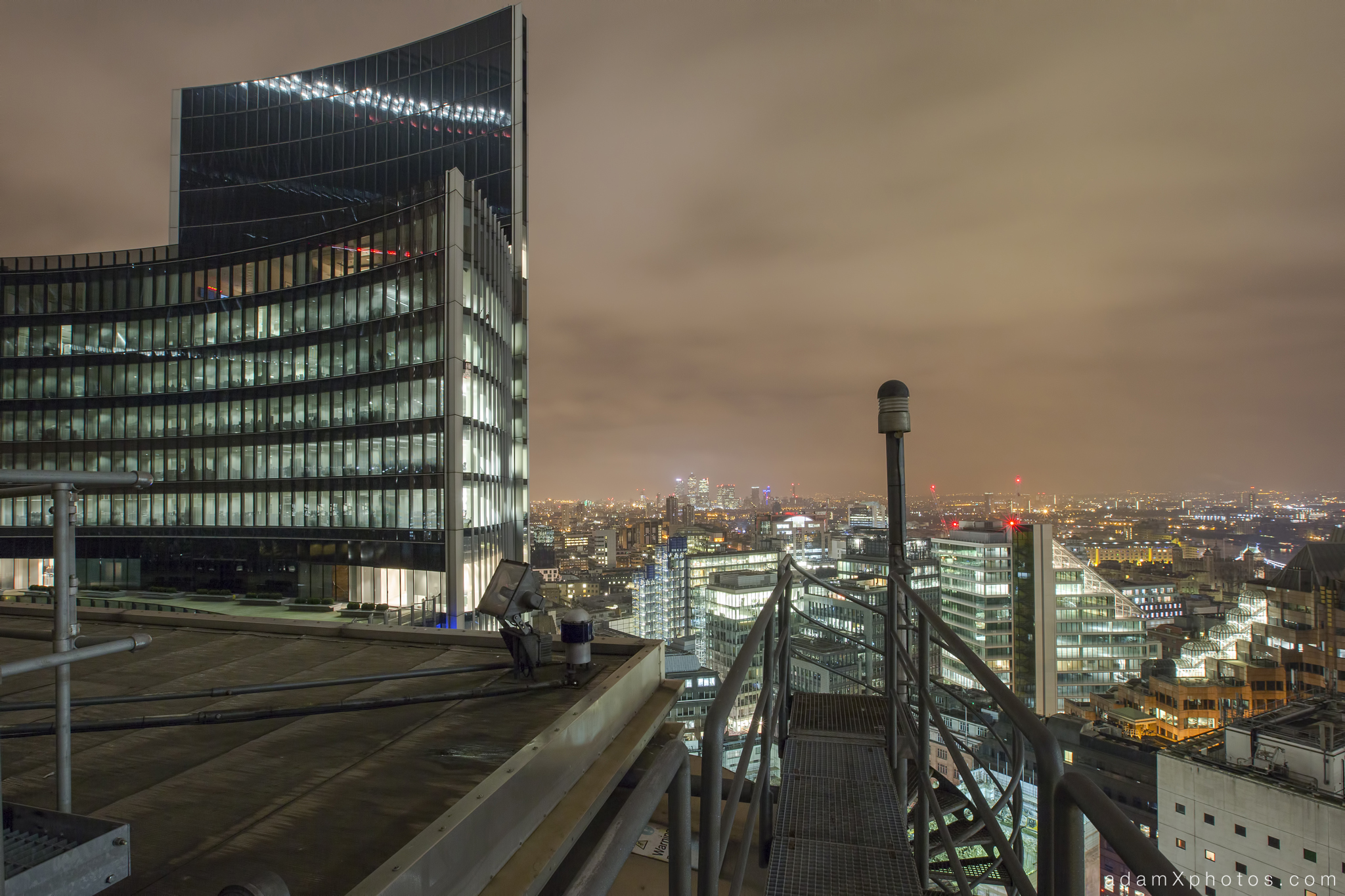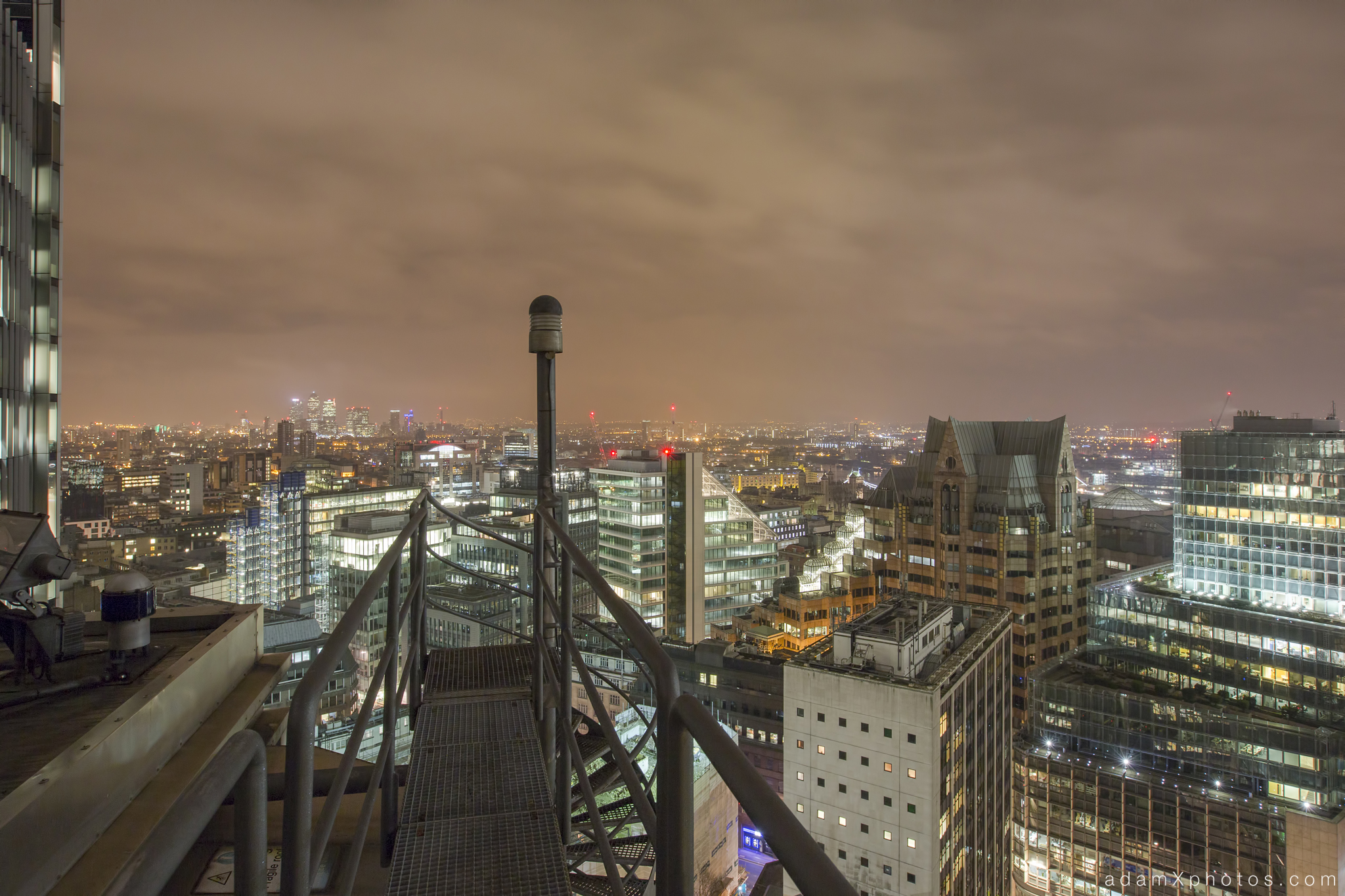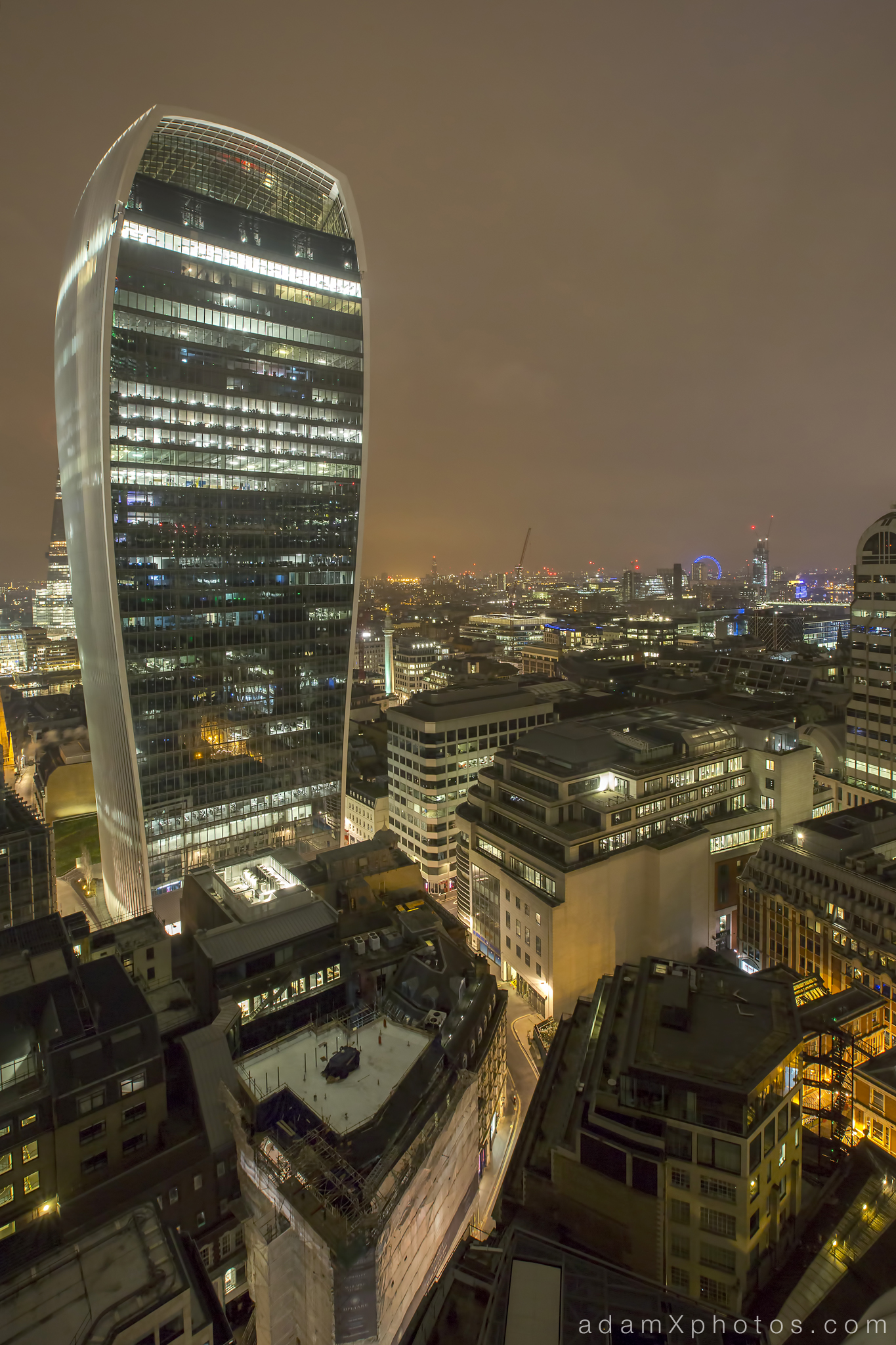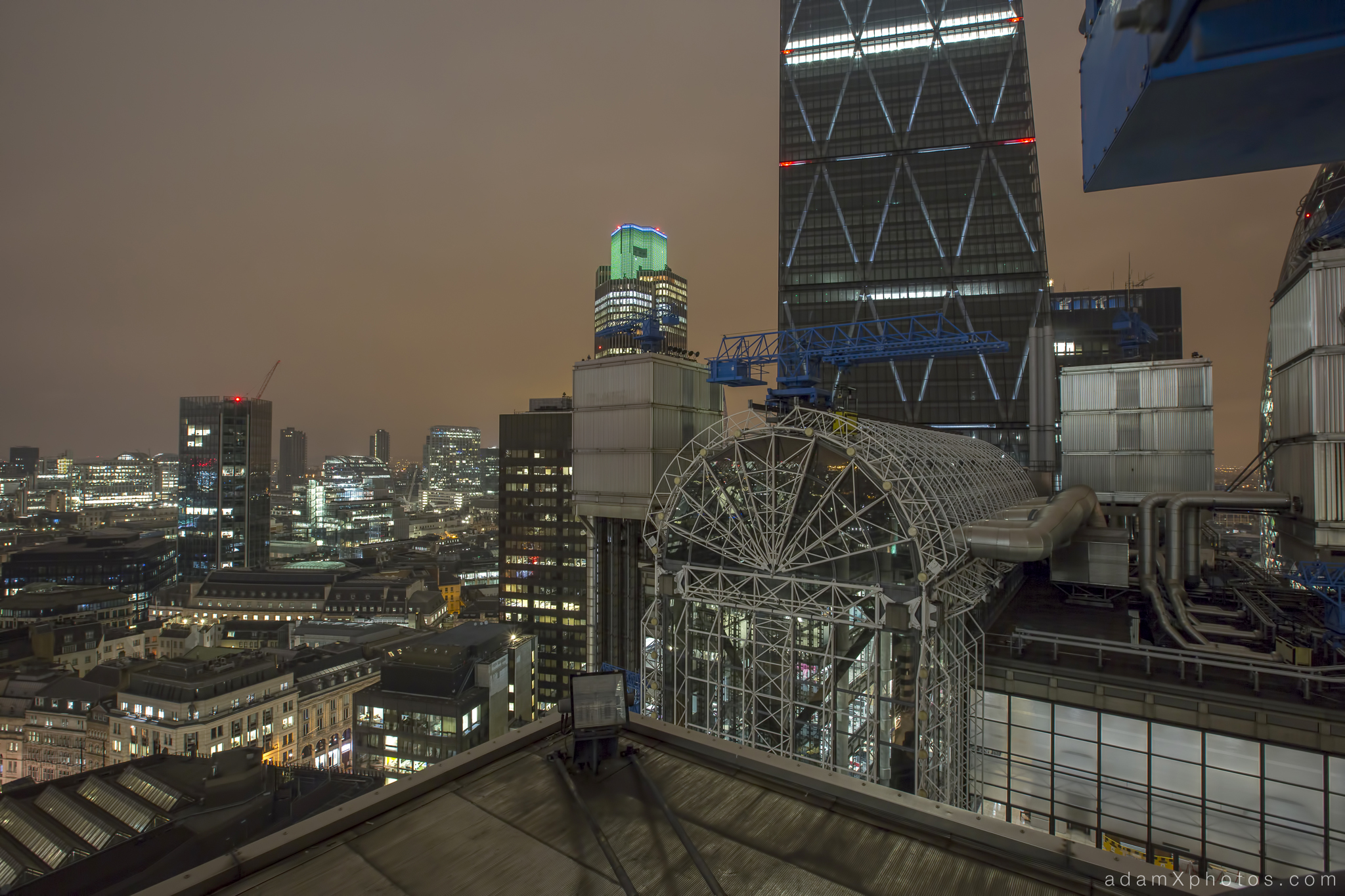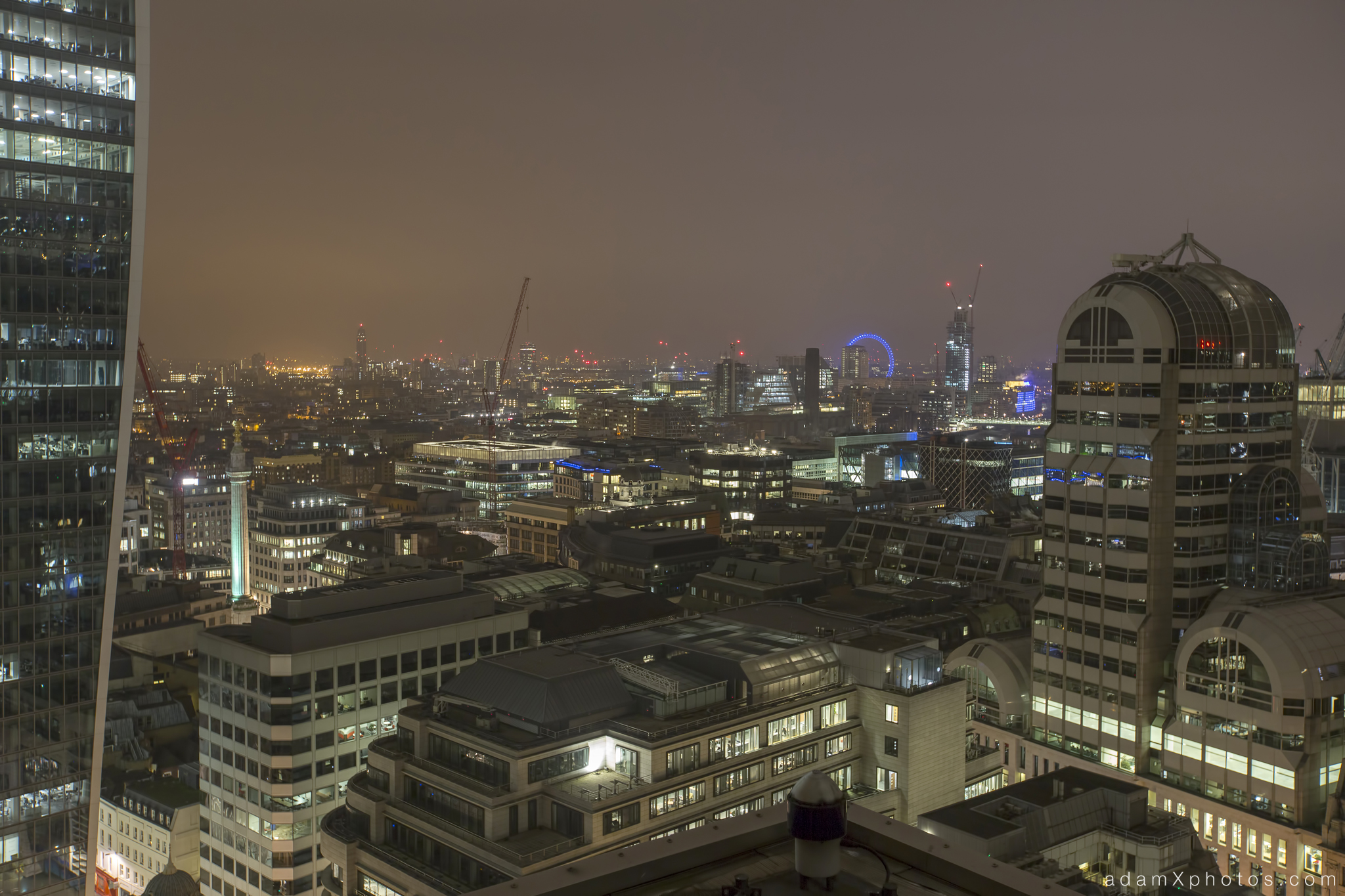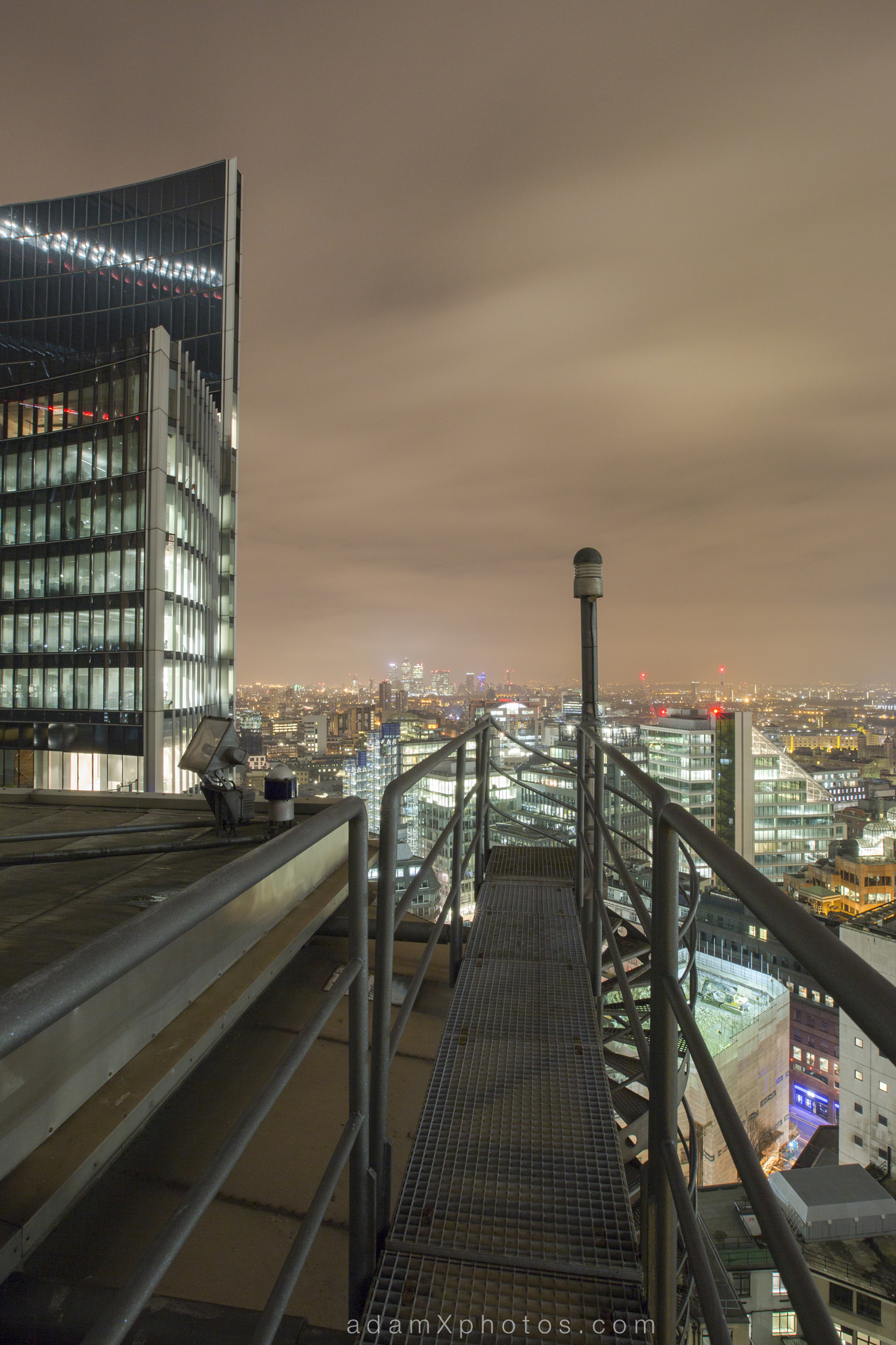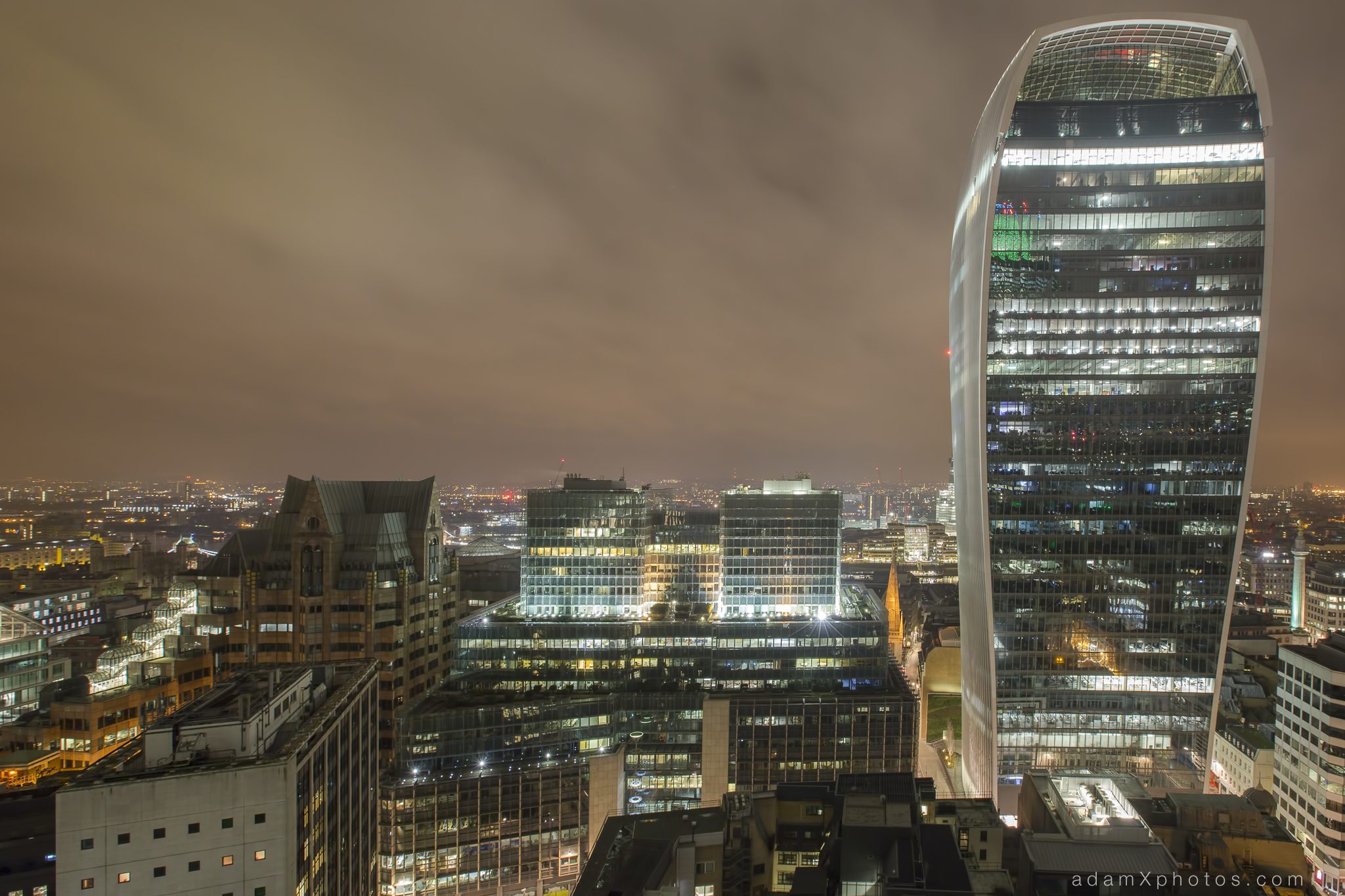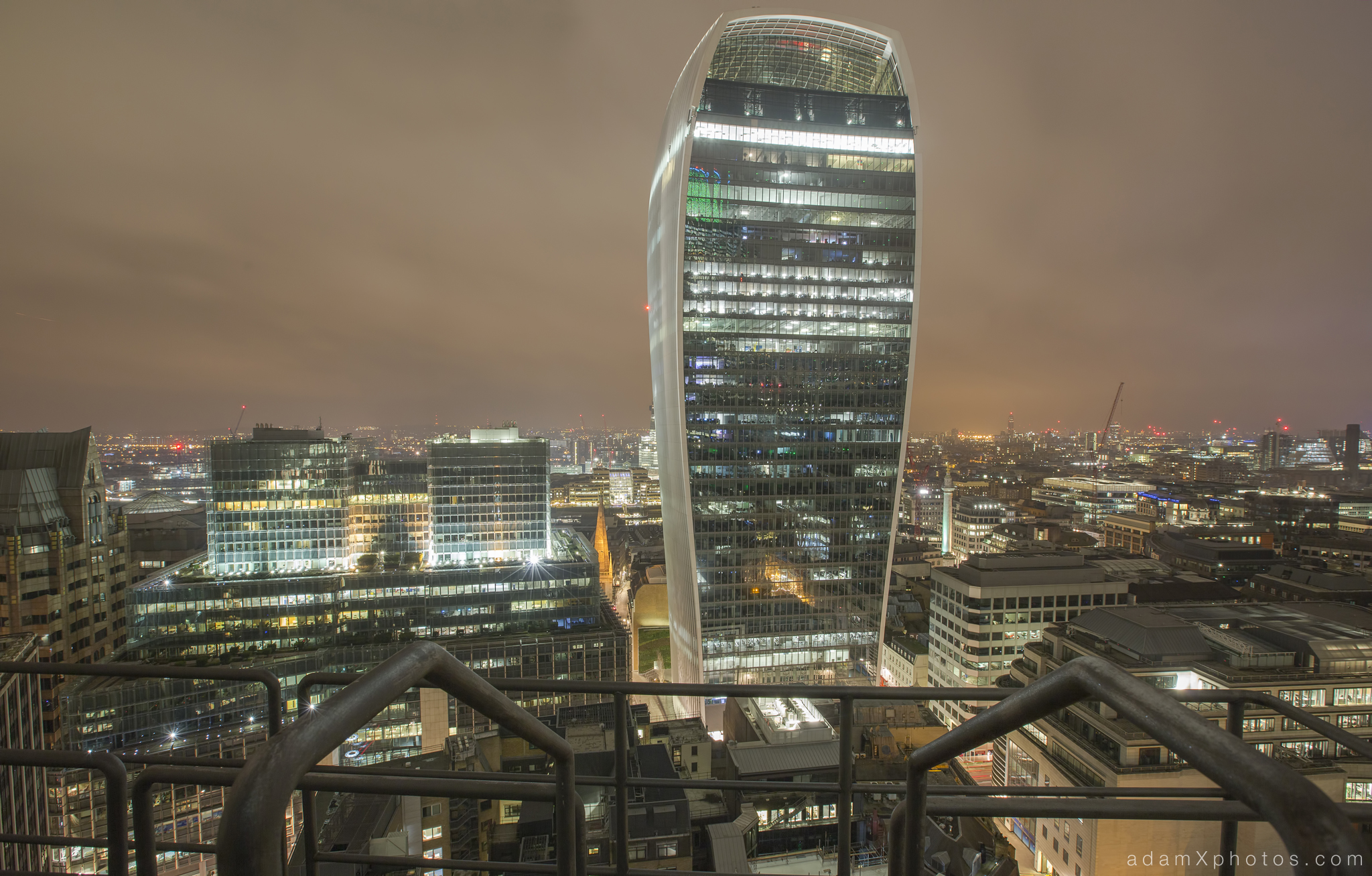 Eventually, shortly before dawn, we finally climbed down – however the drama was not quite yet over for the night. My watch got caught on something as I was climbing out, the strap broke, and the watch fell down underneath some scaffold stairs on the other side of the hoarding. James kindly offered to jump back over and try and retrieve it for me (I think I was flagging by then!), but whilst he was doing so a nosey woman appeared on the street and started shouting at us. I protested that we were just trying to get my watch back, whilst avoiding the obvious question of how it had ended up there in the first place. A few minutes later James was back over with my watch – which I brandished at the woman whilst opining that it was a pity she didn't have better things to be doing at 5.45am on New Year's Day. We walked around the corner, only to be stopped by two Police Community Support Officers (aka plastic policemen) on bicycles. Queue our second stop and search of the night – thankfully this one was much briefer and less aggressive, and ended with me asking them for directions for the best way back to Liverpool Street train station!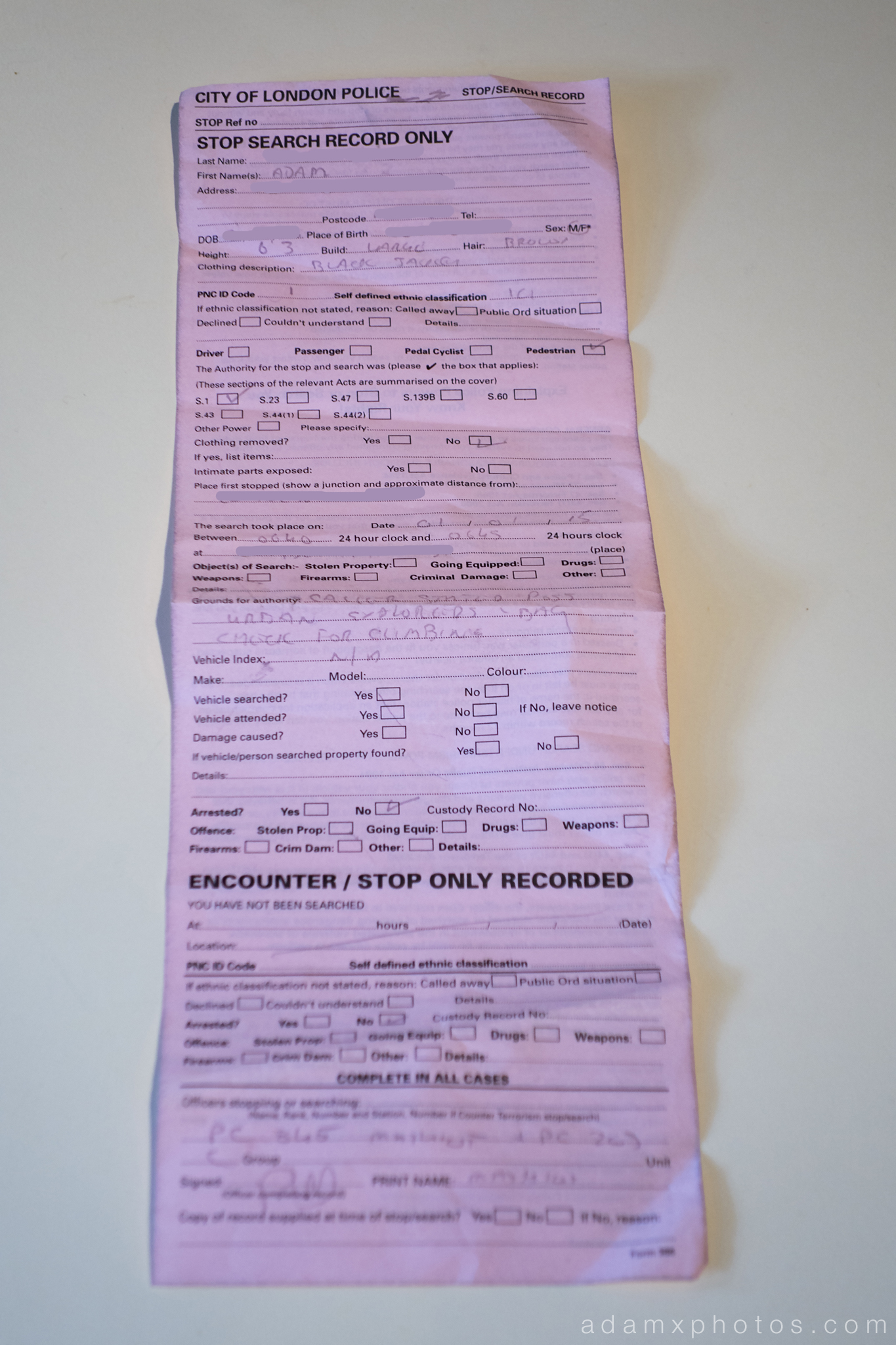 At the end of an eventful but fun night James and I said farewell to Dan, and an hour or so later were dozing on the first train back to Norfolk. All in all a highly memorable New Year!
Cheers,
Adam X