Something a wee bit special up next – a beautiful disused Victorian reservoir hidden beneath the heart of London.
History
Finsbury Park Reservoir, also known by its original name of Hornsey Wood reservoir, was built by the East London Water Works Company between 1868-1869. Lying beneath Finsbury Park, with a capacity of some 5,000,000 gallons, it was used up until the early 21st Century.
In 2012 a survey spotted a crack within the brick arches, and the park above it was fenced off in case it collapsed. Thankfully no such calamity has yet befallen the reservoir, and the fencing has since been removed.
Although disused, the reservoir has occasionally been used as a film location, including Guy Ritchie's Sherlock Holmes in 2009, and Paddington in 2014.

Our Explore
Sometimes gaining access to a location can come down to whether or not you're in the right place at the right time. Over a year earlier I had been in the right place to explore this beautiful example of Victorian engineering, but my timing was wrong – the access point having been welded shut less than 48 hours earlier!
And so I patiently bided my time, hoping that one day access would again become possible….
One cold January weekend I planned on exploring a huge disused steelworks down South. Access there called for a pre-dawn entry, so on the spur of the moment I decided to try a middle-of-the-night recce of the reservoir on the journey down, and to do a rooftop or two if access was still a no go.
Given the passage of time, and the fencing above the reservoir having unbeknownst to me been removed since my previous visit, it took us quite a bit of wandering around in the dark (avoiding the occasional shady characters stumbling around the park like drunken zombies) before I found the access point. I was amazed to find that this time my luck was in, and before long the two of us were standing inside the reservoir, shining our torches around in hushed awe. I had remembered to bring some tea light candles with me, so we soon set about illuminating our sumptuous surroundings…
As always, click on a photo to VIEW LARGE
After all too soon it was time for us to make our way back out and press on towards our next explore…
…but I couldn't resist paying a quick revisit with some other exploring friends a week later at the start of a UK weekend of exploring. This time I came with even more tea lights, and also got some shots of the arches either side…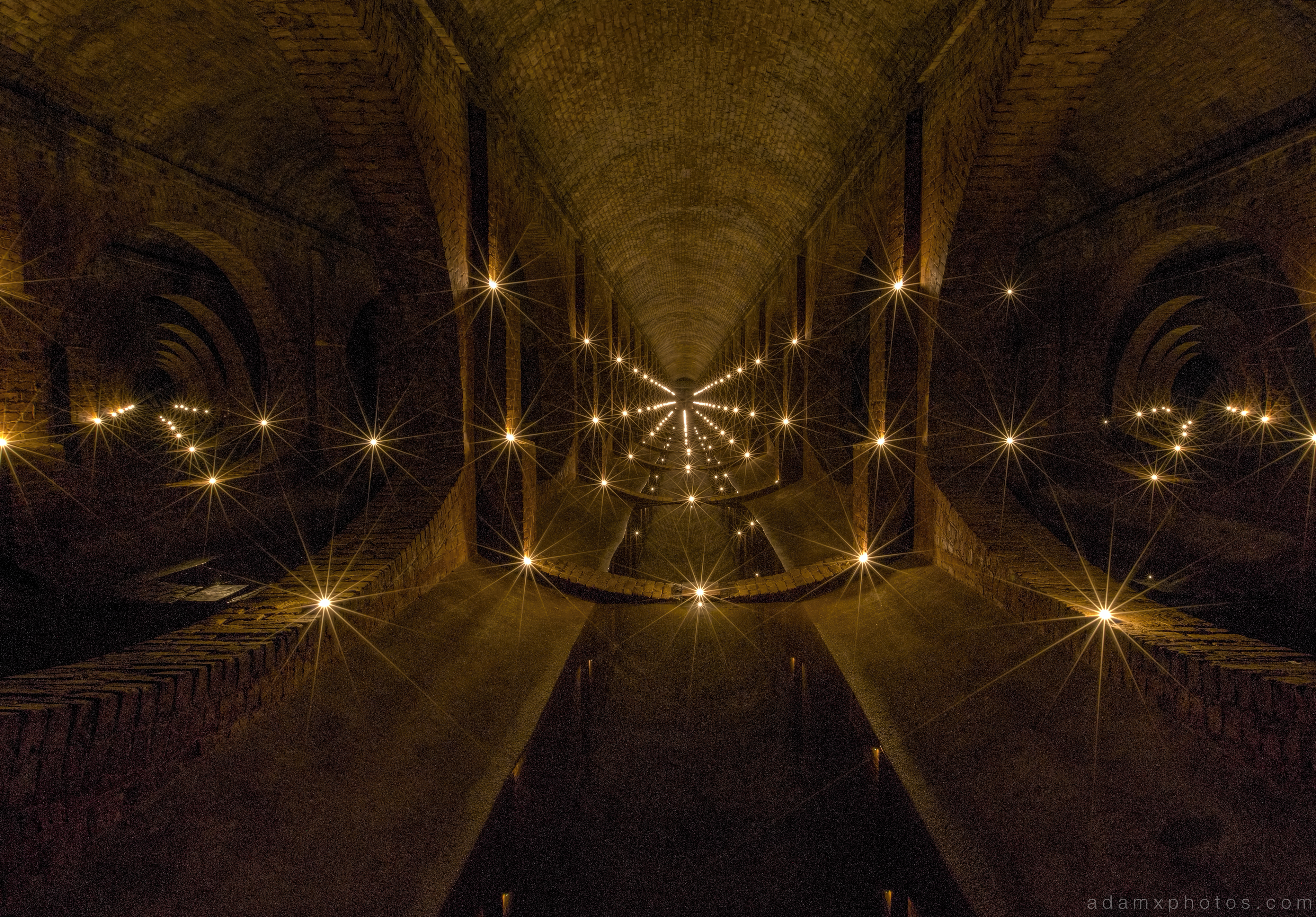 Thanks for coming down.
Adam X