Now that I've finally finished editing all my shots from my Easter 2015 trip to the Chernobyl Exclusion Zone, I thought I'd follow those reports with something equally special from closer to home…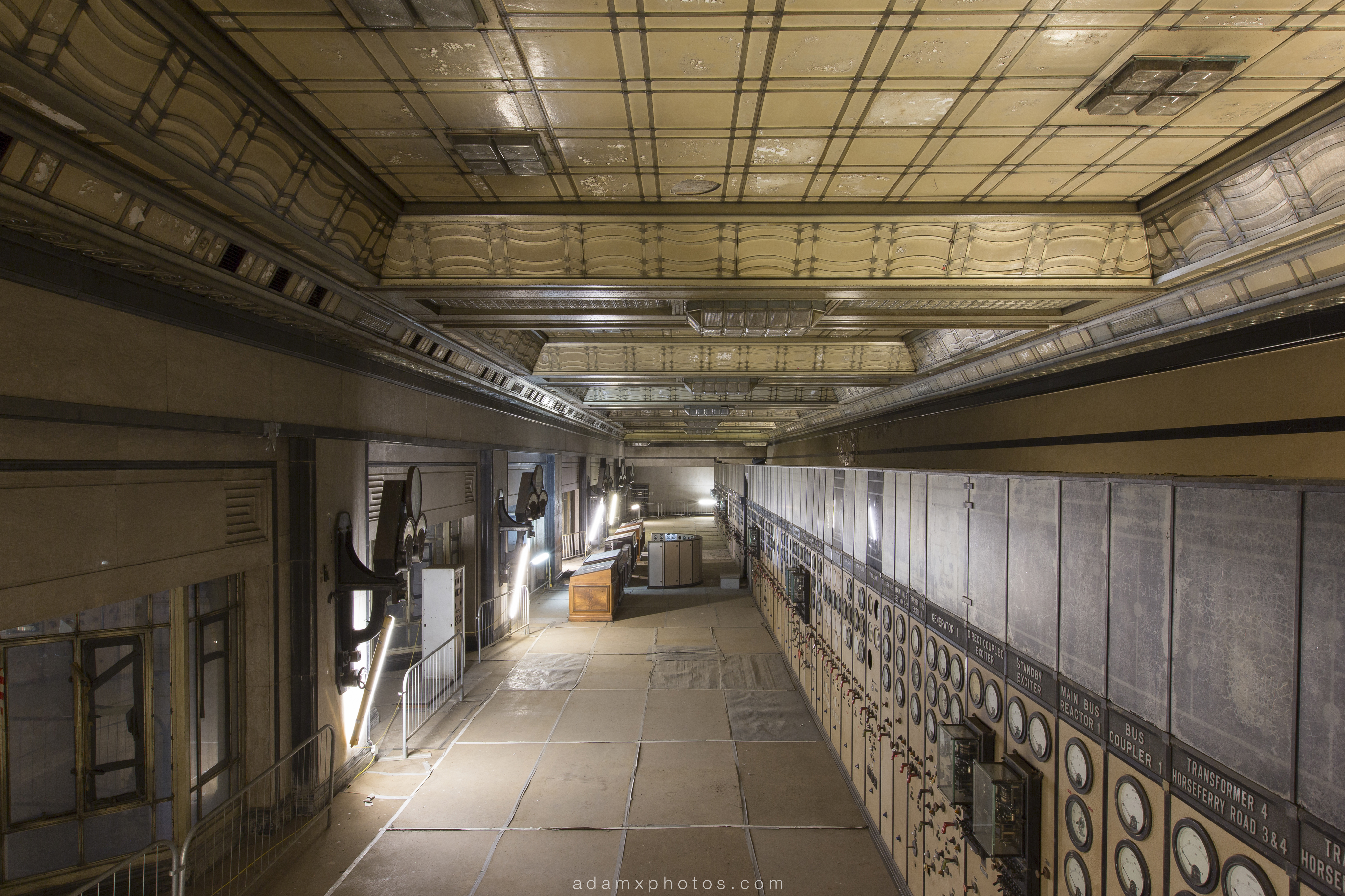 I first got into urban exploration in mid 2013. Around that time until early 2014 many explorers successfully managed to penetrate the huge building site which is Battersea Power Station, as security was relatively lax. Unfortunately I was still very new to the scene and had not yet cemented the friendships to join any of the small groups who made their nocturnal sorties, or gained enough personal confidence and experience to tackle the daunting site alone.
And then around mid 2014 the on-site security massively upped its game, dog units became a frequent occurrence, and further construction works made the site even more difficult to navigate through without being caught by security. I was dying to explore the iconic building – and in particular the jewel in its crown, the gobsmackingly cool Art-Deco control room of the 'A' Side. Over the next year or so I slowly ticked off other personal 'bucket list' explores – Millennium Mills further down the Thames, the Chambre De Commerce in Belgium, even the near-mythical 'Non Plus Ultra' castle in Italy. But still 'BPS' eluded me…
My first attempt was in 2014. I never got beyond the main perimeter. There were multiple security patrols, walkie talkies squawking, multiple barking dog units, and the whole site was lit up like a christmas tree. It was a nightmare. To have pressed on that night would have meant certain failure at the first hurdle. After nearly an hour of ducking, hiding and watching in the shadows we reluctantly had to abort.
The months whizzed by, other explores and trips took my attentions away from West London, and it was a over a year before I made my second attempt. This time we were far more successful, in that we eluded security and made our way onto the site and inside the vast shell of what still remains. We carefully picked our way towards our goal, Control Room 'A' and got to… a locked door. And the previous known way in was now well and truly sealed with multiple wooden beams nailed across it. We spent over an hour searching for a way in from every possible angle, but despite being so close that we could literally see tantalising glimpses of art-deco ceiling through a fist-sized hole, there was no way in and we had to slowly pick our way back out empty handed.
This time I was determined not to let another year pass. On the third time of asking we got lucky – very lucky. A tiny window of opportunity presented itself, and we dropped everything to get down there and get in. My perseverance was rewarded, and I had to pinch myself as I was privileged to finally witness the unique grandeur of Control Room 'A' first hand.
History (amended and abridged from wiki, here and here)
Battersea Power Station is a decommissioned coal-fired power station located on the south bank of the River Thames in London. It comprises two individual power stations, built in two stages in the form of a single building. Battersea A Power Station was built in the 1930s, with Battersea B Power Station to the east in the 1950s. The two stations were built to a nearly identical design, providing the long-recognized four-chimney layout. The station ceased generating electricity in 1983, but over the past 50 years it has become one of the best known landmarks in London and is Grade II* listed. The station's celebrity owes much to numerous popular culture references, which include the cover art of Pink Floyd's 1977 album Animals and its appearance in the 1965 Beatles' film, Help!
The station is one of the largest brick buildings in the world and is notable for its original, lavish Art Deco interior fittings and decor. Since the station's closure numerous redevelopment plans were drawn up from successive site owners. In 2004, when a redevelopment project by Parkview International stalled, the site was sold to the administrators of Irish company Real Estate Opportunities (REO), who bought it for £400 million in November 2006 with plans to refurbish the station for public use and build 3,400 homes across the site. This plan fell through due to REO's debt being called in by its creditors, the state-owned banks in the UK and Ireland, and the site was subsequently placed on sale in December 2011 to the open property market through commercial estate agent Knight Frank. The combination of an existing debt burden of some £750 million, the need to make a £200 million contribution to a proposed extension to the London Underground, requirements to fund conservation of the derelict power station shell and the presence of a waste transfer station and cement plant on the river frontage made a commercial development of the site a significant challenge.
On 7 June 2012, Knight Frank announced that administrators Ernst & Young had entered into an exclusivity agreement with Malaysia's SP Setia and Sime Darby and were working towards a timely exchange and completion of the site and associated land. Completion of the £400 million sale took place in September 2012, and the redevelopment intends to implement the Rafael Vinoly design which had gained planning consent from Wandsworth Council in 2011. In January 2013 the first residential apartments went on sale. Construction on Phase 1 was due to commence in 2013, with completion of the Power Station part of the development project due for completion by 2020.
The total development cost of the 42-acre site is expected to top £8billion, and will ultimately include 3,992 apartments with price tags ranging from £500k to £30m, three hotels and a riverside park.

Our Explore
I've said all I'm really going to say above – it took a lot of effort, but it really was an incredible experience to finally witness Control Room 'A'.
As always, click on a photo to VIEW LARGE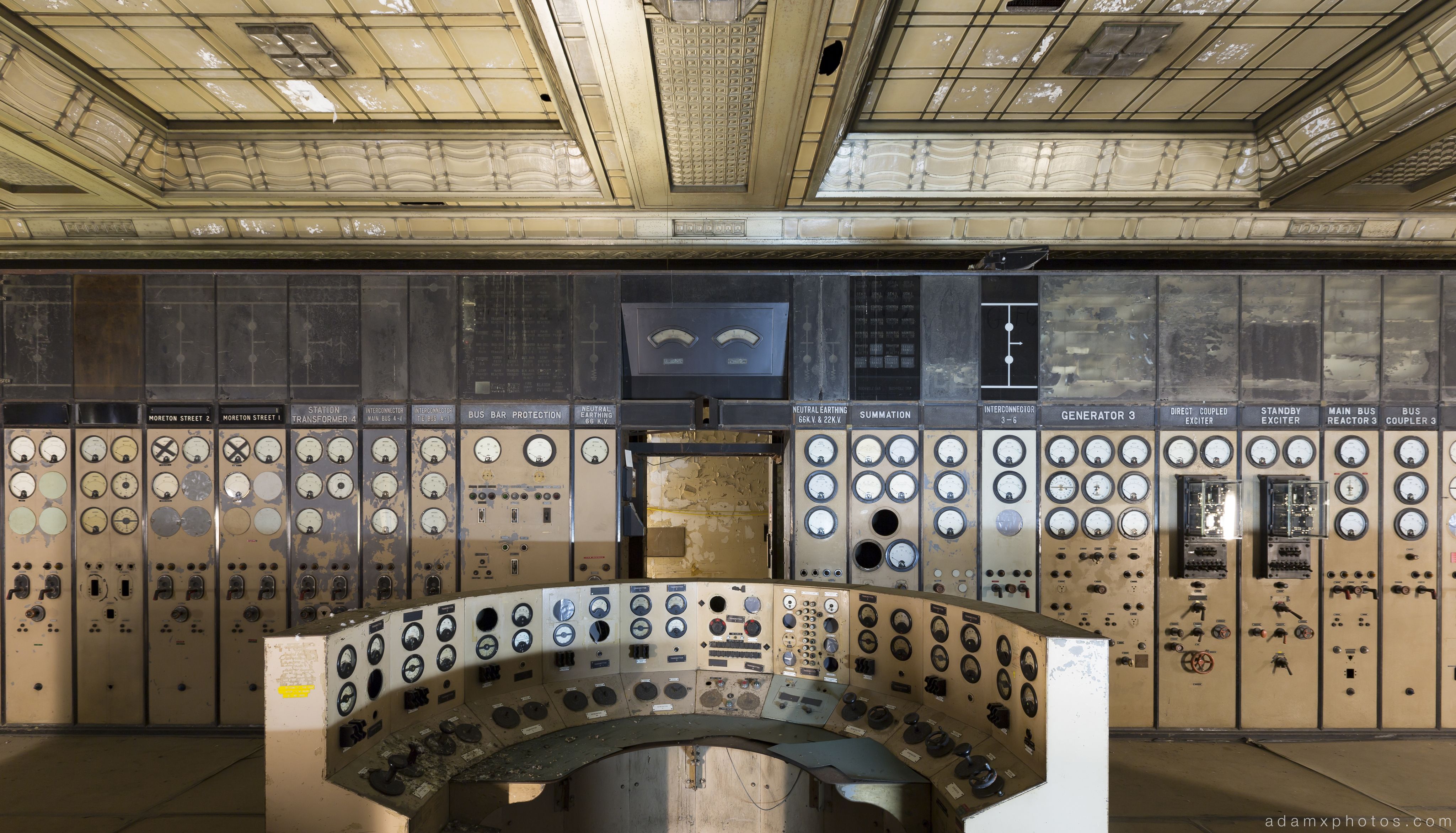 A semi-circular 'unit desk', from which foremen would monitor Power Plant A's nine boilers and three Metropolitan-Vickers turbo-generators.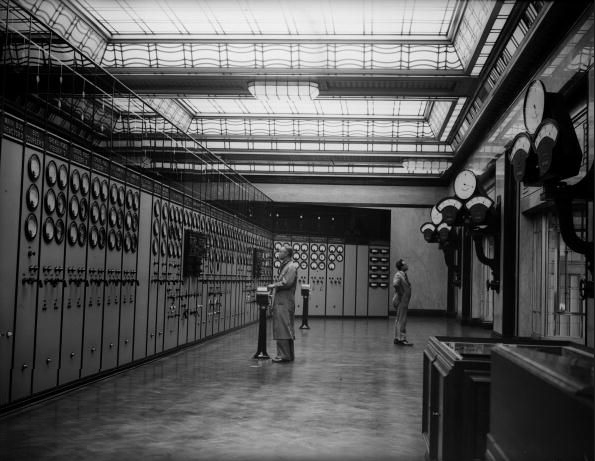 The Control Room in operation in July 1933 (before the unit desks were installed by the looks of it).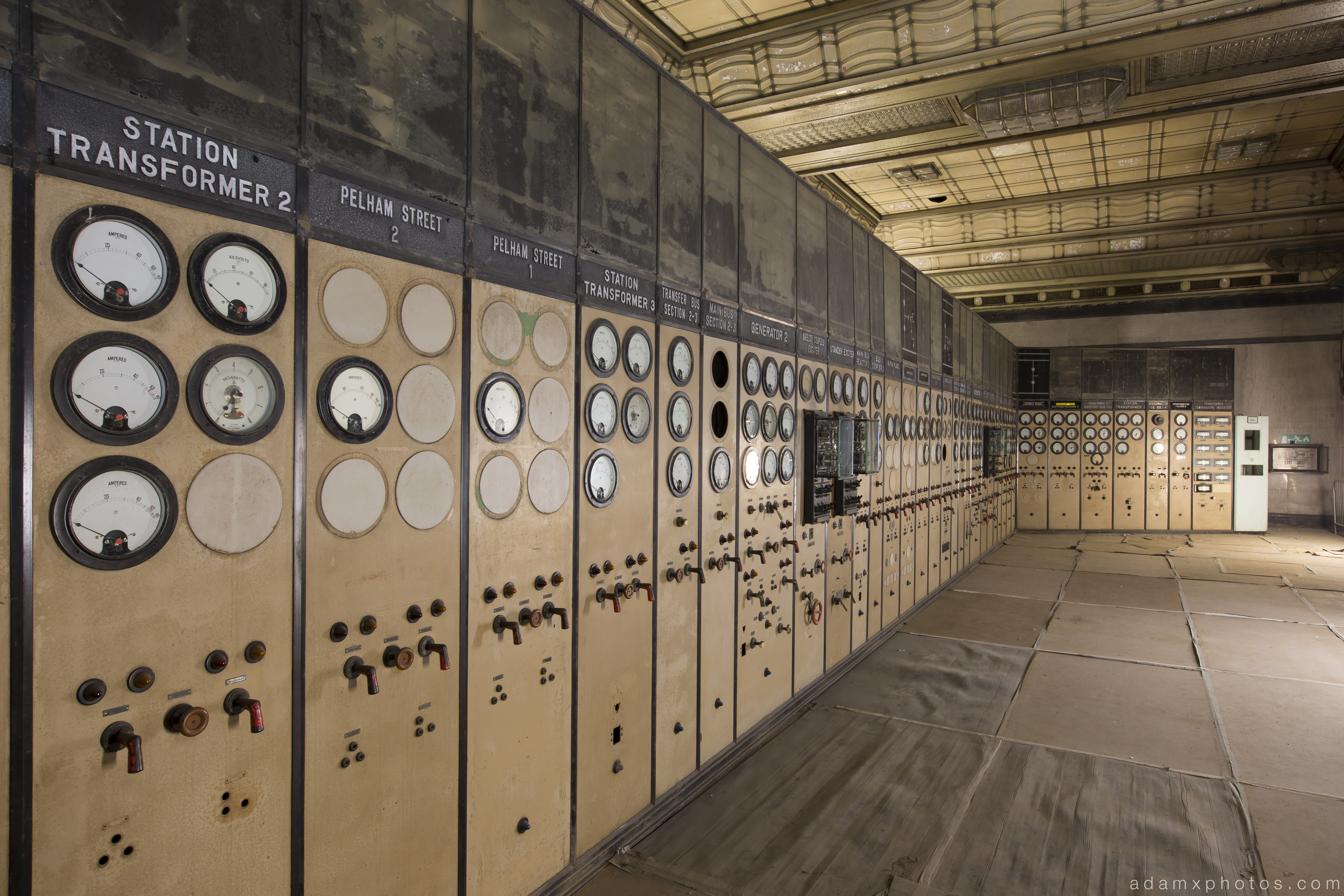 Banks of meters and switches.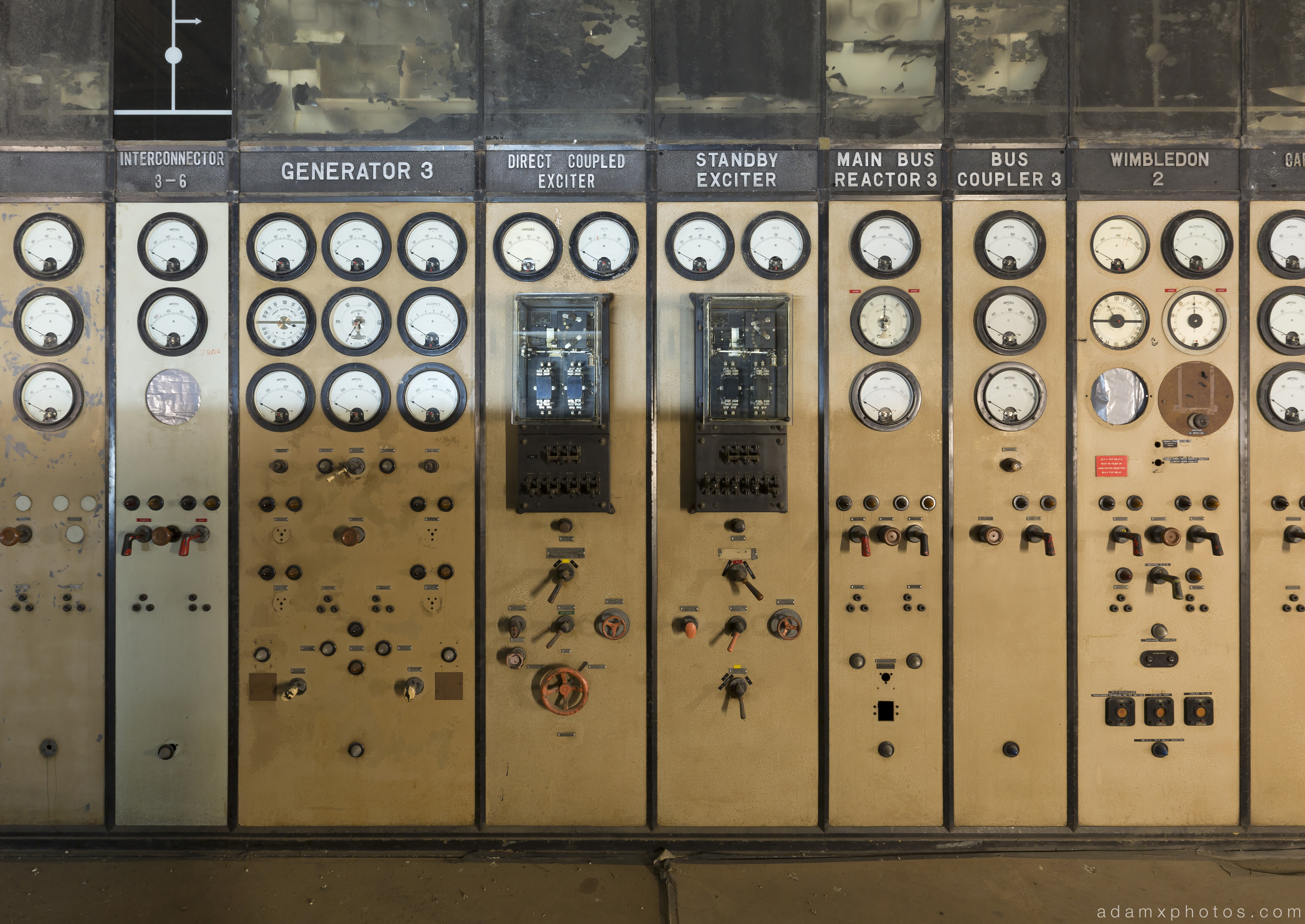 Using around 1,500 tons of coal to boil 160 million gallons of Thames river water per day, Station A's 243 megawatt output was enough to power one-tenth of London.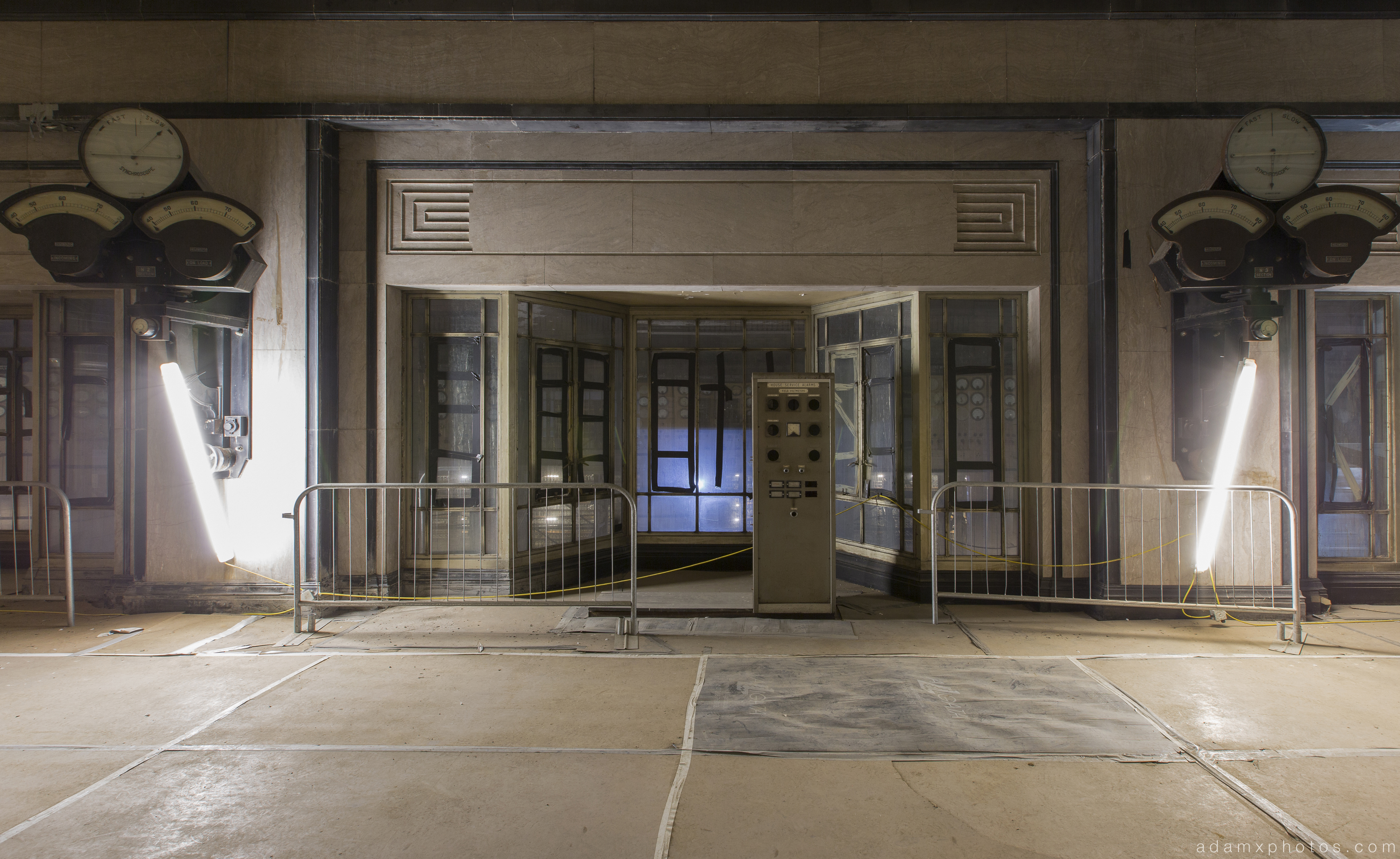 The units to the left and right of the shot are Synchroscopes, which were used to help measure and synchronise the generator's output to the National Grid. Unfortunately they had very bright halogen lights immediately in front of them, so weren't the easiest to shoot. 🙁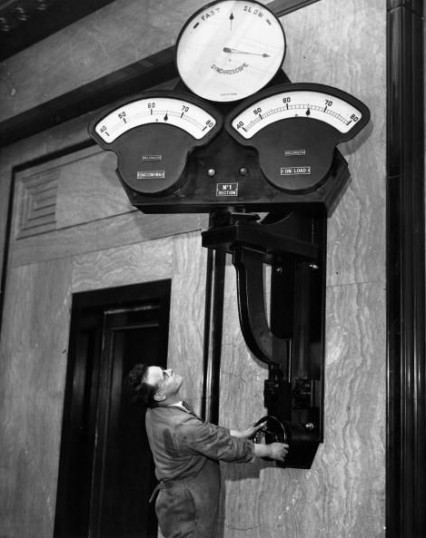 ….here's what one looked like in use in 1932….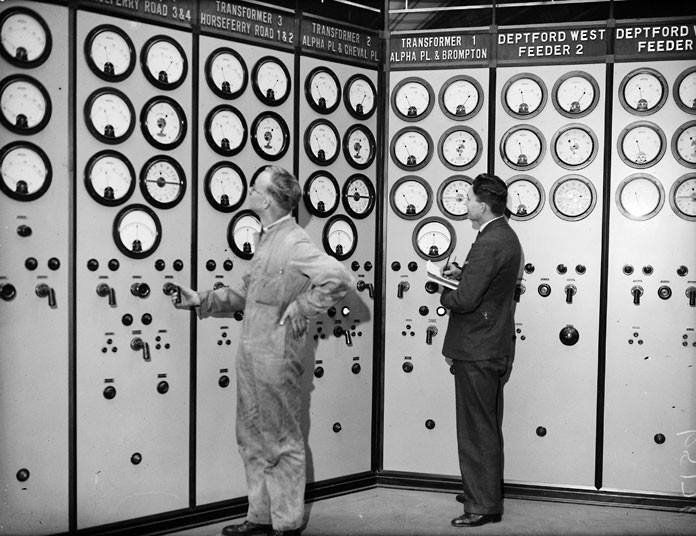 …the corner of the control panel in use in 1932…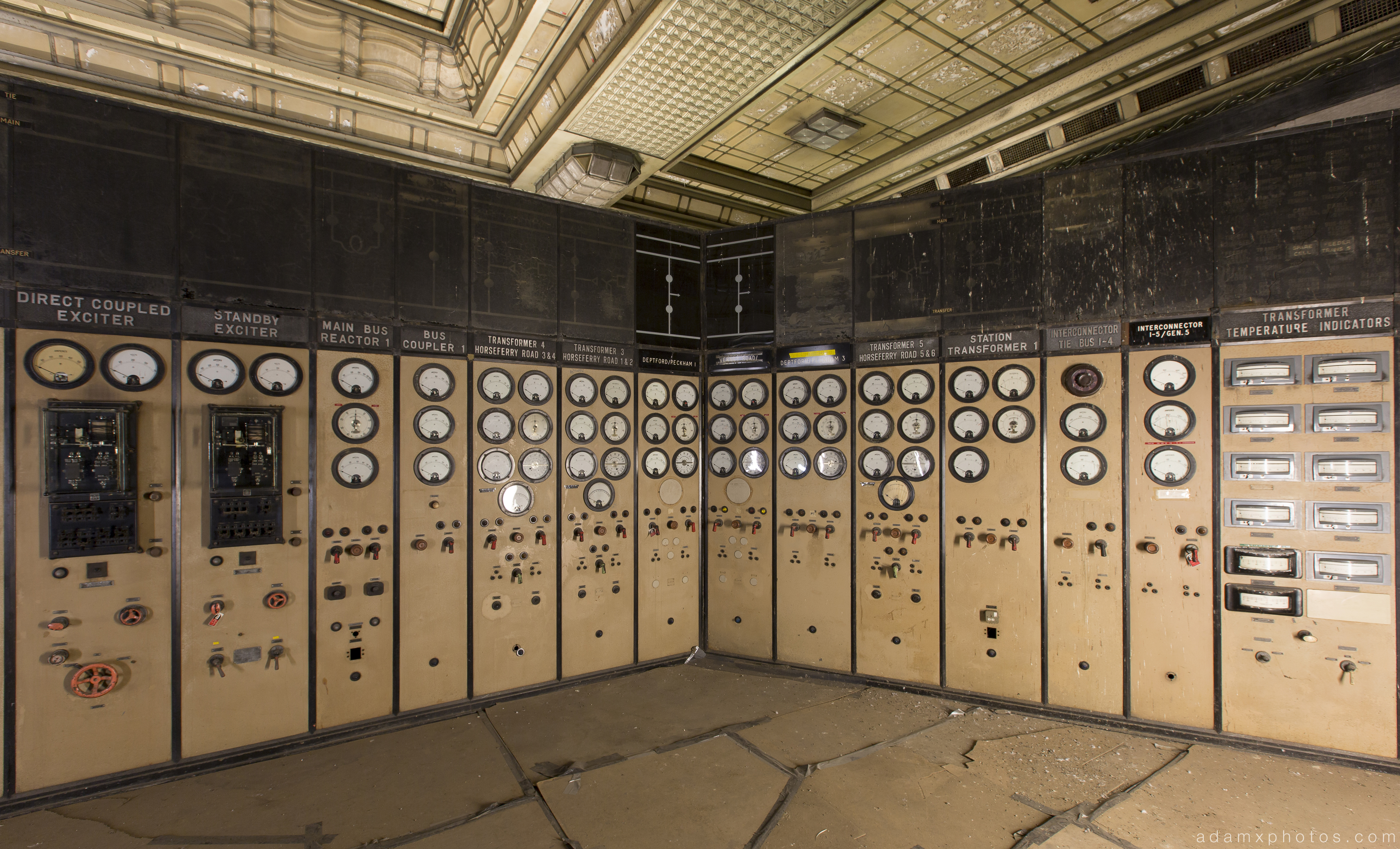 …and today.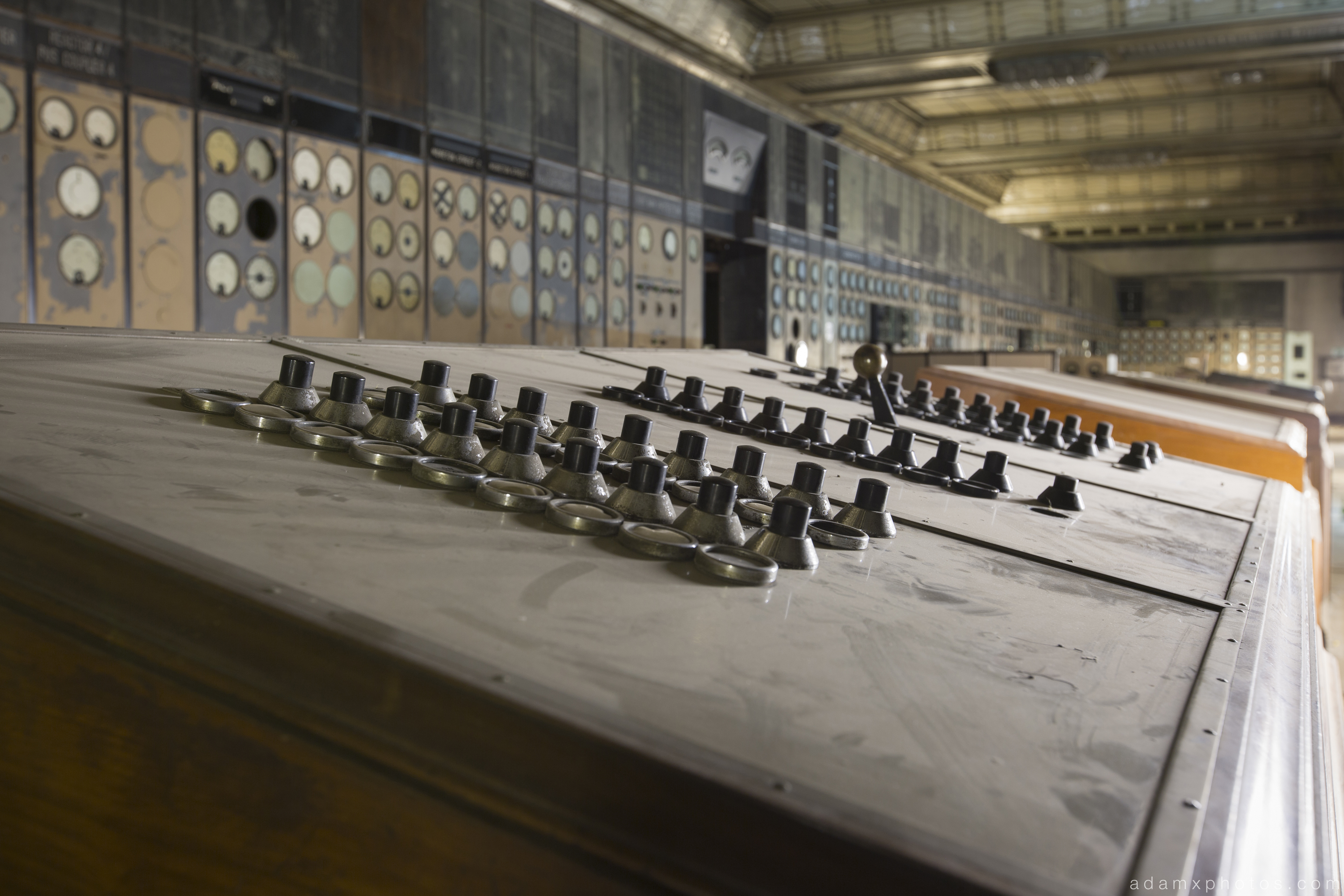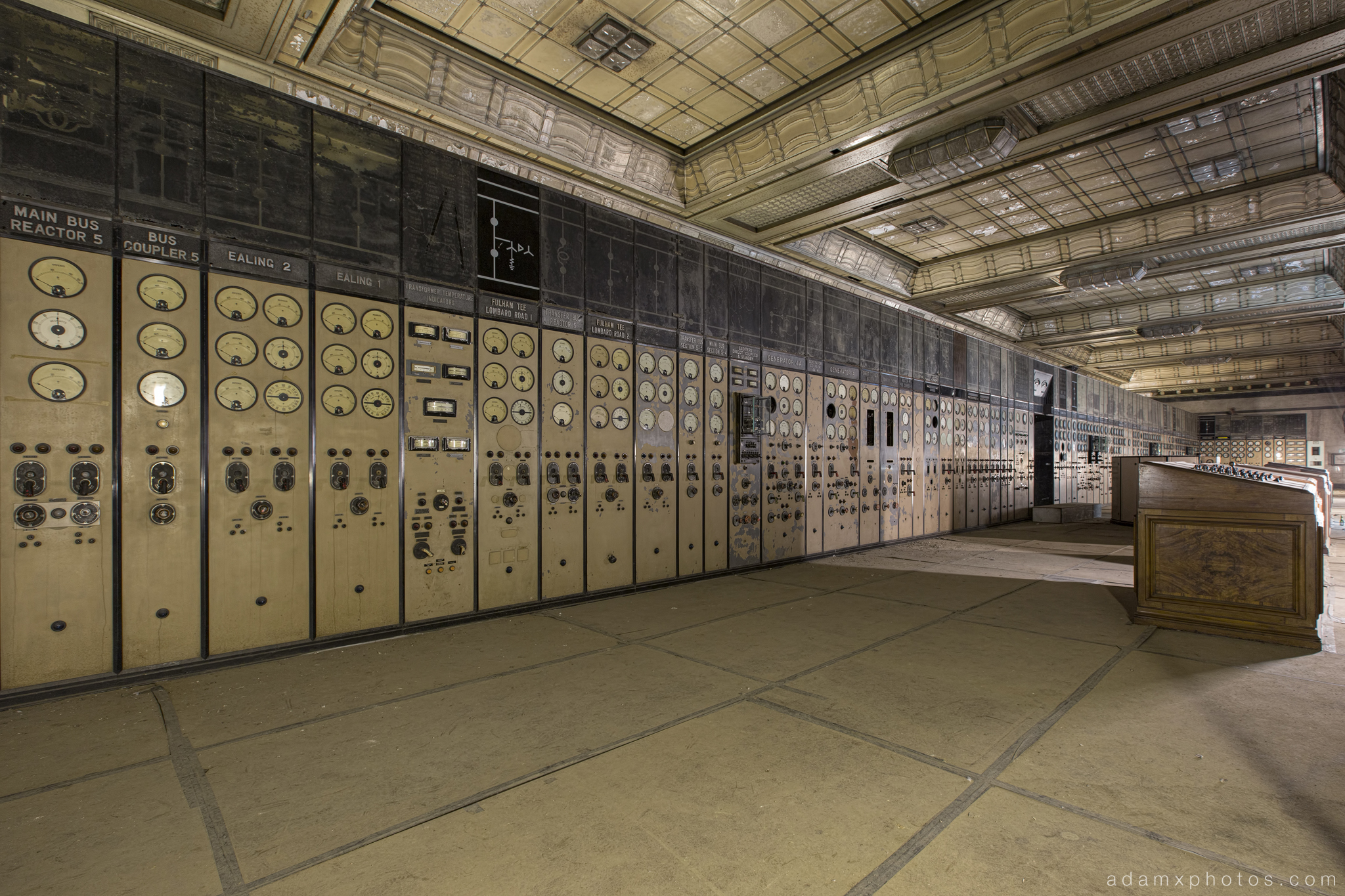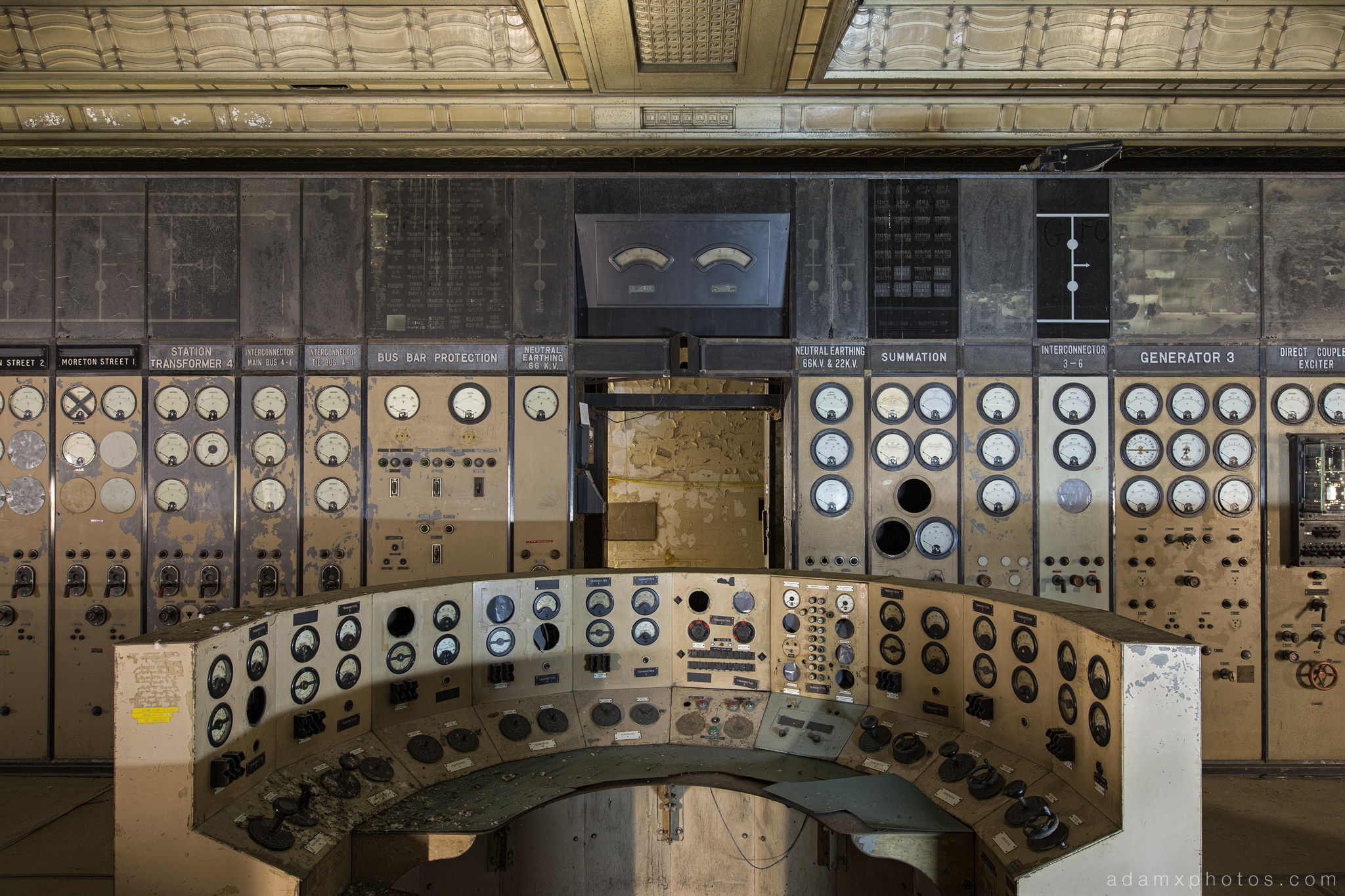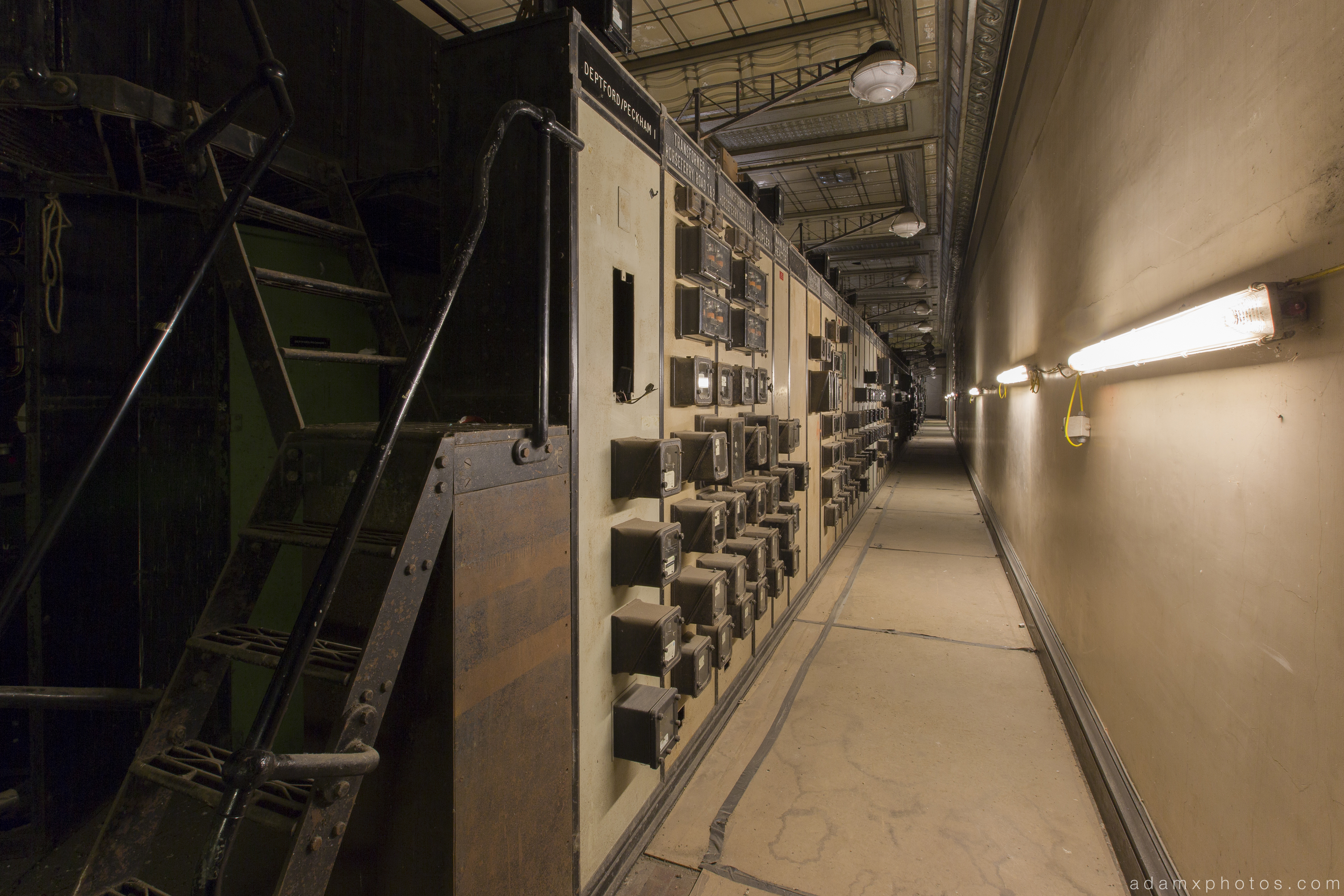 The back of the control panels housed the relays, used to protect the electrical switchgear and transformers.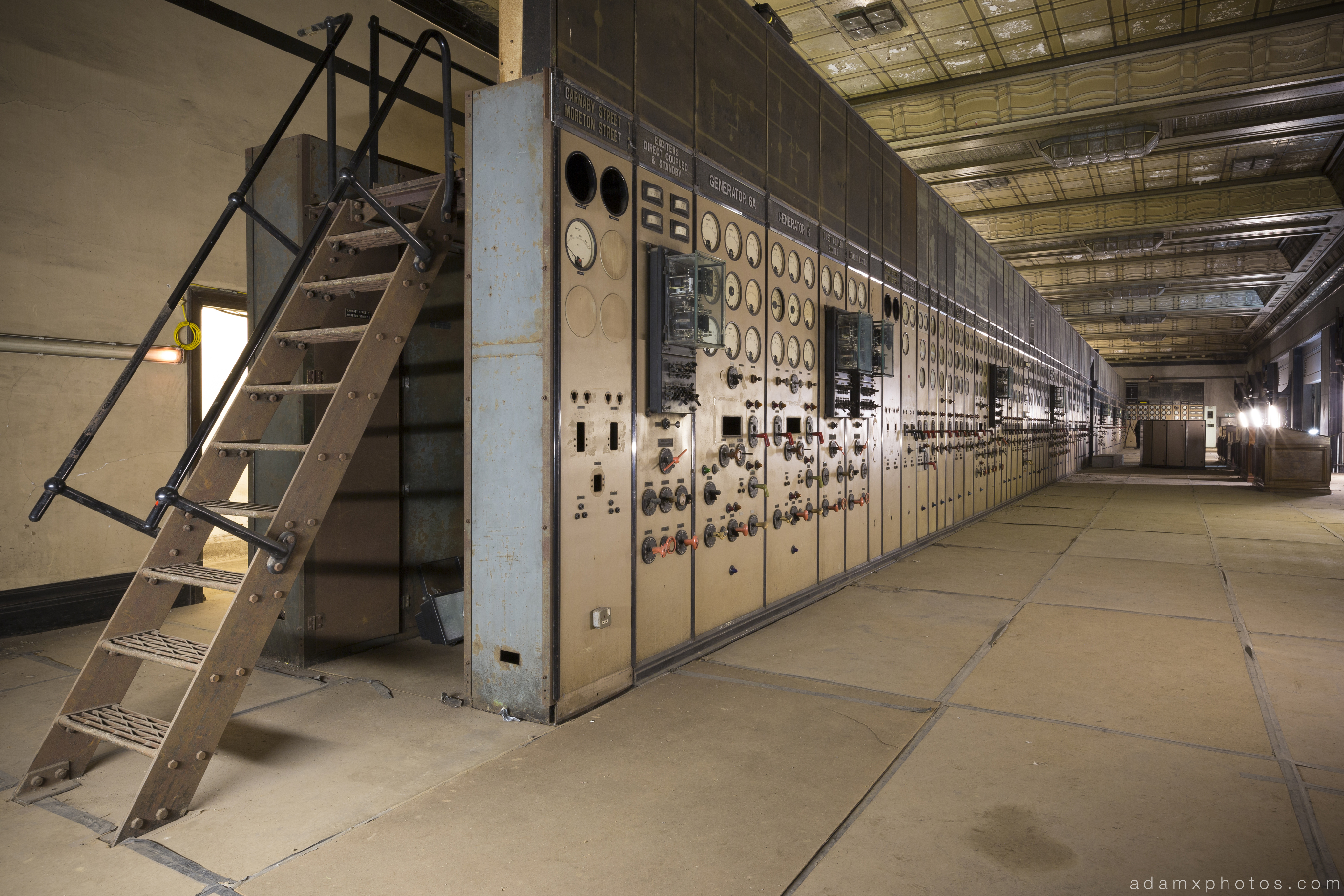 All too soon we had to tear ourselves away and start making our way out of the vast construction site…

I grabbed a quick shot of two of BPS' iconic chimneys. Decades of corrosion by sulphurous smoke emissions have left the chimneys unsafe, and they are being painstakingly dismantled and rebuilt with specialist materials made to replicate the originals. The site's developer was even required to set funds aside in a special bond to ensure that the chimney reconstructions would still be completed even if it went bust – a fate which has previously plagued previous developers.

Peering in through a broken window into the Cathedral of Scaffolding of what remains of the 'B' Power Station Turbine Hall.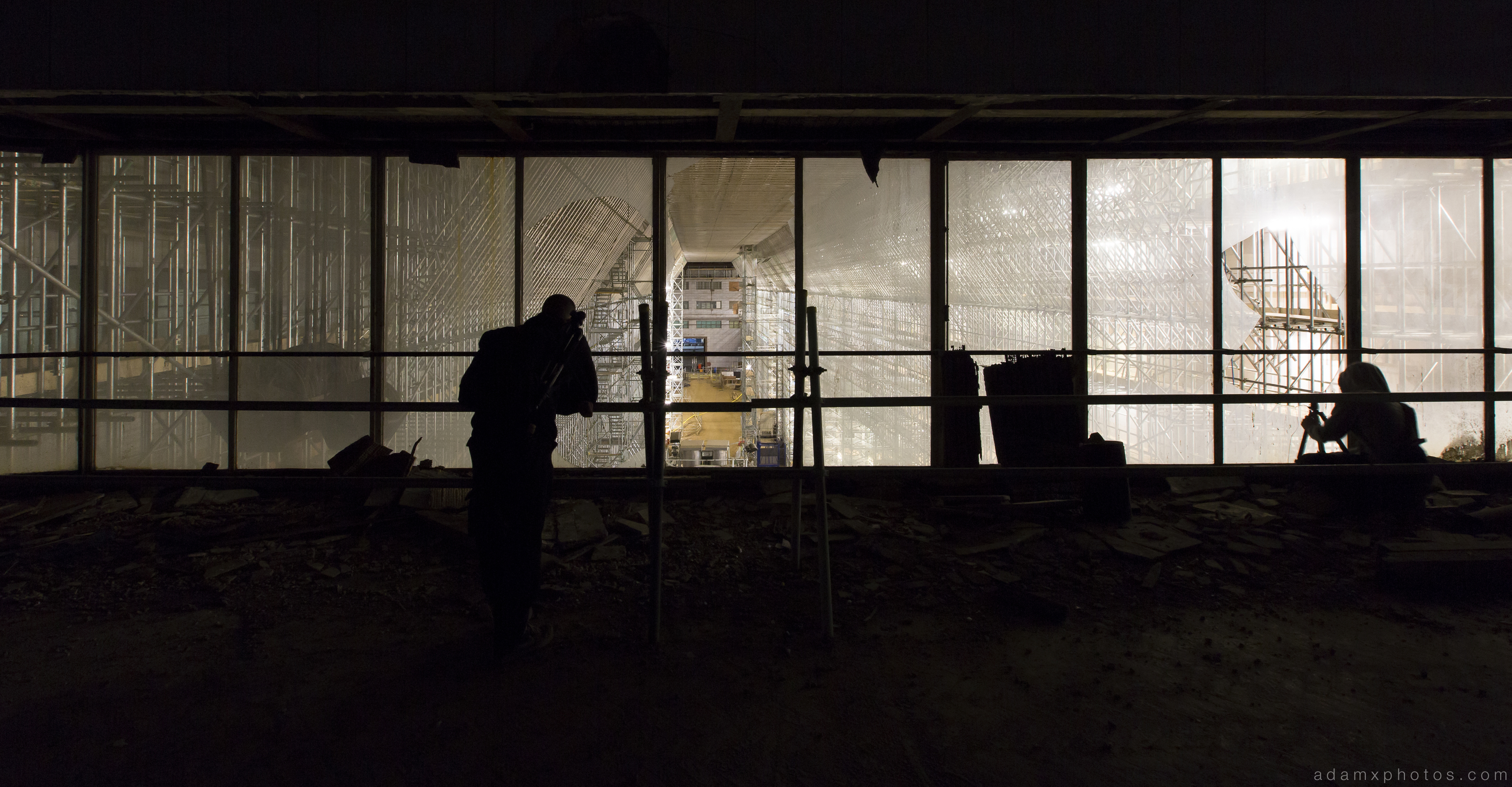 …now that's A LOT of scaff! 🙂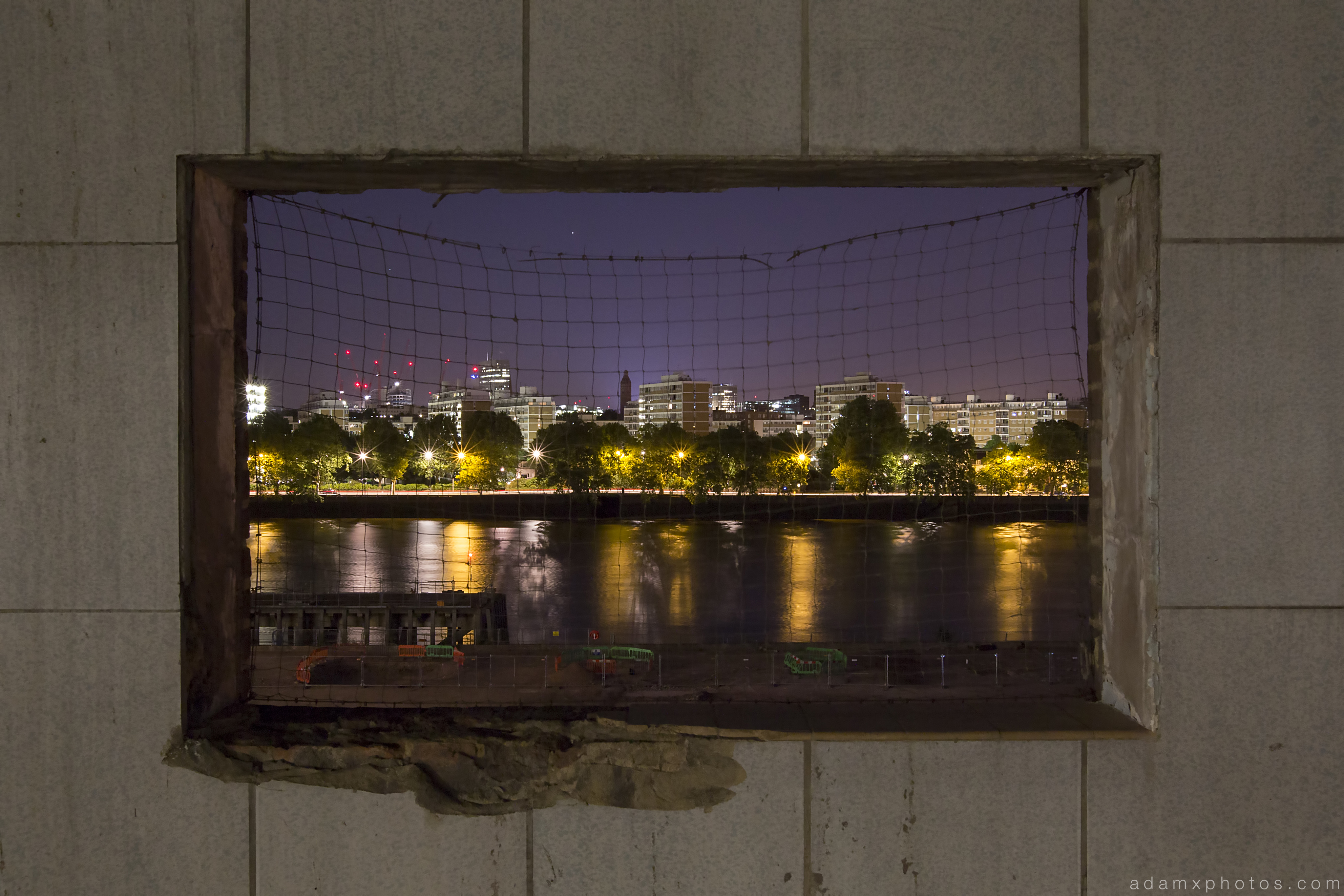 Looking out through a hole in the concrete shell towards the River Thames and North bank.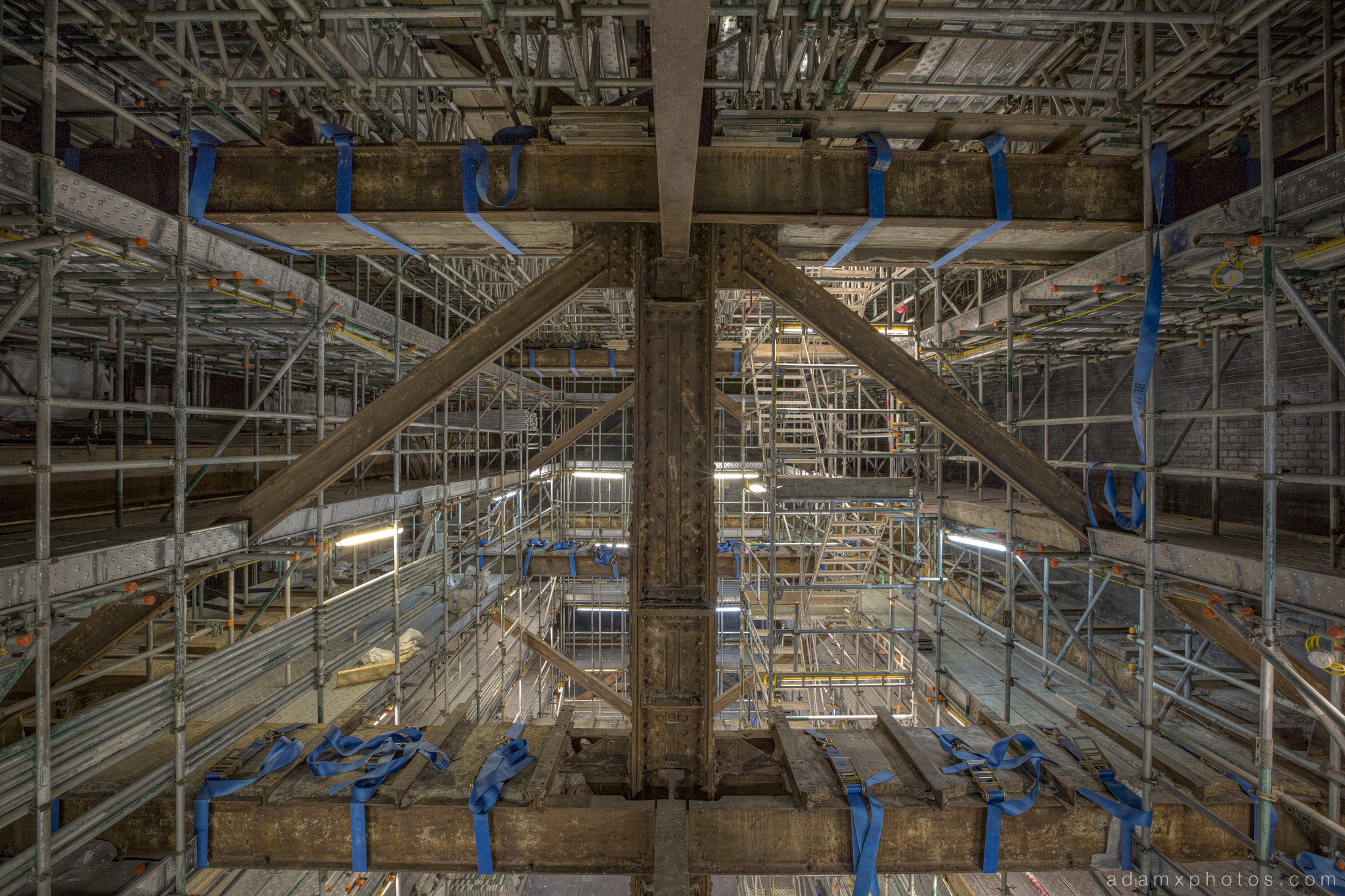 The maze of scaffolding inside one of the main chimney towers. It was quite a surreal experience picking our way through this brightly lit but deserted jungle of metal in the middle of the night!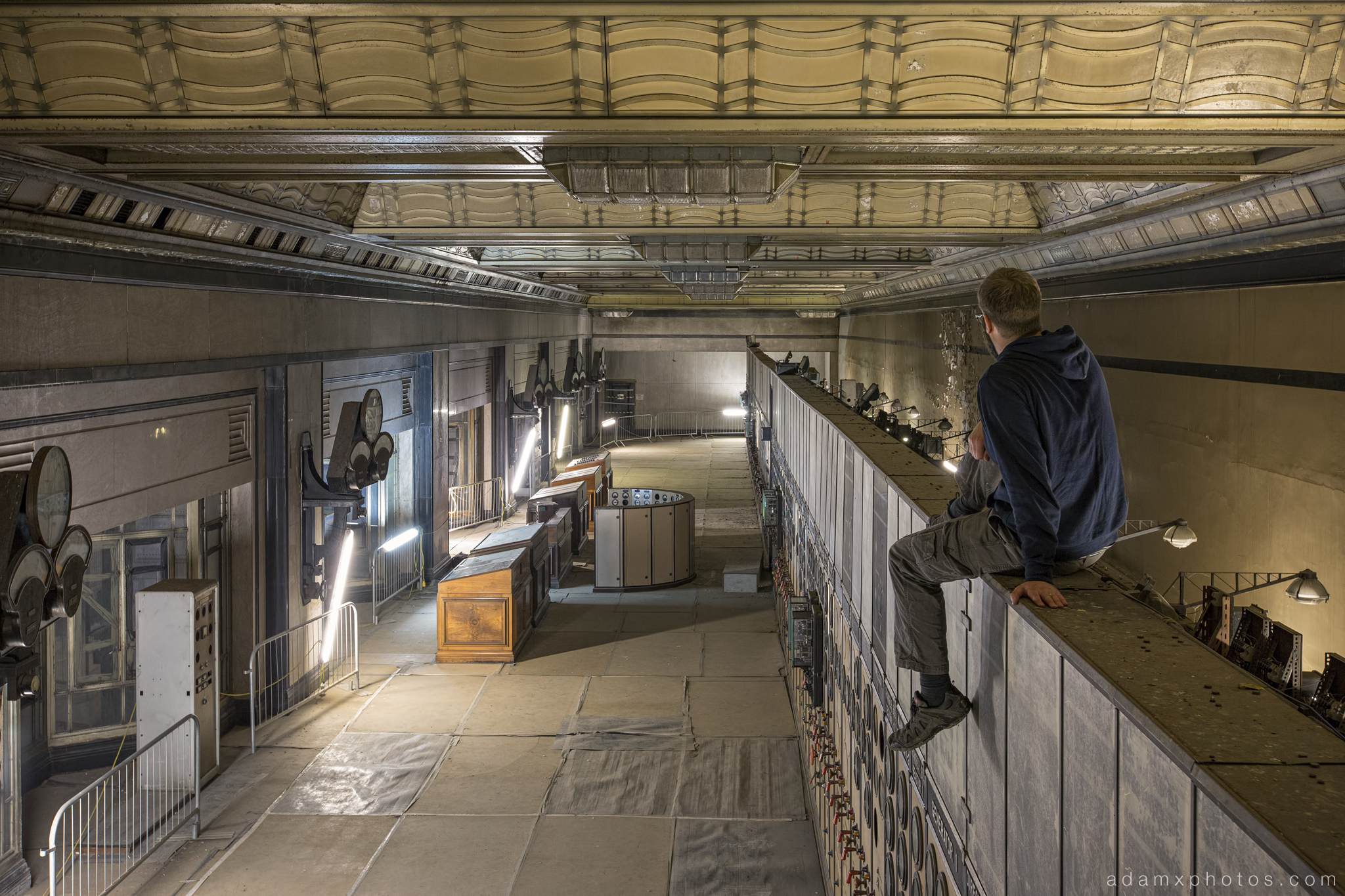 And I couldn't resist ending with just one final glimpse of that Control Room…
Thanks for looking.
Adam X