Okay, so this doesn't count as a 'proper' explore, but it was too fun an experience to leave completely unreported!
After exploring Leybourne Grange Manor my usual partner in serial trespass James and I made our way down to Portsmouth, with an early morning explore planned for the next day. Arriving late afternoon and driving past the docks area, we thought we would stop off and see whether we could negotiate a quick look at the outside of HMS Victory without having to pay for a ticket…
History (from wiki)
HMS Victory is a 104-gun first-rate ship of the line of the Royal Navy, ordered in 1758, laid down in 1759 and launched in 1765. She is best known as Lord Nelson's flagship at the Battle of Trafalgar in 1805.
She was also Keppel's flagship at Ushant, Howe's flagship at Cape Spartel and Jervis's flagship at Cape St Vincent. After 1824, she served as a harbour ship.
In 1922, she was moved to a dry dock at Portsmouth, England, and preserved as a museum ship. She has been the flagship of the First Sea Lord since October 2012 and is the world's oldest naval ship still in commission.
Our Explore
Before I go any further, let's get one thing clear: whilst I may often commit civil trespass as a necessary part of urban exploration, I never commit any criminal offence – including causing any damage to property or trespassing on protected areas for which 'criminal trespass' applies – mainly land owned by the Crown, railways, Ministry of Defence sites and the suchlike. Therefore trespassing on HMS Victory might, theoretically at least, potentially be a criminal offence. So we definitely did not do that…
..what did happen, however, was that we strolled up alongside the beautiful old ship, marvelling at its size (please excuse the rubbish phone shot)…
…and then we wandered around to the other side, and there was a plank leading up onto the ship with no-one around…
The sort-of-Urbex bit:
…so we walked up it and stuck our noses around the corner. Still no-one to be seen. We could hear voices on another level of deck in the distance – perhaps that last tour group of the day?
So getting a bit overexcited James and I had a quick look around – it seemed rude not to in the circumstances!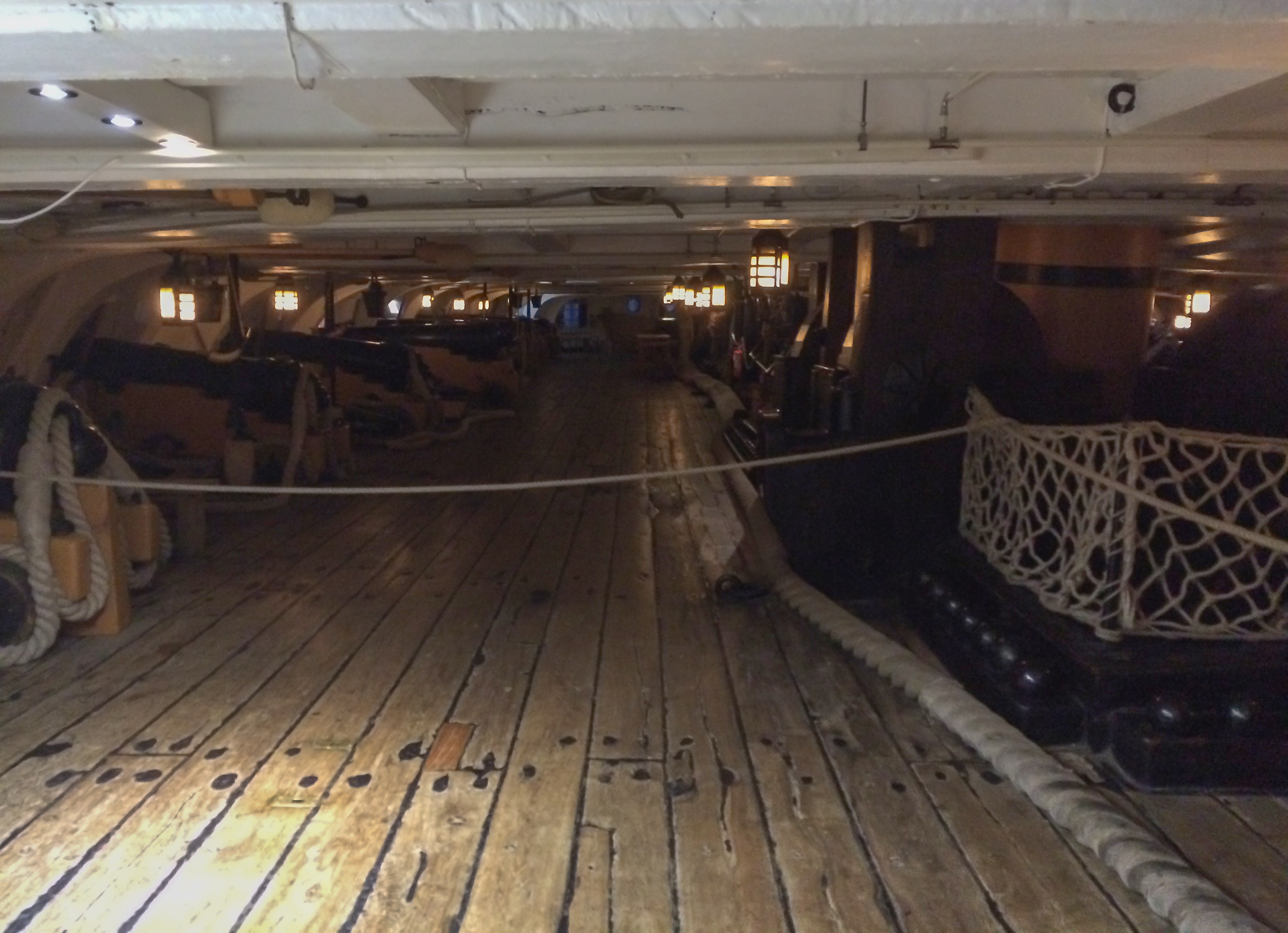 We found ourselves on the cannon deck…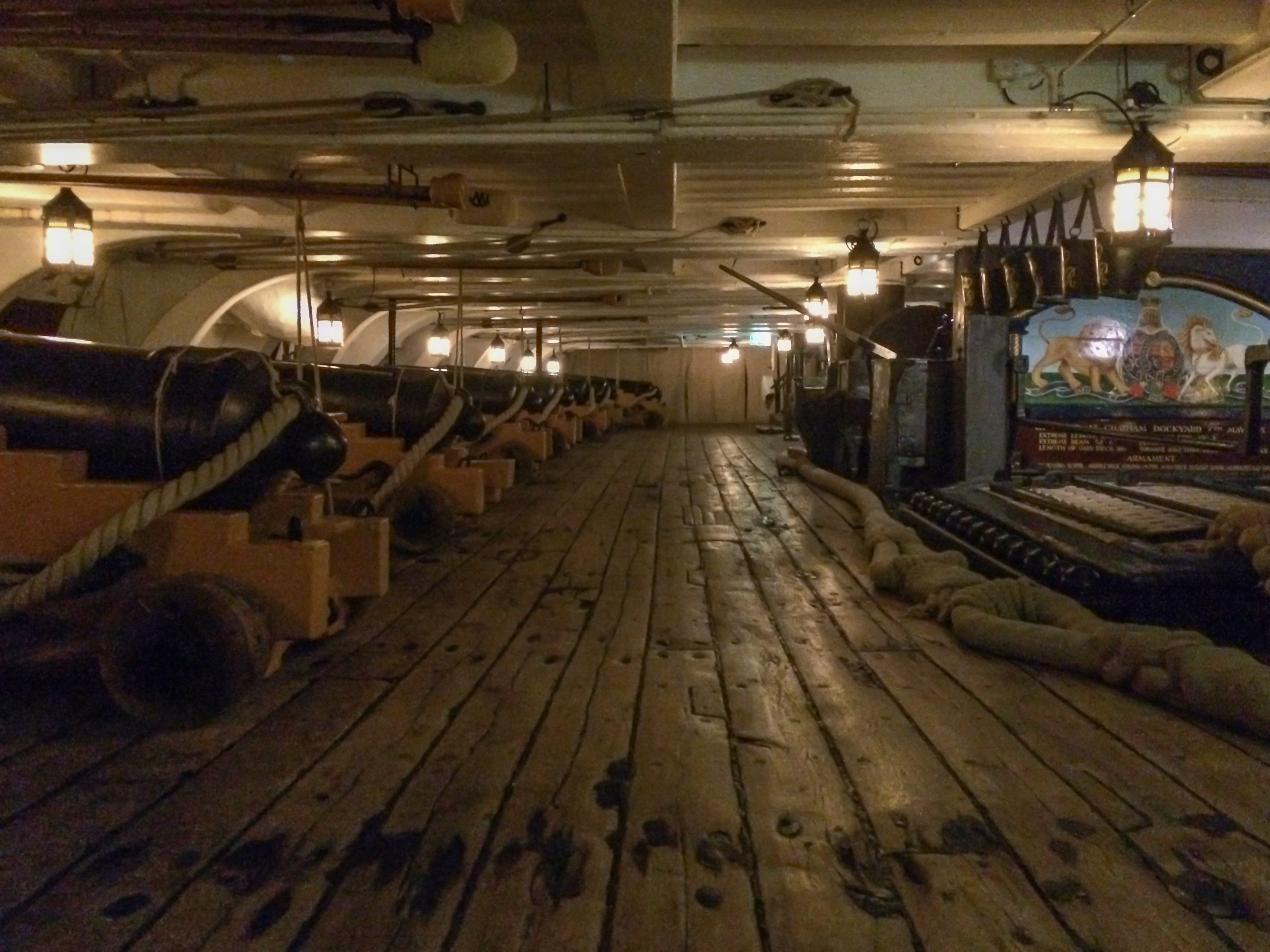 After about 10 minutes we heard voices much closer to us. It was a chap a day-glo security vest with a couple of paying punters who were joining up with the rest of the tour group we'd heard earlier.
The definitely-not-Urbex bit:
James and I thought we'd better tag along with this official as he led the others to the where the tour group were being given one of those factually detailed but oh-so-cheesy lectures which instantly gave me flashbacks to being herded around on a school trip…
The kind-of-permission-visit-Urbex bit:
…so when the official guide then started leading the tour group back towards the part of the ship which James and I had already explored solo we asked the 'security' chap who was still loitering nearby whether we might possibly be allowed a quick 5 minute look up on the next deck instead? It was at this point that we explained the full story of how we'd sort of inadvertently wandered onto HMS Victory and hadn't actually paid or anything… erm, awkward!
…luckily this bloke was an absolute stone cold legend. It turned out he wasn't 'secca' at all, but rather one of the small number of senior Royal Navy officers who are still permanently stationed onboard! I think he liked our enterprise and obvious curiosity in the ship, and for the next half hour or so he proceeded to take us on our own private behind-the-scenes tour of HMS Victory! This included taking us to some 'off limits' parts undergoing restoration works which were closed to the tour groups, including the Great Cabin and dining areas where Lord Nelson himself would once have feasted.
Unfortunately it wasn't the kind of dynamic where we'd have felt comfortable snapping away with cameras (we only had our phones on us anyway), as we were much more engaged in conversation with our gracious and unexpected host, but here's a couple of shots from the HMS Victory Website which gives an idea of what the restored quarters now look like.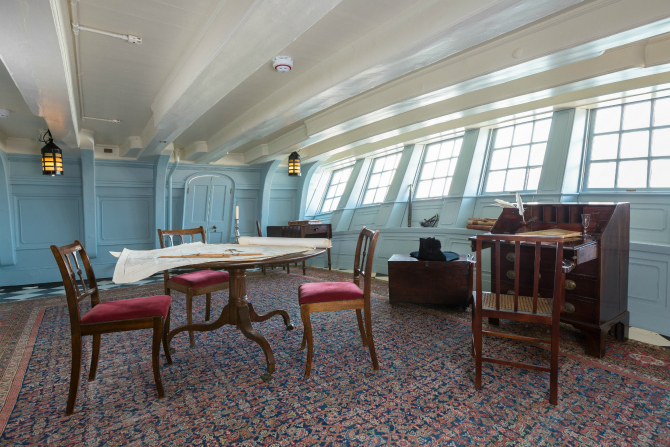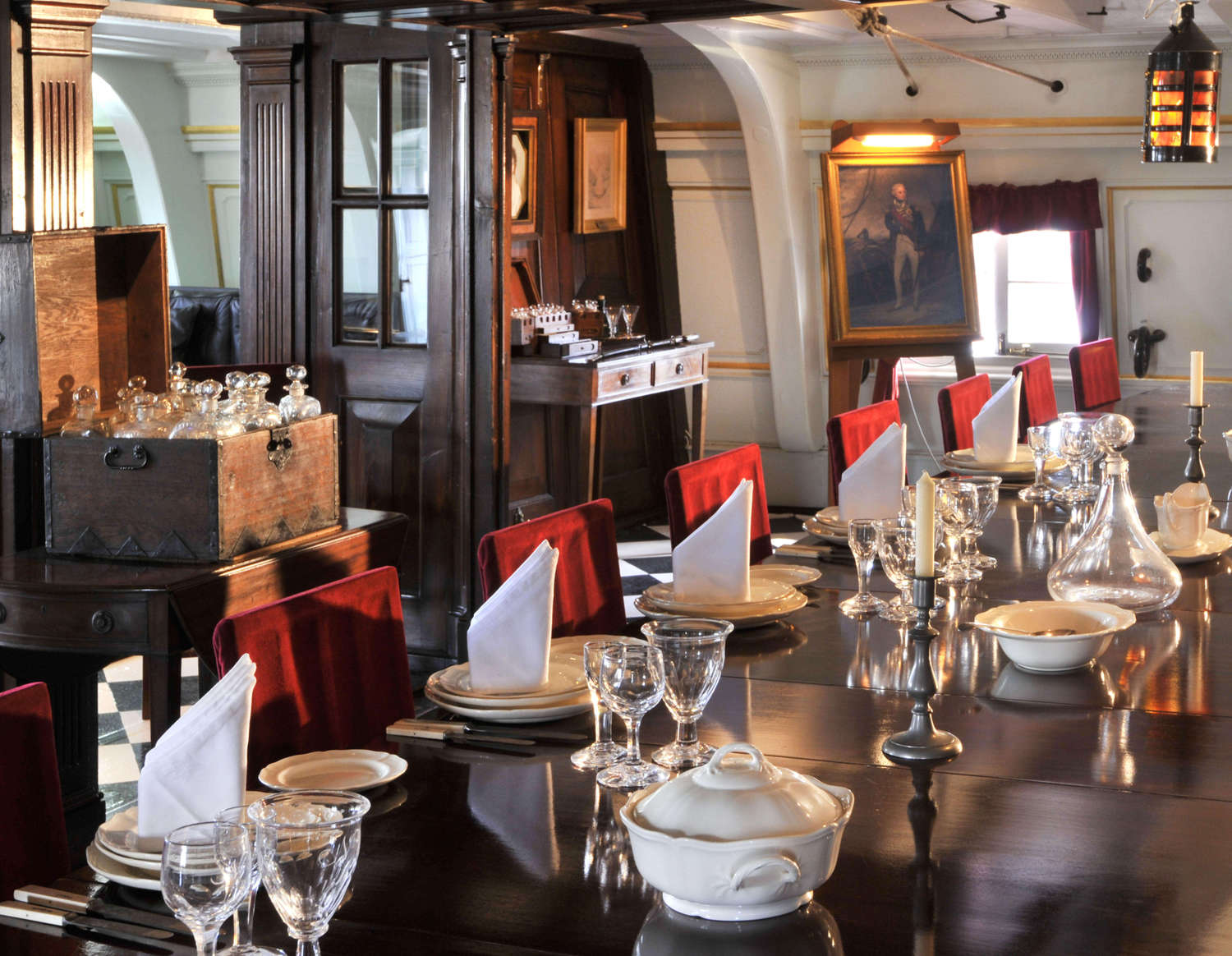 And so, we managed to avoid getting flogged for trespass…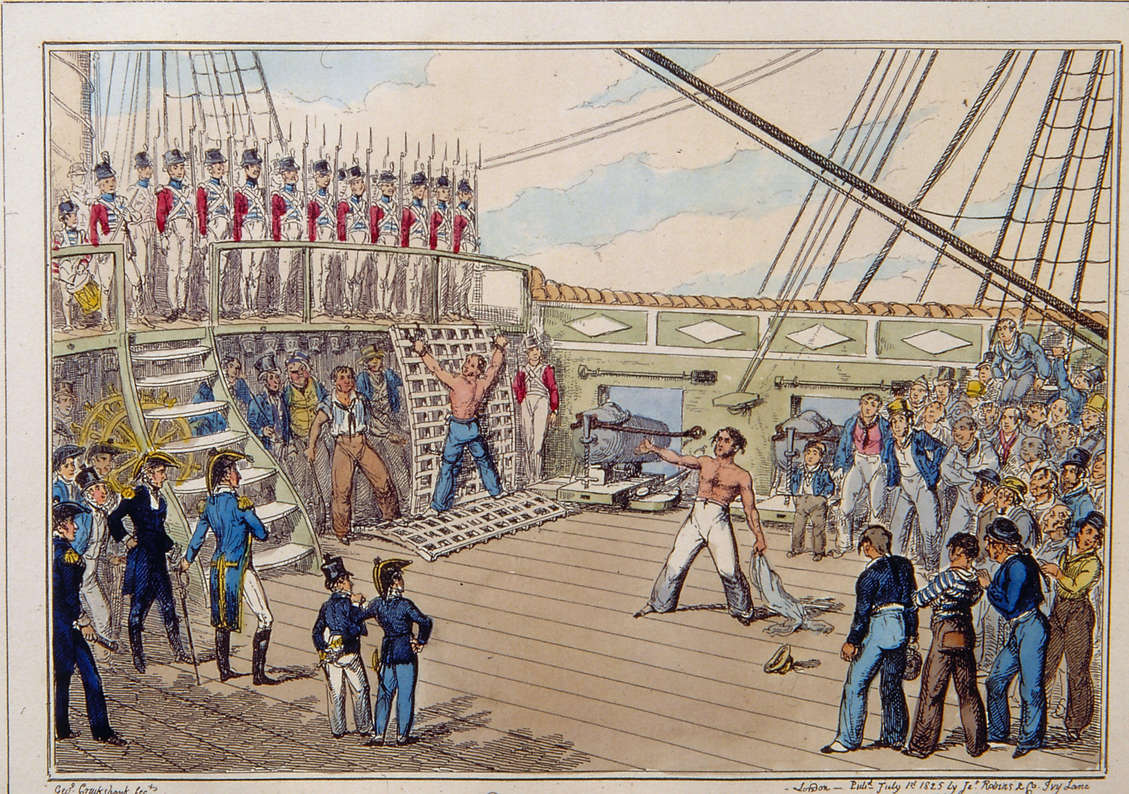 …and instead thanked Mr Legend, before heading off to our hotel and some much needed beers! 🙂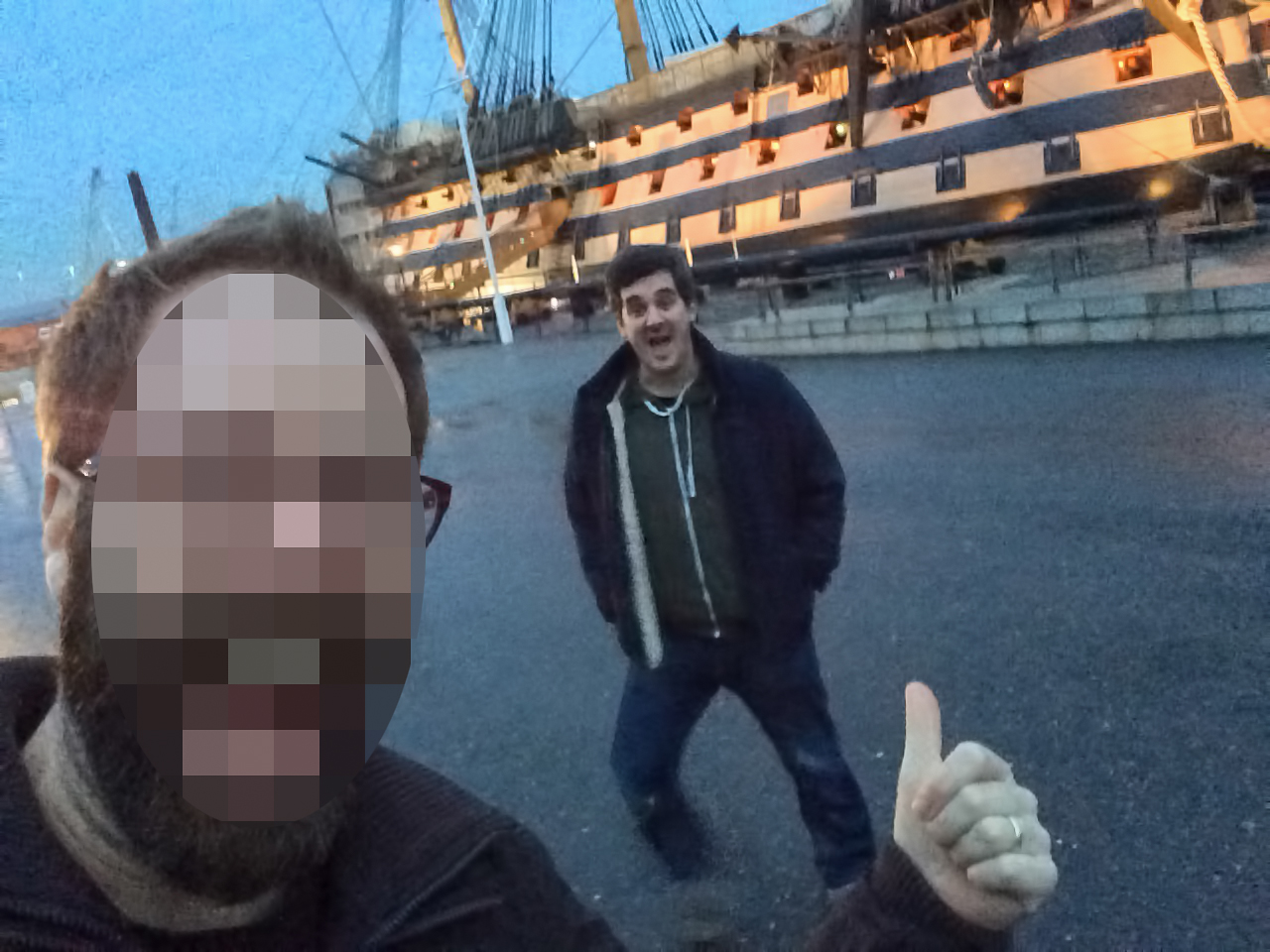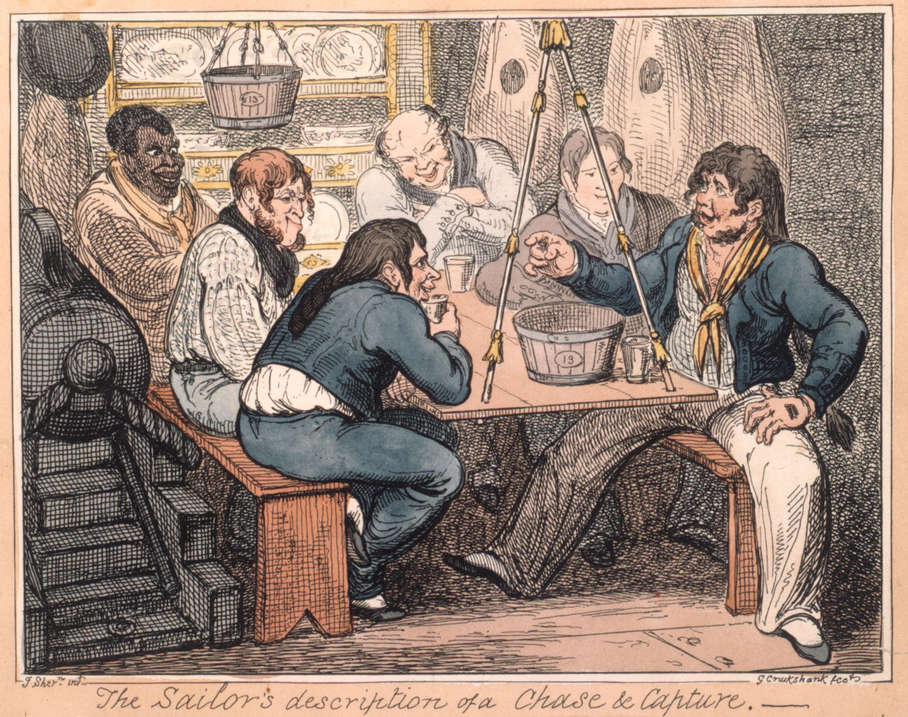 Thanks for coming below deck.
Adam X