Explore #1 of the Quality>Quantity aka Crimes Against Photography Tour
The first location of this UK weekend road trip with Urbanographer, Wasted Abandon, and Carrot In Motion was the amazing and mysterious 'Tower X'. We've used a code name for this location for now to avoid unwanted attention and keep a relatively low profile, but we may update our reports to its true name at a later date…
The inspiration to try and crack this location came from a random comment by a fellow explorer called Ed (thanks mate, you know who you are!), who also helped out with some general info on what security might be like / best routes to avoid most of the CCTV etc. But ultimately it was a step into the unknown, as we are not aware of anyone else having done this location in the manner that we did, i.e. in the middle of the night and without permission…
History
No history on this report for obvious reasons of maintaining anonymity – as you will see it's a very old, very beautiful, place of worship located somewhere in the UK.
Our Explore
There is only so much information you can glean from hours of obsessive online research (related websites, daylight photos of the site, and large doses of Google satellite and street view and Bing Maps bird's eye view reconnaissance, etc etc) but it all helps. There will always be an element of the unknown and unexpected – that's half of what makes it a challenge and enjoyable – but forewarned is forearmed and all that…
It was shortly after 1.30am when our intrepid team arrived at the location. After investigating all potential routes to our target we stealthily made our move, and after some fairly challenging manoeuvring we finally made it onto the scaffolding. The main challenge was then keeping as quiet as possible so as not to alert security as we navigated our way ever upwards in the still and quiet night. Every step on a loose/noisy scaffolding plank seemed to reverberate around us and threaten to give us away, but finally we were at the top – we had made it! We all let out sighs of relief and broke in to massive grins as we took in the wonderful view around us. I excitedly posted a quick Facebook status update that "Sh*t has just got EPIC!" and it certainly felt that way to all of us in that moment.
I felt really proud that whilst being by no means the most risky or challenging site that an urban explorer has ever cracked, it was still something which we had taken on and achieved for ourselves without having followed in the footsteps of others.
We spent the next hour or so happily admiring the views, listening to the sounds of drunken revellers in the streets far away from the tranquillity of our lofty perch, and taking our shots. Oh, and Carrot In Motion (aka Sam) took the opportunity to have a little nap… as you do!
These photos really are best viewed large, so as always click on a photo to SEE IT BIG!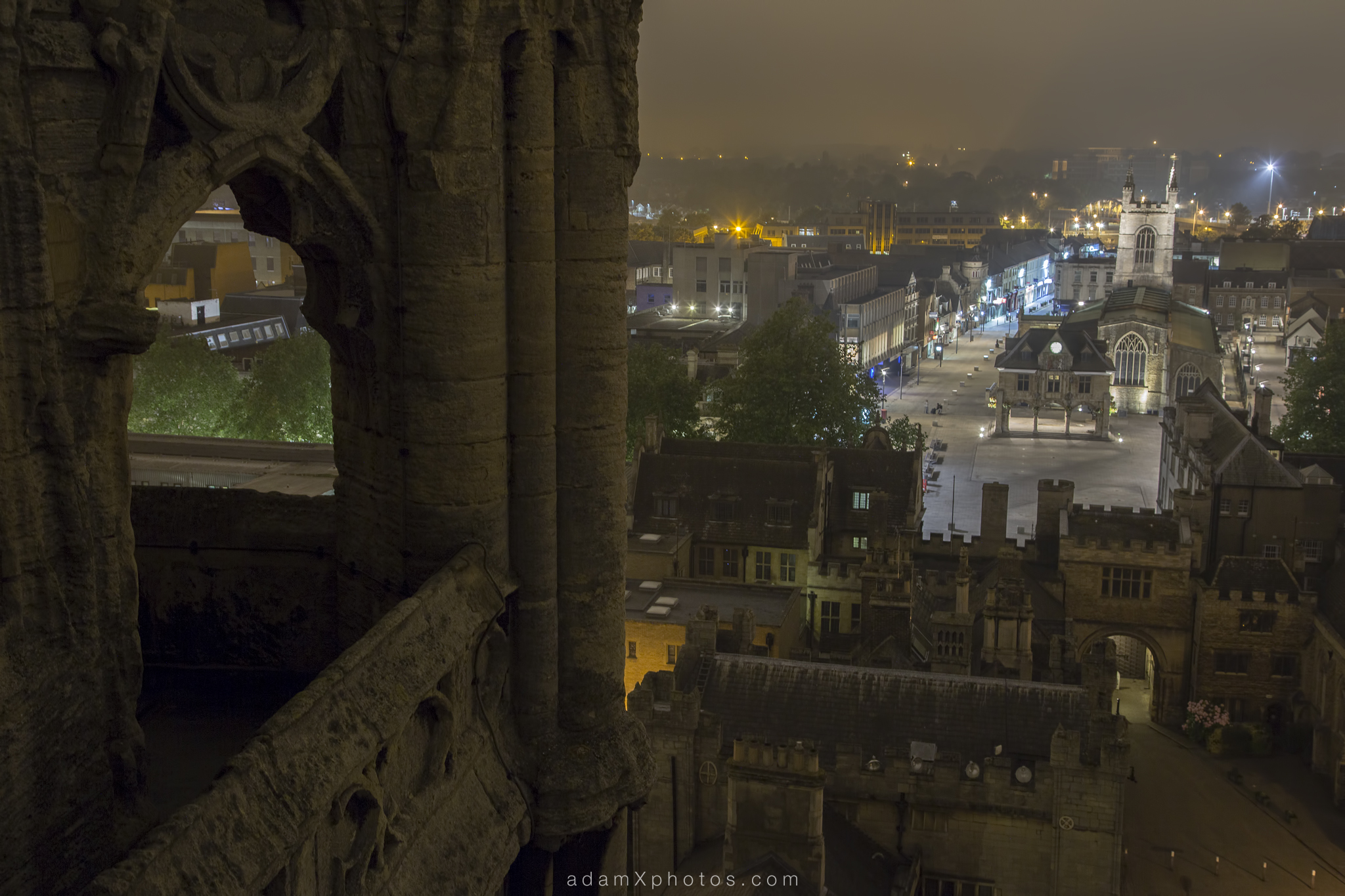 We were immediately greeted by this amazing view back over the city centre…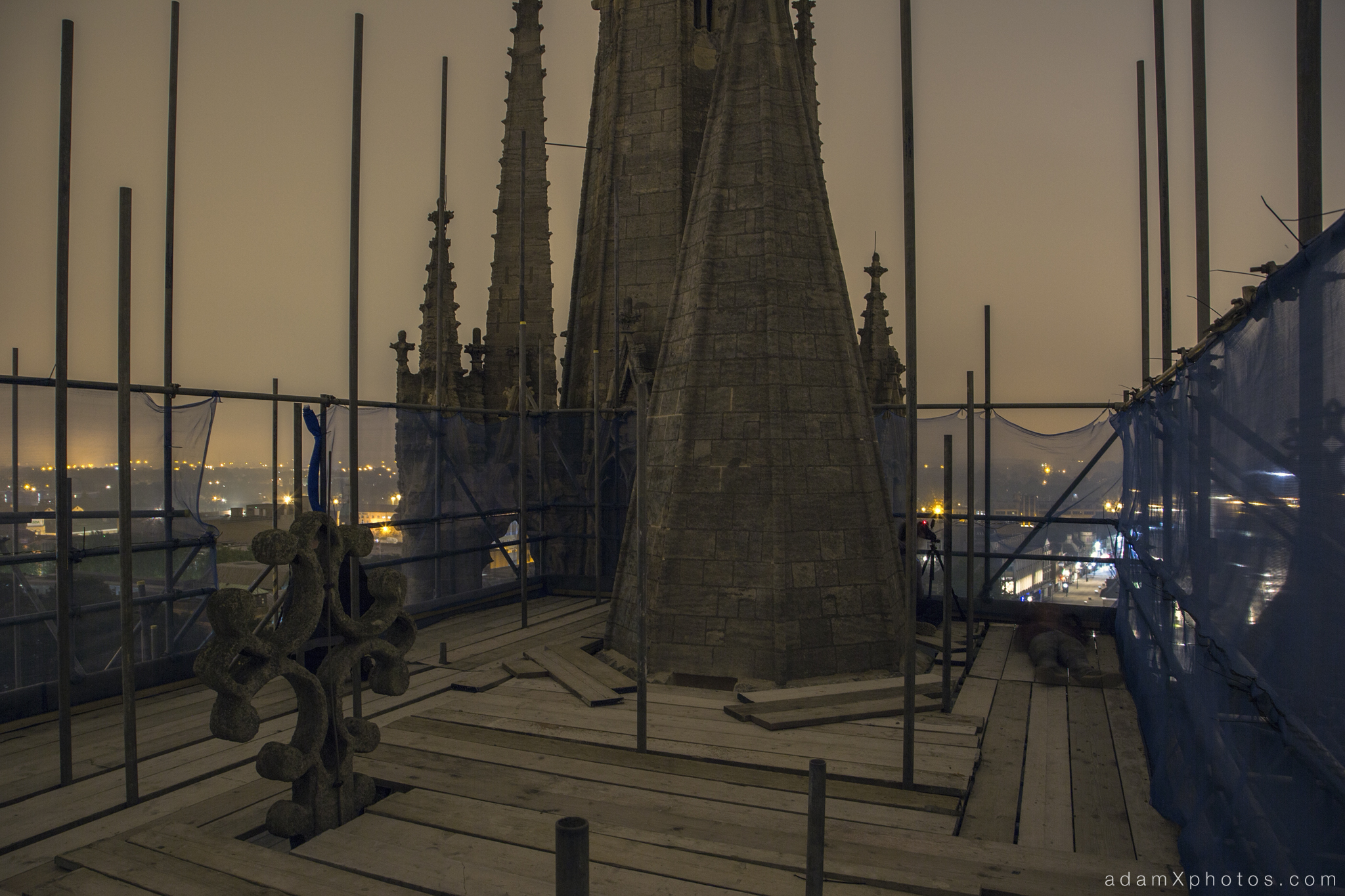 It was a surreal experience to be able to (very carefully and gently) touch this ornate cross, whilst thinking how high up an out of reach it would usually be.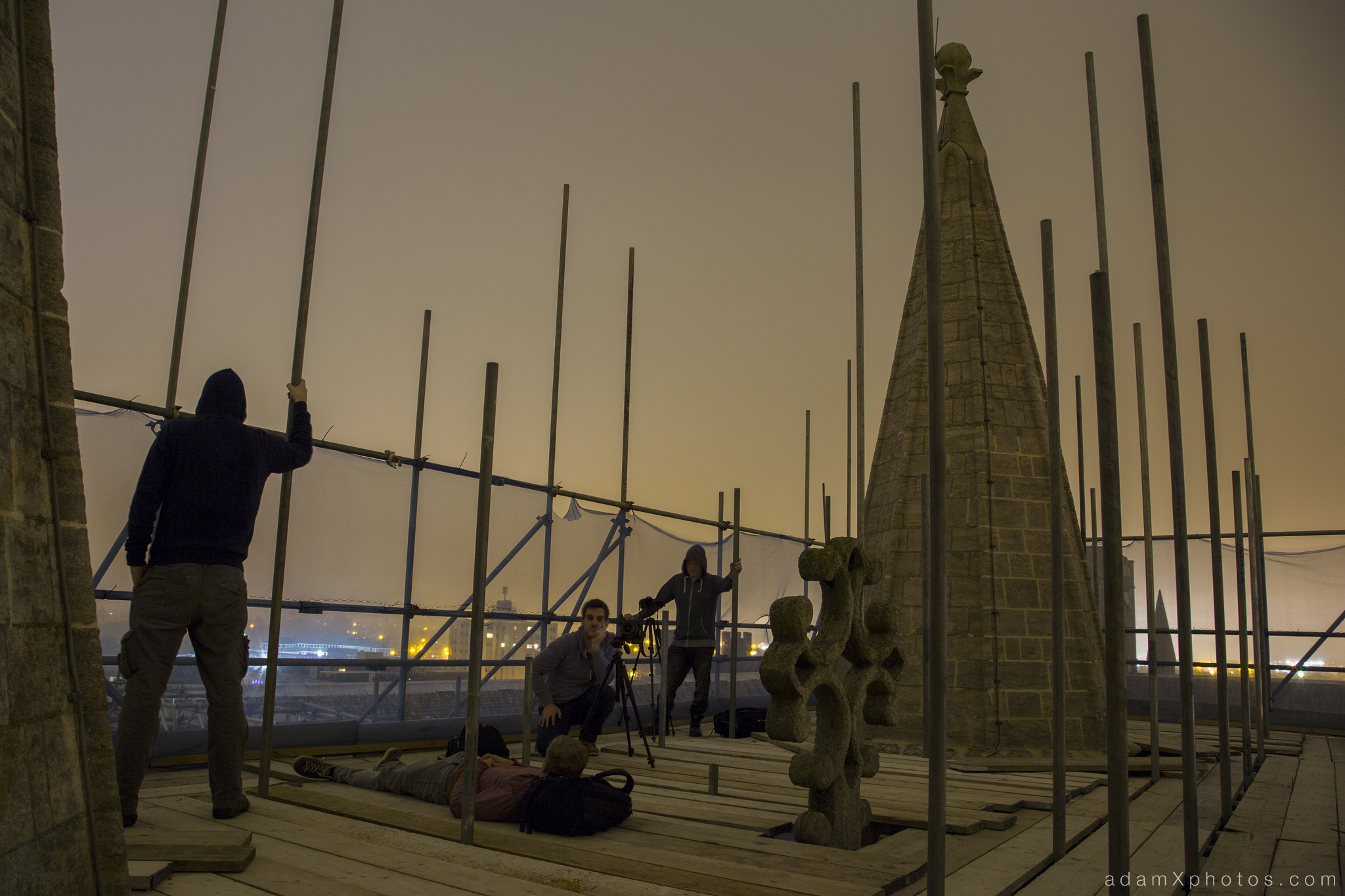 Time for a quick group shot – Sam having a rest, horizontal, in the foreground…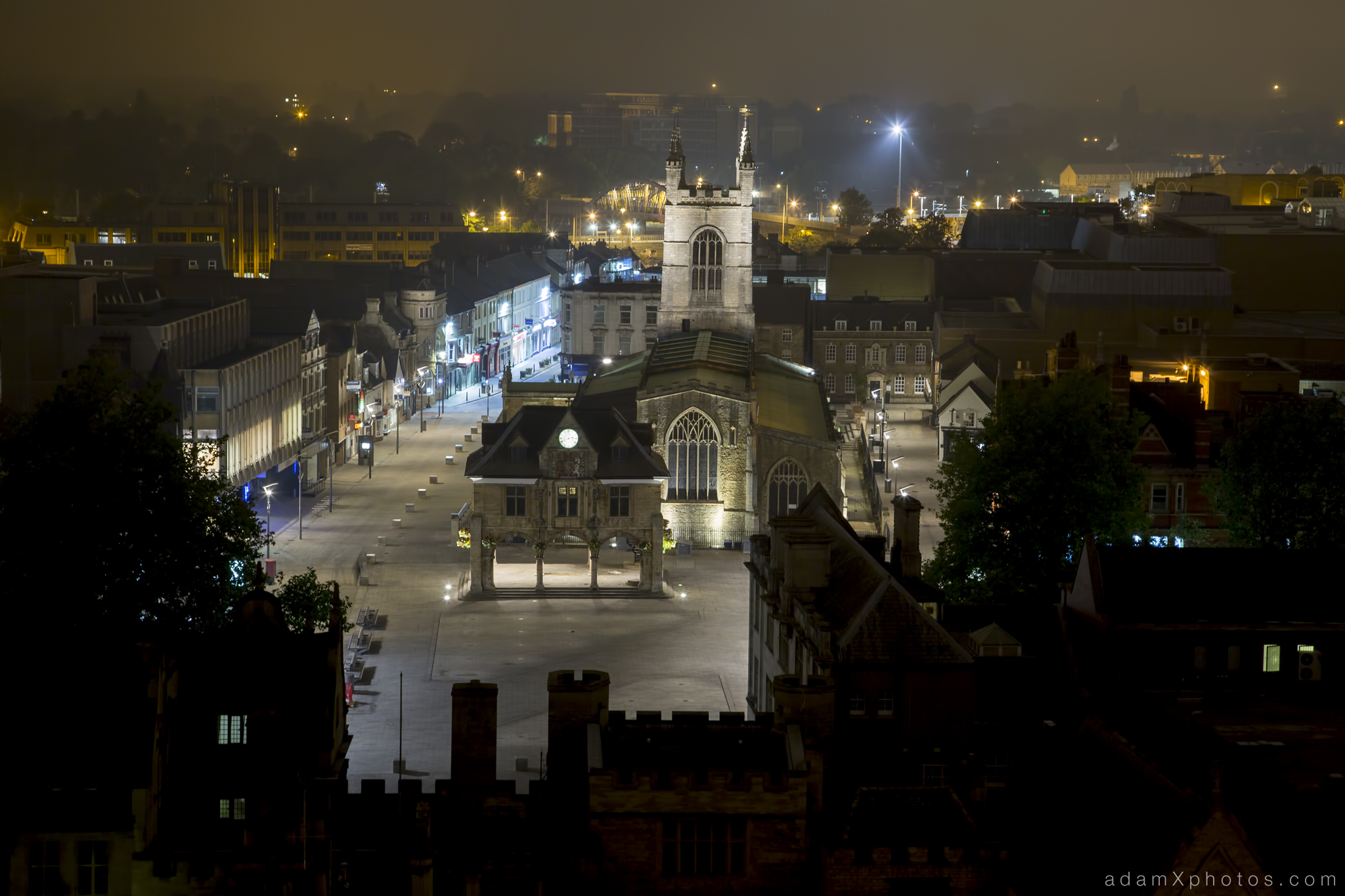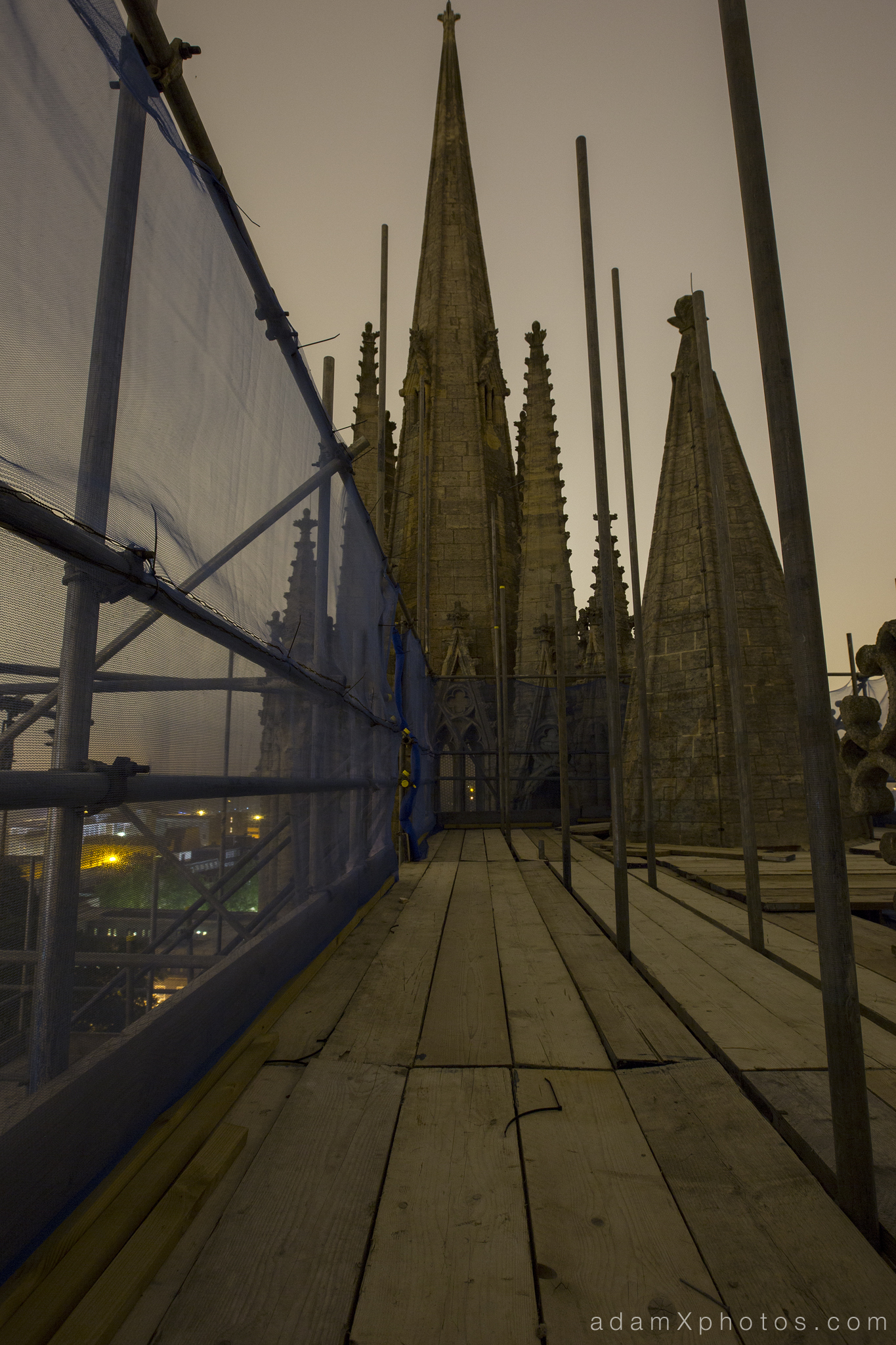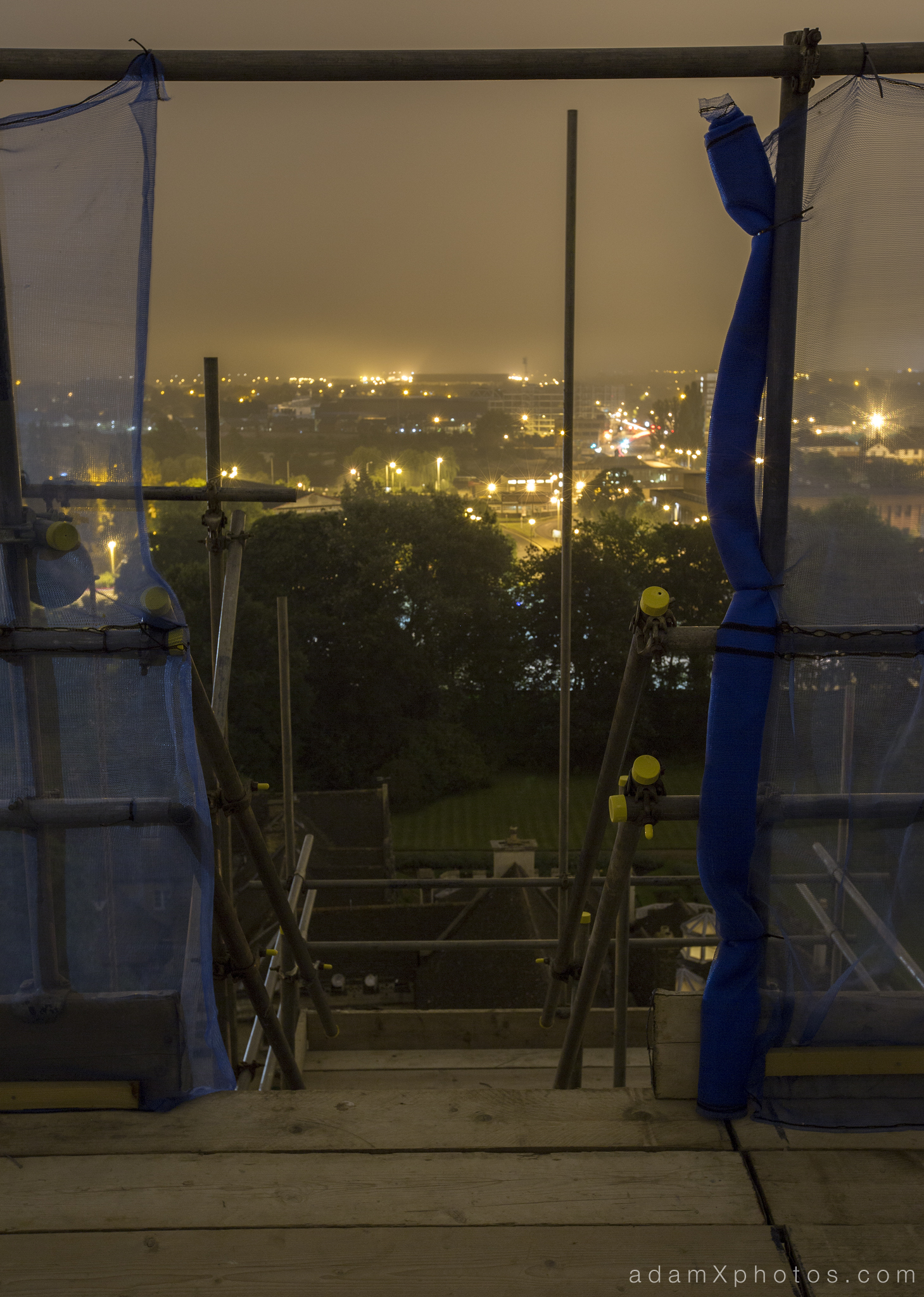 Looking out from the top of the scaffolding stairs…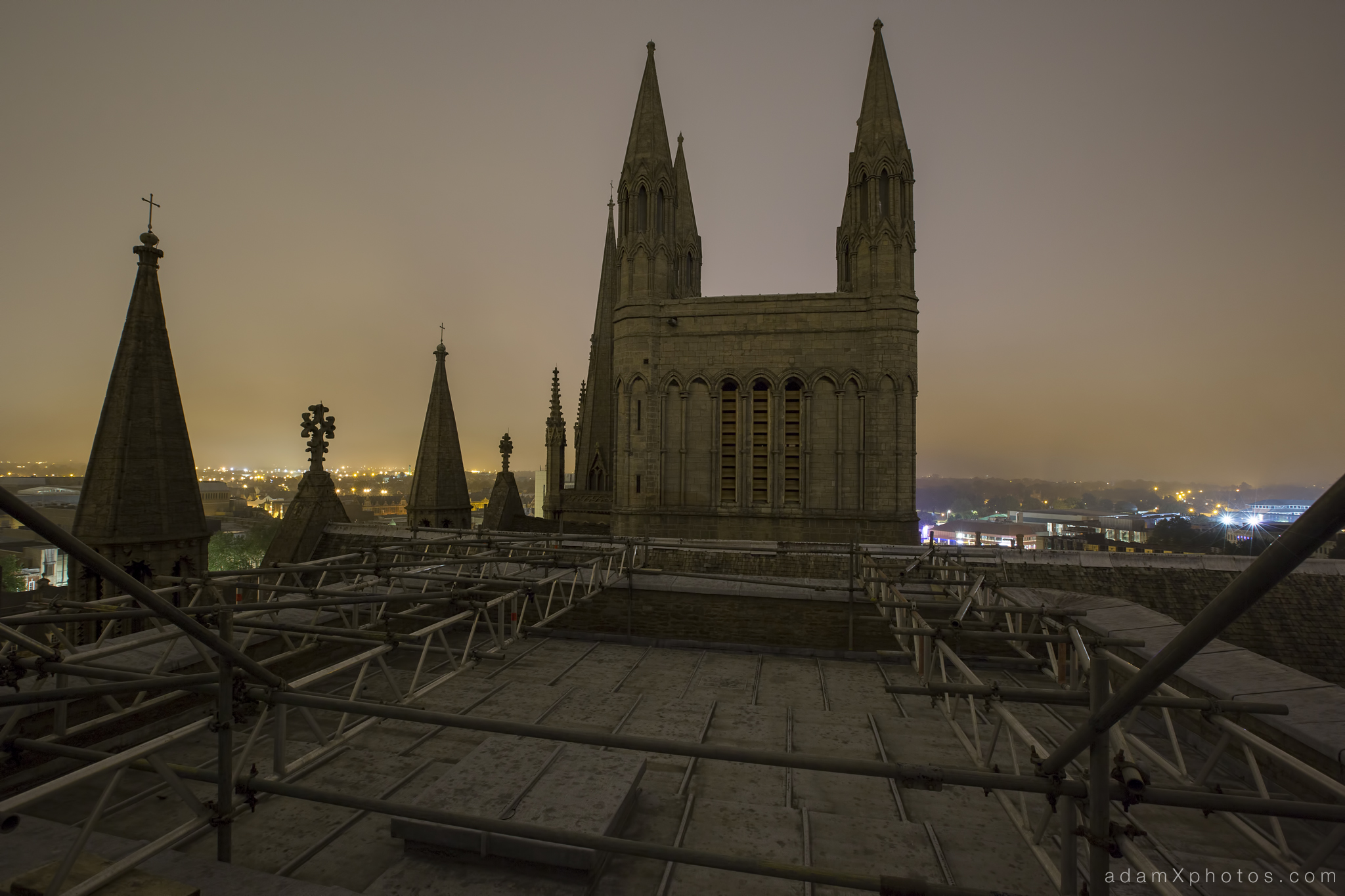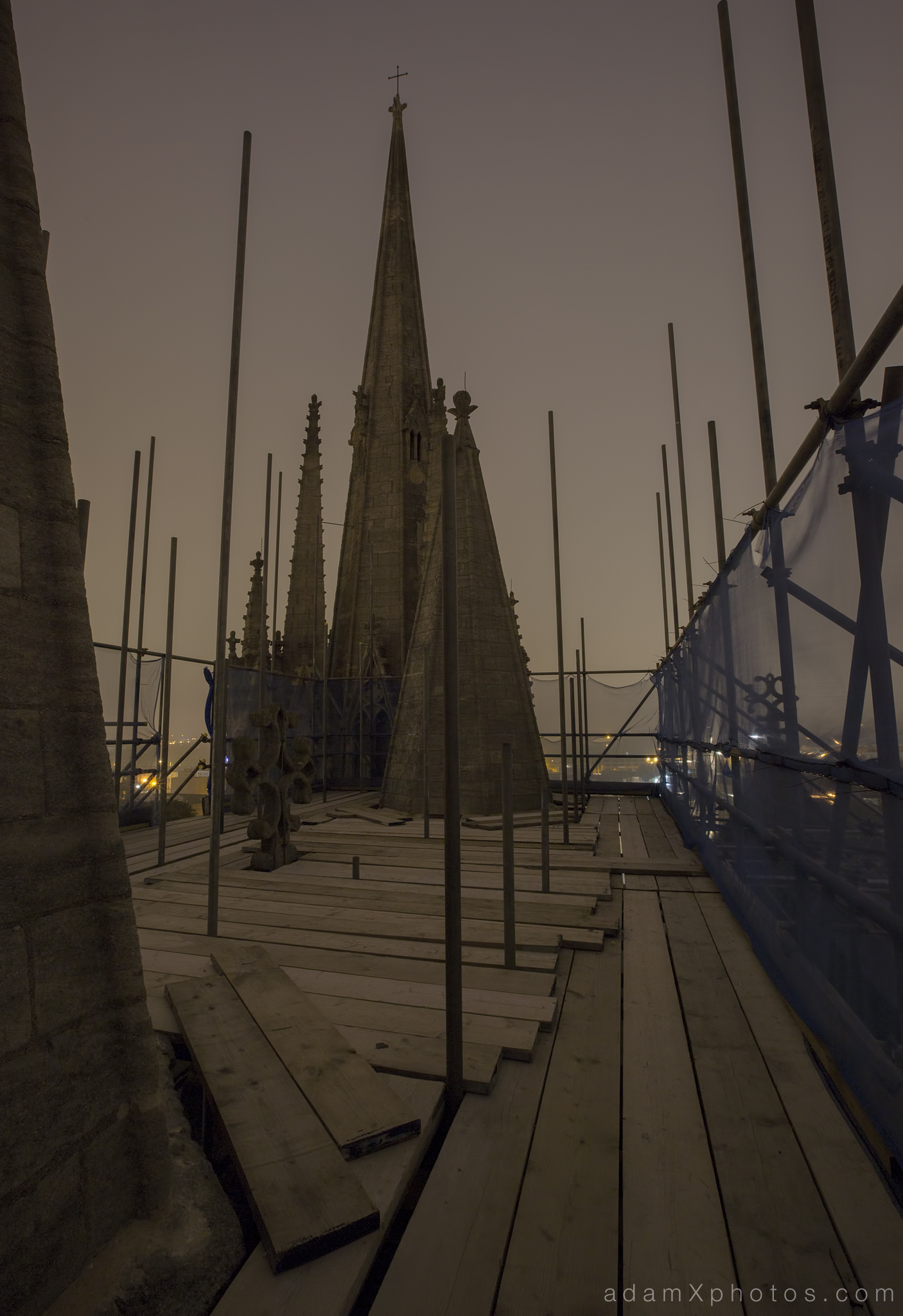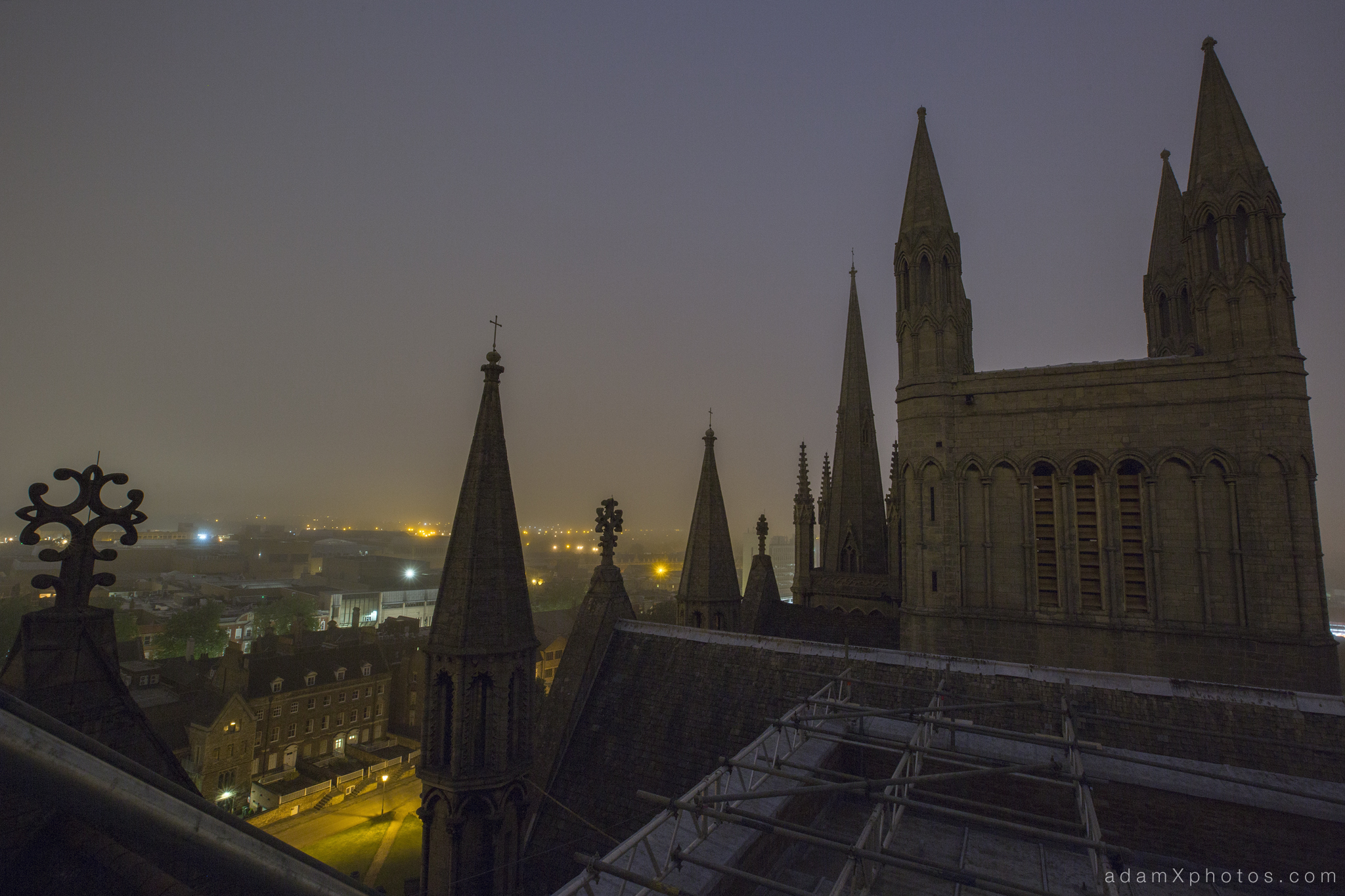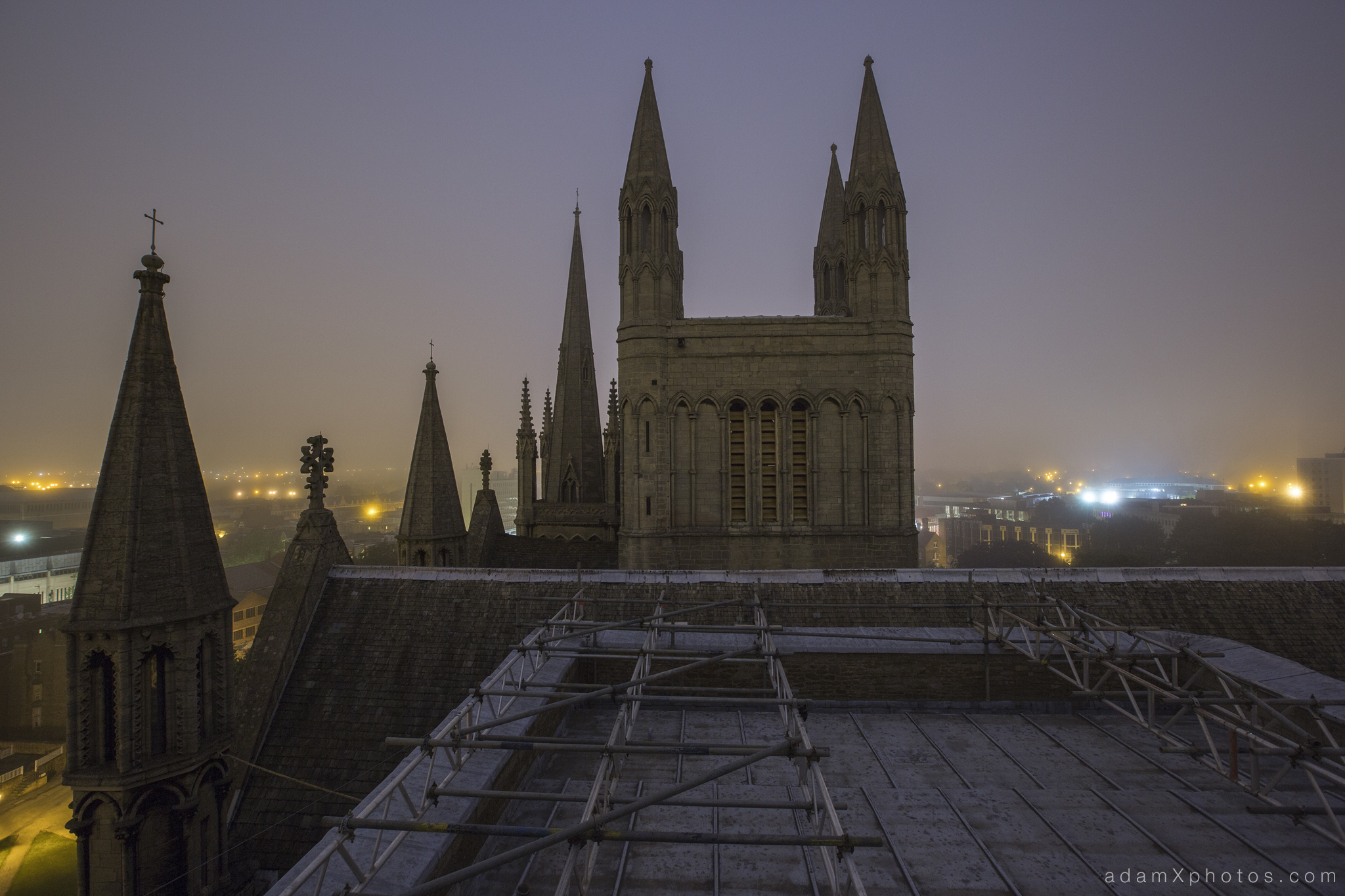 And so as the sky began to lighten, we took our last few shots and started to make our descent…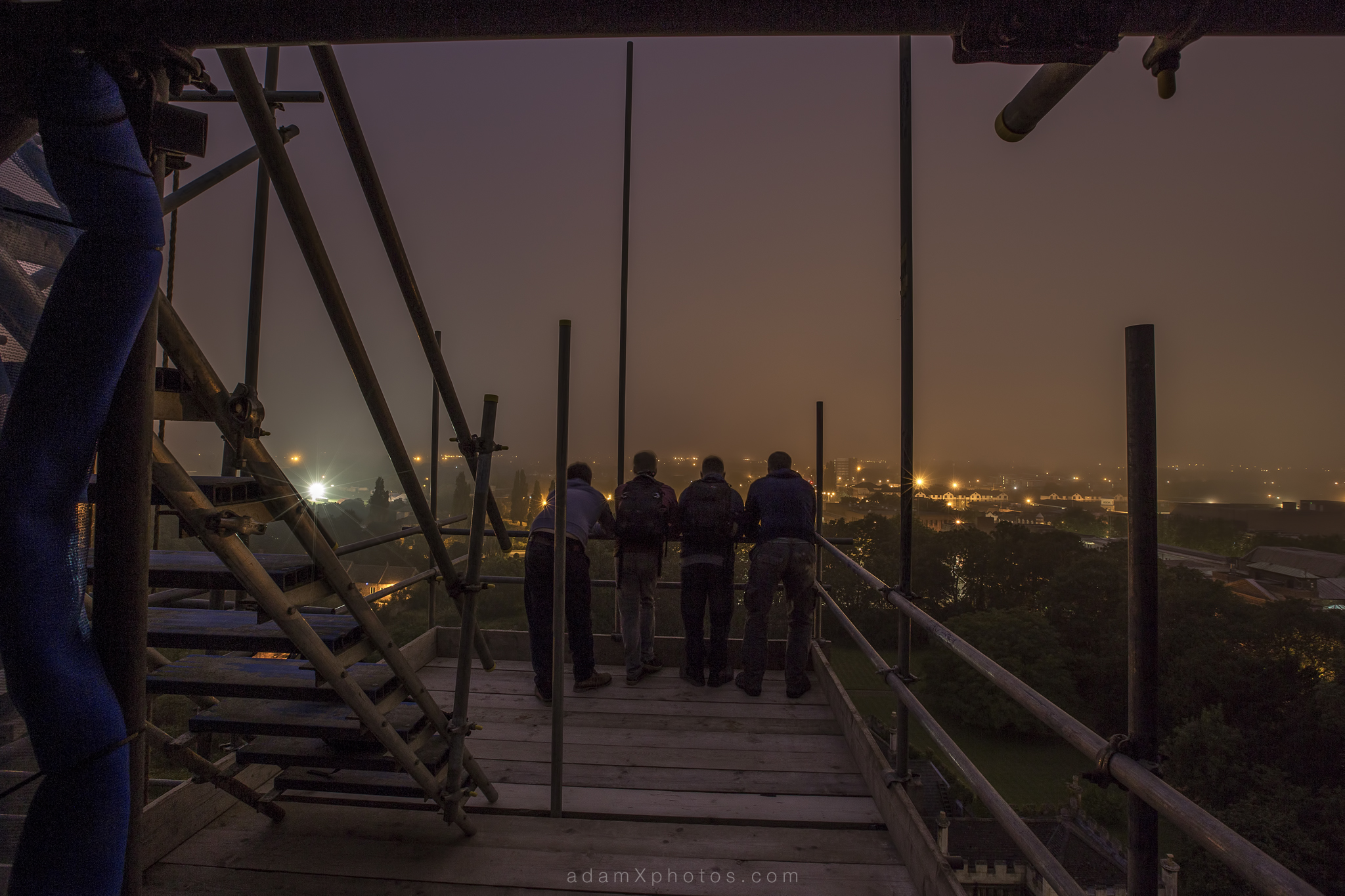 …stopping to admire the view one more time, and get a quick group shot…

…before we were back on terra firma and making good our escape whilst the local residents slept on.
You can see Urbanographer's report from Tower X here, and Wasted Abandon's report here. Carrot In Motion was too busy dosing…
Thanks as always for stopping by, and if you haven't done so already then please sign up to follow my blog and you'll receive notification whenever I post something new. Lots more coming as soon as I get a chance!
Cheers
Adam X