And now for something just a little bit special…
Please sit back, relax, and learn of the truly incomparable 'Witley Wonder' – a Victorian folly built beneath a lake by an eccentric millionaire…

*** IMPORTANT: Please note that Witley Park is now occupied and in private ownership, and should therefore not be visited without the owner's express prior permission. ***
History
(abridged, compiled and rewritten at great length from a number of source articles here, here, here, here, here, here, and here – all original copyrights acknowledged)
The history of the 'underwater ballroom', as the folly is often called, is bound inextricably with that of its maverick creator James Whitaker Wright, so I will begin with him.
**Click on any of the thumbnail images below to see the larger versions**
The rise…
Wright was born in Cheshire in 1846, the son of a Methodist minister. He studied chemistry and left for America at the age of 21 to make his fortune. There he worked as a mining assayer and bought a mining claim for $500, funding the purchase by selling a half share to cover his outlay and provide working capital. The mine was the foundation of his original wealth – he later said "After the first $10,000 was made, the rest was easy". 
He subsequently settled in Philadelphia and became chairman of the Philadelphia Mining Exchange. He made a fortune by promoting silver-mining companies, although none of the companies ended up making money for their shareholders.
By the age of 31 he was comfortably a millionaire, in an era when that really meant something. But he lost most of his assets in the collapse of the Gunnison Iron and Coal Company and returned to England virtually penniless in 1889, whereupon he set about reinventing himself as an expert in speculative mining ventures and the promotion of West Australian gold stocks.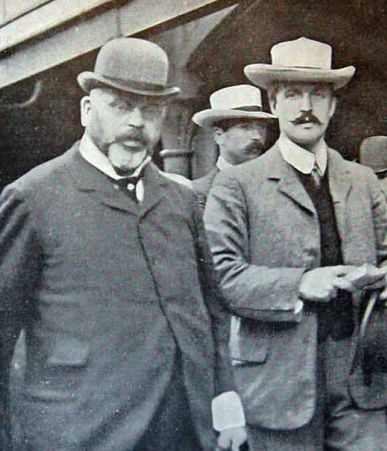 At 16 stone Wright cut an impressive figure, but mere slick persuasion and sharp practice later moved into outright fraud, which peaked in the 1890s. Wright formed the London and Globe Finance Company which floated a variety of mining stock and bond issues. Wright called some of these stocks 'consols' – the term used by the British Government for state bond issues that were solid and reliable – whereas his stocks were anything but.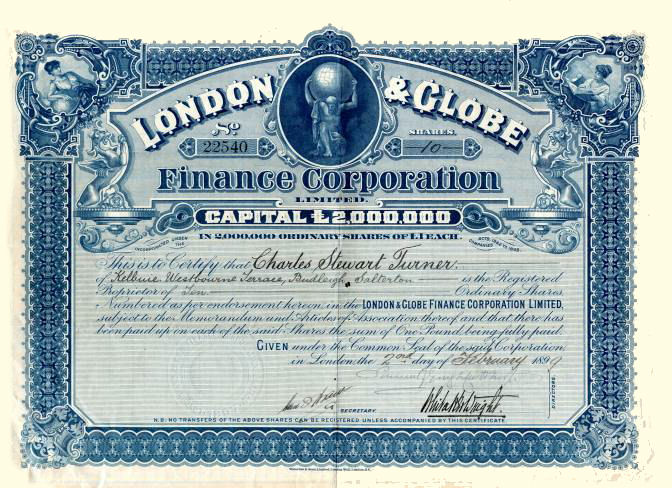 He loaded the directorships of his companies with peers of the realm, such as the Marquess of Dufferin and Ava – a former viceroy of India – who acted as chairman of the Company to add respectability. Wright attracted many wealthy investors – in 1896 he raised £250,000 (the equivalent of nearly £30m today) from trusting investors to back a mining company set up in Western Australia. Wright poured his fraudulently obtained gains from stock manipulation into property and possessions.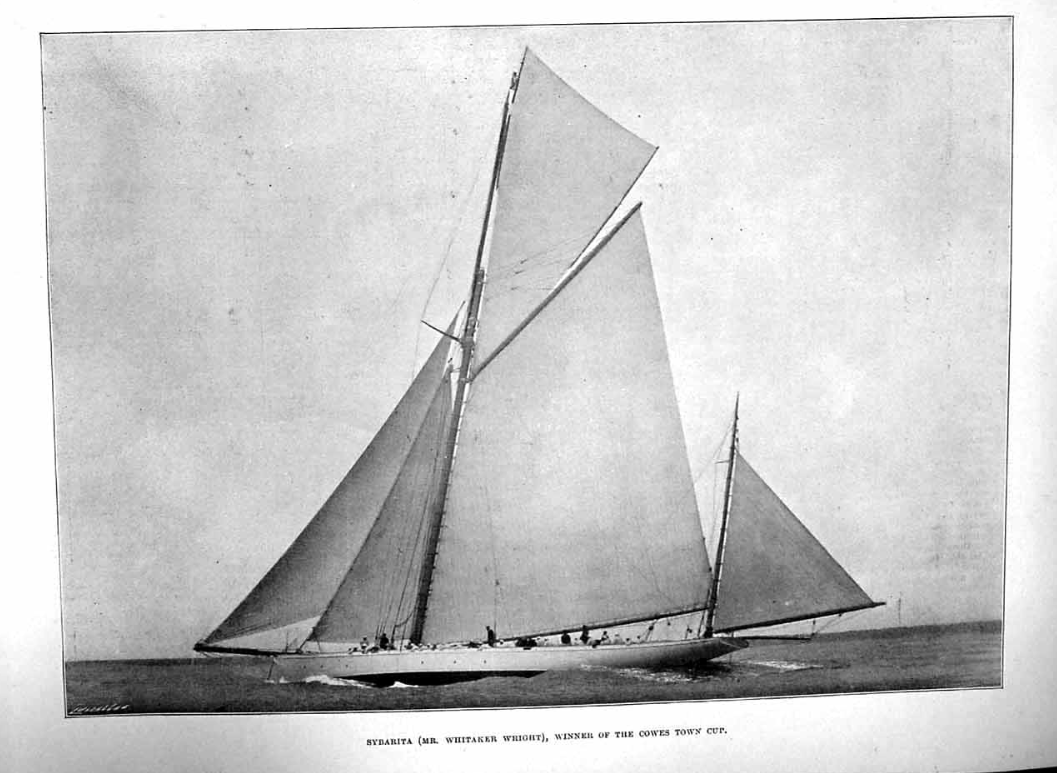 He bought a townhouse on London's Park Lane next door to Lord Londonderry's mansion, and kept a yacht called Sybarita (meaning pleasure seeker) at Cowes, which he raced against Kaiser Willhelm II's yacht in the Royal Yacht Squadron race and won.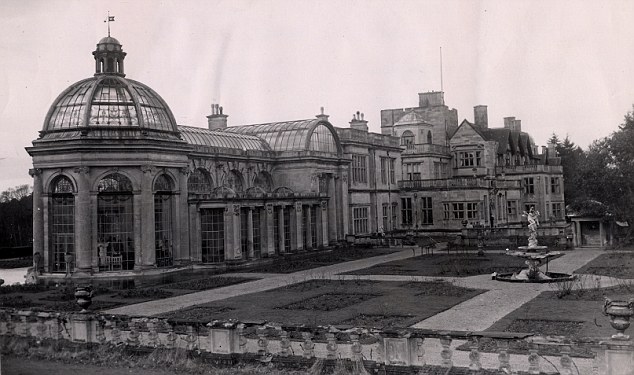 The crown in Wright's portfolio was his 1890 purchase of the vast 9,000+ acre Lea Park Estate in Surrey, which dated back to before the Norman Conquest and had many illustrious former owners including kings, queens, earls, lords and baronets.
Ignoring complaints from neighbours about damaging the

Surrey landscape, Wright employed some 400-600 workmen (reports vary) to carry out extensive landscaping, including sweeping aside hills and excavating and adding 3 artificial lakes. The old house was pulled down and replaced with a 32-room mansion in the neo-Tudor style with a velodrome, theatre, observatory, private hospital, stables for 50 horses, and filled with treasures from around the world including Italian statues and a bronze dolphin's head so large it got stuck under a bridge on the way from Southampton – they had to lower the road to get it out.
But the true jewel in the crown of this incredible Estate was undoubtedly the 'underwater ballroom'…
…the 'underwater ballroom'….
Wright was living at a time when Britain's millionaires were trying to outdo each other by building expensive, but ultimately pointless, towers within the grounds of their properties. Such follies were built to signify wealth, eccentricity, and character. However the folly that Wright chose was entirely different and unique – a billiards/smoking room built 40 feet beneath one of the huge artificial lakes, with a 4.5 metre high statute of Neptune above it, and joined to land and a nearby artificial island by teardrop-shaped underground tunnels. The reported cost of this staggering feat of engineering and manpower vary wildly from £20,000 to £500,000, which equates to roughly £2.5 – £55m in today's money – either way, it was clearly a vast amount.

The folly was listed in a publication about Victorian follies as an "underwater ballroom", and was described in the Royal Magazine of 1903 as a "submerged fairy room with appendages". However, the accepted consensus is that Wright used the folly and the interconnected but less grand room beneath the neighbouring island as smoking and billiards rooms, from which he could also admire the carp with which he stocked the lake. 
Today the ballroom, connecting tunnels, island and statue are all Grade II* listed, with the entry reading "Technological interest: the creation of a large artificial island in the lake with connected underwater tunnel and rooms is an impressive engineering feat. Rarity: possibly the only underwater estate building in the country."
…and the sensational fall of James Whitaker Wright.
It was, of course, inevitable that cracks would eventually appear in Wright's hugely tangled web of deception. Wright had backed a large and unwieldy bond issue for the Baker Street and Waterloo Railway Company, the first London Underground route which became the Bakerloo line, which resulted in a disastrous loss of £600,000. In 1889 the onset of the Boer War led to bear raids on Wright's companies.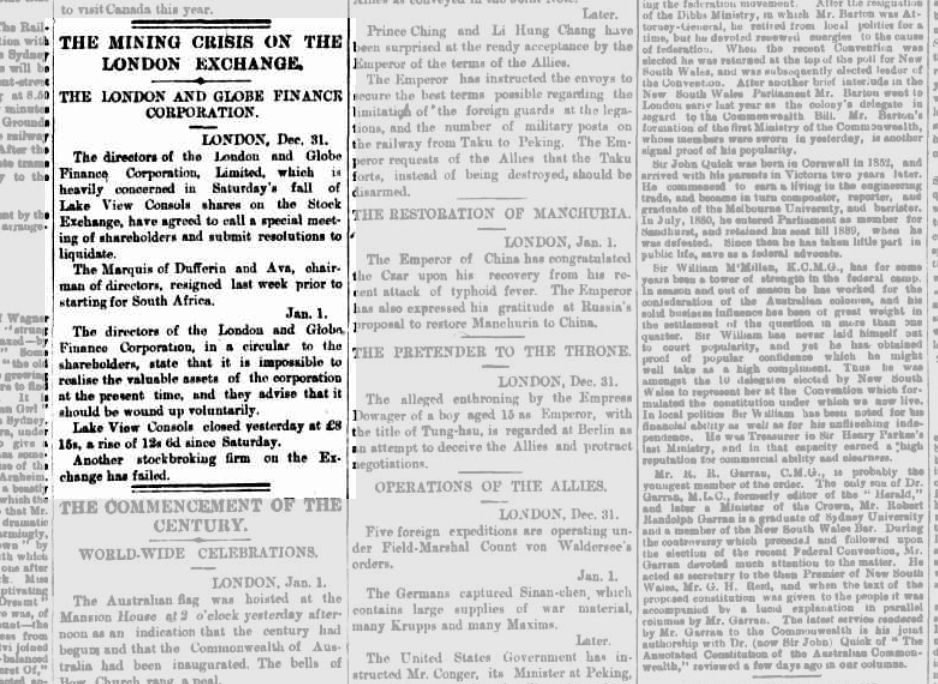 Wright tried to prop things up by buying shares through the market, and shovelling secret loans between his network of interconnected companies, but ultimately his resources ran out and the London and Globe Finance Company announced its insolvency on 28 December 1900 and Wright's other companies also collapsed, bankrupting many people.
Apparently at the precise moment the insolvency of the Globe was announced one of the huge stones at Stonehenge crashed to the ground – an event hailed as a dark omen in the London Press. Wright still tried to talk of reconstruction to minimise the losses of those who had entrusted their fortunes to him, but this proved to be fantasy, and gross assets he had valued at £7m were found to be worth just £1.5m at most.
Wright was subsequently investigated by the Official Receiver, but no criminal proceedings ensued. It is thought that the Government, when faced by the confusion of Wright's paper trail, were not confident of being able to secure a successful Government prosecution. Public outrage over the Globe failure grew, and angry complaints were made in the House of Commons Queen's speech debate of February 1903. The prime minister Arthur Balfour agreed that the inadequacy of the law as it stood was a scandal. However, the shareholders refused to accept this, and a month later in March 1903 persuaded Mr Justice Buckley to issue a warrant for Wright's arrest.
Four days before the warrant was issued Wright had fled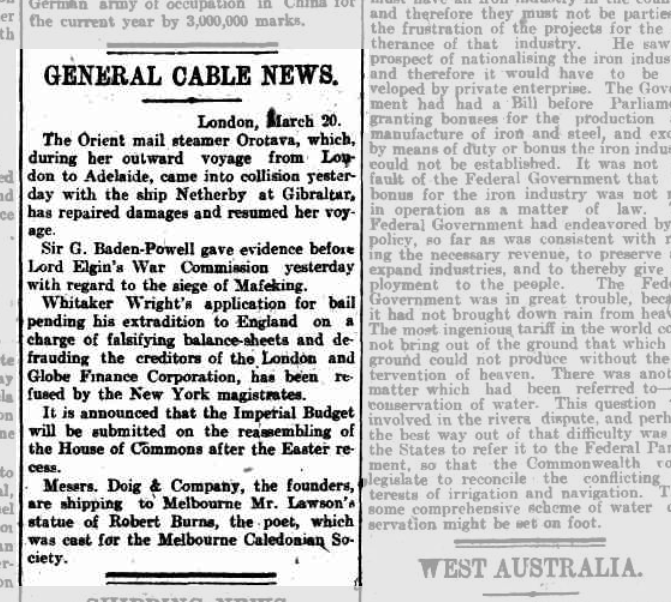 to New York, crossing the Atlantic under a false name, although he claimed this to have been done in error. Wright was arrested when his boat docked and was extradited back to England, where he stood trial in 1904.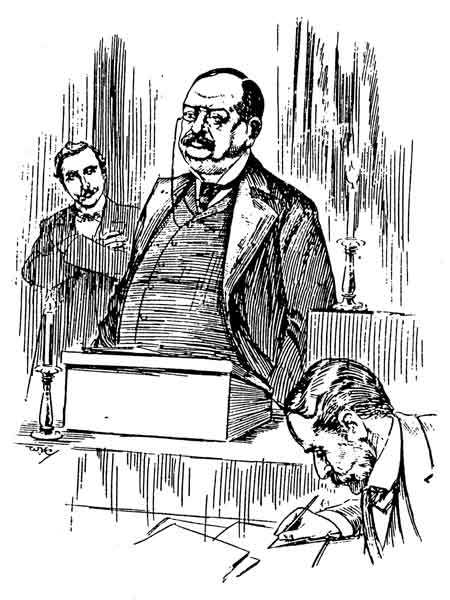 The court case was brought by the stockholders before Mr Justice Bigham and the prosecution led by Rufus Isaacs, who was one of the best barristers of the day. Bigham was one of the most astute corporate law experts in England, and Isaacs an expert in stock market procedure, having previously worked as a broker. With a prosecutor exposing the various financial tricks that Wright had pulled, and a jurist patiently explaining points about finance to the jury, Wright's attempts at obfuscation were thwarted. In the early days of the trial Wright's mood was buoyant, but following lethal cross-examination by Isaacs in the final stages his defence crumbled. 
On 26 January 1904 the jury took just 45 minutes to convict Wright under the Larceny Act of 24 counts of publishing false financial statements for the purpose of deceiving shareholders (i.e. fraud) at the Royal Courts of Justice. Mr Justice Bigham told him: "I do not think I have any option but to visit you with the severest punishment which the act permits, and it is that you go to penal servitude for seven years". "My lord," Wright replied, "all I have to say is that I am as innocent as any person in this court of any intention to deceive or defraud the shareholders. And that is all I have to say".
Moments later Wright left the courtroom with his solicitor, Sir George Lewis (who was also the royal solicitor). In the next-door consulting room Wright handed his watch to Sir George, saying "I will not need this where I am going", and asked for a glass of whisky and a cigar.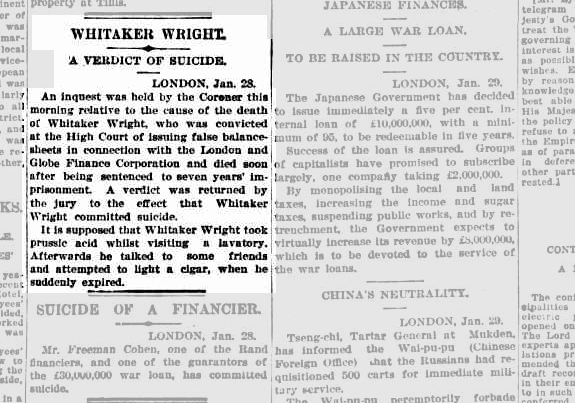 He then swallowed a potassium cyanide pill which he had smuggled into the Court and is thought to have slipped under his tongue whilst in an adjoining bathroom, muttered "so this is British justice", and seconds later dropped dead. The inquest revealed that Wright had measured his dose with typical extravagance, and was enough to kill several men. Police later found that he was also carrying a silver-plated revolver with six chambers loaded – clearly he wasn't going to take any chances.
Four days after his death, Wright's body was carried to All Saints Churchyard in Witley in a glass hearse. His grave is an unexpectedly modest affair, and simply reads "To the memory of James Whitaker Wright, born at Prestbury Cheshire Feb 9th 1846, died January 26th 1904. Until the day breaks, and the shadows flee away".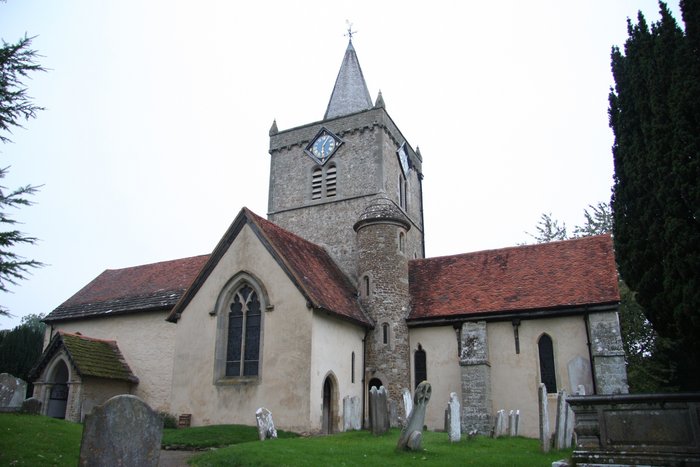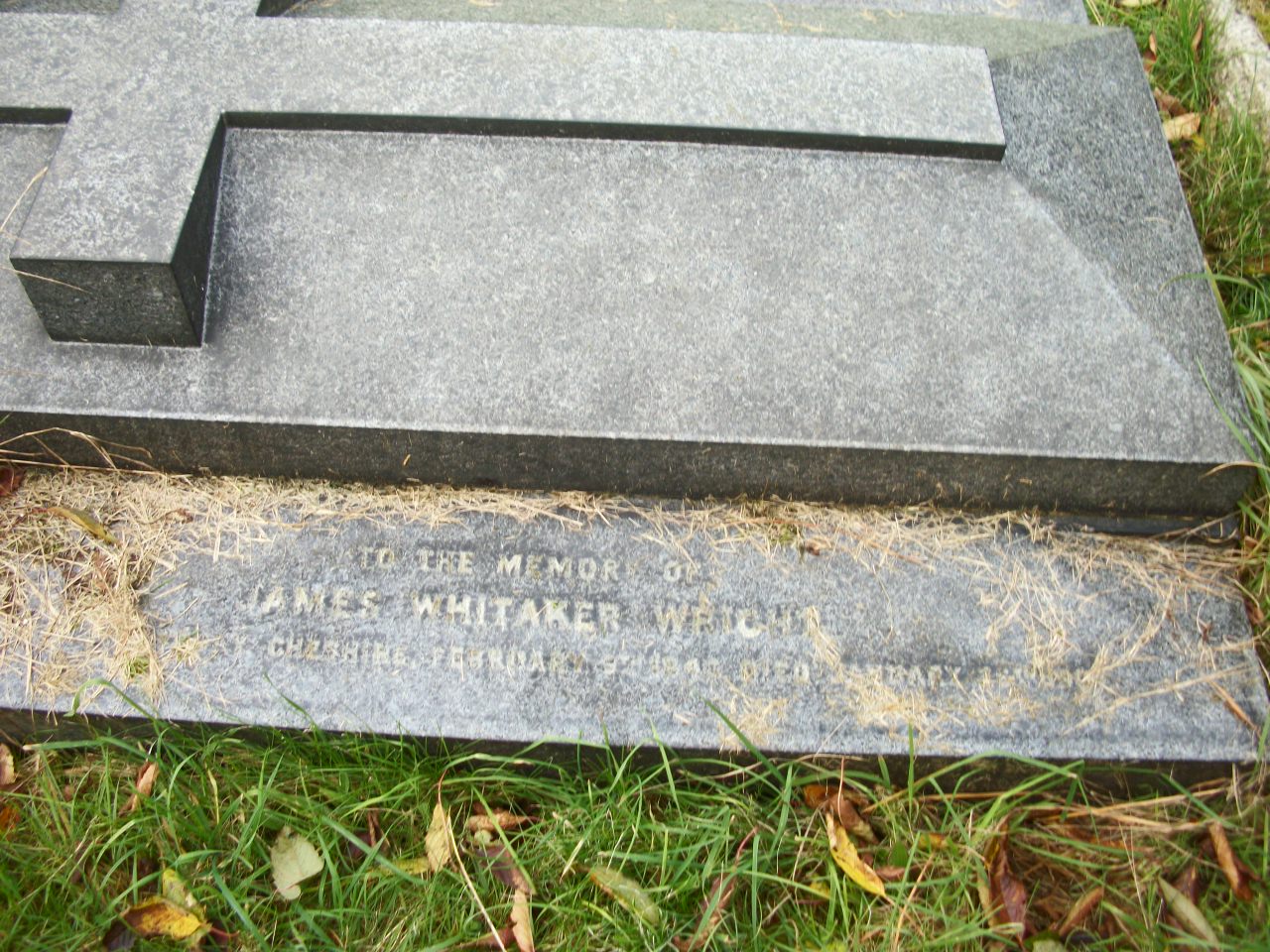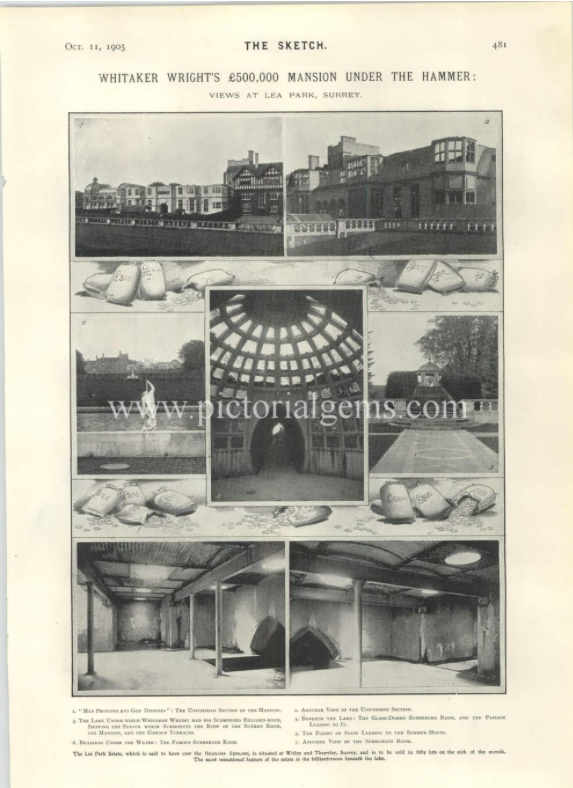 Wright's once great Estate was broken up and sold off in separate lots. Some of the land, such as the Devil's Punchbowl and Hindhead Common now belongs to the National Trust. Lea Park was purchased by shipbuilder and businessman Lord William Pirrie, chairman of the Harland and Wolff Company which built HMS Titanic, and the Estate's then-notorious name was changed to Witley Park.
In 1952 Wright's mansion was destroyed by fire. Whilst a new house has now been built in its place, the wondrous Ballroom still remains…
Our Explore
I hope you'll understand from the incredible tale above why we had to make an extra special effort to witness the stunning and unique folly for ourselves. We gathered a small group of close and trusted explorers and arrived nearby in the middle of the night. In the dark we made our way through dense woodland, scaled a 10 foot-high wall, and eventually we were crouched by the edge of the lake. It was a still night. The moon was almost full and riding high, casting a strong pale light over the water. We then got out and inflated the dinghies which we had brought with us! In the stillness of the night the sound of every pump felt amplified by a thousand, and seemed to echo through the woods. After what felt like an eternity we were fully inflated and climbed gingerly into our vessels, passing expensive camera equipment aboard.
I will never forget paddling quietly across the lake under the light of the moon, every nerve standing on edge, stories from other explorers of a shotgun-wielding farmer on a quad bike being pushed to the back of my mind…
And then, surreally and brilliantly, we were in! We stood in silent darkness inside the amazing 'ballroom'…
As always, click on a photo to VIEW LARGE.
Rebecca had kindly lent me her fisheye lens, as I thought I might be needing to go pretty wide to fit the ballroom in one shot! This was my first time using a fisheye, so my shots aren't the best, but at least give an idea of the place…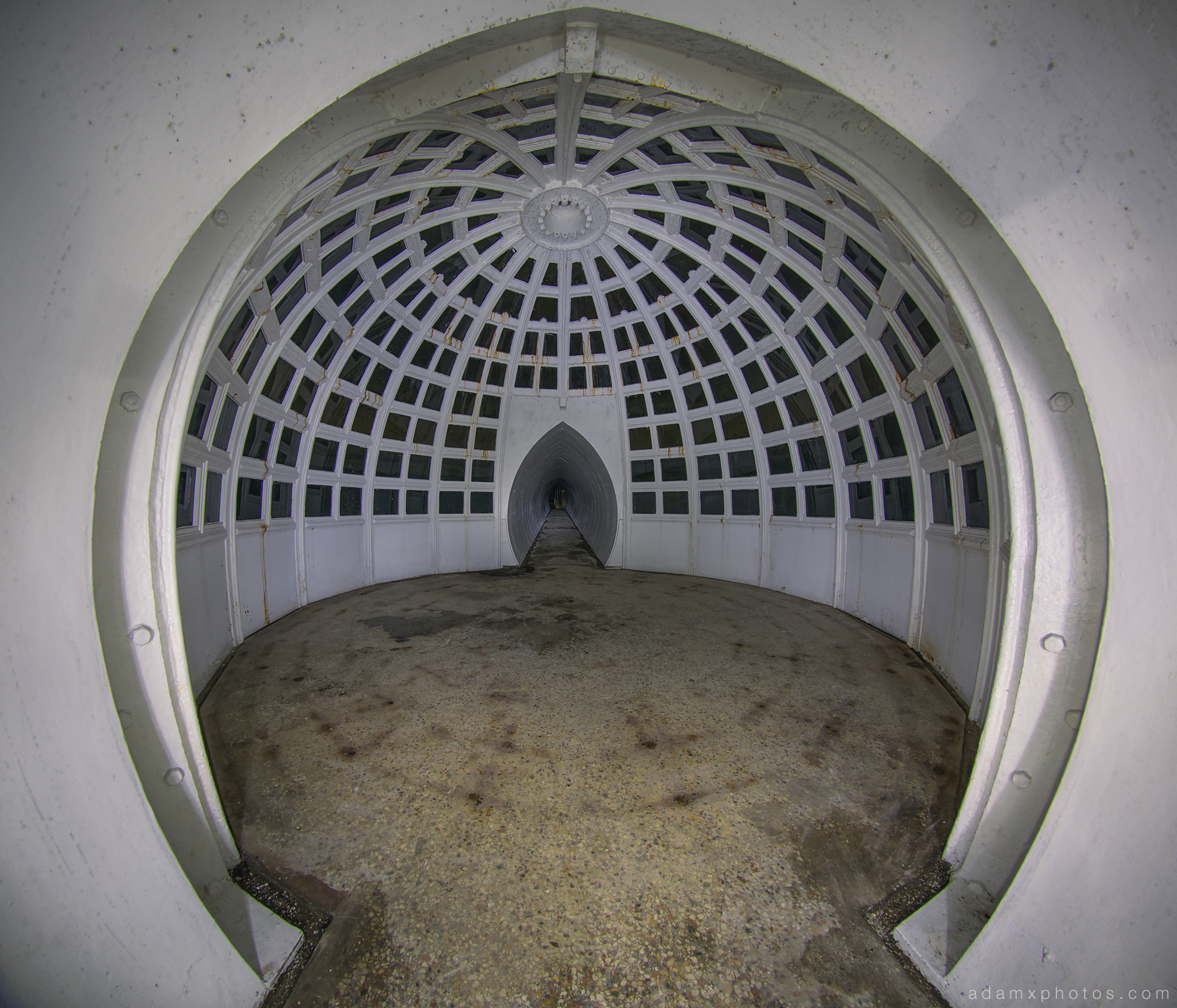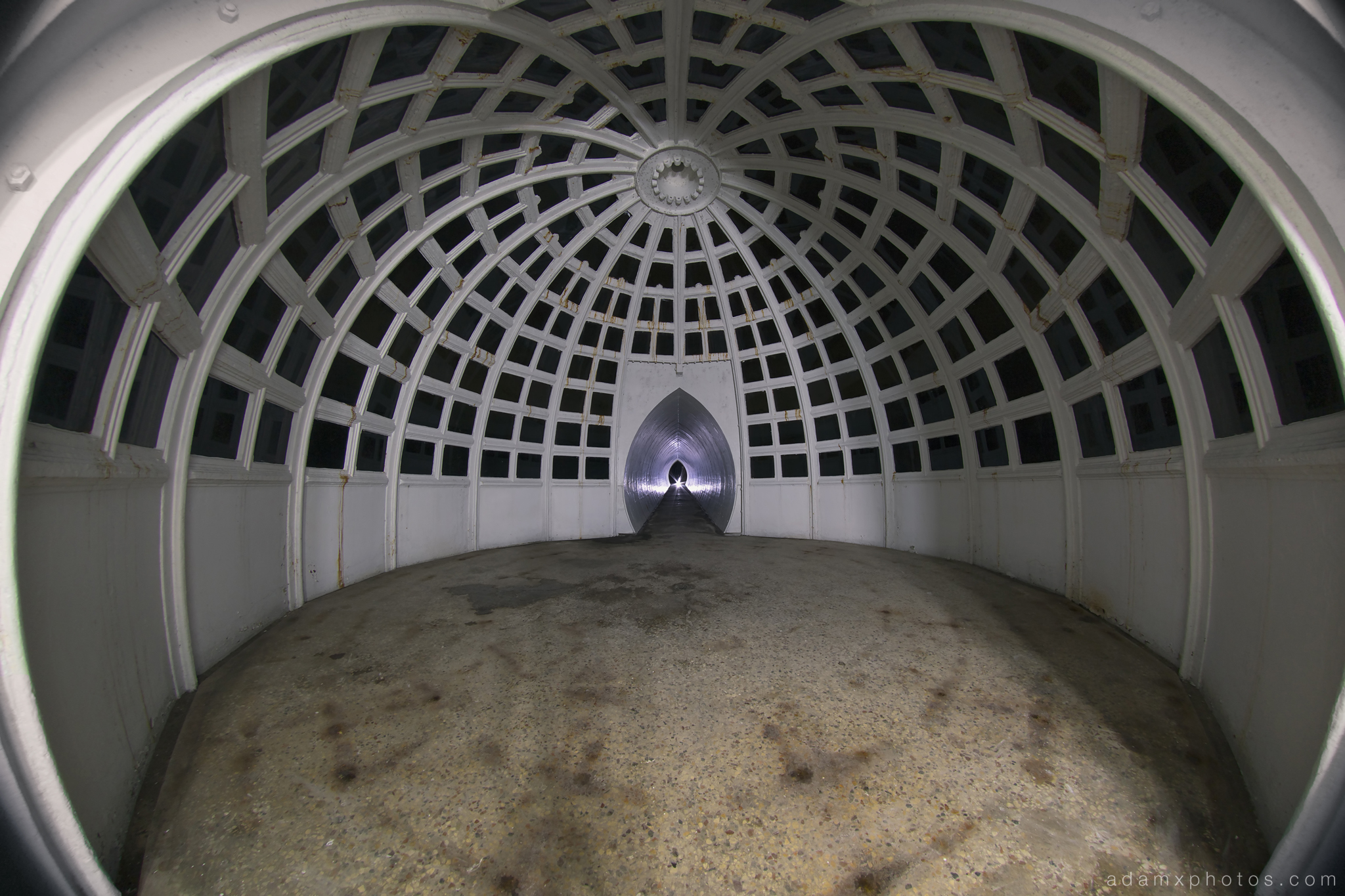 Whilst we were waiting for the morning light to arrive we passed the time by attracting the carp which still live in the lake! (Photo by Darren Smith Photography and used with his kind permission).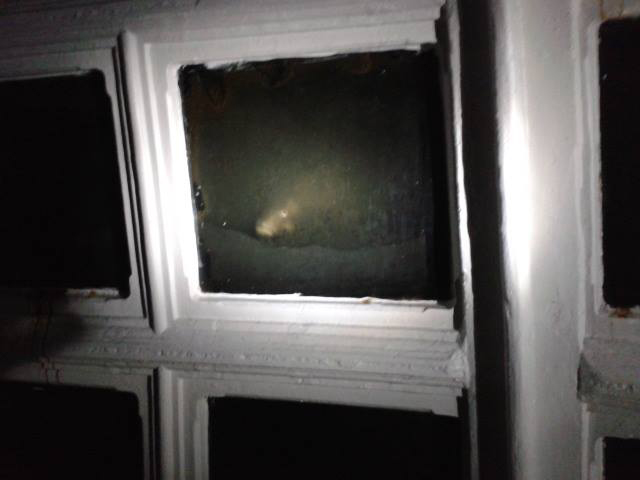 I also took a quick group shot – yes Darren is wearing a tuxedo and bow tie – he wanted to dress appropriately for the 'ballroom'! 🙂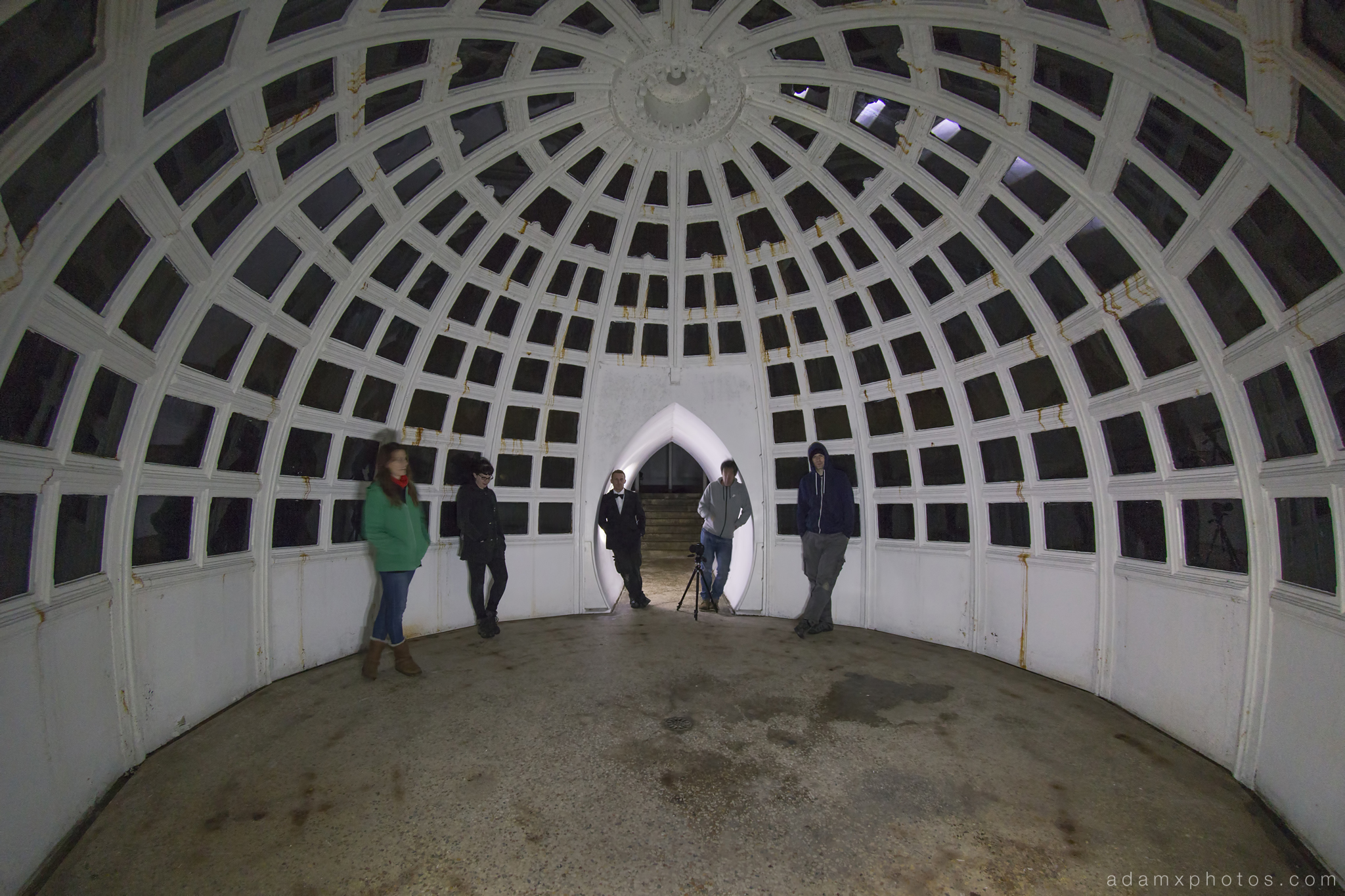 Here are a couple of shots from the other room looking up through the circular skylights…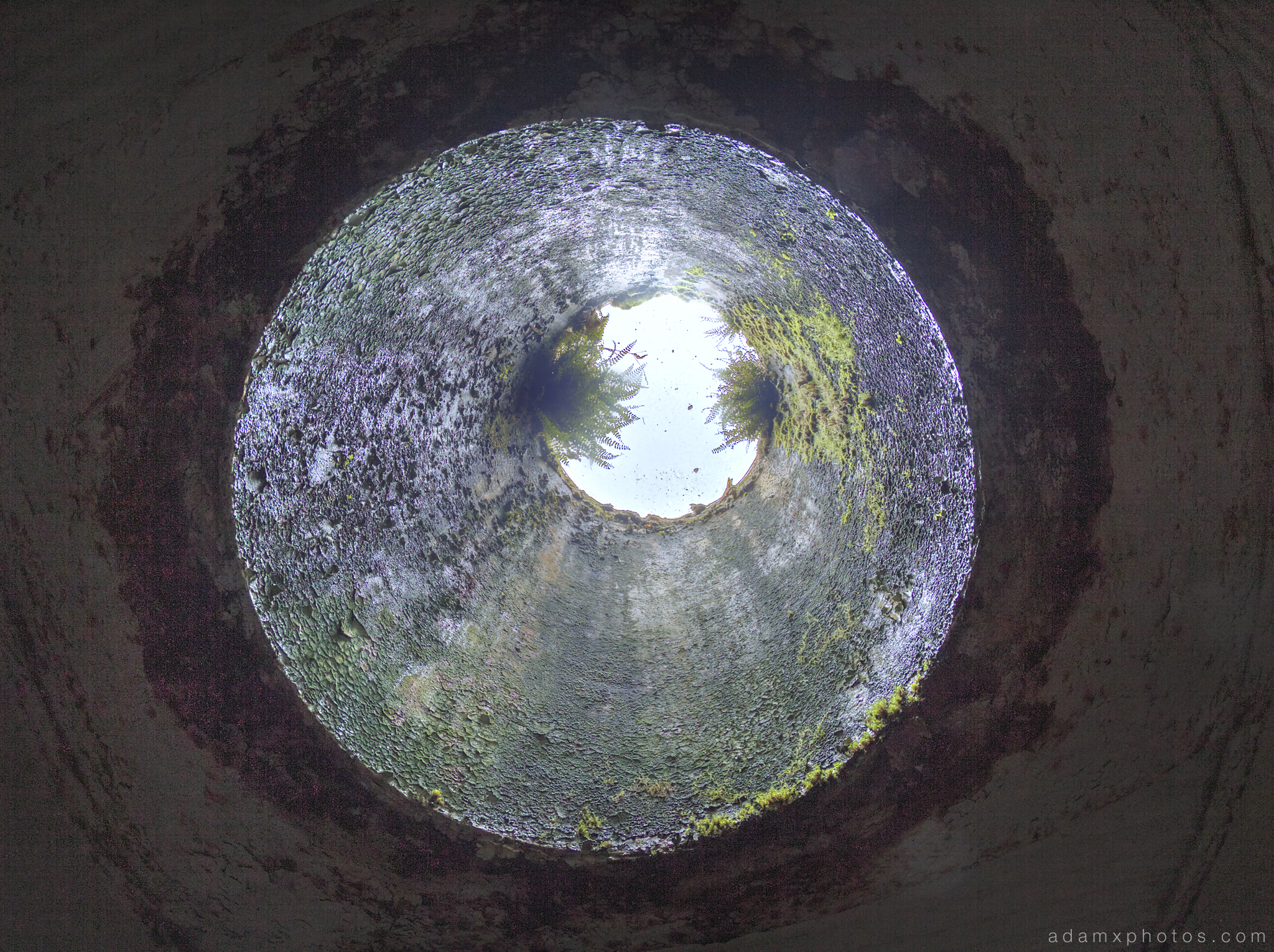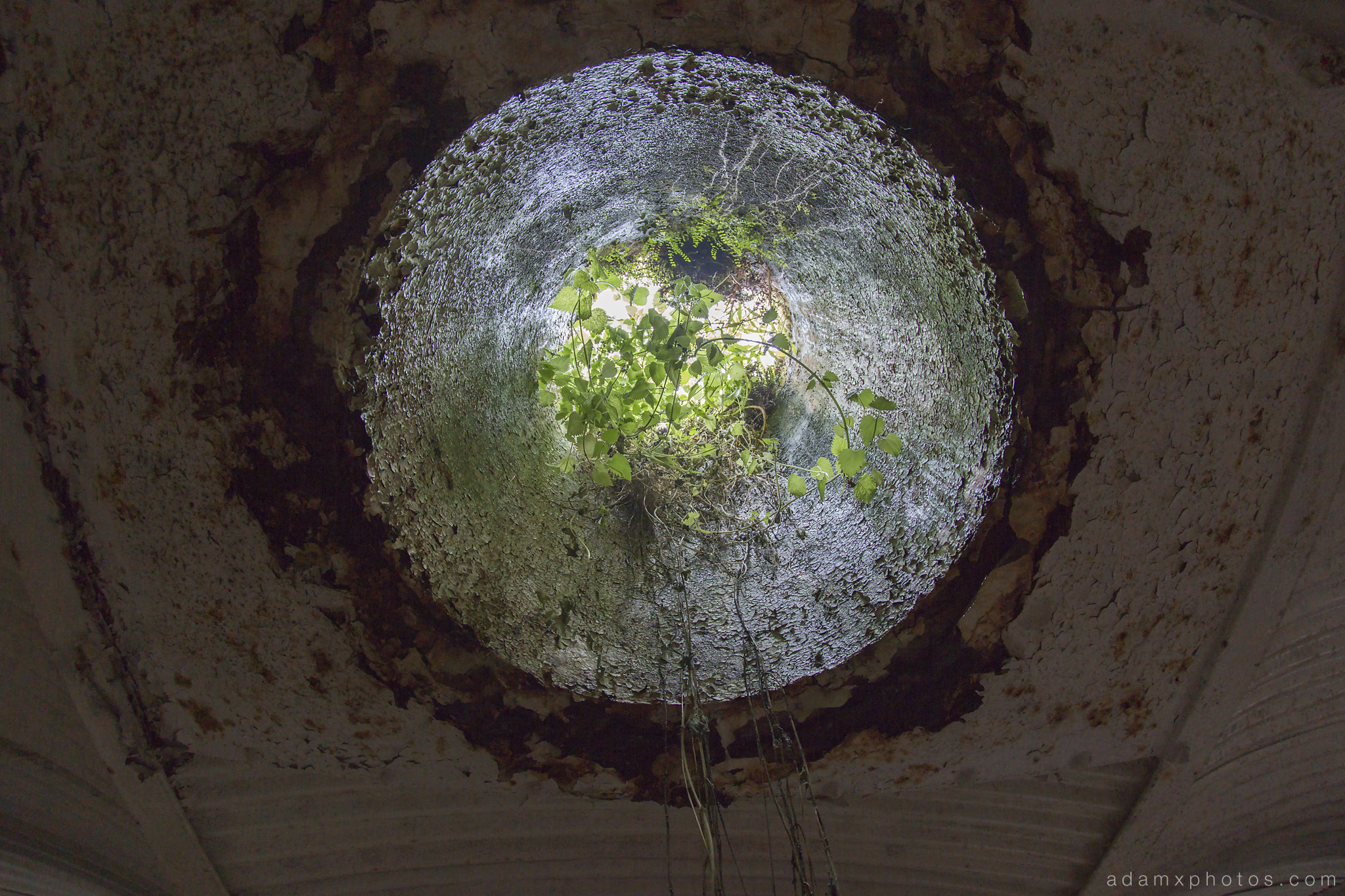 Finally the sun began to rise, and light started to filter through the lake above and illuminate the ballroom…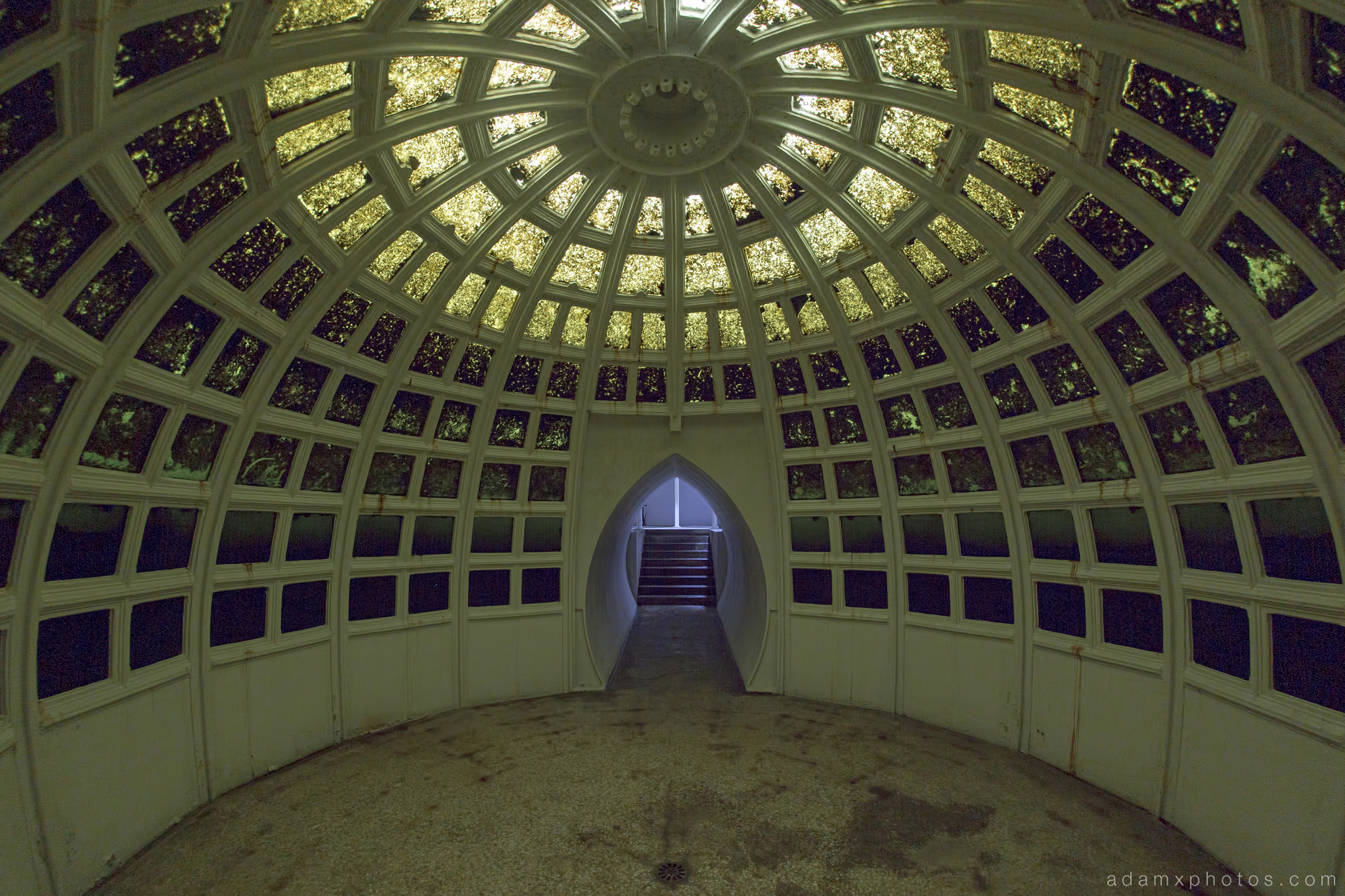 Looking down one of the teardrop-shaped corridors to a staircase (locked and alarmed).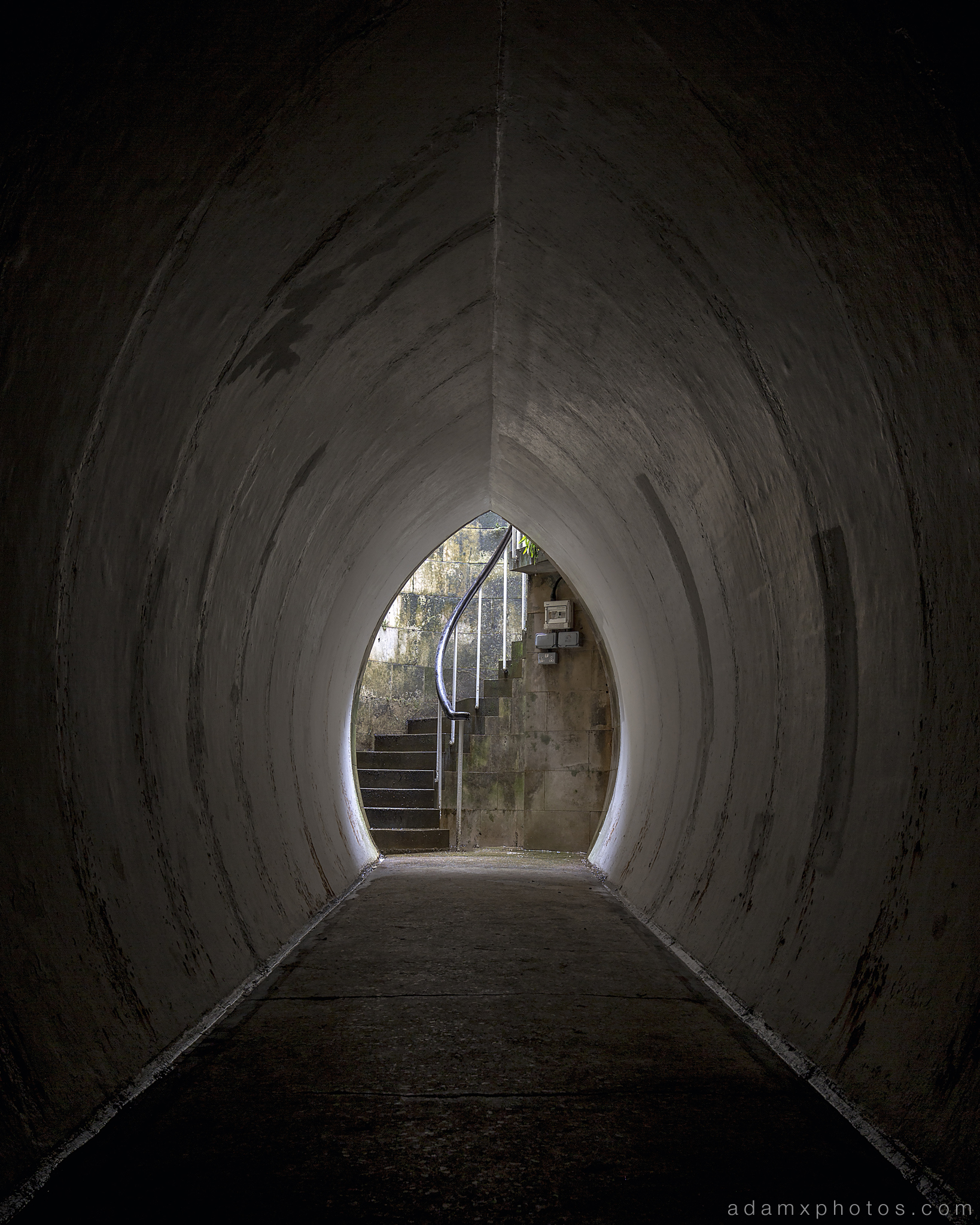 Time for an extreme fisheye selfie! 🙂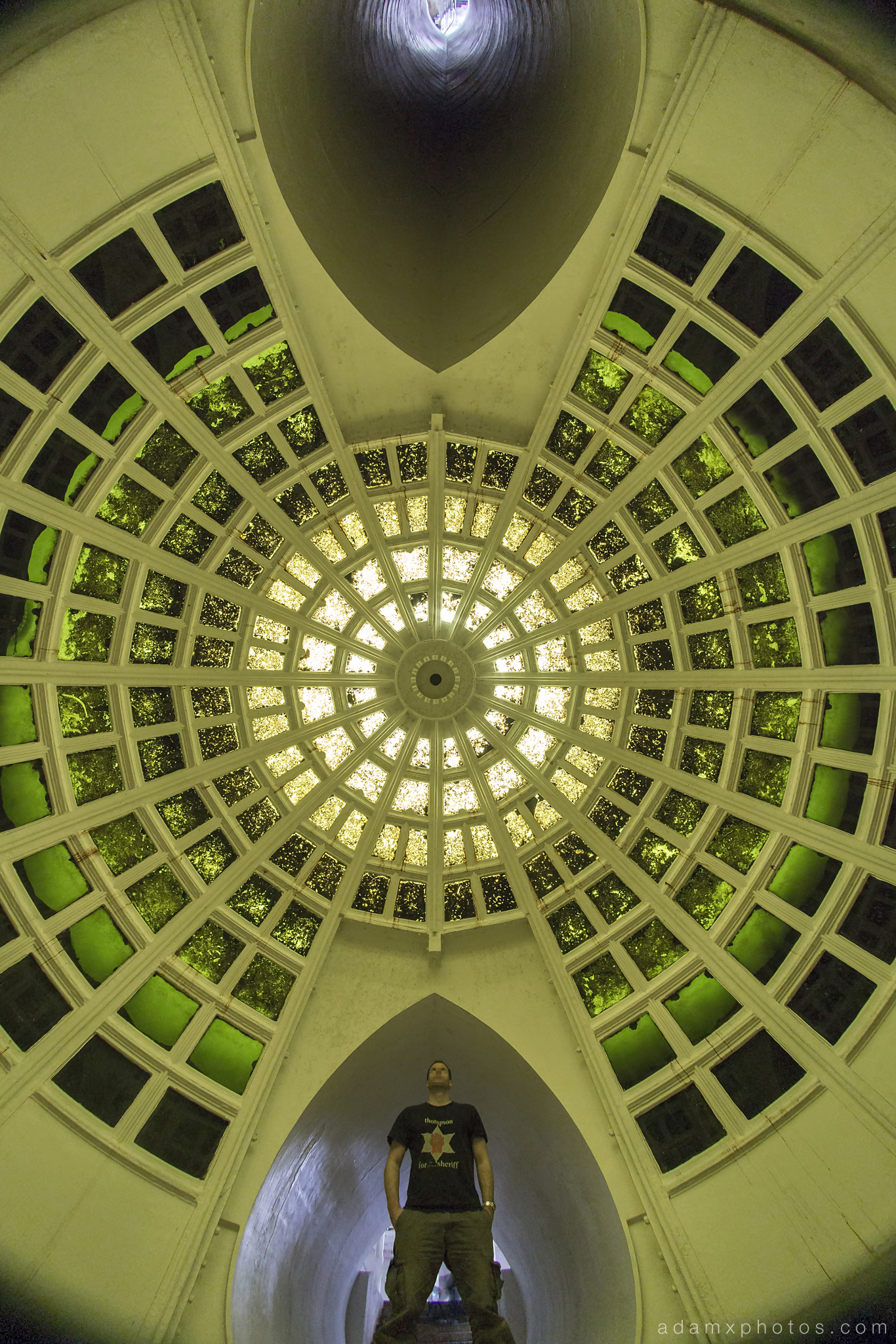 I then grabbed a few more shots, before all too soon it was time to leave…
Looking straight up at the ceiling from the centre of the ballroom.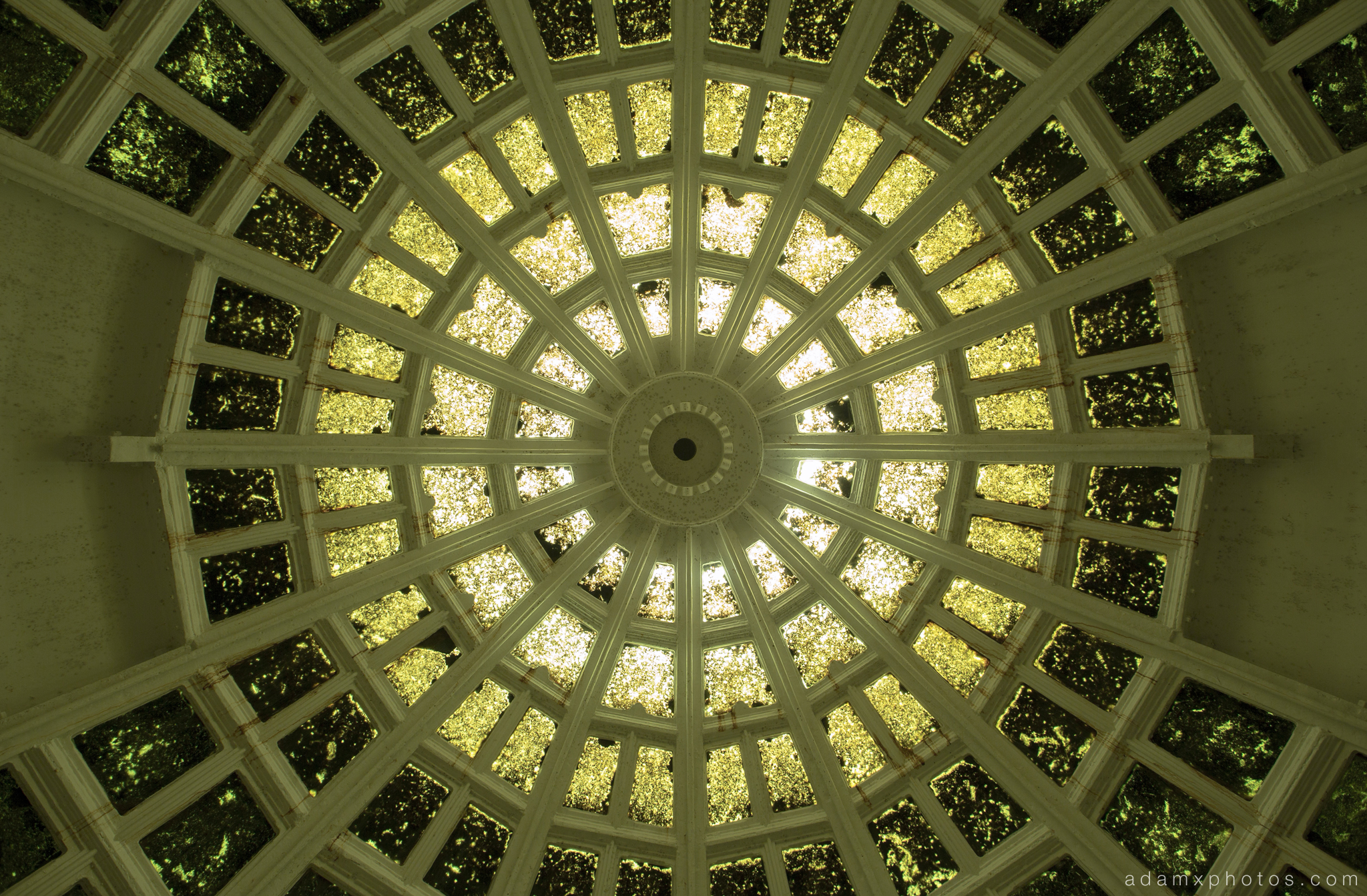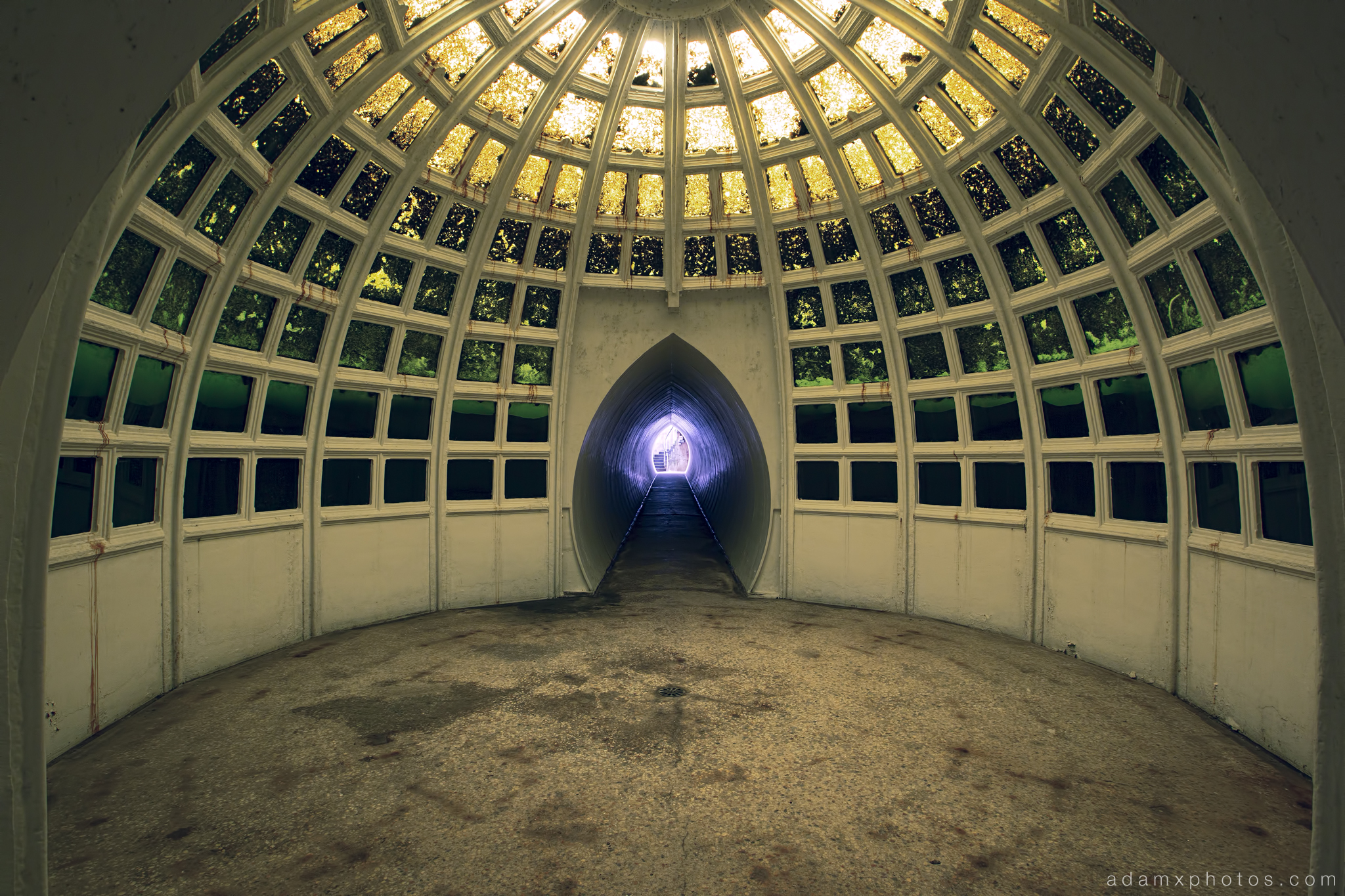 Conscious that our exit would not be under cover of darkness, we quickly captured our shots and reluctantly dragged ourselves away from this incredible, magical place. I feel incredibly fortunate to have seen the ballroom with my own eyes, and the whole explore was truly an experience which I will never forget and will always cherish.
Postscript
As I said at the top of this post, it is important to note that Witley Park house is now occupied, and I feel obliged to stress again that the ballroom should not be attempted to be visited without the owner's knowledge and express permission.
My personal view is that with architecture of such unique and historic value and importance as the ballroom, an owner is a custodian of that building for their moment in time as part of a long and continuing history. Whilst it is clearly not up to me, if I were the owner I would consider opening the ballroom up for (perhaps even paid) pre-arranged public visits on a handful of dates a year. This would enable those with a strong and genuine interest in the folly to witness and enjoy its magic firsthand, whilst also serving to remove – or at least greatly diminish – the temptation or incentive to try and visit it without permission. As I said, that is just my personal view, and it is of course the actual owner's prerogative to use (or not use) the ballroom as they see fit.
As a final note, there are some within the urbex community who feel that it is sacrilege to draw any attention whatsoever to the folly. The fear, as is always the case, is that a "tour bus" of indiscreet explorers will try and get in, causing the location to become damaged or sealed, and draw additional unwanted attention of vandals or thieves. I acknowledge that there is always a risk of this when putting anything online, but in my view there is also a balancing act. I got into exploring to witness and appreciate amazing places such as the ballroom. There are countless others who will never get to see it for themselves for a whole host of reasons. I think, and I hope you will agree, that the unique engineering achievement, design, and history of this place warrants the hours of work it has taken me to research and write this post, together with my photos. I have not disclosed anything new about this place which hasn't already been readily accessible on the internet for many years now, such as the Daily Fail's typically florid article, and Chaos Urbex's excellent report from a while back.
Thank you for coming down to the ballroom with me.
Adam X