Explore #4 of the Quality>Quantity aka Crimes Against Photography Tour
This report is a pretty mammoth one – I hope you'll agree it's justified by the location and the story of our explore!
After exploring Tower X, The Royalty Cinema and The Ark, and 40+ hours without sleep, our group finally checked in at one of the grottiest "hotels" I have even had the misfortune to stay at, somewhere in a rather insalubrious suburb of Manchester. Urbanographer had booked it for something like 20p each for the night – it even came with a view of a derp out of our window…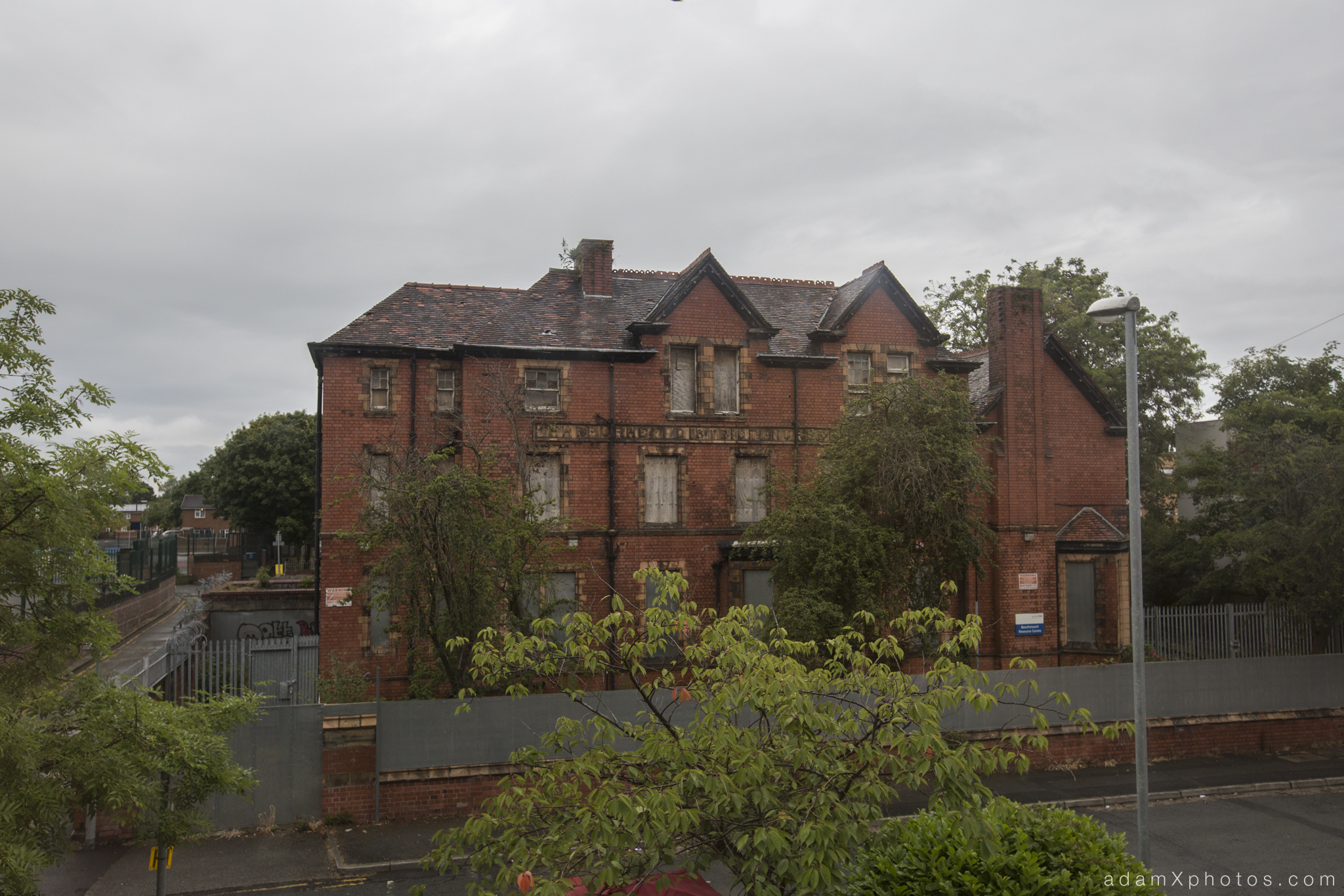 Urbanographer, Wasted Abandon and I quickly dumped our bags, had much needed showers, and retreated to the nearest pub which didn't look like we'd get stabbed in for an enjoyable few pints and games of pool. Semi-inebriated plans were then hatched to do some Manc rooftops night photography, but we had to abort these due to incessant heavy rain. Thankfully my utter exhaustion mixed with several pints meant that I was able to grab some sleep in spite of the mattress springs punishing my spine and Wasted Abandon's snores violating my eardrums.
A whole 3 hours later my alarm went off in the middle of the night, and I began the task of raising my roommates for the largest and most challenging explore of our Tour – the mighty and wonderful St Joseph's seminary.
History
St Joseph's is a former Roman Catholic seminary, founded in 1880 by Bishop Bernard O'Reilly. It is situated in Walthew Park, Upholland, the geographic centre of the Diocese of Liverpool. The foundations of the main building were laid in April 1880 and the college formally opened in 1883.
St. Joseph's (usually referred to by its students simply as "Upholland") was one of two main seminaries serving the north of England. Upholland served the northwest, Ushaw College the northeast. For many years, each of these institutions housed both a junior (minor) and a senior (major) seminary. The junior seminaries provided a secondary education in a semi-monastic environment to boys aged 11–18 who wished to pursue the priesthood, while the senior seminaries trained adult candidates (mostly aged between 18 and 24) in philosophy and theology as they prepared for the priesthood.
The first junior seminarians moved to St Joseph's in 1920 when the school was taken over by the Christian Brothers,(who also ran St John Rigby College in nearby Orrell which continues to this day and now serves, as the Liverpool Cathedral Choir School.
Although Upholland flourished until the 1960s, the rapidly changing social climate in that decade led to a sharp drop in enrolment. In the early 1970s, the northern bishops decided to consolidate the activities of Upholland and Ushaw; from 1972 all junior seminarians in the north attended Upholland, and from 1975 all senior seminarians attended Ushaw. Even as the sole junior seminary for the north of England, however, Upholland continued to suffer a decline in enrolment, and by the 1980s was no longer a traditional seminary but a "boarding school for boys considering a vocation".
In 1986 the total number of students was down to 82, of whom only 54 were Church students, and it was no longer viable to educate them on the premises. From 1987 the remaining students attended St. John Rigby College in nearby Orrell for their schooling, an arrangement that continued until the very last of these students left Upholland in 1992, after which the buildings were deconsecrated.
In the meantime, following the move of the senior seminary to Ushaw in 1976 the former Senior Seminary rooms had become home to the Upholland Northern Institute (UNI), with Father Kevin Kelly as its first Director. He was succeeded in 1980 by Father Vincent Nichols, now Archbishop of Westminster. Later the College buildings were used more generally as a retreat and conference centre for the Archdiocese under the leadership of Monsignor John Devine.
A short video tour of the College from footage taken only a few months before its closure as a conference centre, and which highlights the functions played by different parts of the building during seminary days, can be seen online here.
The election of Father Patrick Kelly as the Archbishop of Liverpool in 1996 saw the controversial decision to close St Joseph's altogether, and after being used for a short period as a conference centre and retirement home for priests it finally closed its doors in 1999.The decision to close St Joseph's was a controversial one as it had just started to make a small surplus under Monsignor Devine's management. Further controversy surrounded the subsequent sale and disposal of the art and artefacts in the college, much of which had been donated by various parishes and people of the Archdiocese who were not offered their donations back.
St Josephs was sold to Isle of Man developer Anglo International for £4m in 2003. Initial plans to convert the site into a hotel, conference centre and health and leisure complex subsequently stalled. Anglo International's architects have since obtained planning consents for the conversion of the Grade II listed Seminary into 92 apartments, and (on appeal) for a further 205 apartments and 100 houses in the grounds.
However work has yet to commence, and the condition of the seminary continues to decline as it lays empty.
Our Explore
Bleary-eyed we rolled out of Manchester at 3.30am and made the drive to Upholland. We were only a mile away, driving down a small country lane, when we suddenly came to a screeching halt, with a huge tree branch blocking the road in front of us! Local residents were standing in their dressing gowns surveying the scene, and they confirmed to us that the branch had fallen onto the road only minutes earlier – we'd had a lucky escape! In my half-awake state I asked the locals whether there was another road round – to which they naturally asked the question I should have anticipated "Yes, well it depends, where are you heading to?". "Ummm… errrr….just you know….err… up that way…". 4 lads in a car, in the middle of the night, clearly not local, nothing suspicious at all….
After mumbling some entirely unconvincing reply we made a quick U-turn and resorted to Google maps (thankfully we had reception) to navigate an alternative route to our destination, down even narrower and overgrown back lanes. Finally we arrived just as first light was creeping into the pre-dawn skies. However, no sooner had we opened the boot and started getting out our camera gear when another car pulled up directly behind us! Thankfully it wasn't security, or an irate local, but a couple of explorers from the Abandoned Yorkshire group. We said our brief hellos and my group headed off.
This was certainly one of the most challenging and exciting accesses I've achieved so far, and in the pouring rain. By the time we had finally made it safely inside we were all soaking wet, but excited to have made it that far. However, we were aware that we still had to avoid the attention of the security which is very active on site, and the Passive Infra Red (PIR) sensors and alarms which guard large parts of the complex.
After 20-30 minutes had passed we began to relax into our explore, and slowly made our way around the beautiful rooms and corridors of the seminary….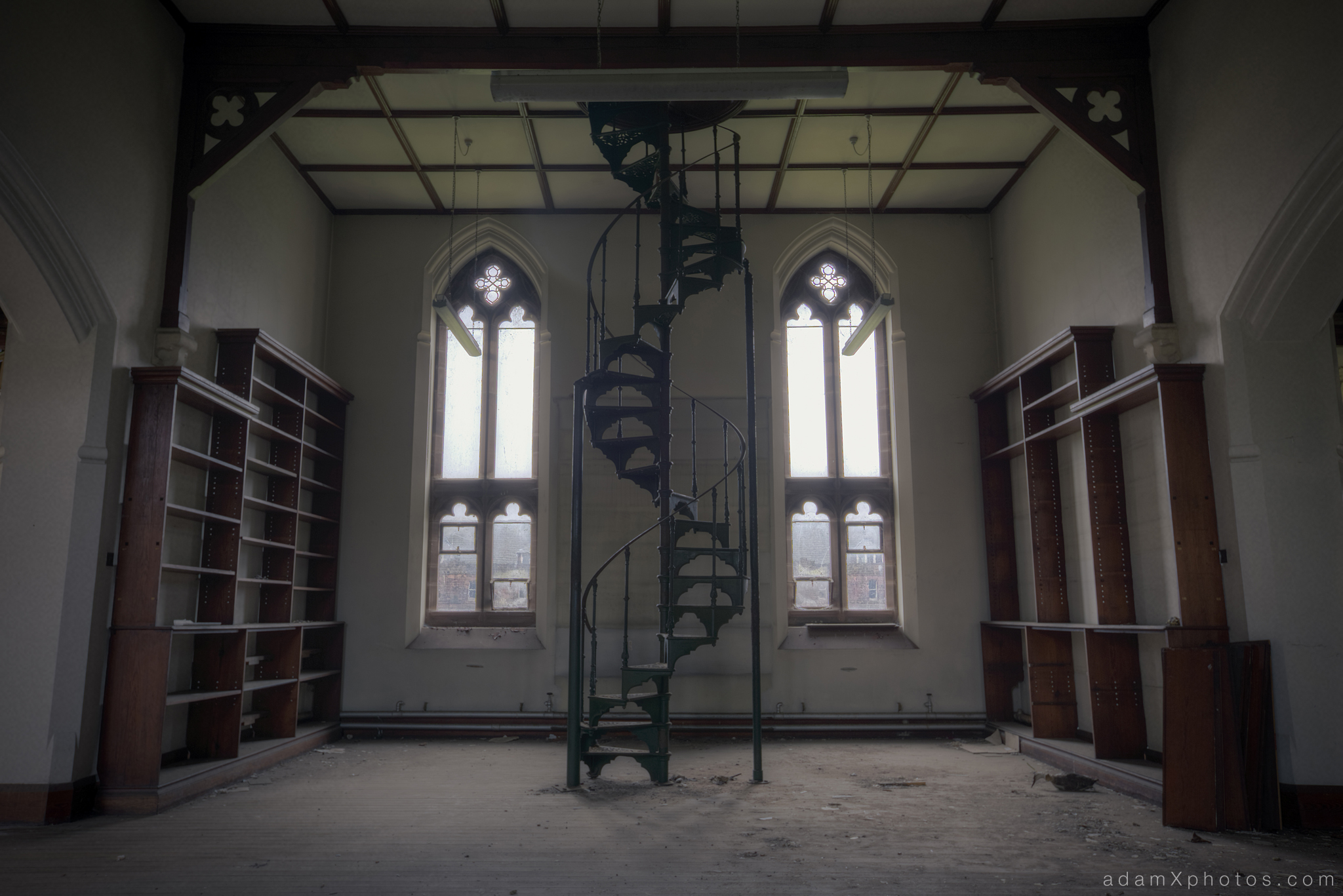 One of the first sights to greet us was this beautiful wrought-iron spiral staircase in the old library.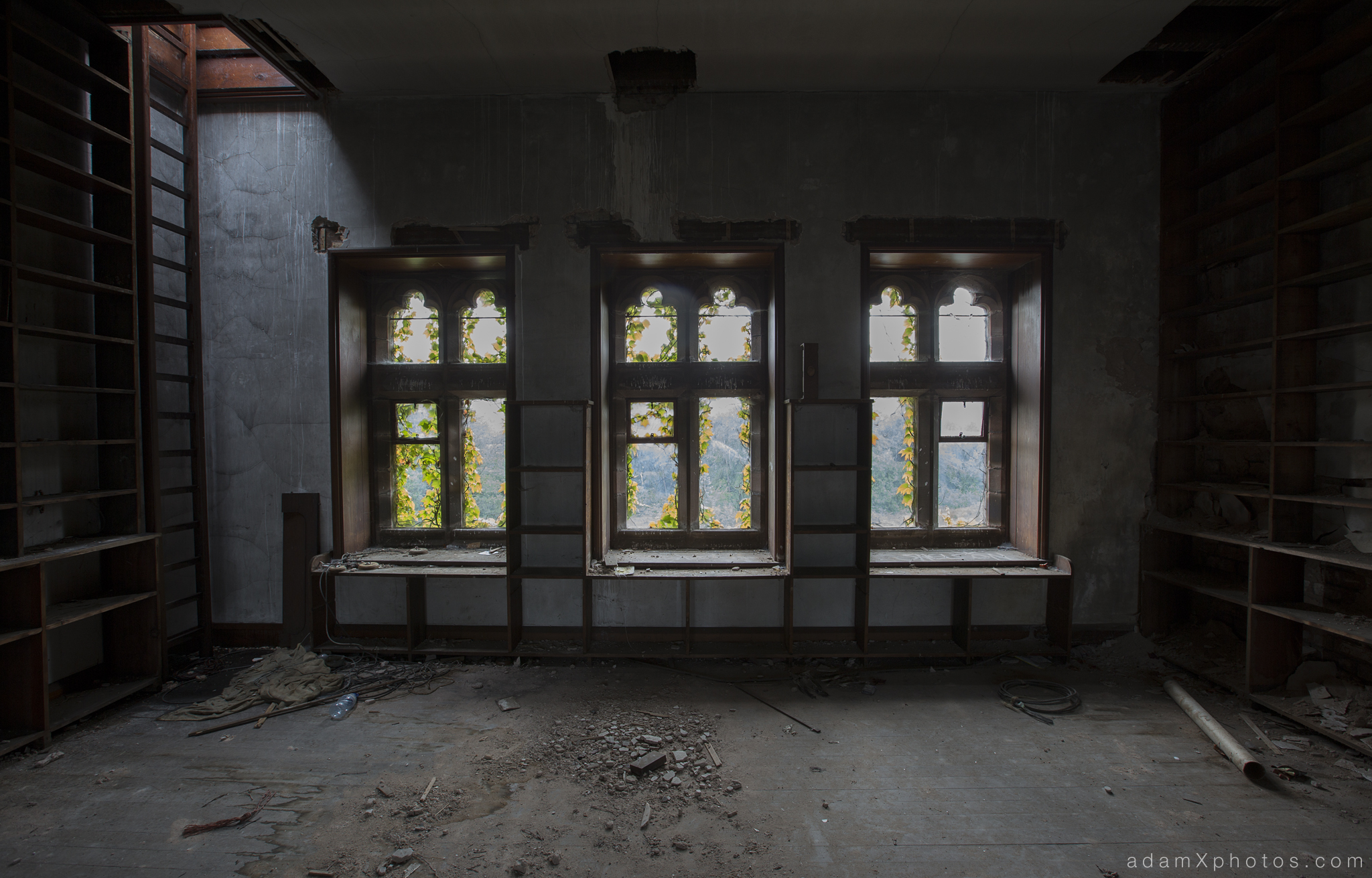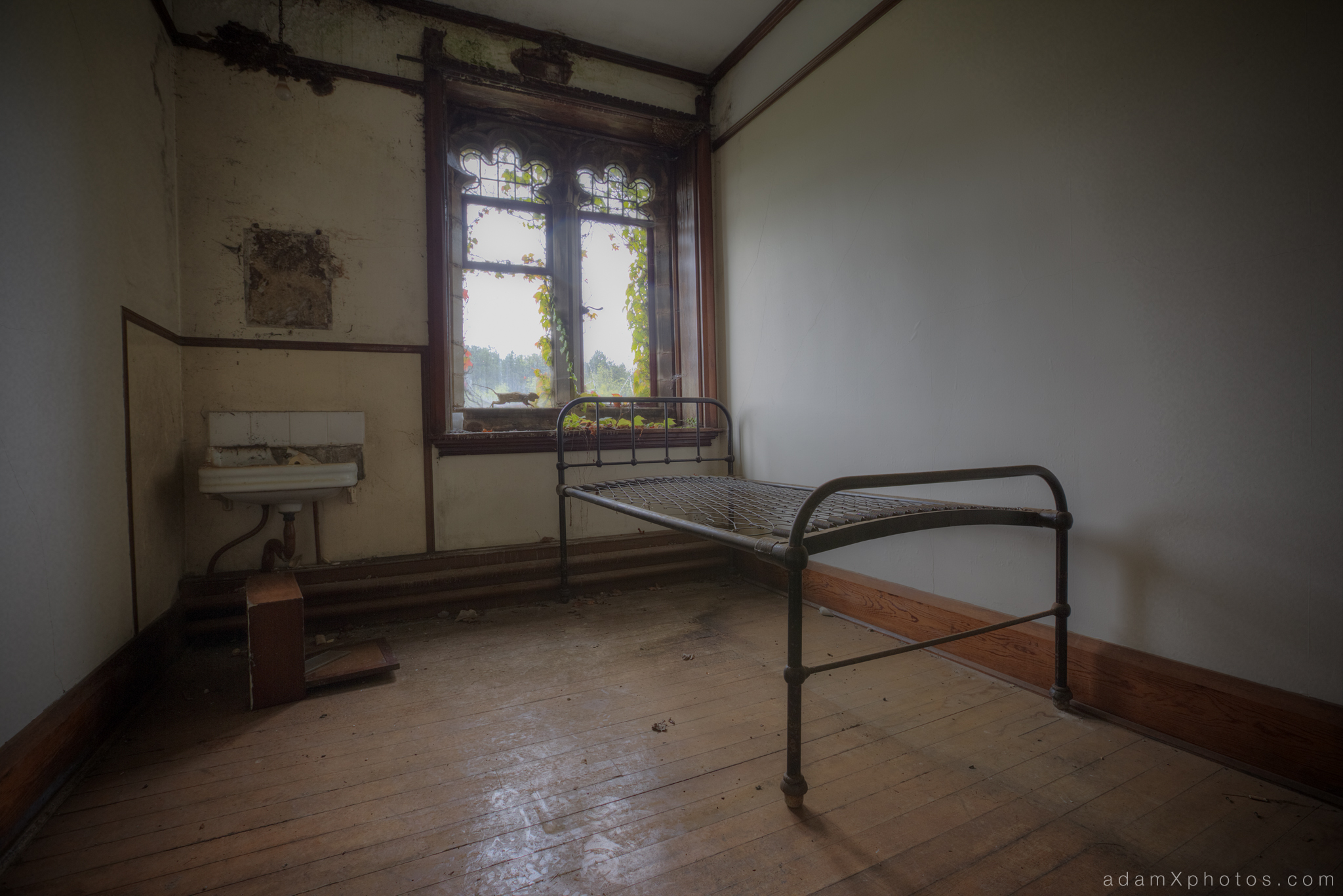 What's that in the window?

…why it's a desiccated rat of course!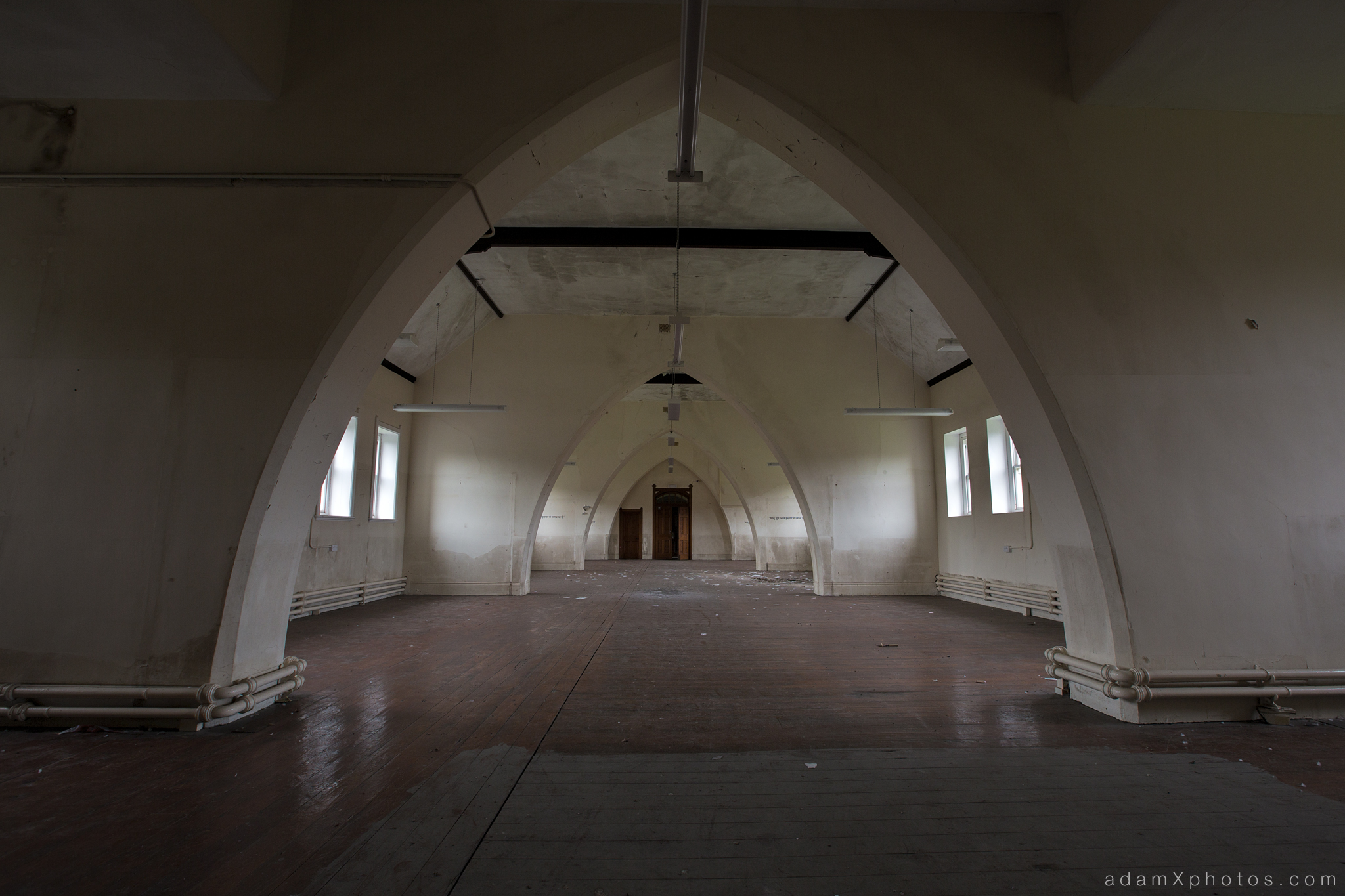 As we slowly worked our way around the vast complex each room and corridor brought something new, decaying, and beautiful…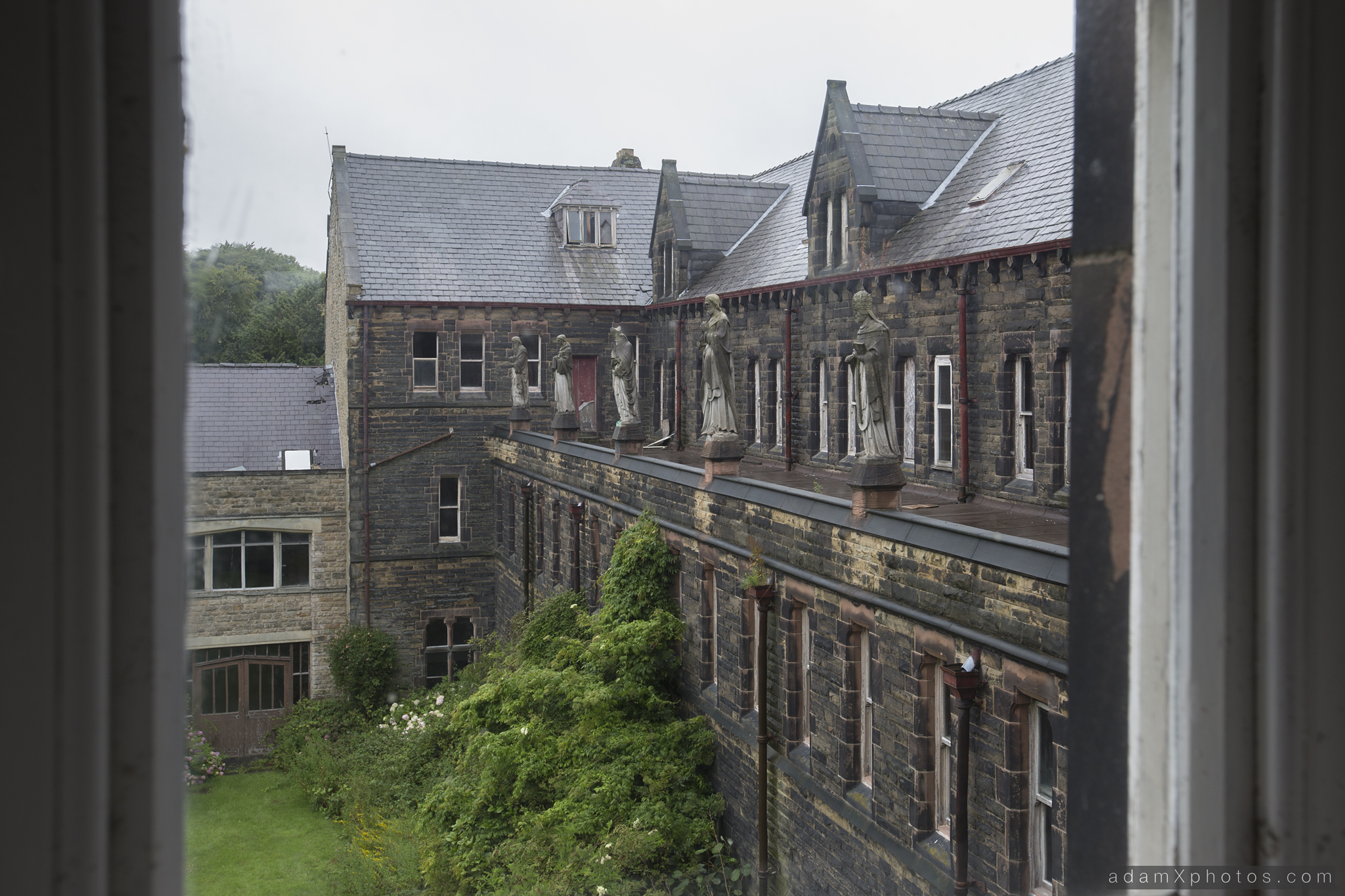 I then caught my first glimpse of St Joe's famous "Guardians".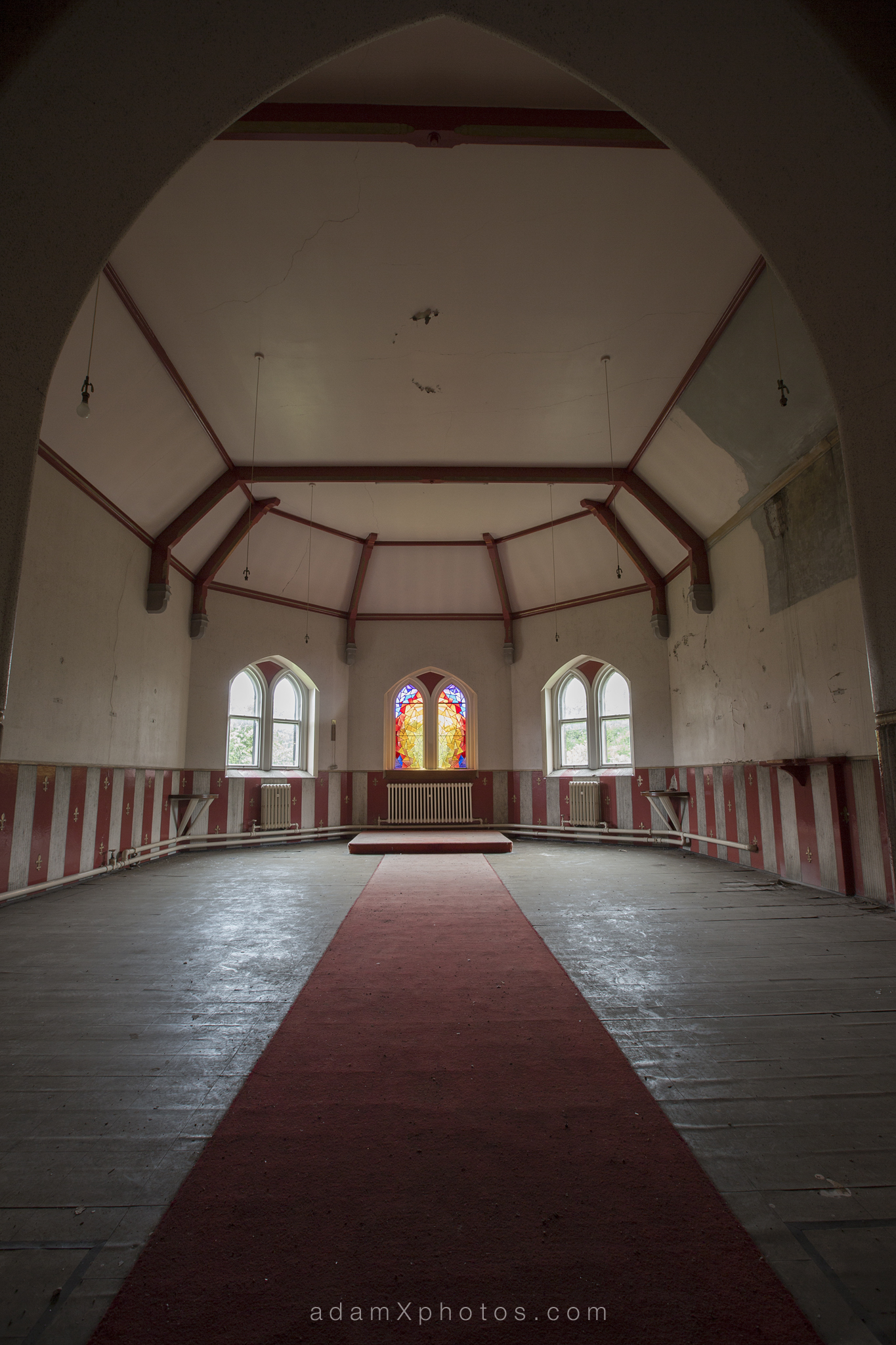 The red chapel.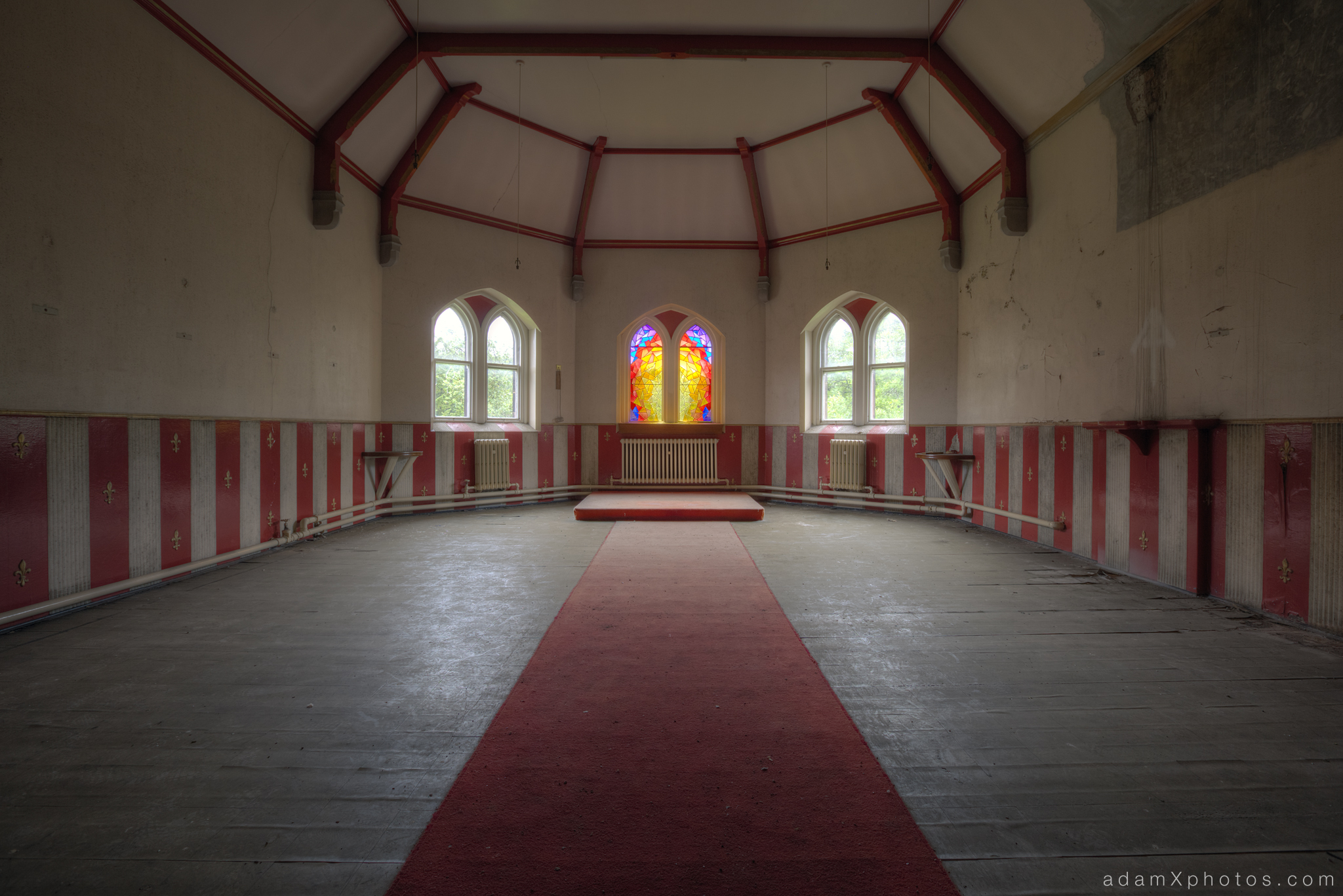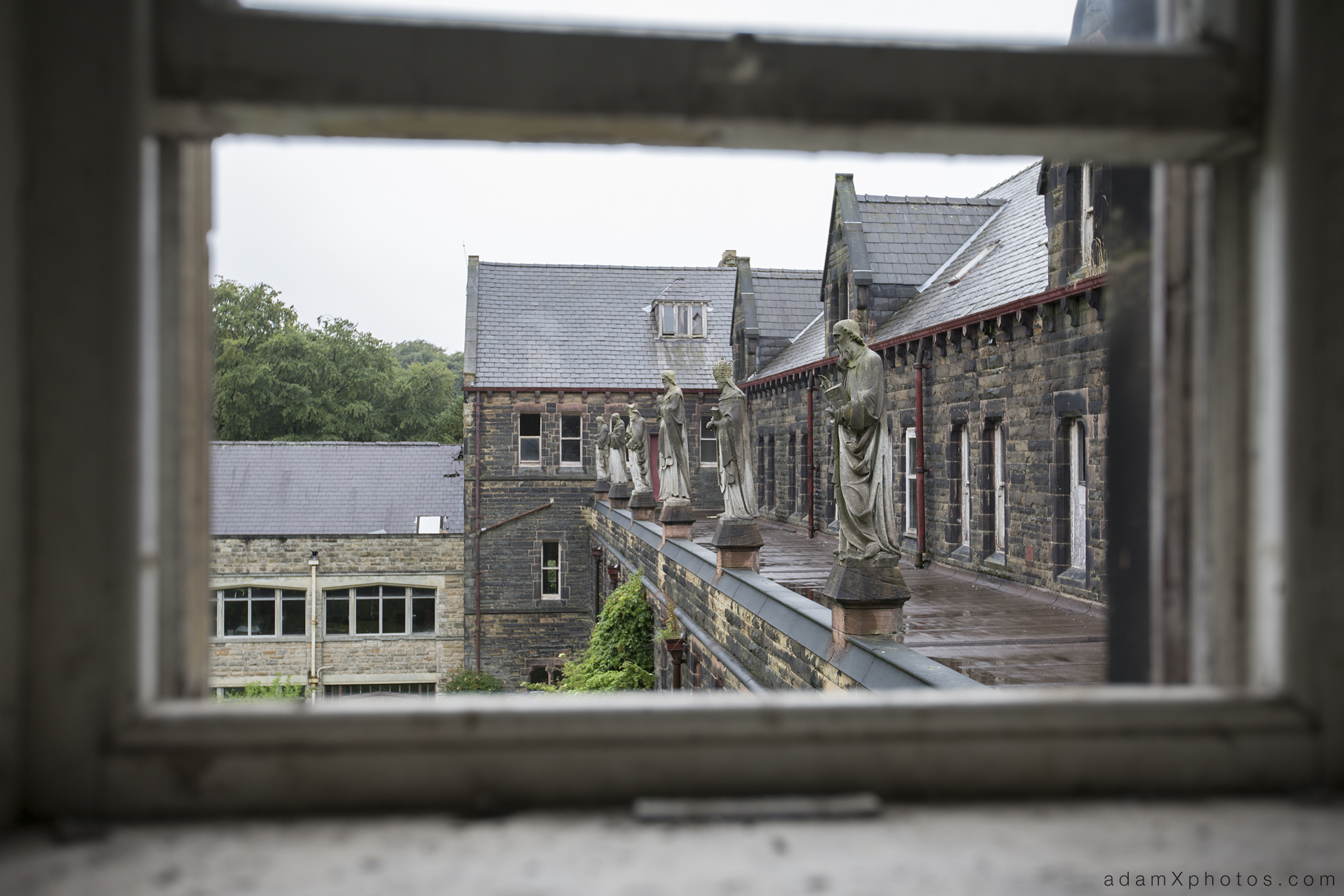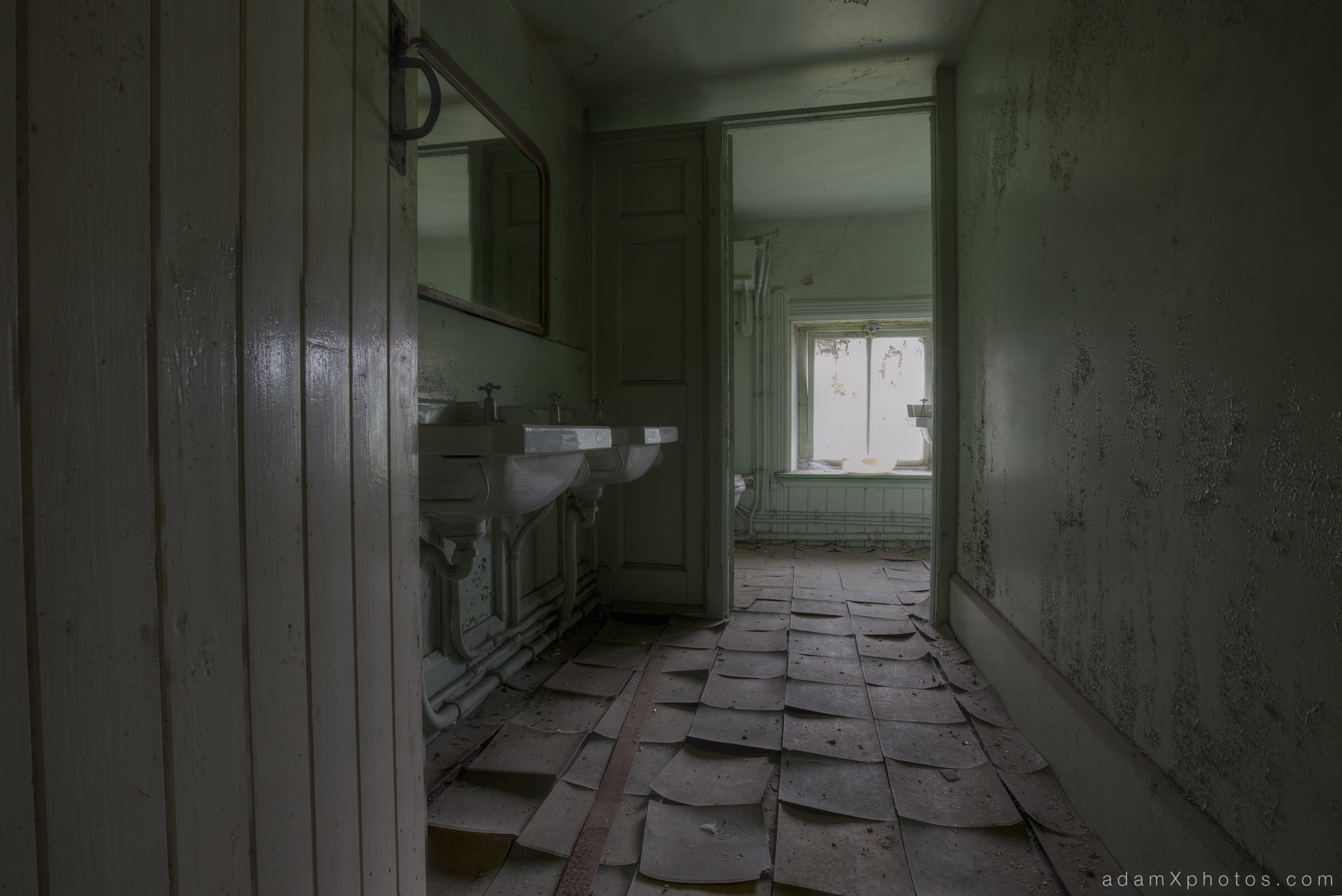 An amazing chequerboard ceiling in another of the smaller chapels.

The huge Study Hall. I loved the decay and colours in here.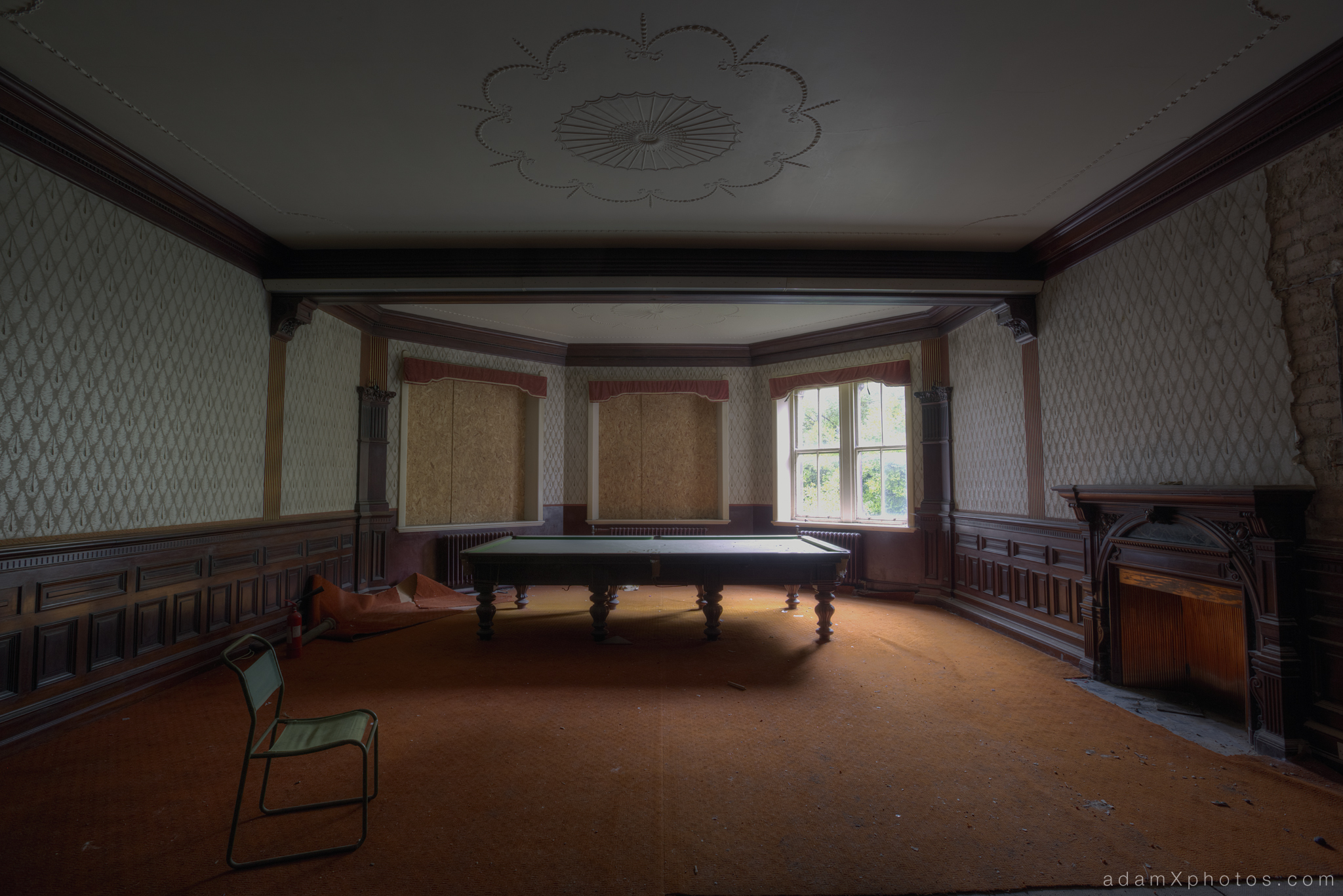 The old snooker room.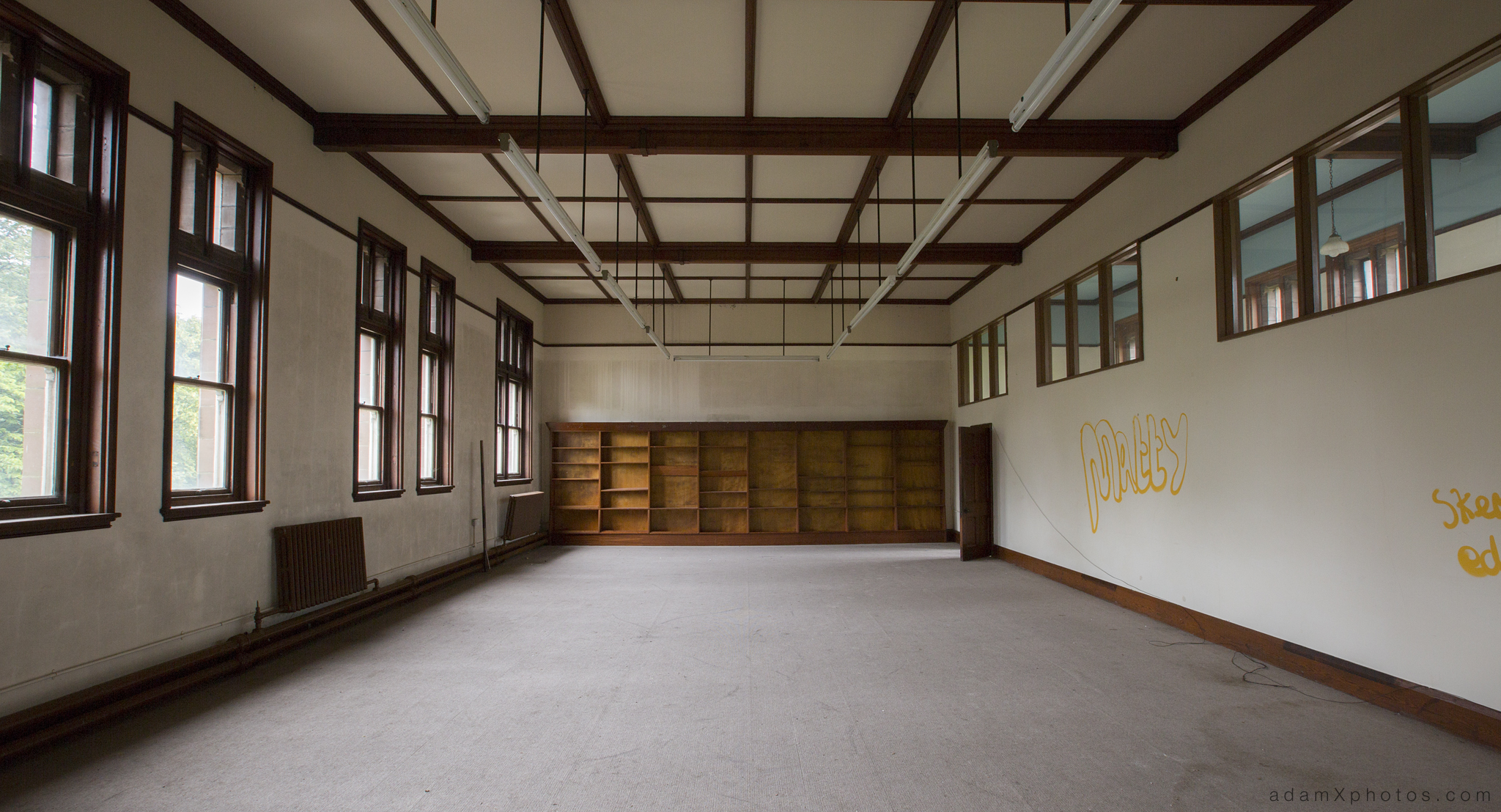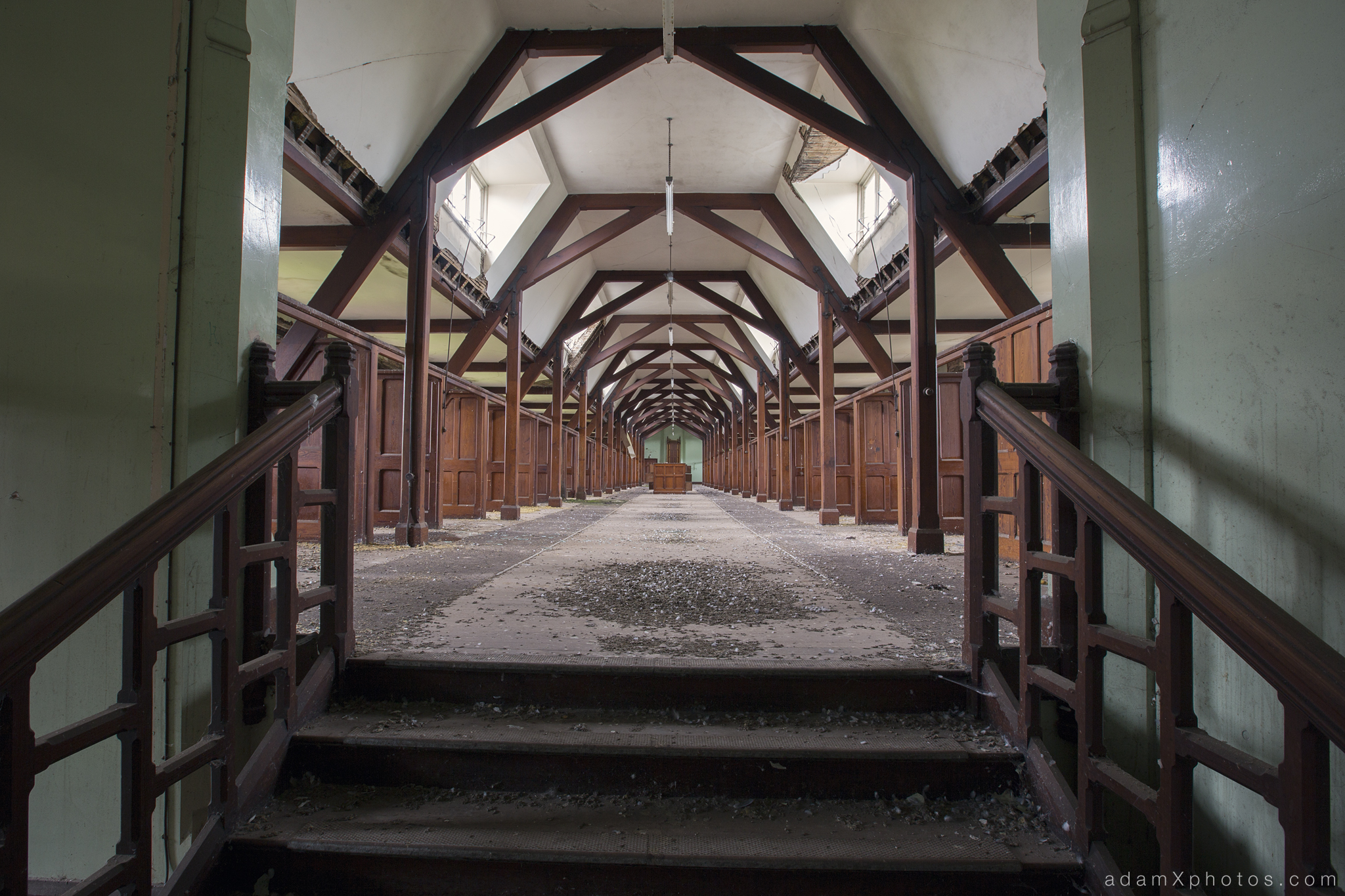 Looking up in to one of the dormitories.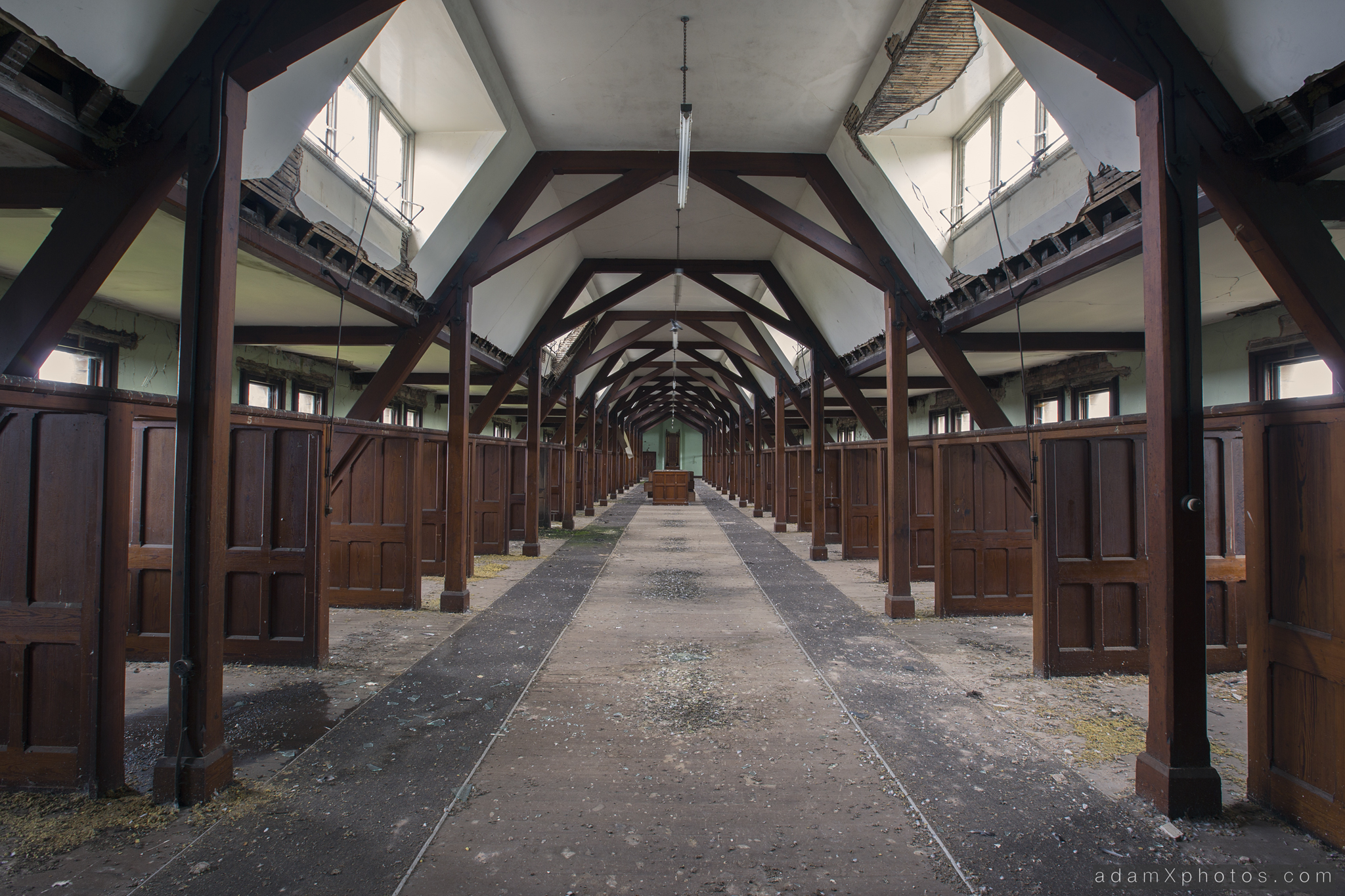 View of the dormitory.
I had just taken this shot when I spotted someone at the other end coming towards me! Luckily it was just one of the Abandoned Yorkshire group. After a few minutes the rest of our groups caught up with us, and we spent a few minutes chatting. One of their group then informed us that there had been something like 3 or 4 police vans show up outside shortly after their entry behind us. We professed disbelief at this, as we'd seen and heard nothing of any security or police since we'd got in…. until they promptly showed us their photo of the vans parked outside! Oops! Anyway, it was clear that the police had left again, so after exchanged a few further pleasantries we said our goodbyes and our two groups headed off in opposite directions.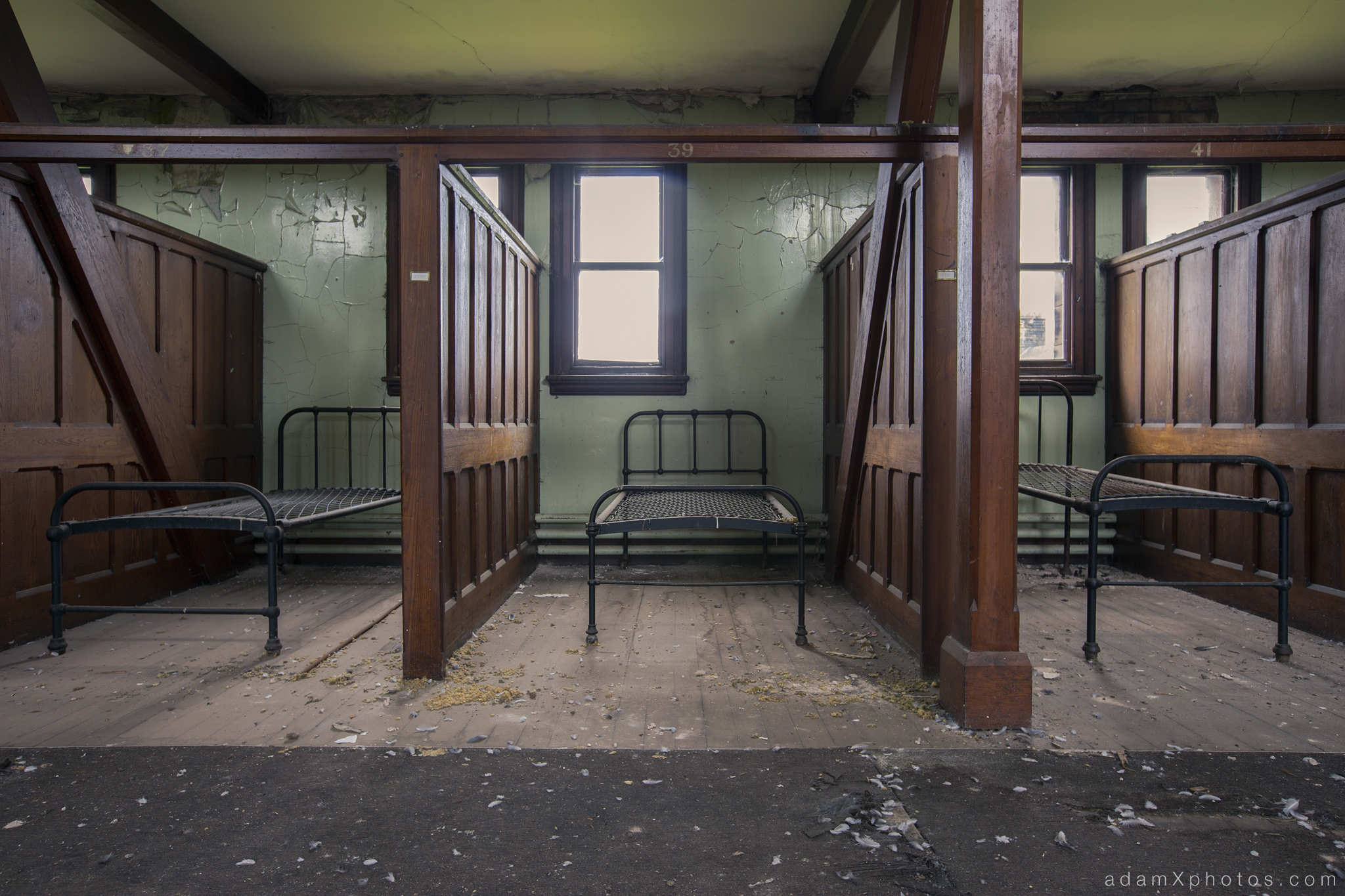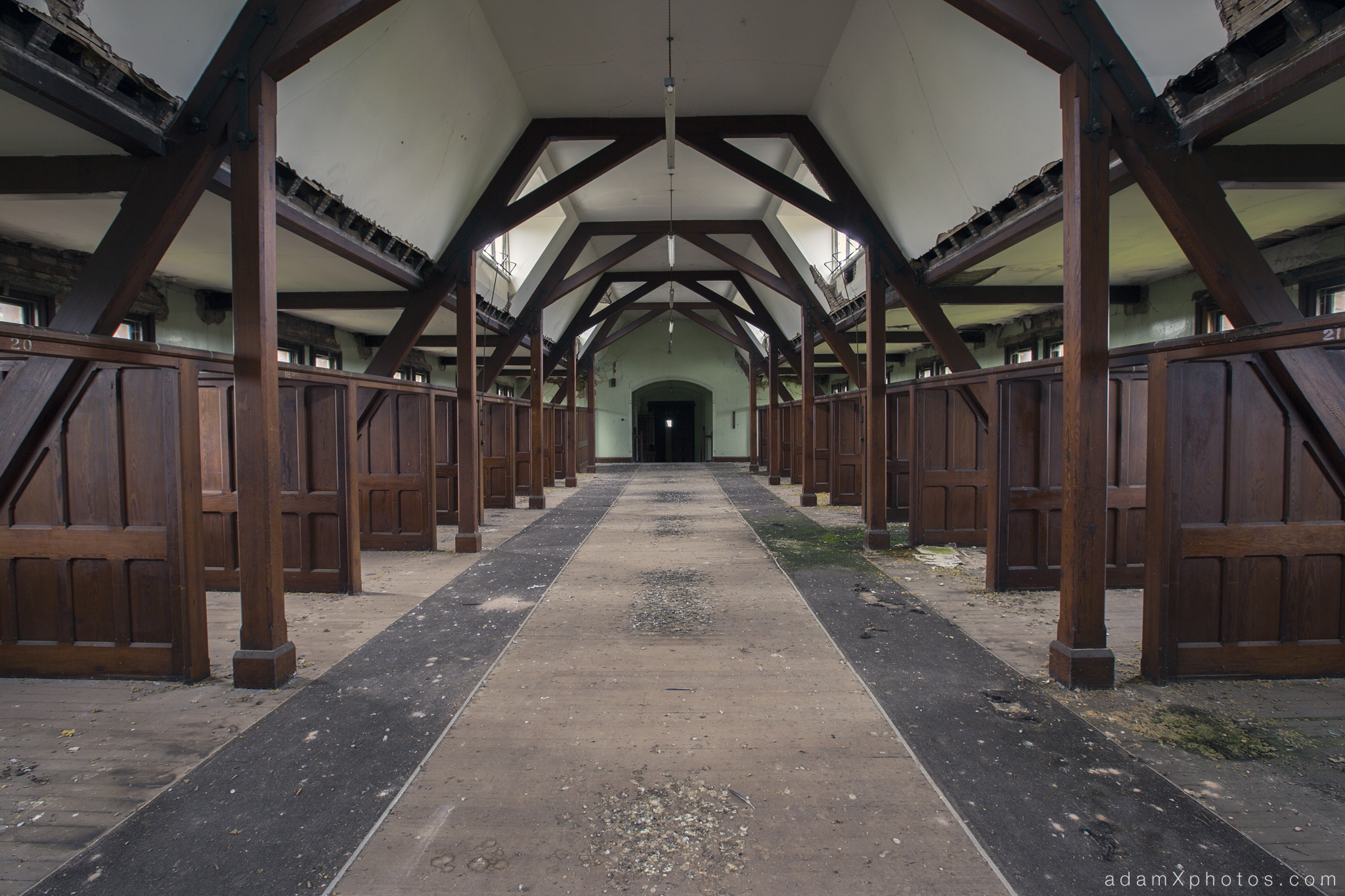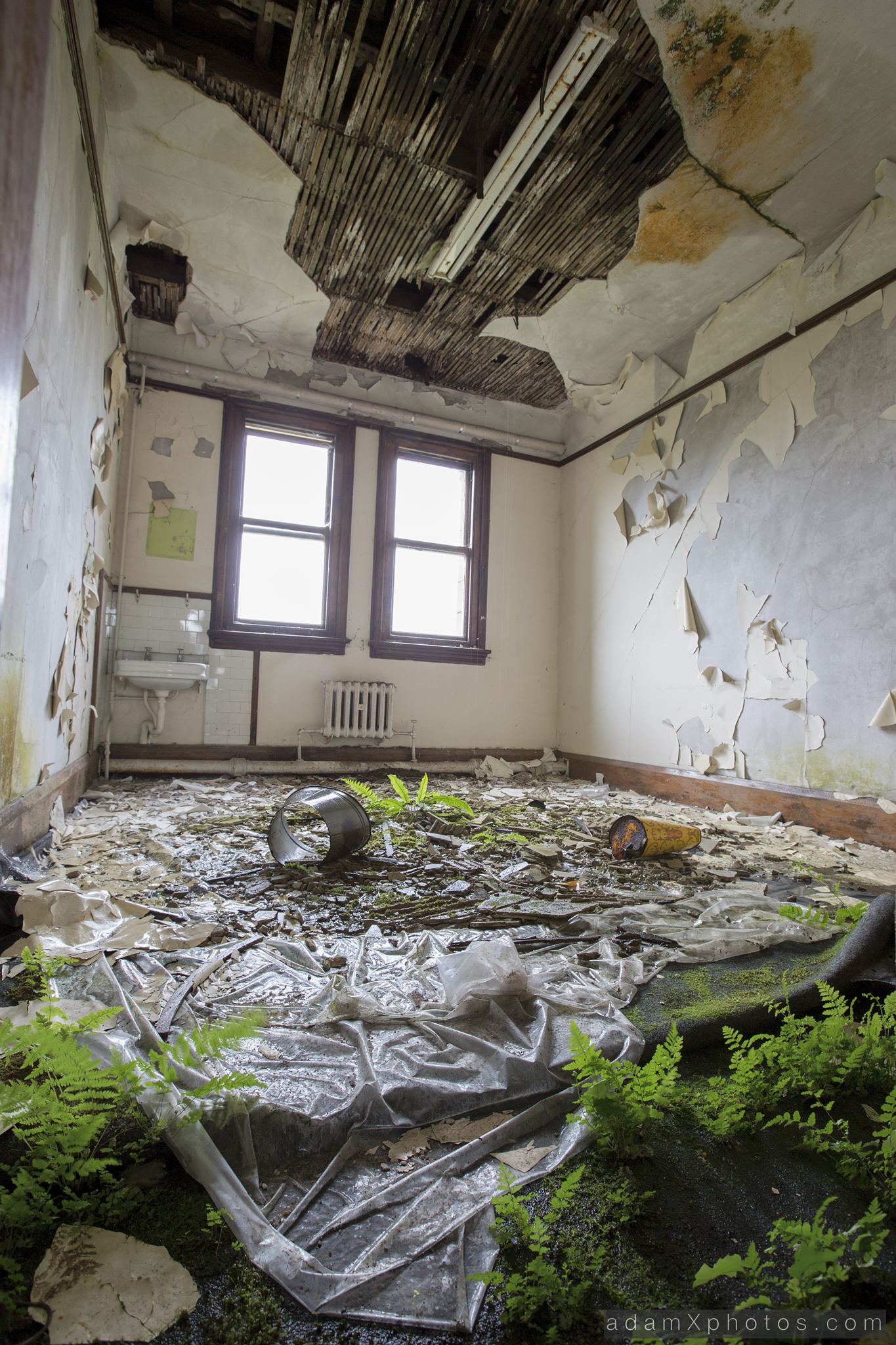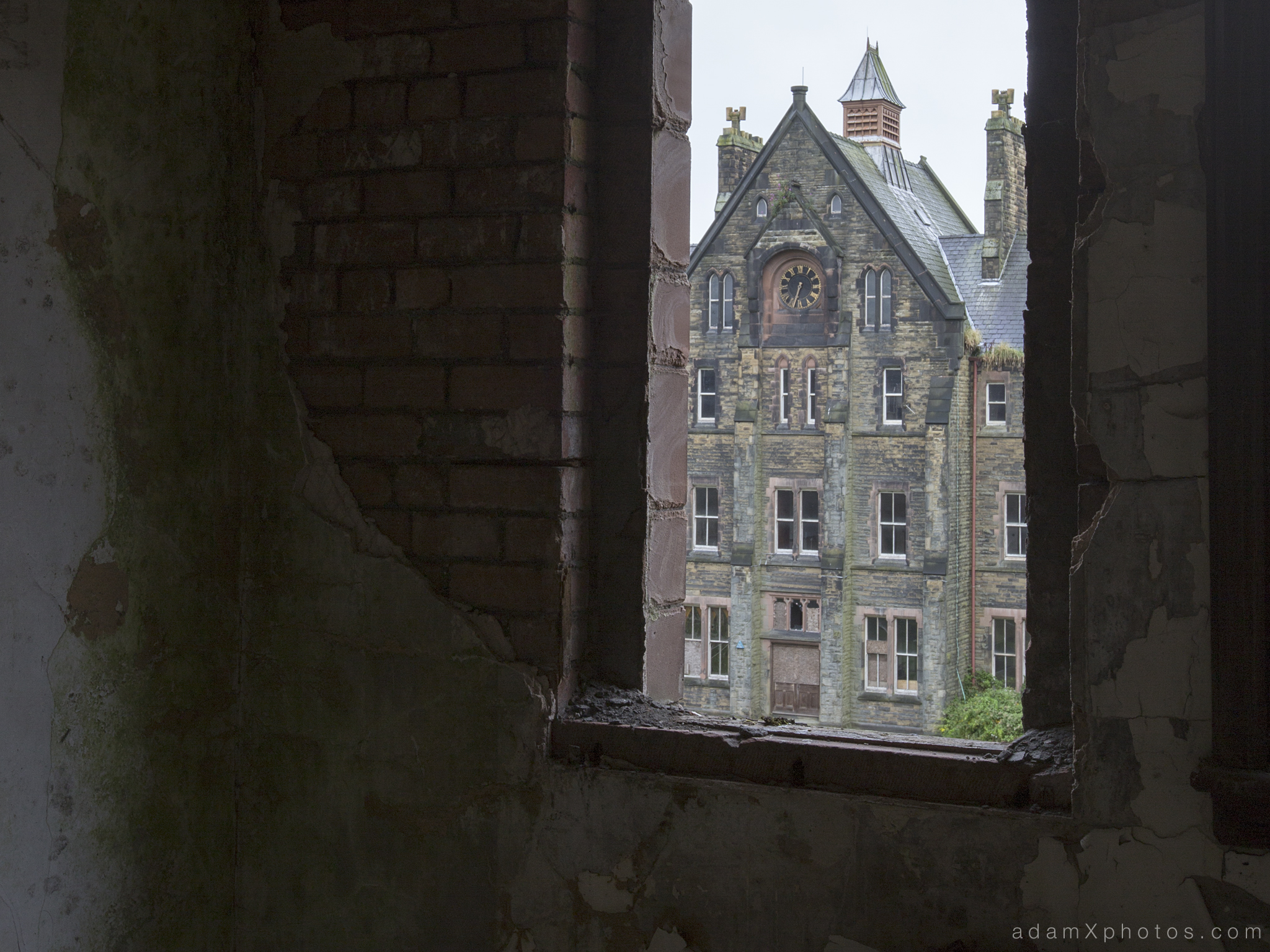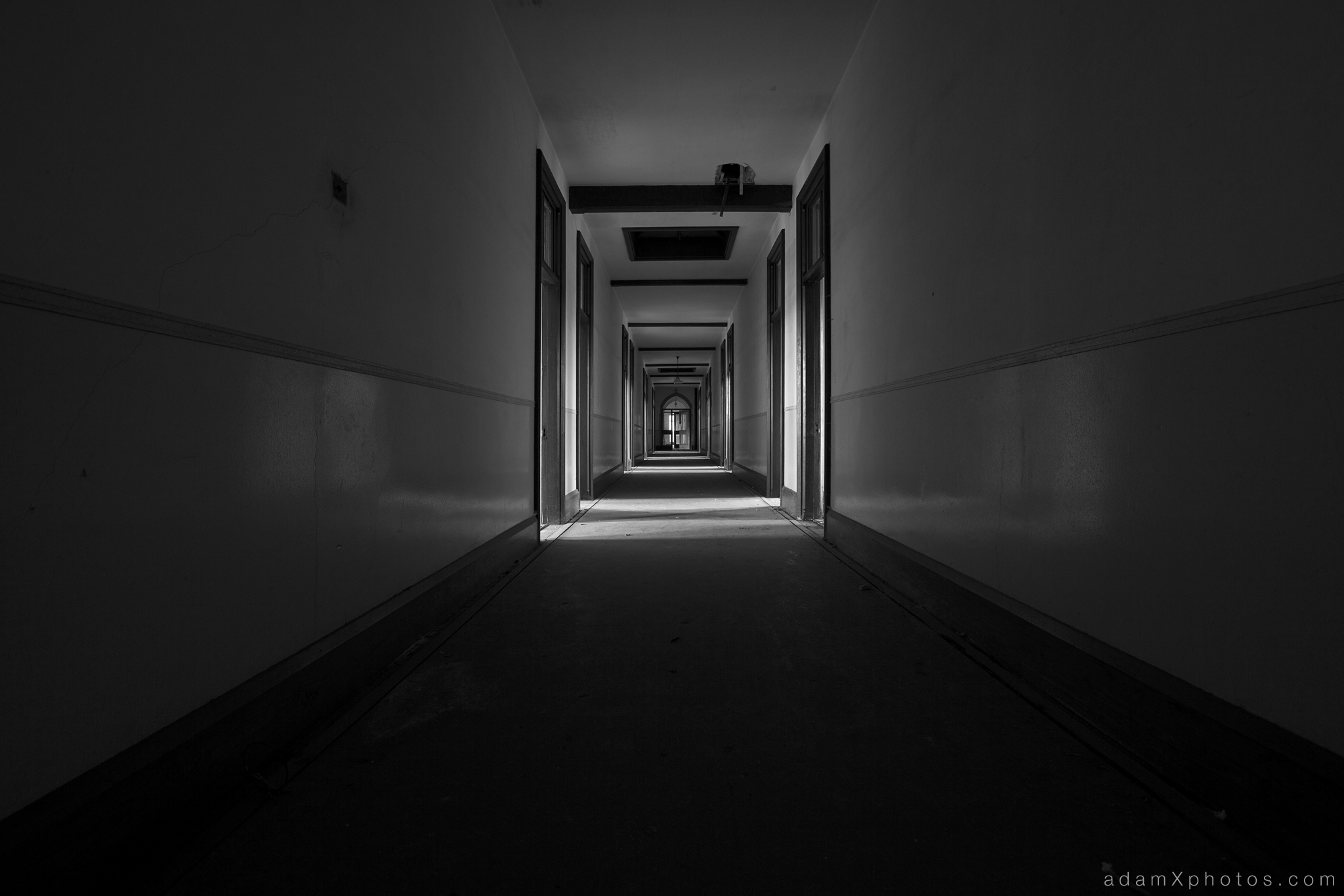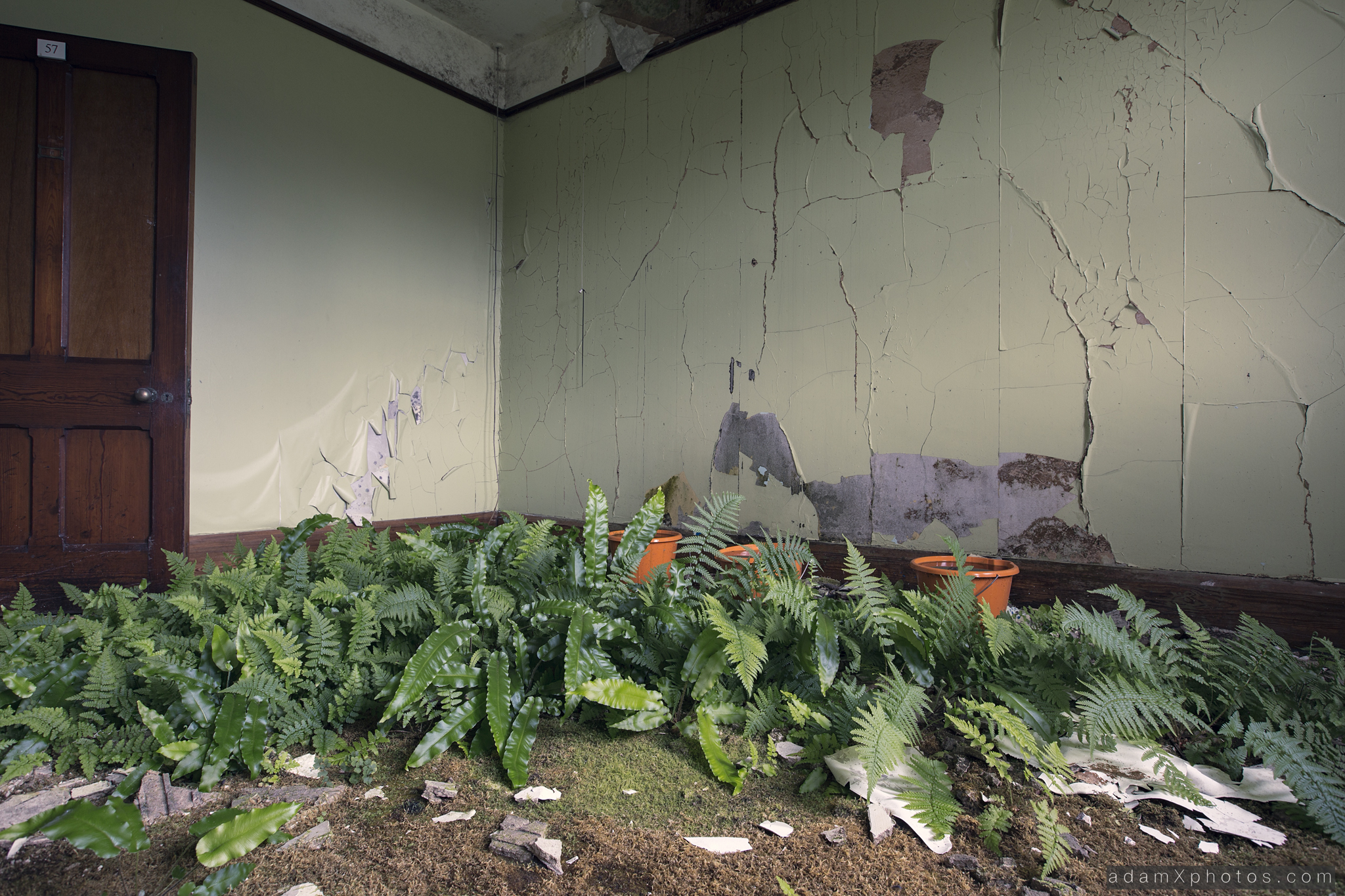 I also loved the contrast of the beautiful ivy growing on the outside of the building, set against the stark decay inside.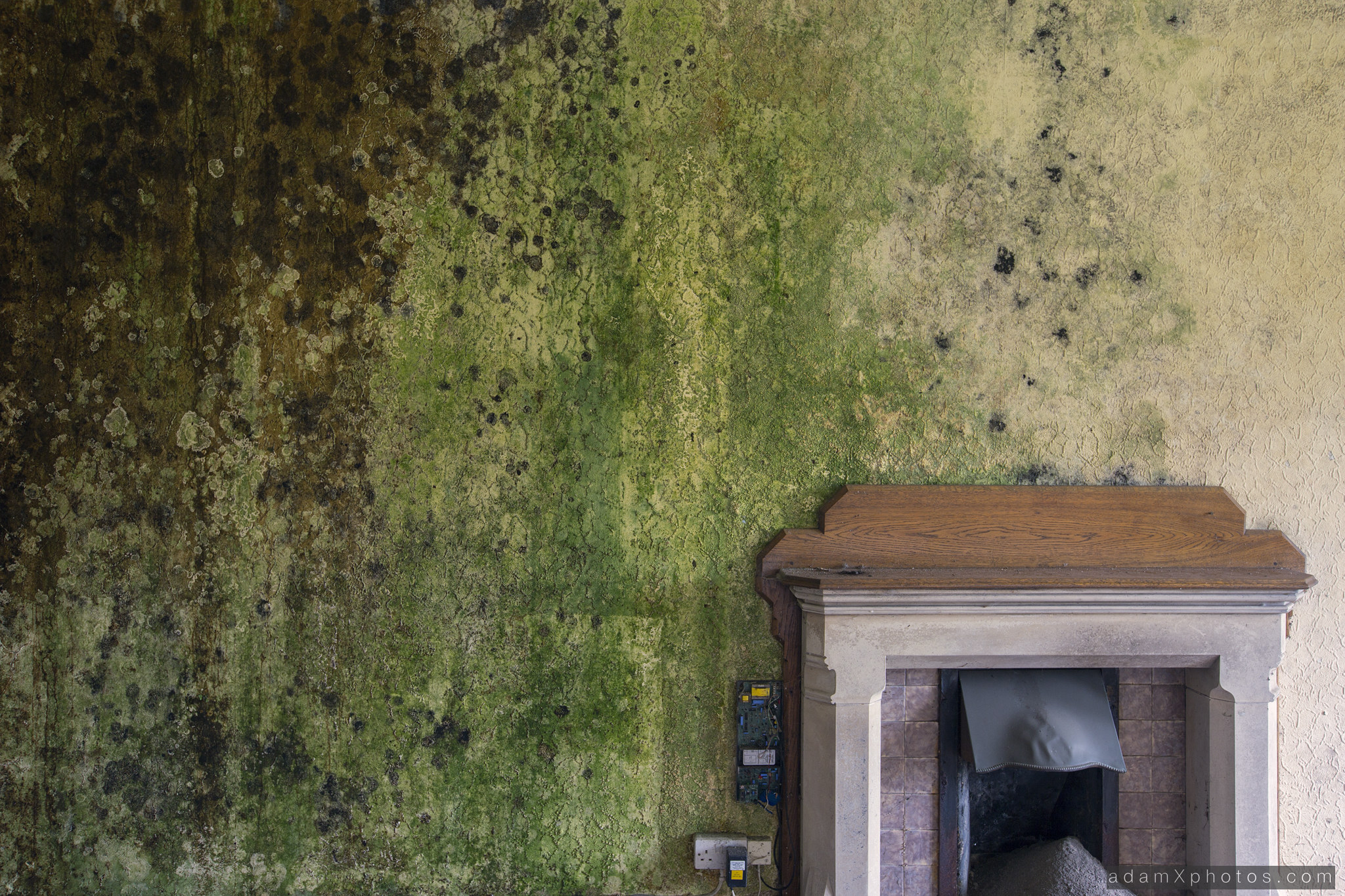 More textures and colours of decay.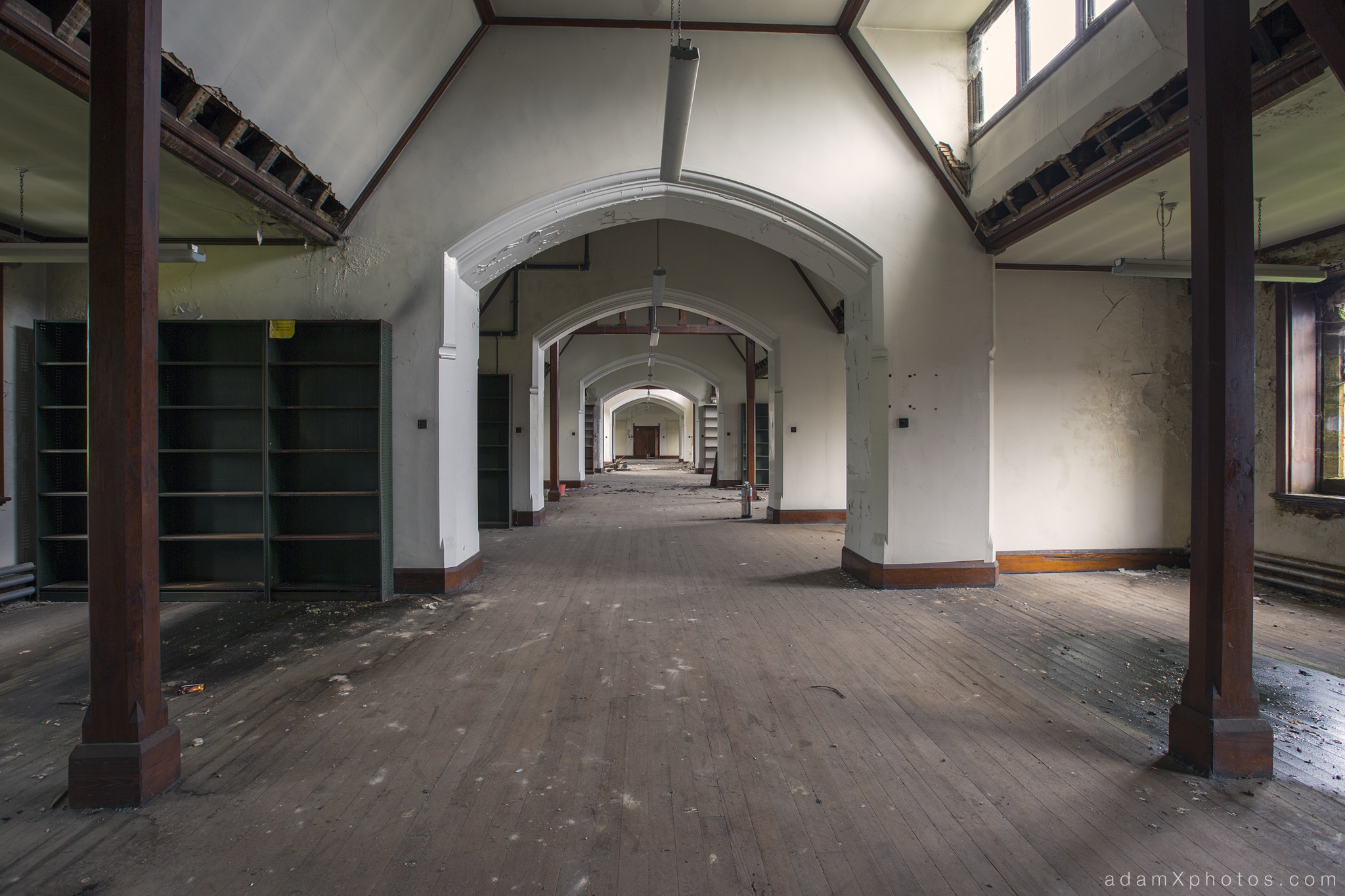 By now we had looped back around to the library…

…where only a few metres away was some of the worst structural collapse in the main complex.


We then set about finding a way up on to the roof, where we were glad to see that the earlier heavy rain had finally relented, and we enjoyed a peaceful 20 minutes admiring the views.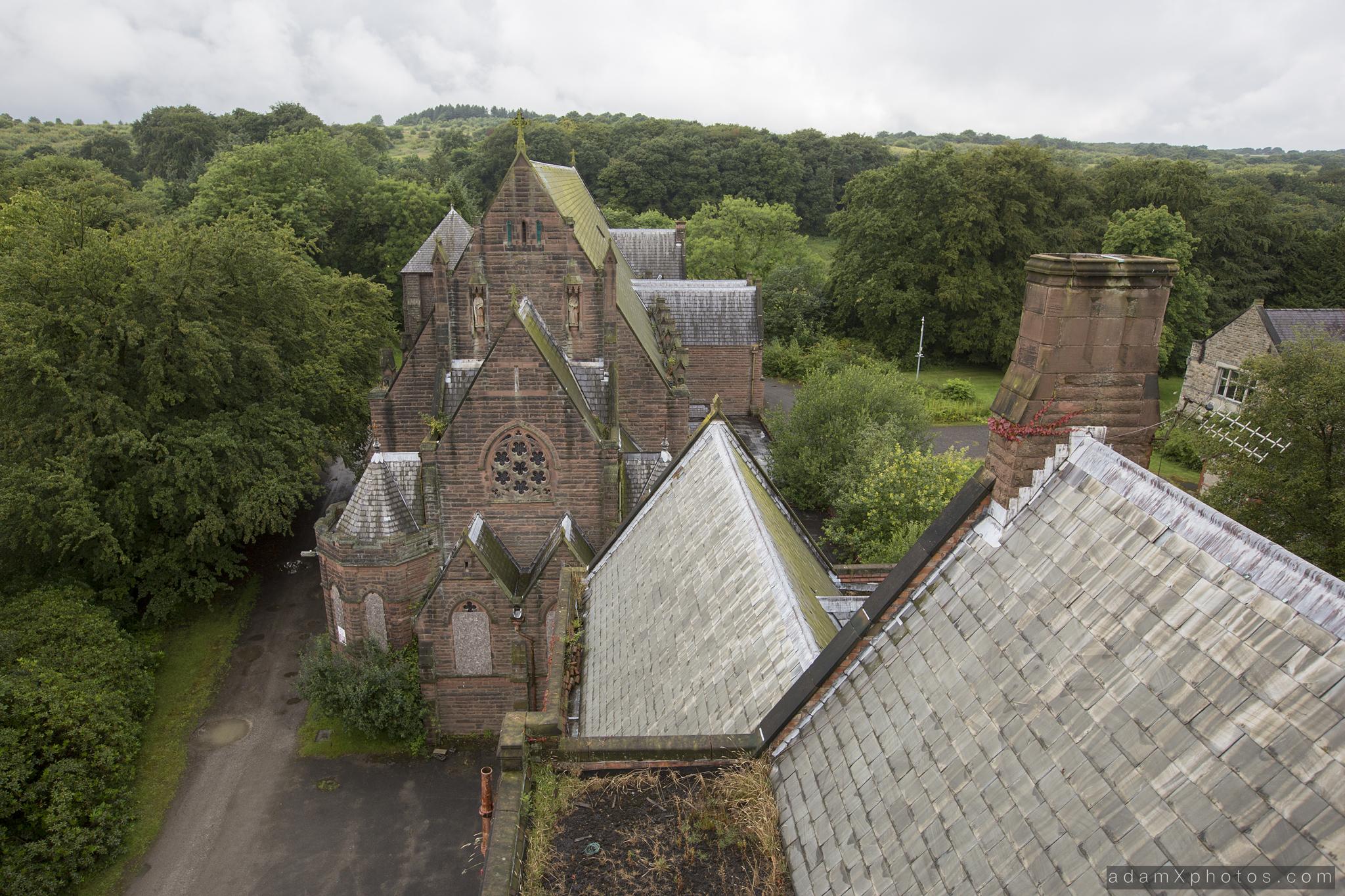 Looking down at the main Chapel. We had heard that this was guarded by one of the loudest alarms known to mankind, but having completed a circuit of the main complex we decided that we would chance our arm by giving it a look once we'd come down from the roof.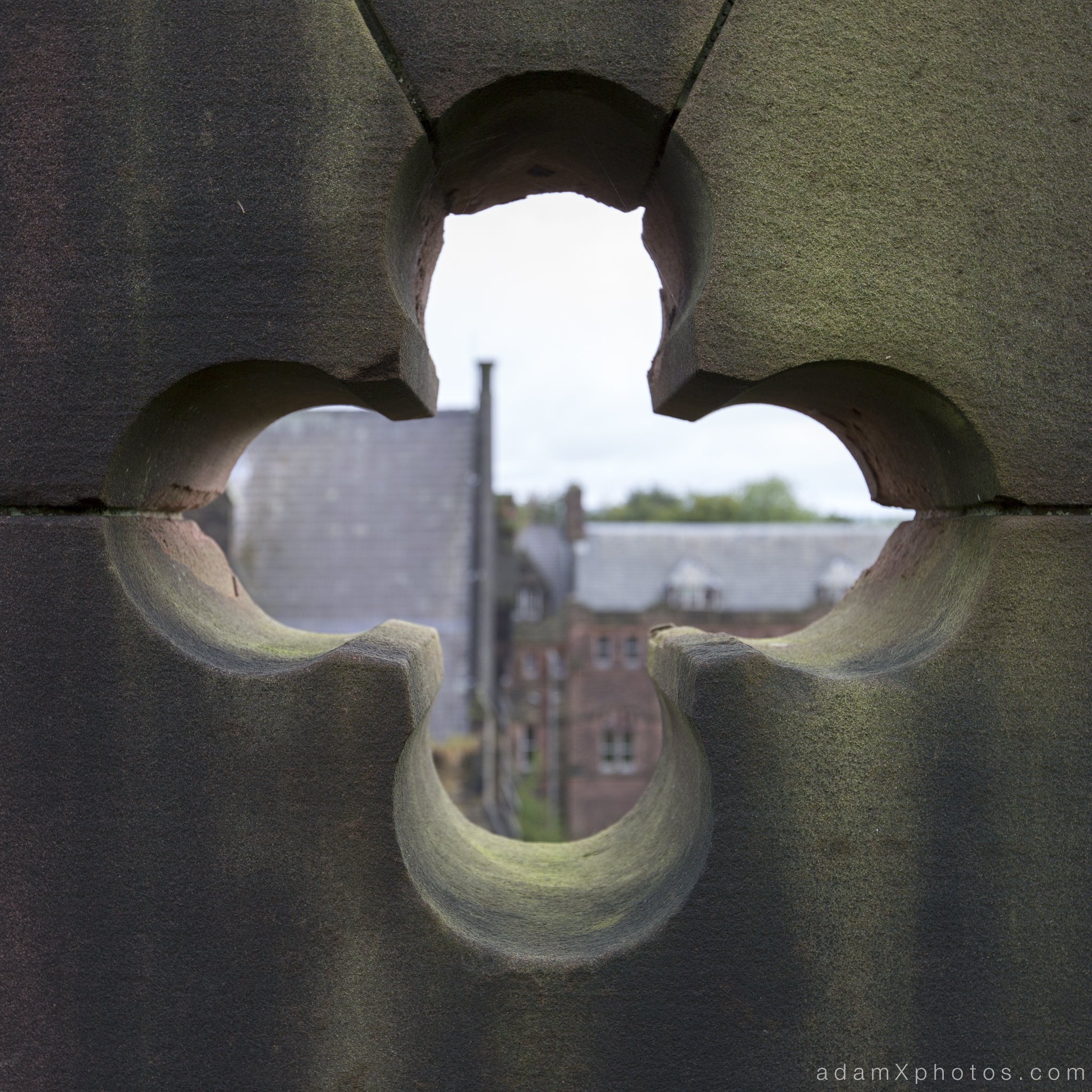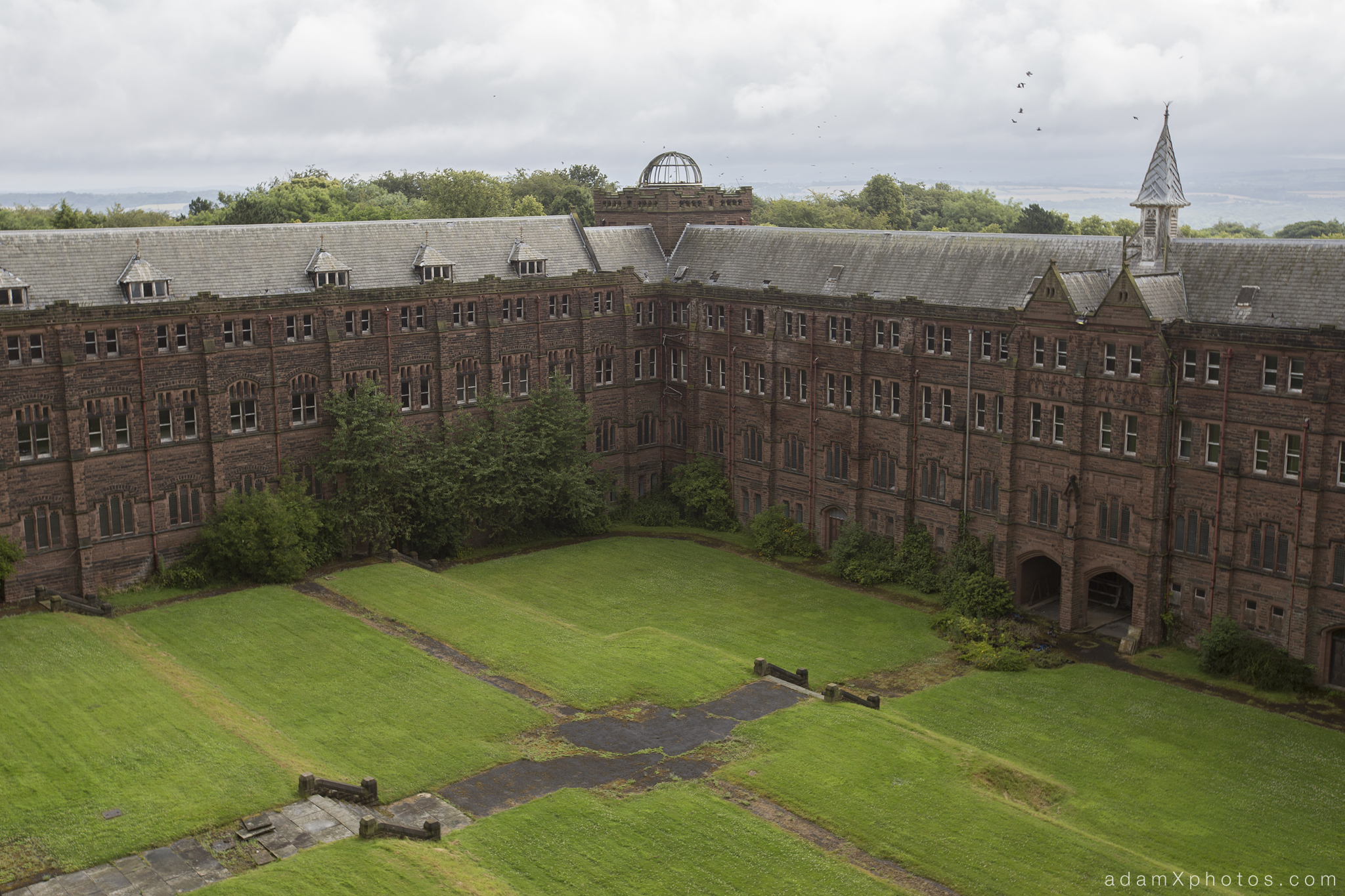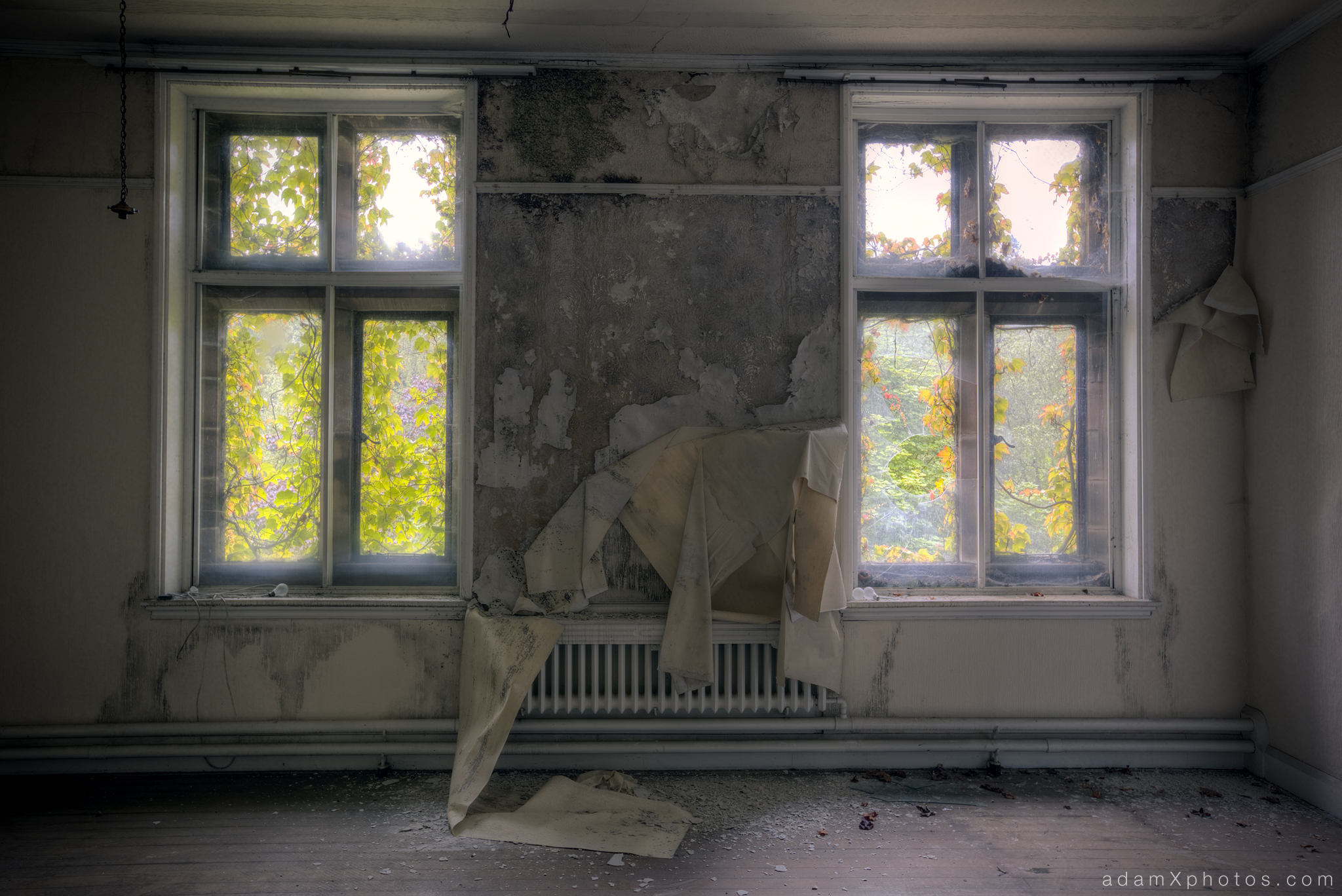 Yet more decay – again I love the inside/outside contrast of this shot.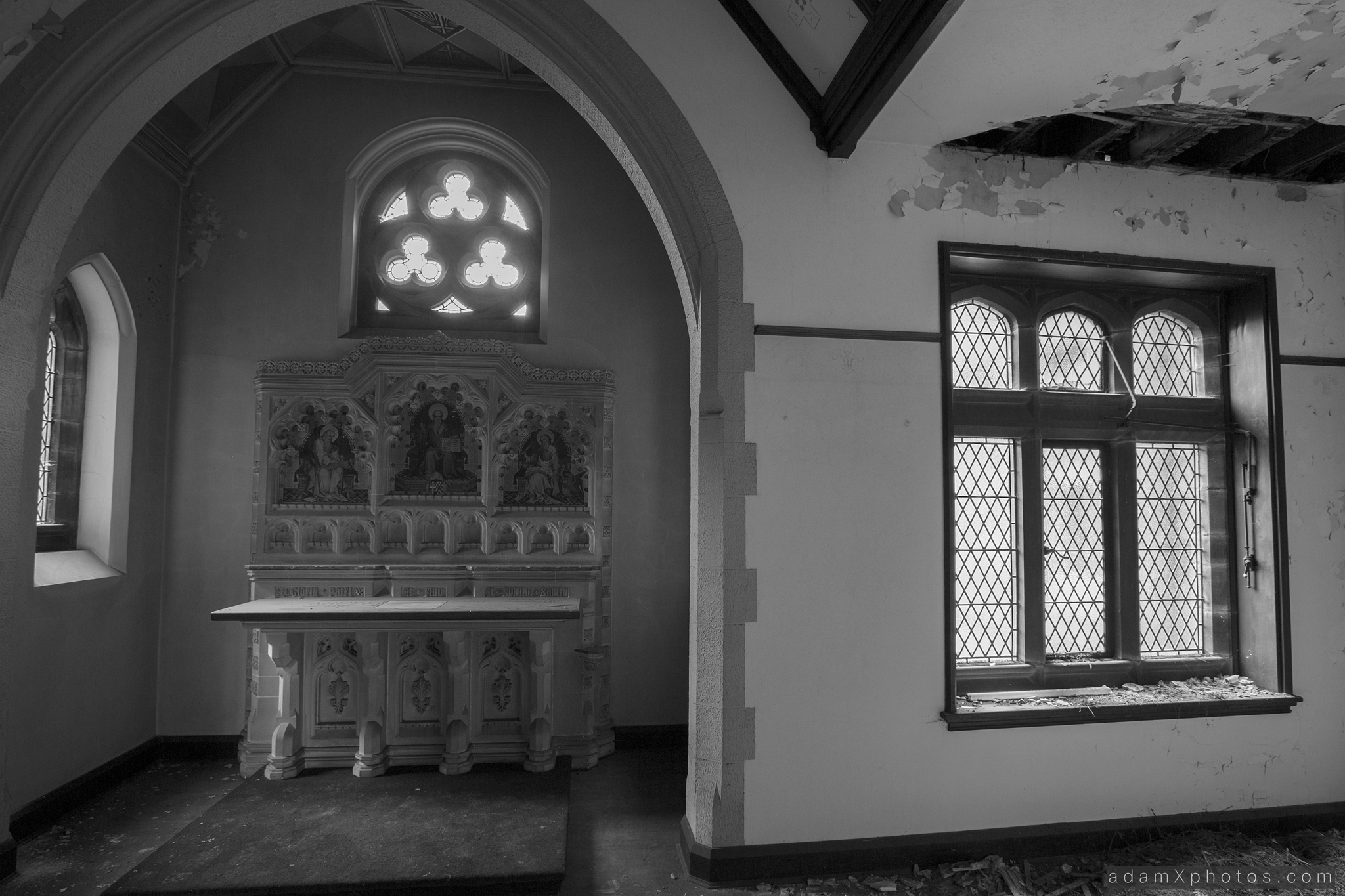 Ground floor corridor…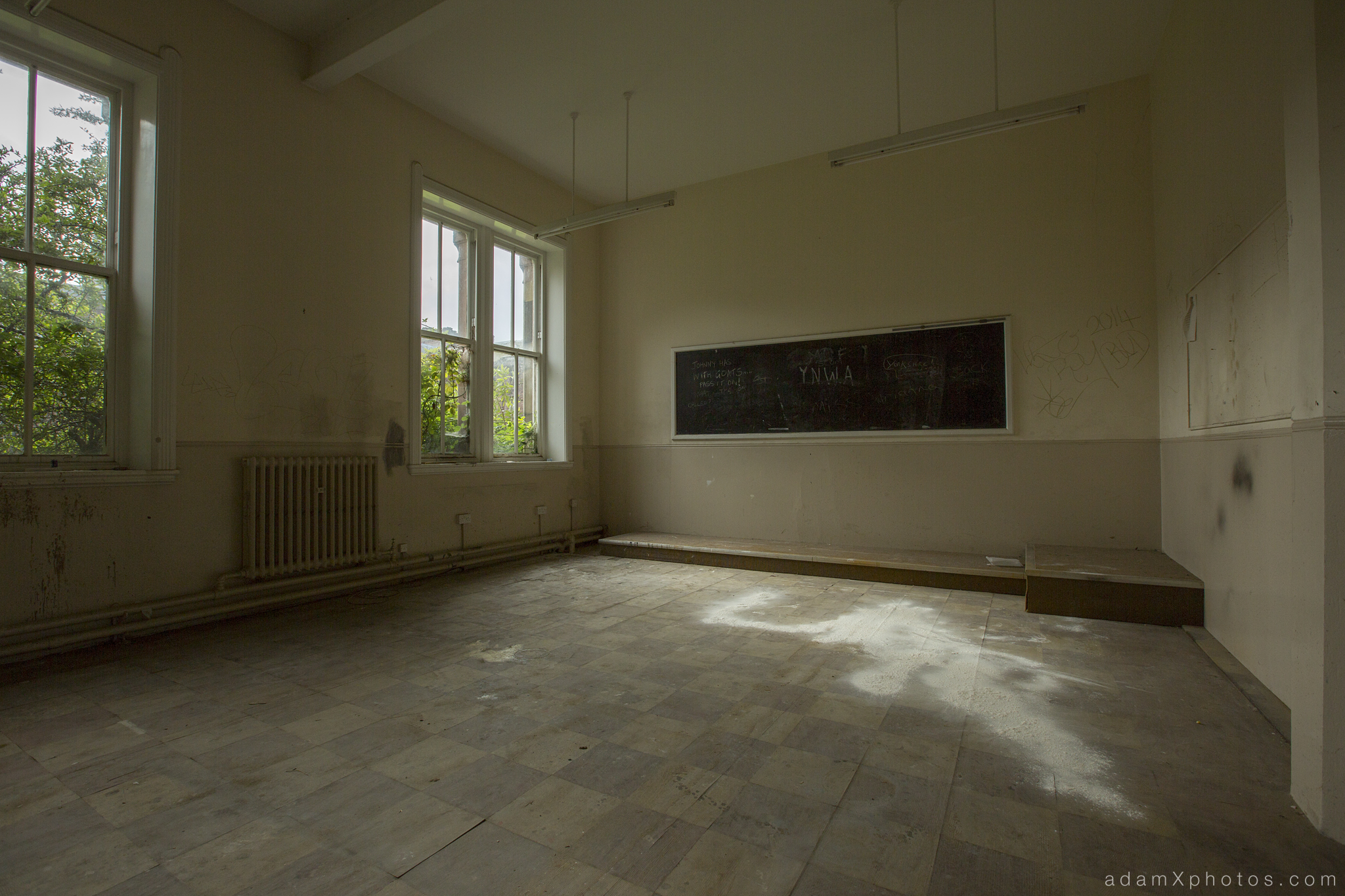 …and one of the classrooms just off it.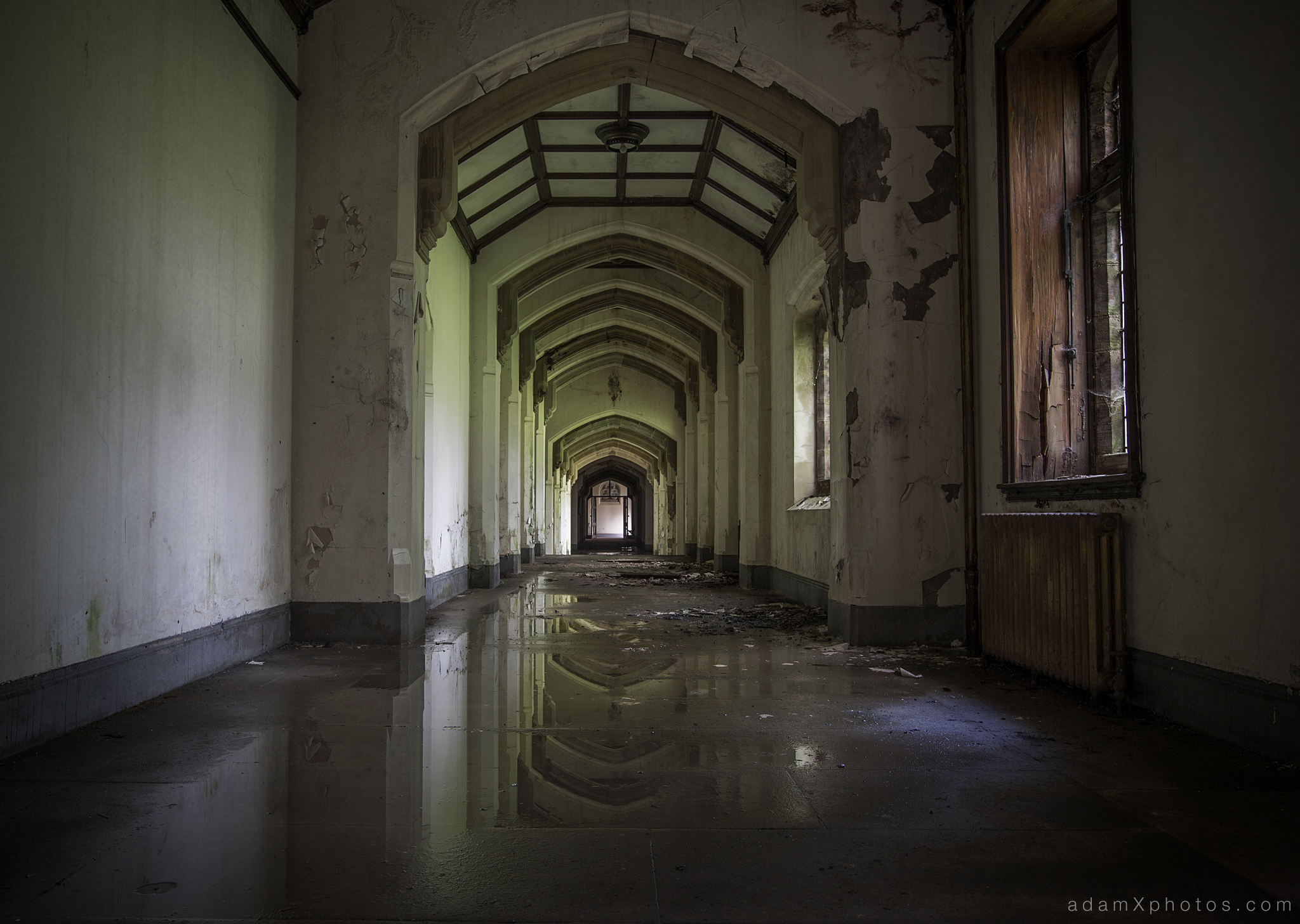 By now we were all pretty tired, and had no desire to leave the way we'd come in, so decided that we would head for the chapel and if we got busted then at least we'd be marched out the front door! We paused briefly to appreciate the reflections in this beautifully decaying corridor on our way…

…and suddenly we were in! We quickly grabbed some quick shots, convinced that we would be deafened by the infamous alarm at any moment…

…but the alarm didn't come, so we continued shooting…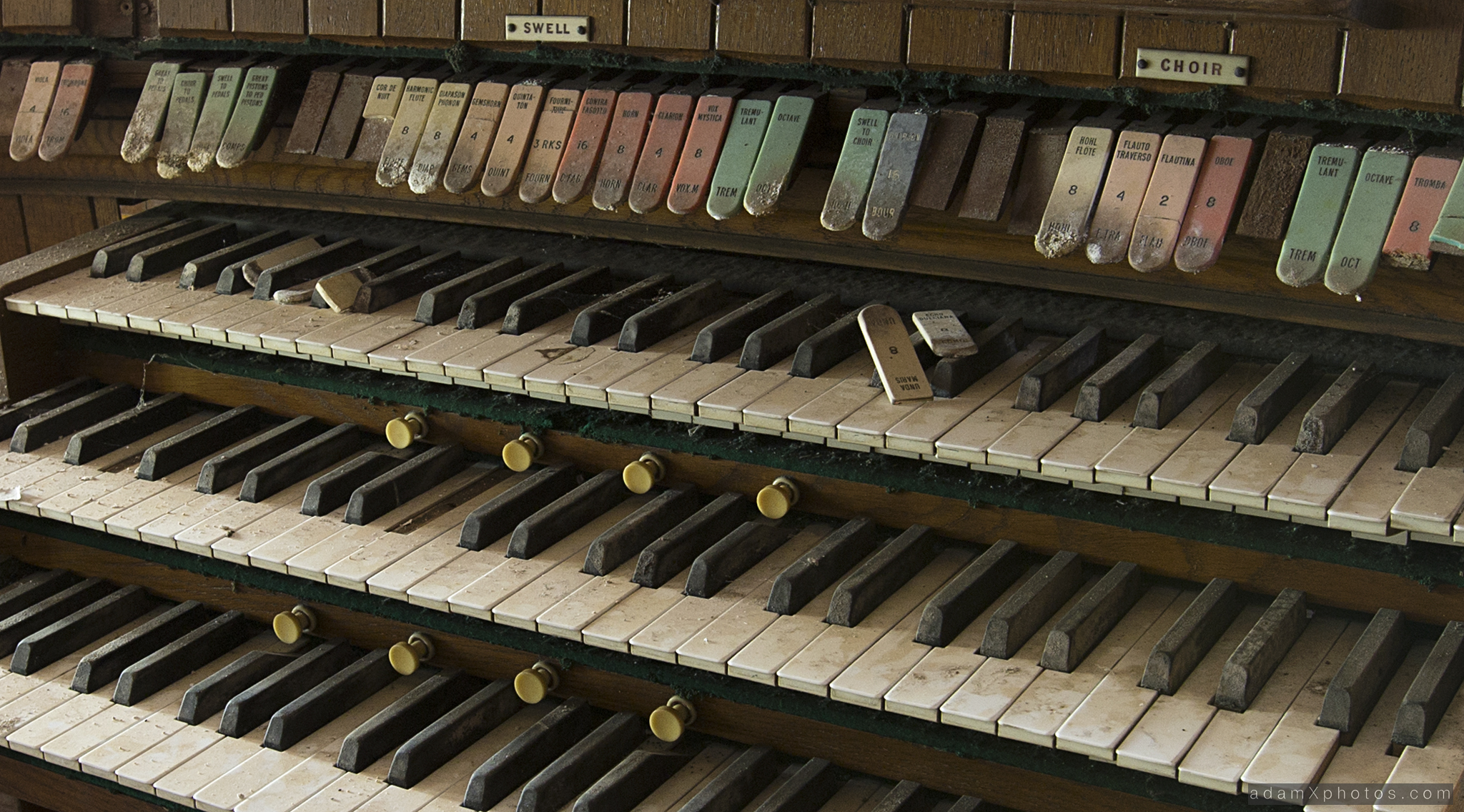 …and made our way up to look at the old chapel organ.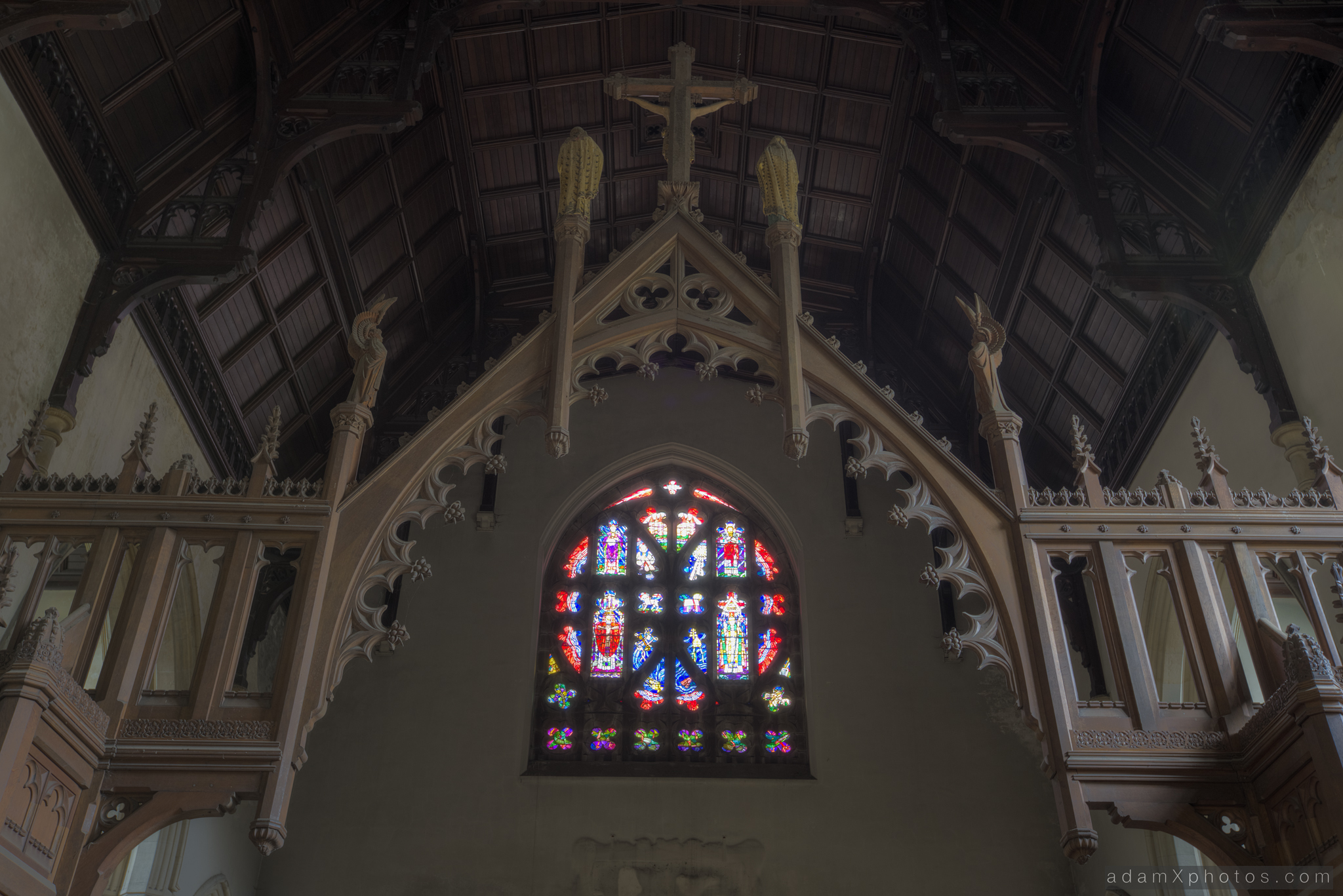 Suddenly, without warning, THE ALARM TRIGGERED! We all covered our ears in a forlorn attempt to block out the worst of it's piercing tones…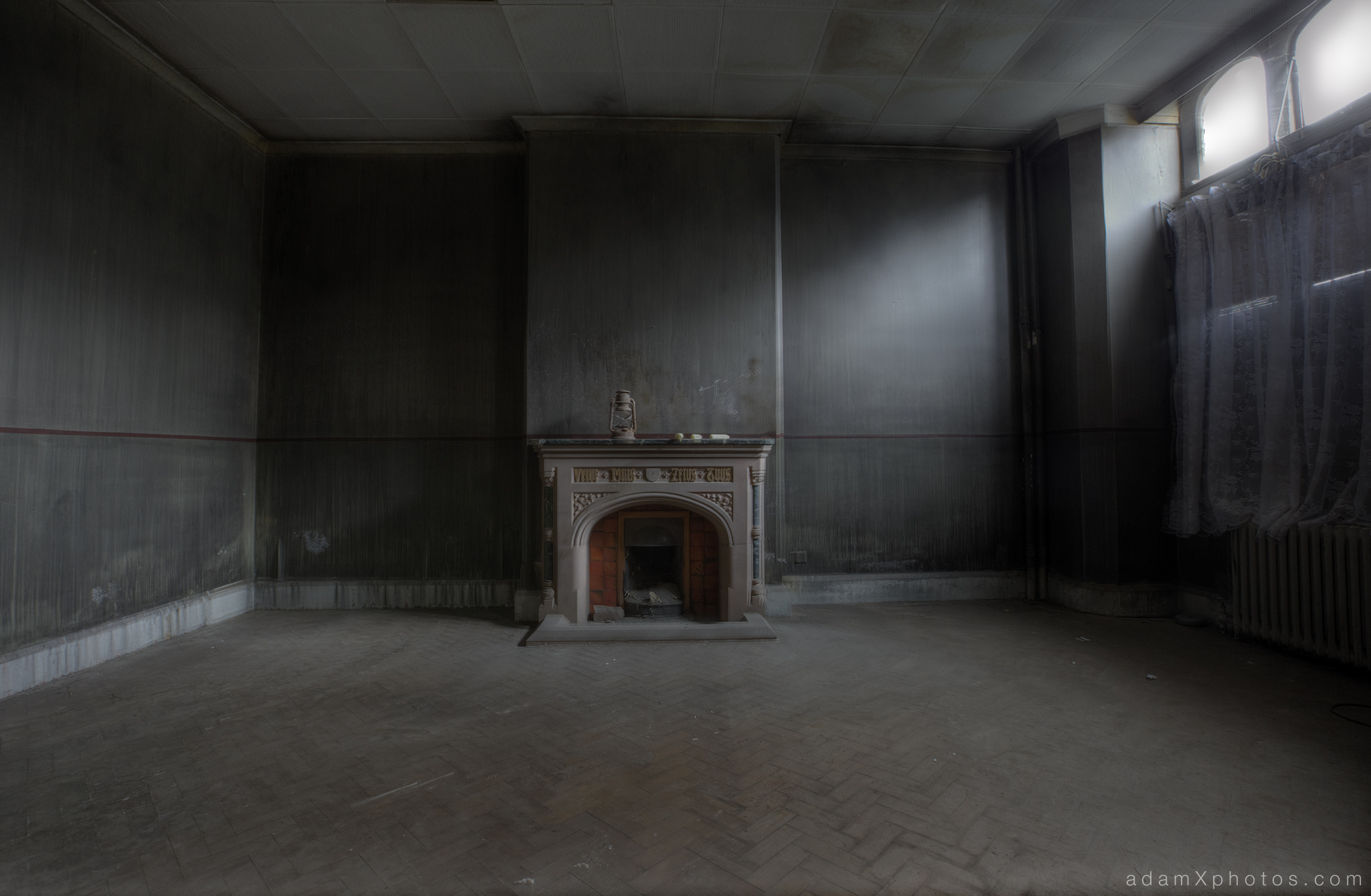 … I retreated in to this nearby room to shelter from the sonic assault, and take a few more shots.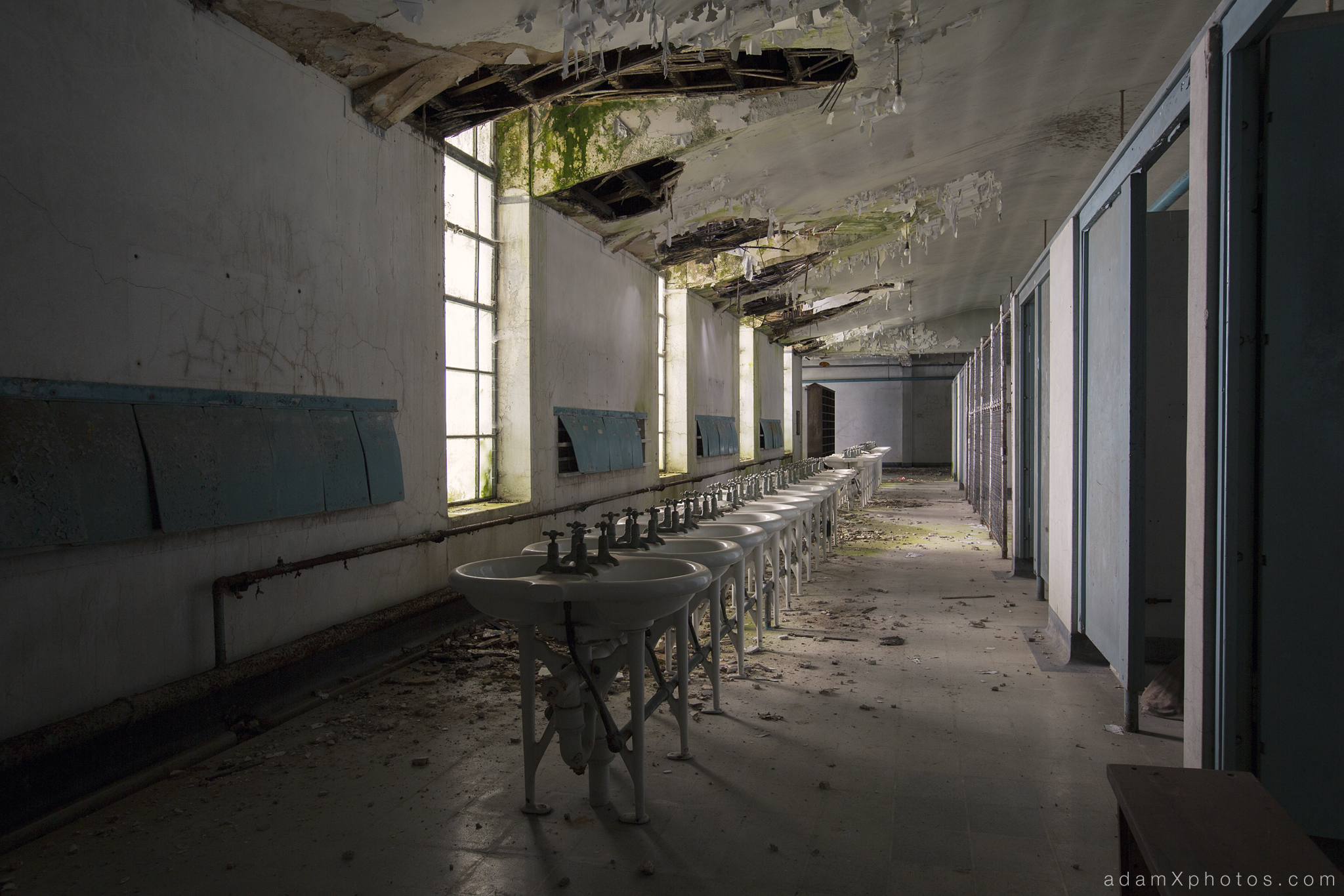 After about 5 minutes the alarm finally stopped. But no sign of the expected security! So, extreme tiredness now starting to kick in, we carried on walking the lower floor and came across these old bathrooms in a building annexed to the main complex.

"Game Of Thrones" (sorry…) 😉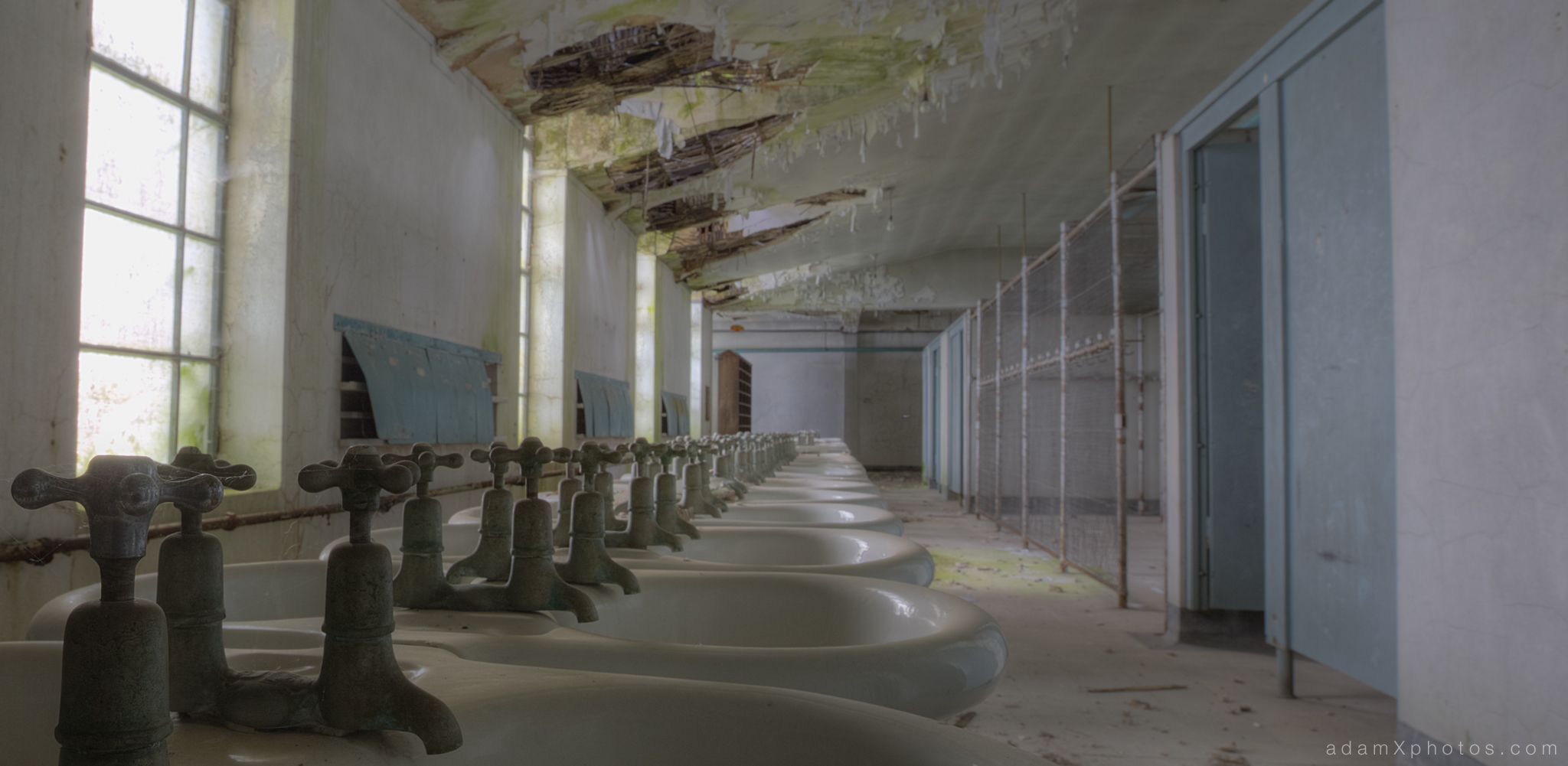 We then wandered back in to the main complex, and a few minutes later I heard a shout from Urbanographer saying "Hi". I knew that meant that we had FINALLY been busted. My initial relief quickly turned to trepidation when I then heard a bark and scrabbling of paws! Our group immediately came out from the various rooms that we were in, to be confronted by security with a dog and a police officer.
We then spent several minutes talking with the policeman – him asking us "what are you all up to, apart from the obvious?" I held up my tripod and camera and simply replied, "just the obvious!". After the obligatory lecture about how we knew we were not supposed to be in here, it was private property, it is dangerous etc etc we were then escorted outside…

…where we had our details taken and checked. The policeman asked us whether any of us were wanted for anything – to which Urbanographer quipped "only crimes against banter". I quickly explained that Urbanographer was actually wanted in several jurisdictions for crimes against photography – which is where the alternative name for this weekend's tour got its name.
Fortunately the policeman was definitely one of the good guys and he took our nonsense in good humour. He did his job firmly but sensibly and amicably. Security was being told over the radio that the Owner wanted us arrested, but he quickly rejected such an idea as it was clear that we were not there for any other purpose than taking photographs.
After a few more minutes we were told that we could go. We apologised to the policeman for wasting his time, and was good enough to give us directions to the nearest McDonalds when I asked!
And so after an epic 4 hours explore which had a bit of everything we headed off to the sanctuary of the aforementioned McDonalds, before I finally headed home. St Joe's is definitely up there as one of my favourite places that I've been fortunate enough to explore to date.
Thanks for reading this far, I hope you enjoyed coming down to St Joe's with me. If you haven't done so already then please sign up to follow my blog and you'll receive notification whenever I post something new – I've got many more reports coming imminently, from both the UK and Europe…
Cheers
Adam X