Explore #4 of the Wet, with excitement Tour
We made an early start on Day Two of our Italian mini-tour, intending to arrive at this location under cover of darkness. Unfortunately we then lost half an hour arguing with the idiot motel receptionist on check-out, who refused to accept that James had already paid for our room online in advance. Eventually we arrived at around 6am…
History
Founded in the 1870s this large asylum in a Northern Italian town was previously a charity hospital and then a military college. Covering an area of over 160,000 sq.m it had only two patients on its opening day, but rapidly grew to house thousands of patients.
The asylum closed in the early 1980s as part of nation-wide reforms brought about by the 1978 'Law 180' which ordered the closure of all psychiatric hospitals, and their replacement with community-based alternatives. It has lain empty and abandoned ever since.
Our Explore
We were both so excited about this amazing location. For me with such excitement comes an equally powerful dose of nervousness beforehand that I might fail in gaining access, or get caught. It's all part of the emotional reward of exploring such places.
As I found myself crawling on my stomach over pipes along a tiny hole in the bowels of a black and dusty basement at 6.30am on a bleak and rainy wintry Sunday morning I had one of those moments where you realise where you are and what you're actually doing – it's certainly a 'niche' hobby! It's also probably not what any of my work colleagues would envisage I'd be up to when I said I was having a long-weekend break to Italy!
After a bit more crawling we had made it – we were in. 🙂
The asylum definitely lived up to our high expectations, and it ranks as one of my favourite explores yet. We spent the next 4-5 hours exploring, admiring, and photographing the corridors, treatment rooms, and doctors' quarters…
As always, click on a photo to VIEW LARGE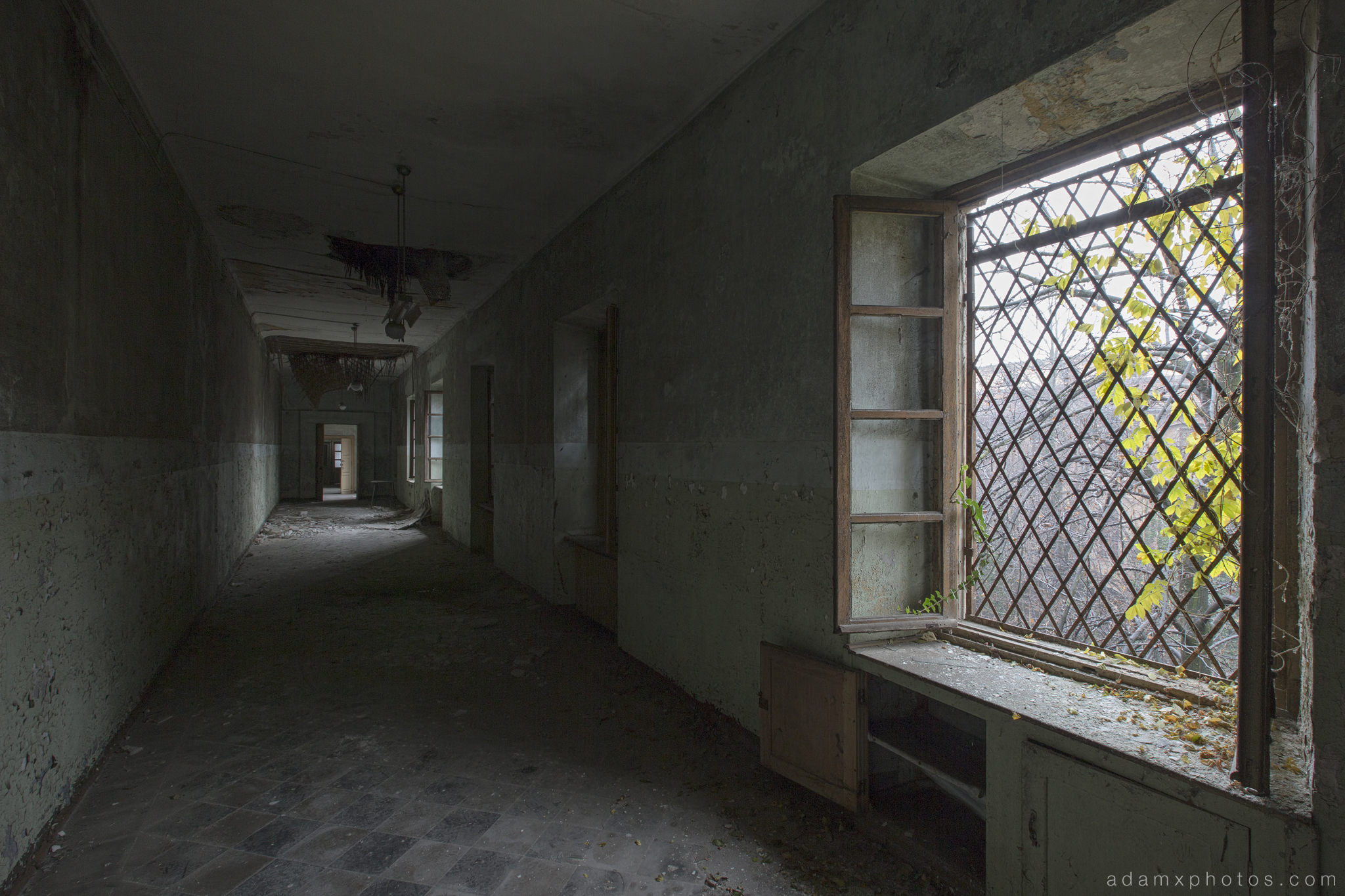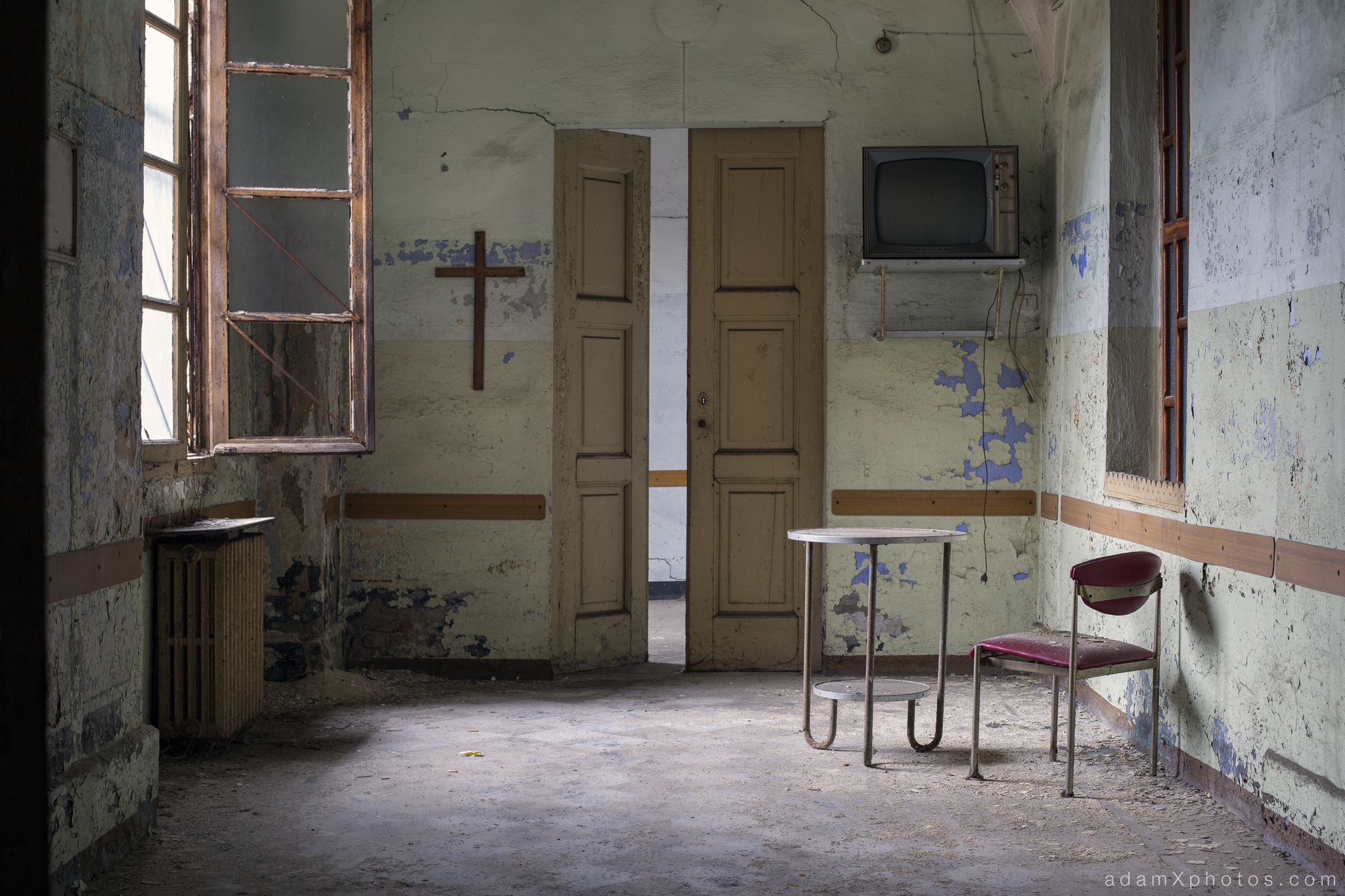 I used this shot in a recent exhibition, and call it 'Church of Your Choice' – the waiting area outside what I think may have been a small chapel. Which would you choose for distraction – the religion, or the ancient television in the corner?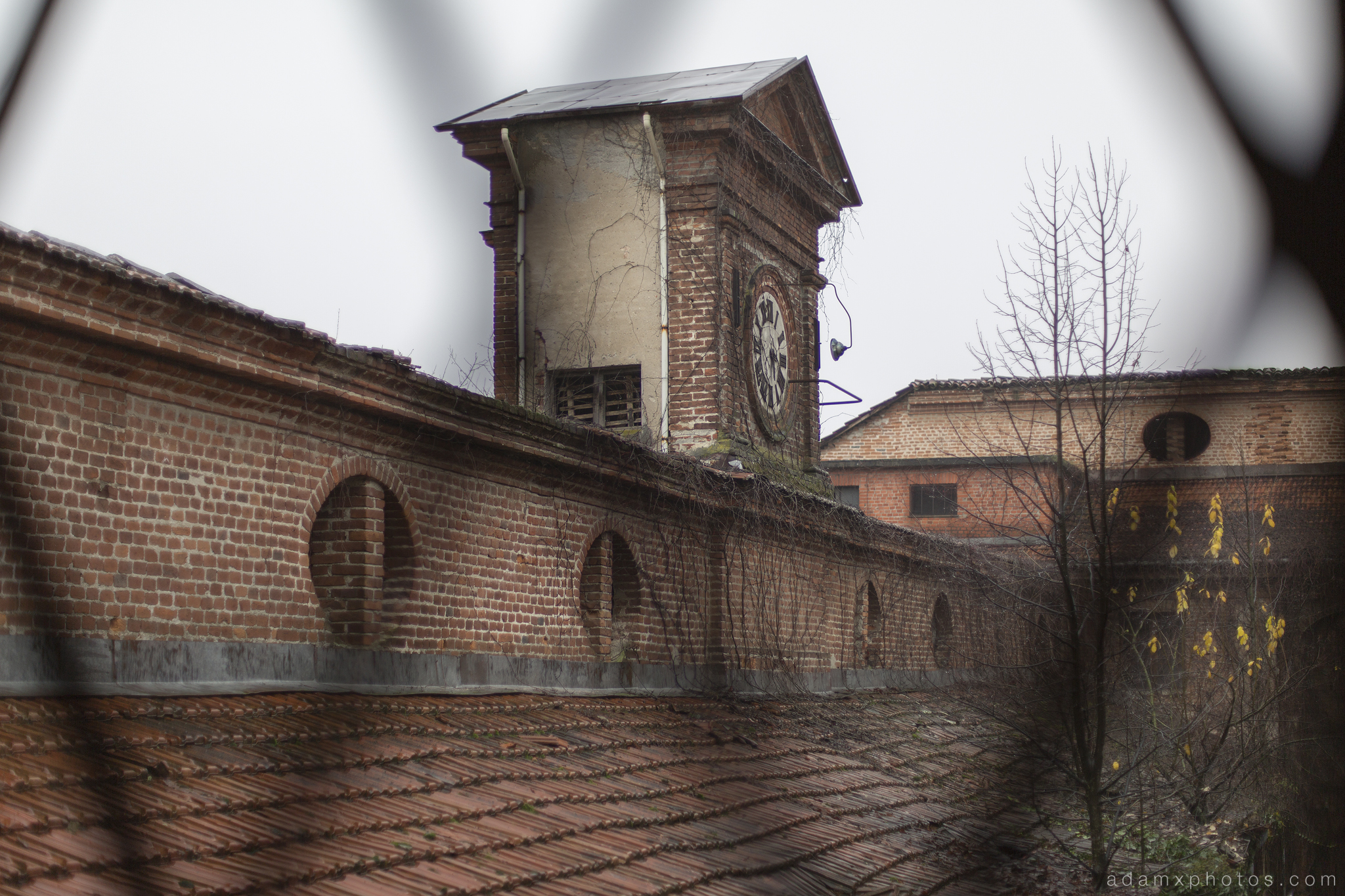 A glimpse of an old clock, taken through a grille-covered window.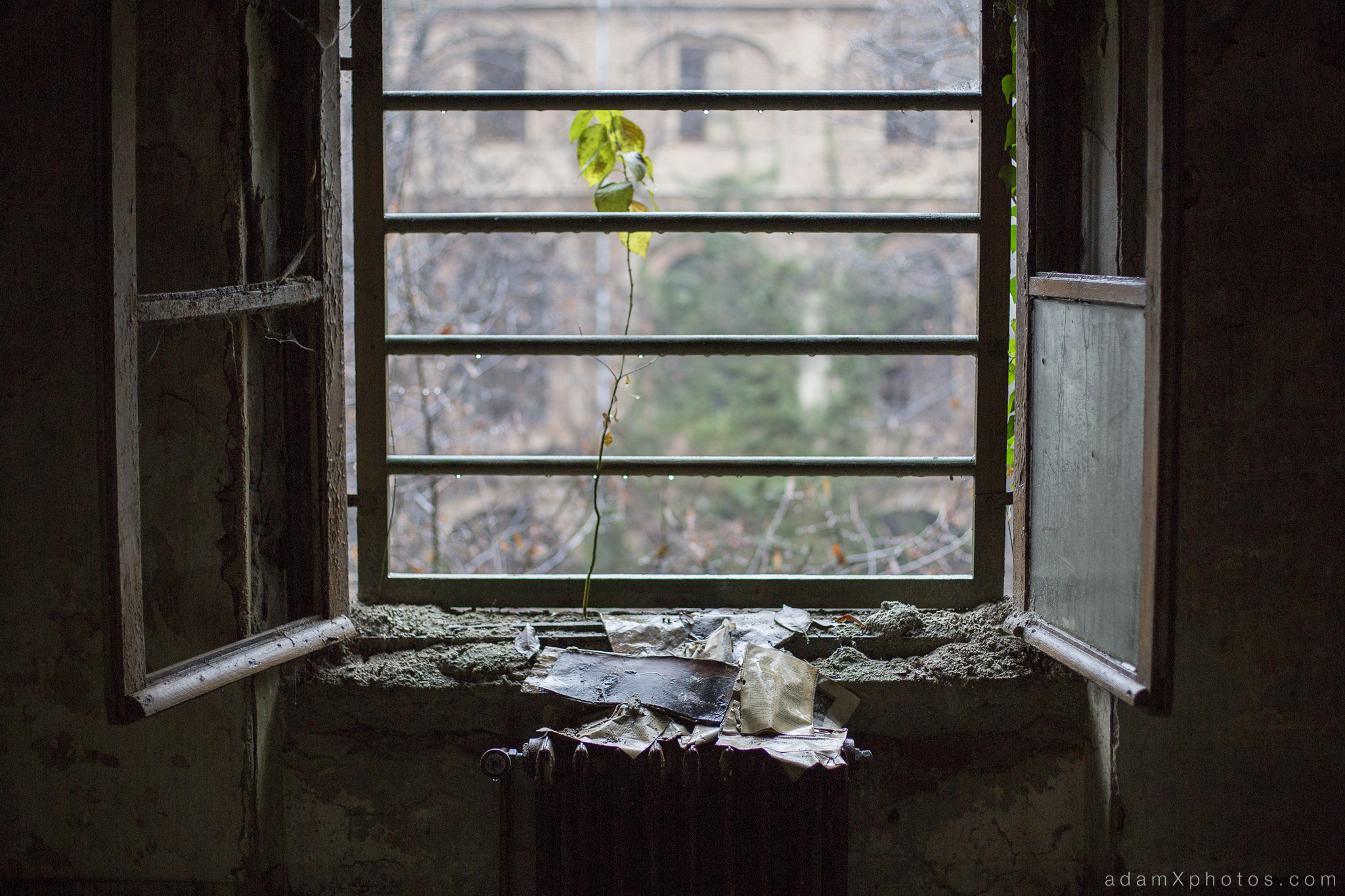 The most decayed part of the asylum was down an almost pitch-black small corridor, off which the doctors' relatively small and humble living quarters were housed…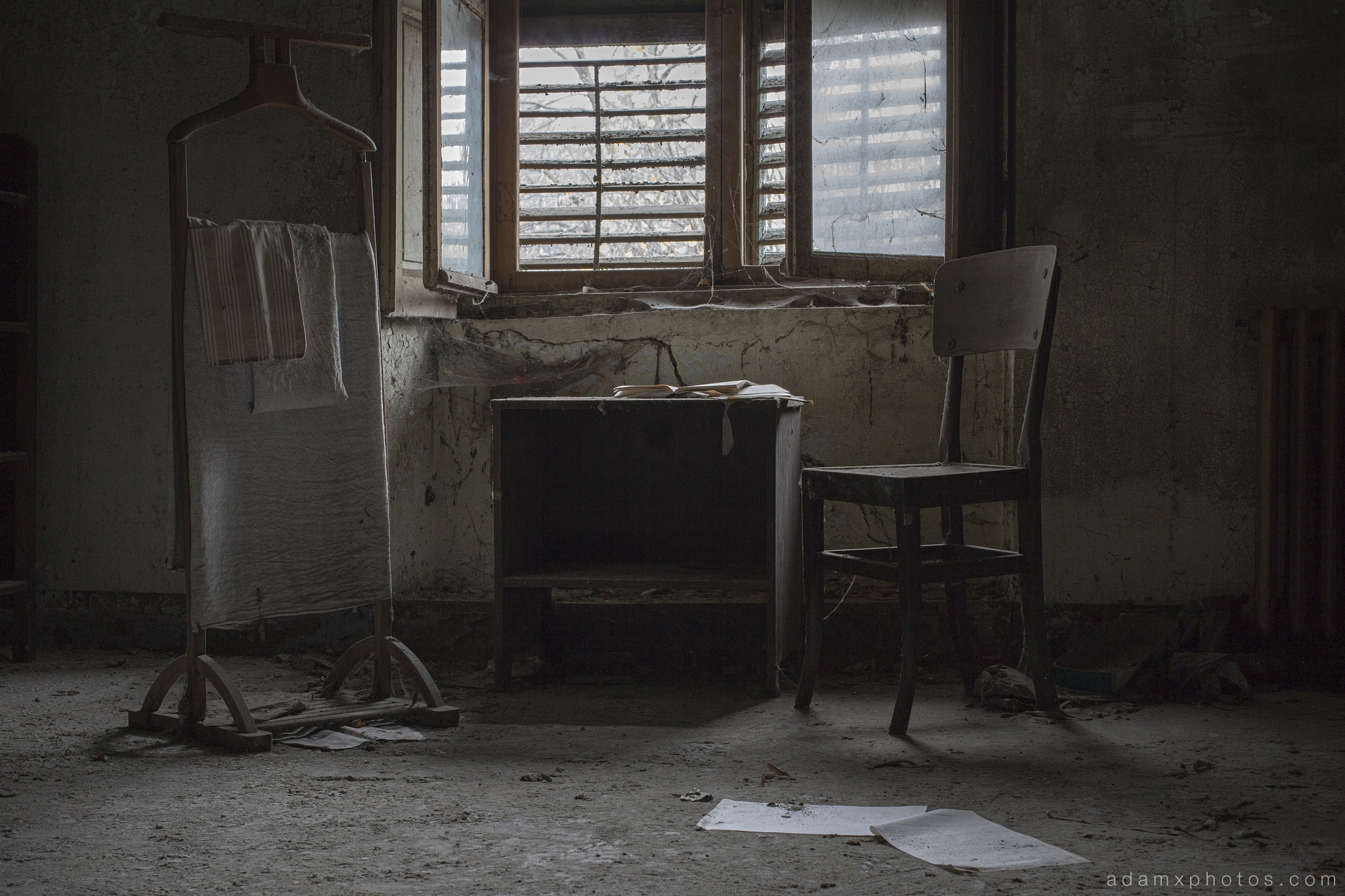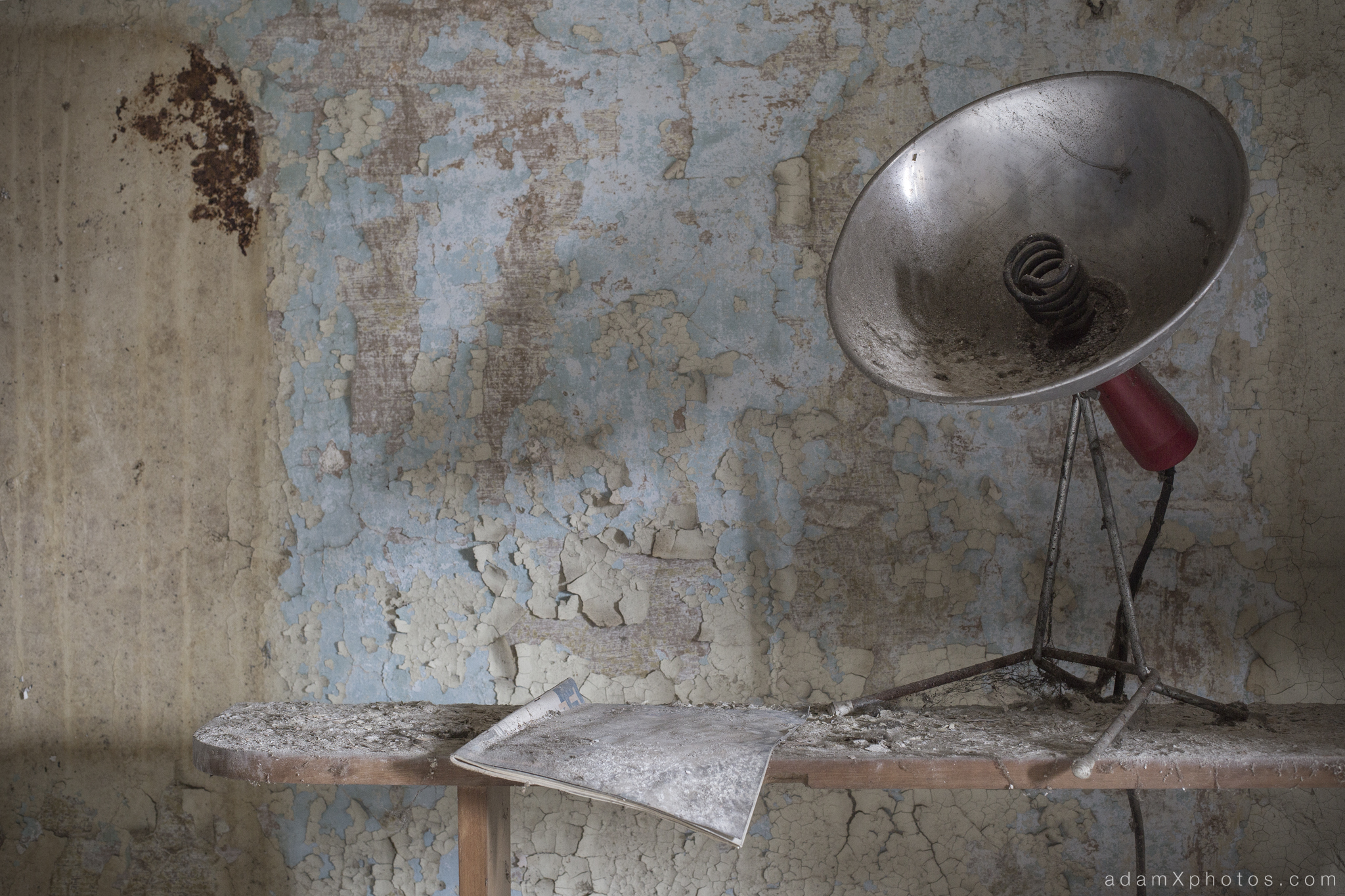 'Blue Ruin'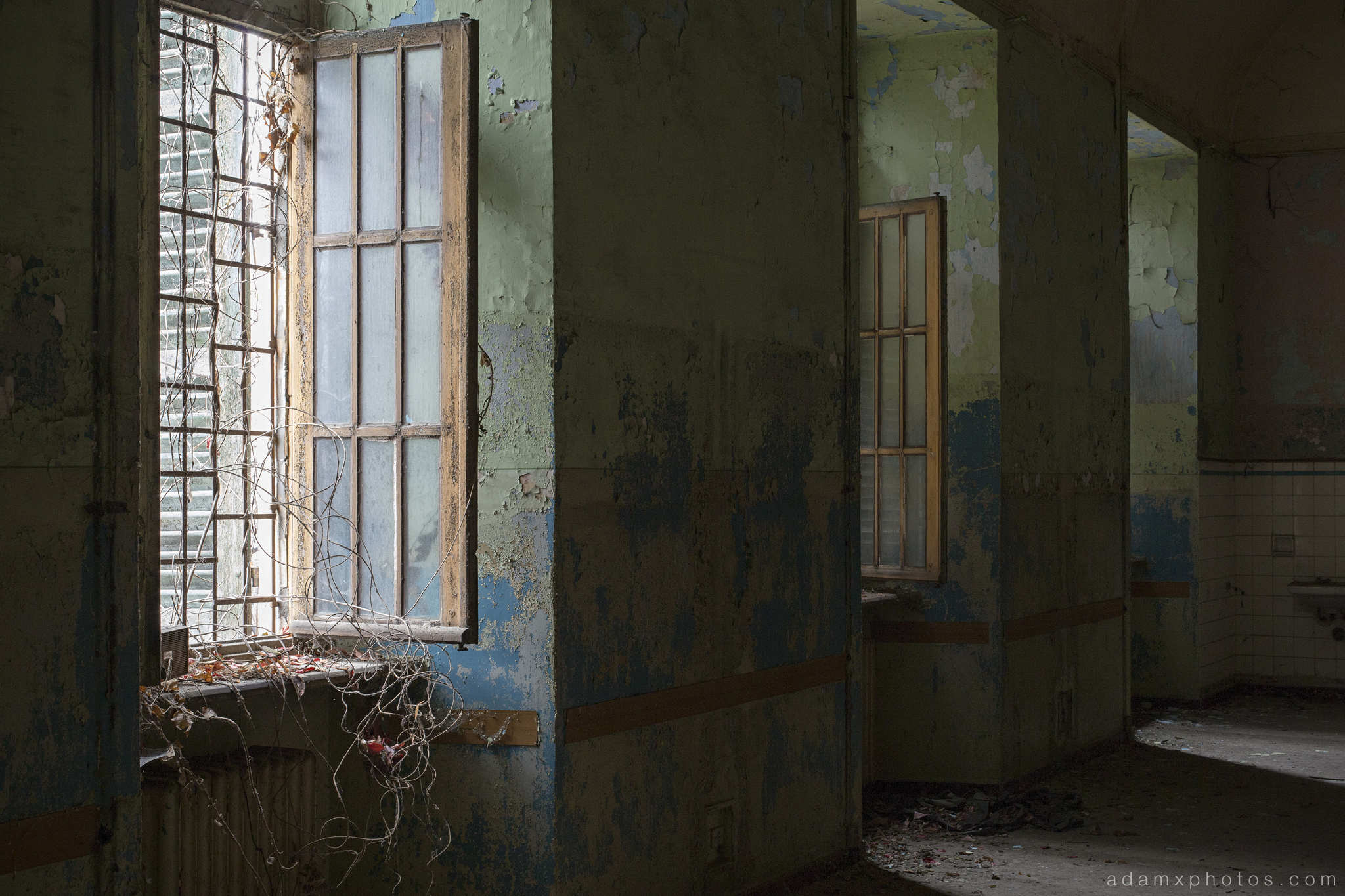 There was peeling paint of various different colours throughout the asylum, often with ivy overgrowing and spilling inside…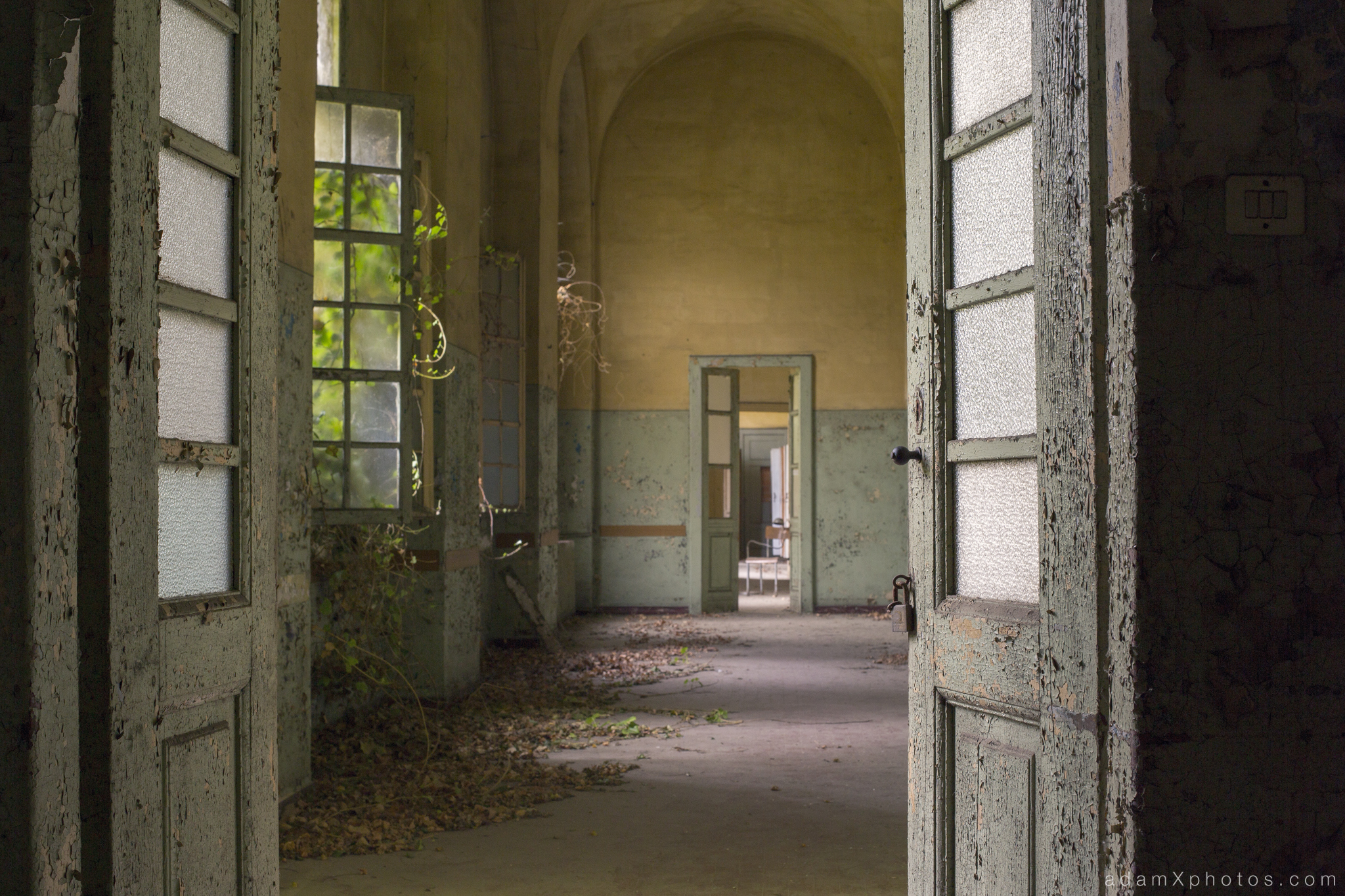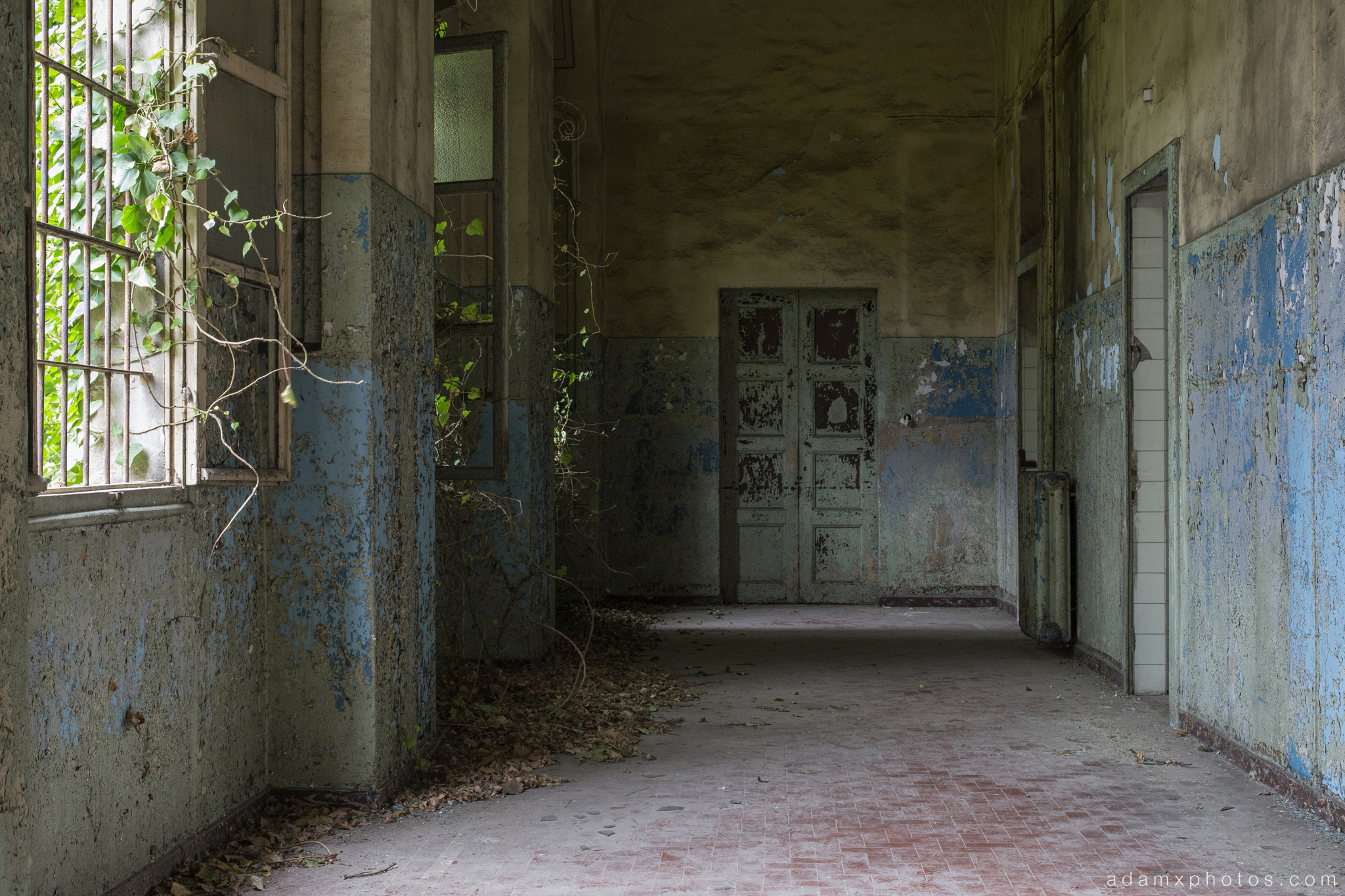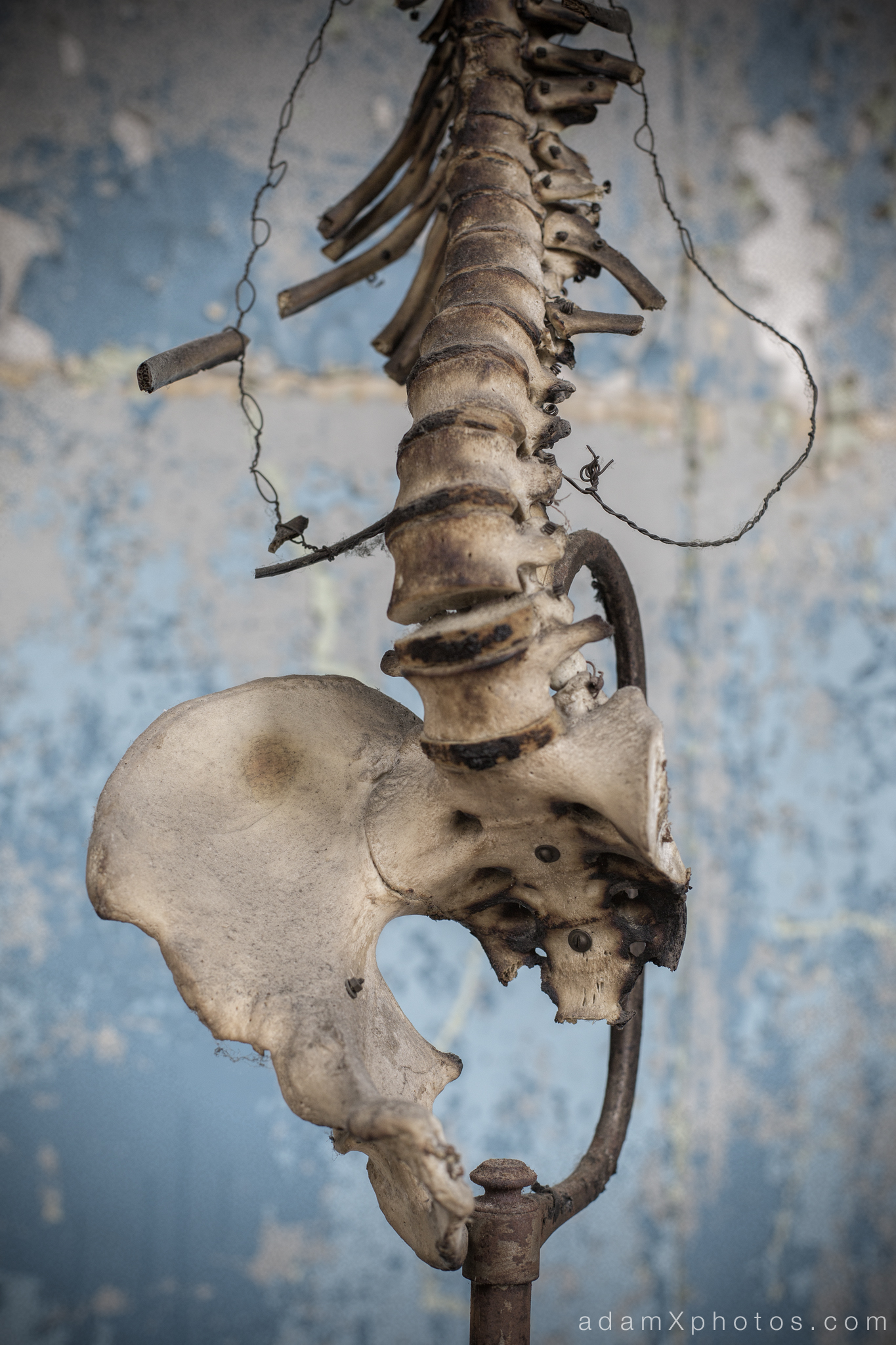 In one small room I found these broken and burned remains of a human skeleton, which would presumably have been used for teaching and demonstration purposes.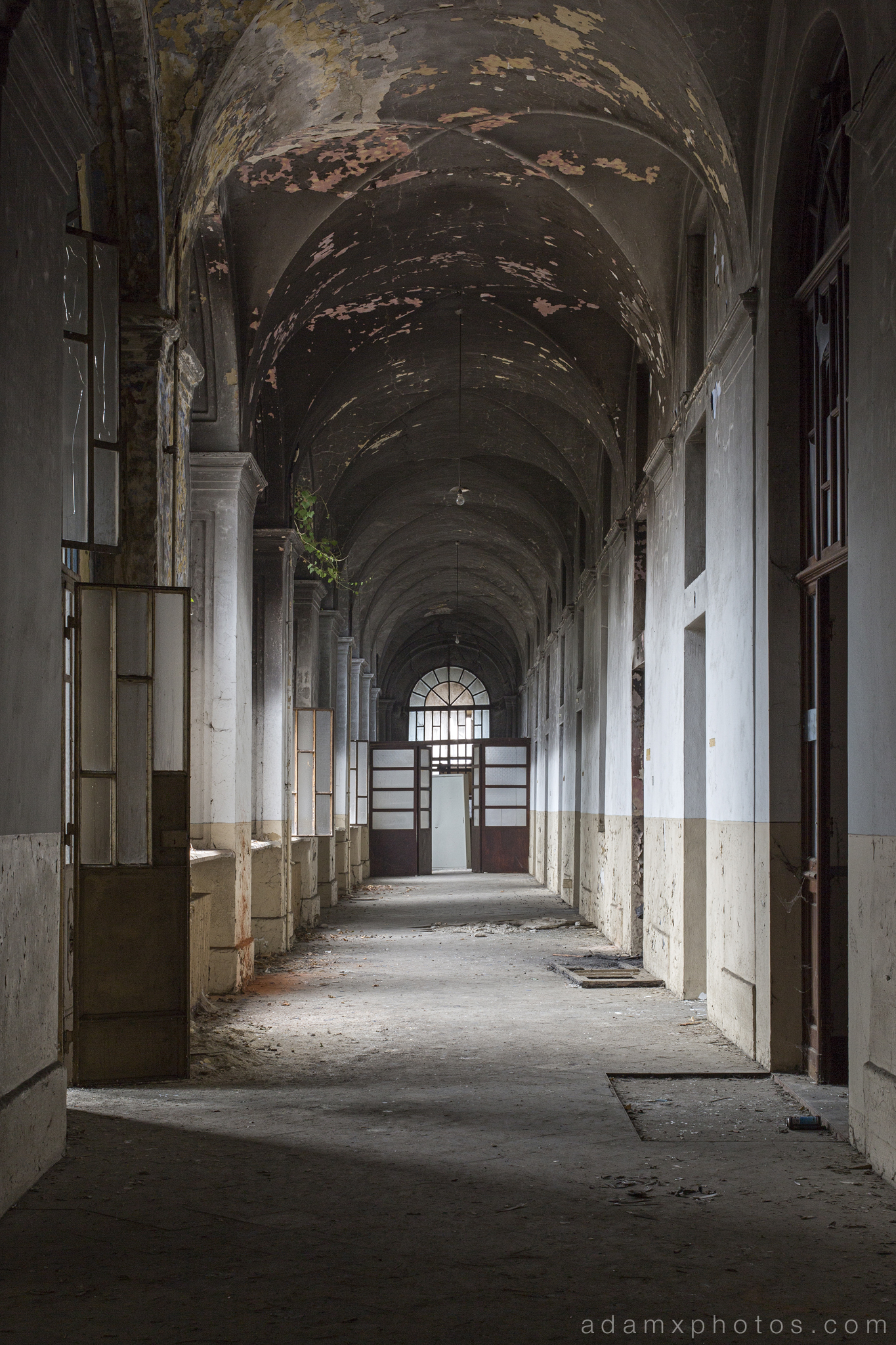 More colour, peeling paint, grand architecture and decay – exploring heaven!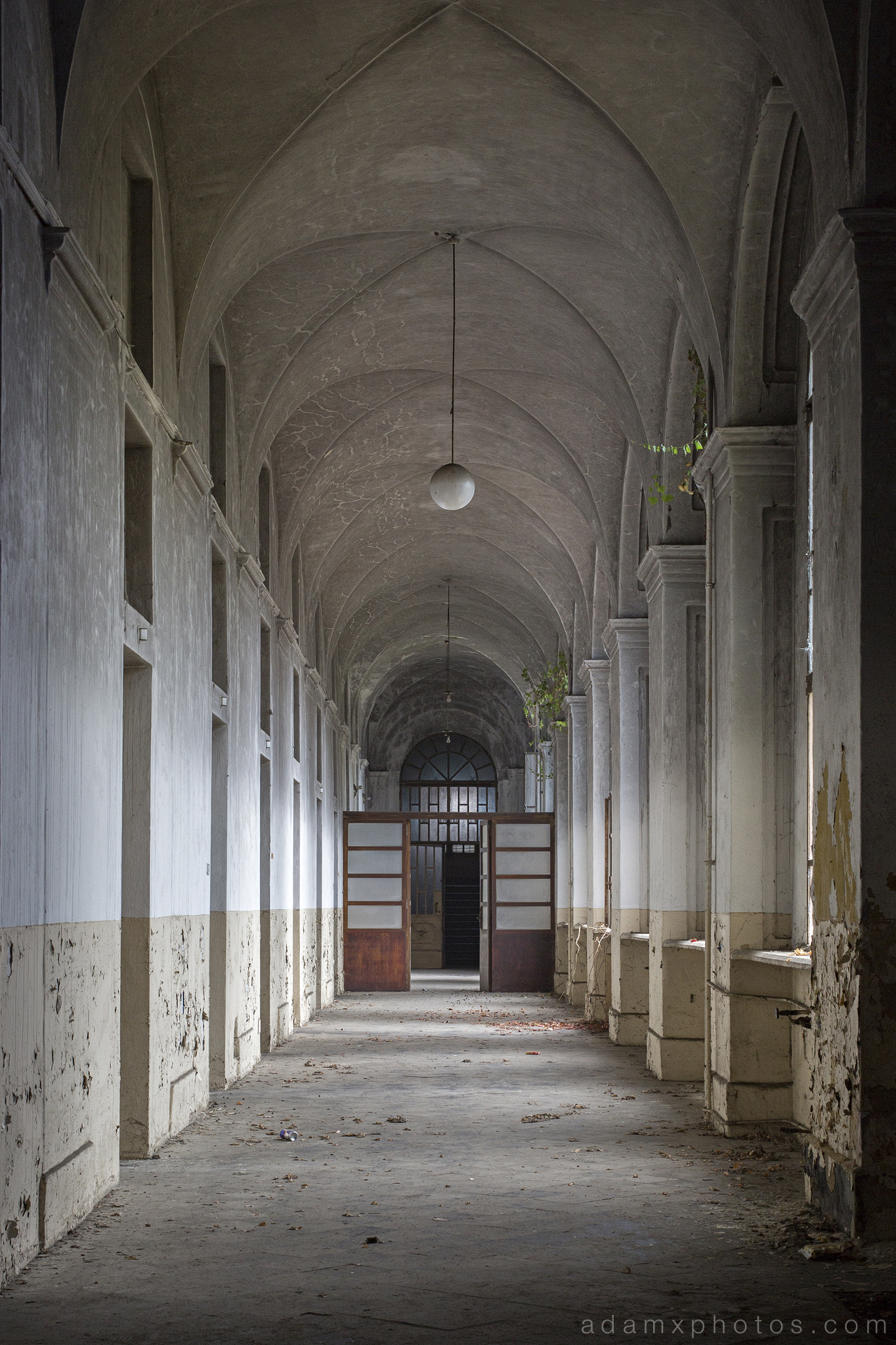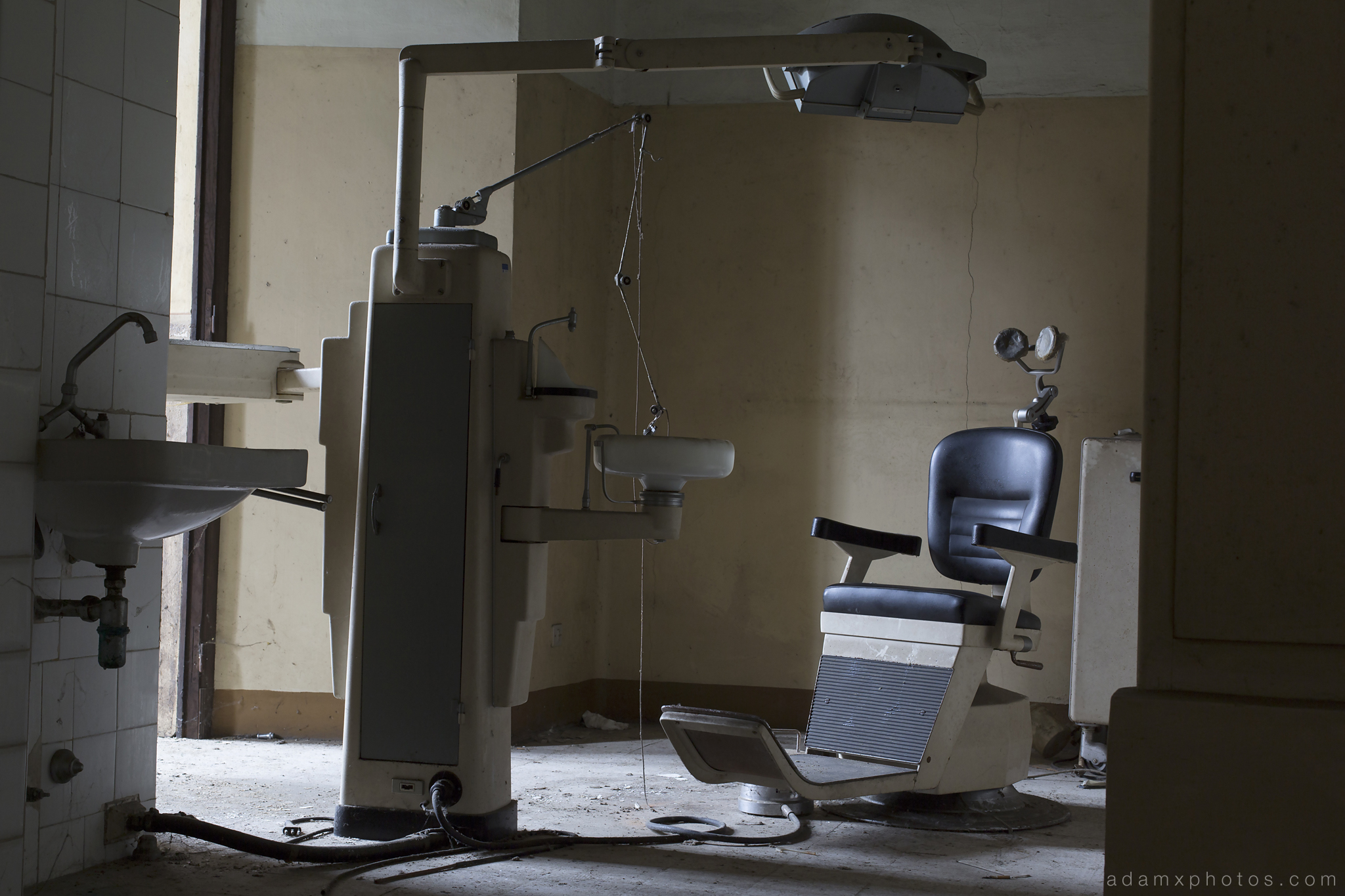 An old (dentist's?) chair…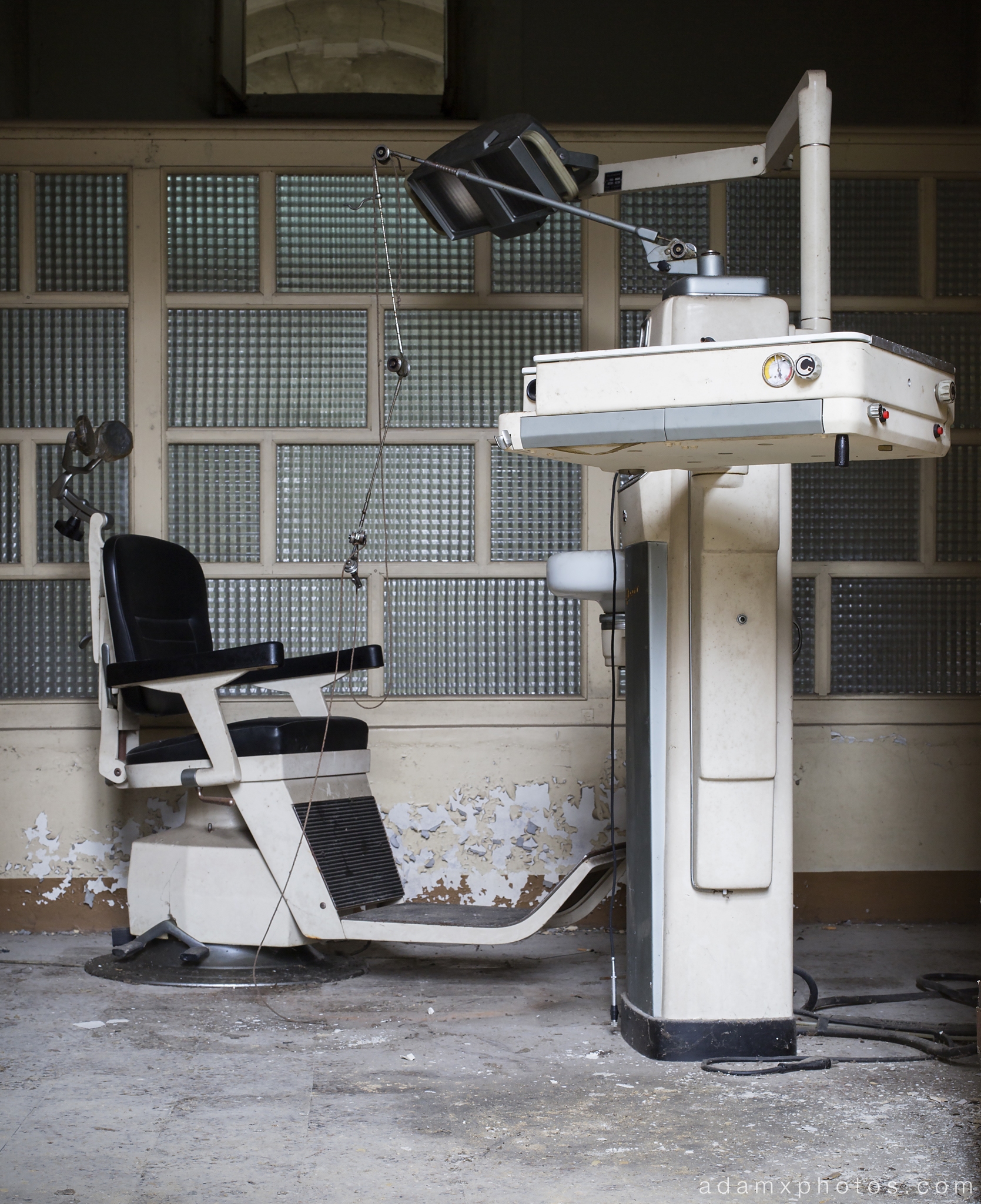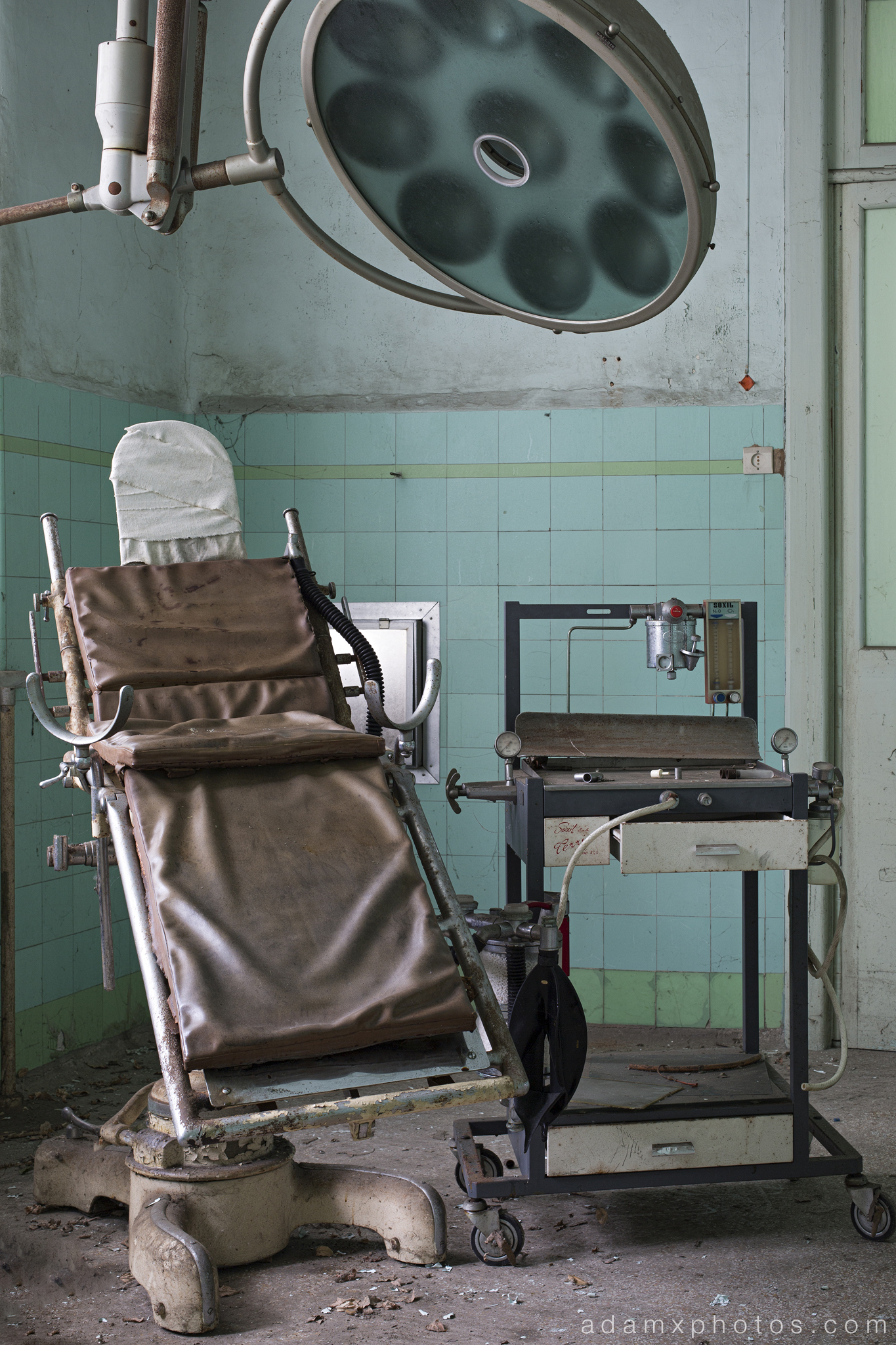 …and a gynaecological examination chair and light.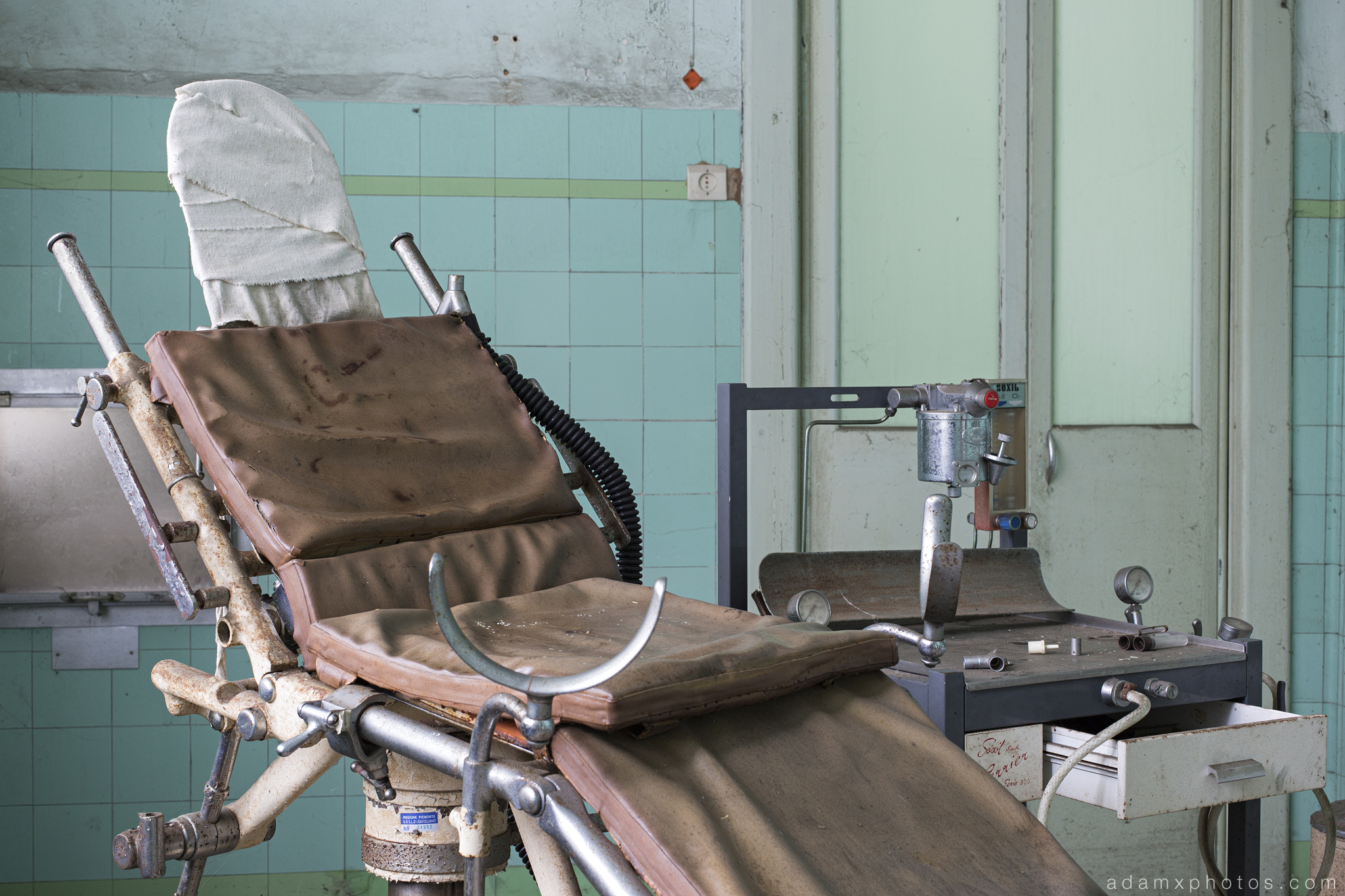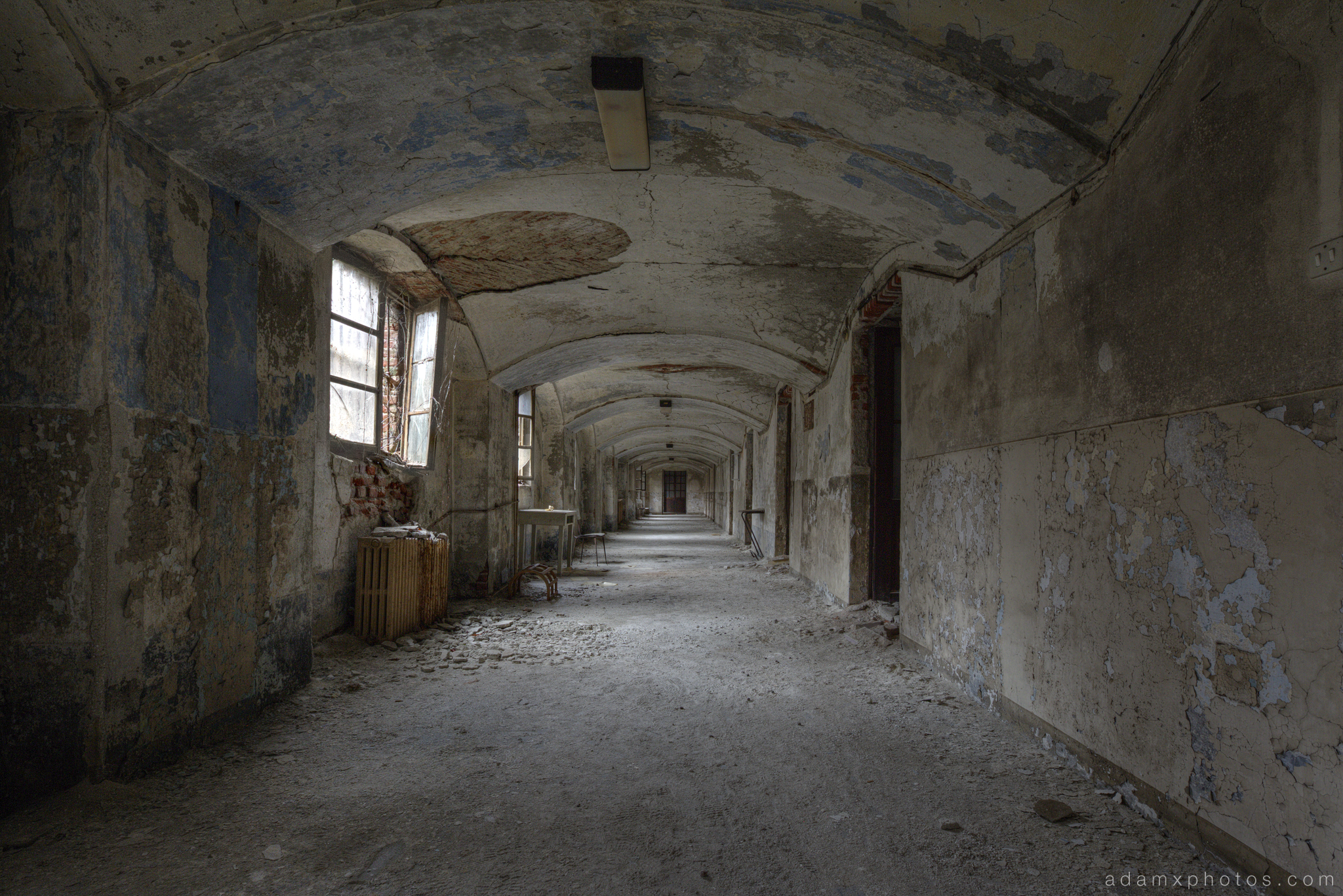 Another dark and grimy corridor…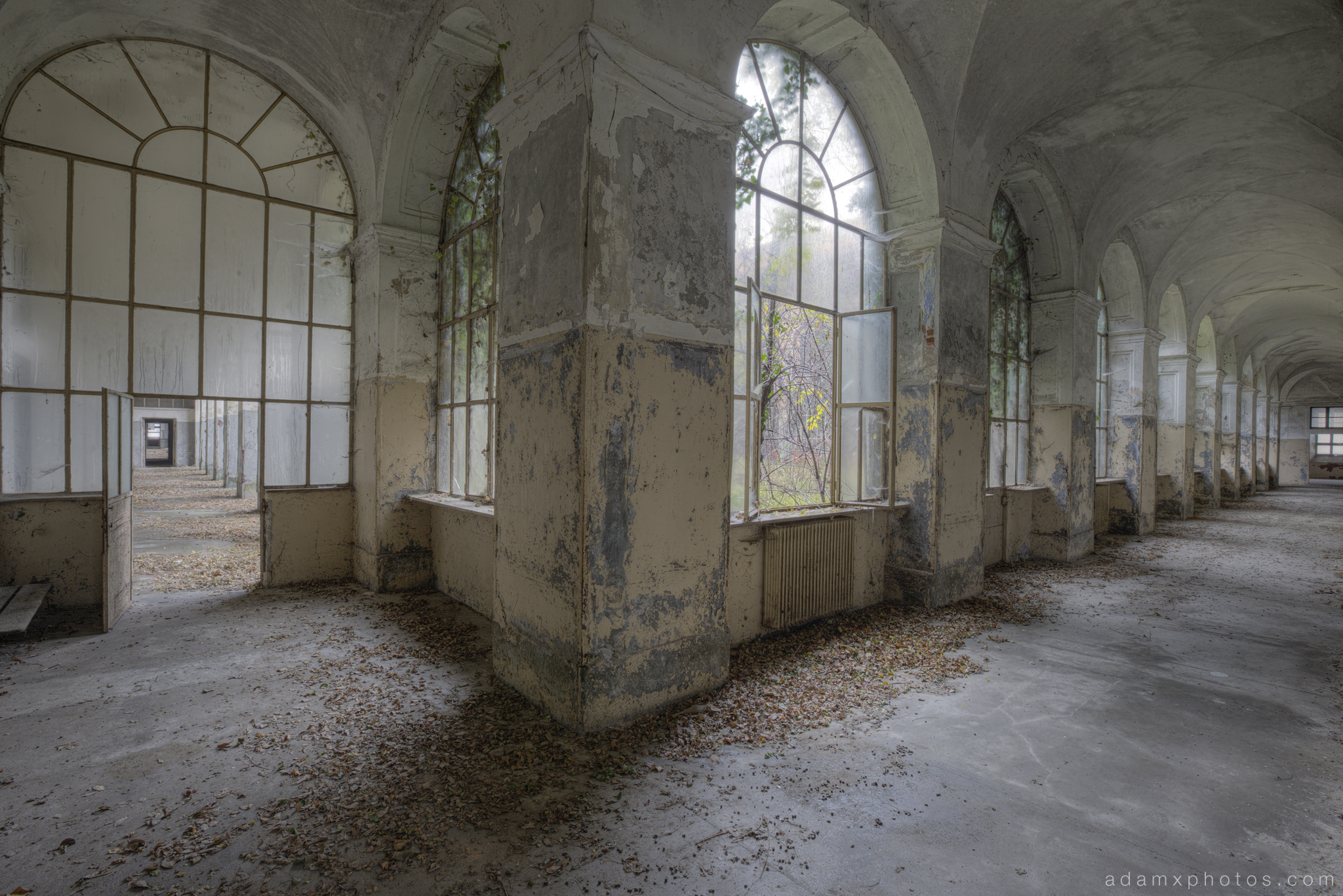 …and a much lighter corner of two ground-floor corridors.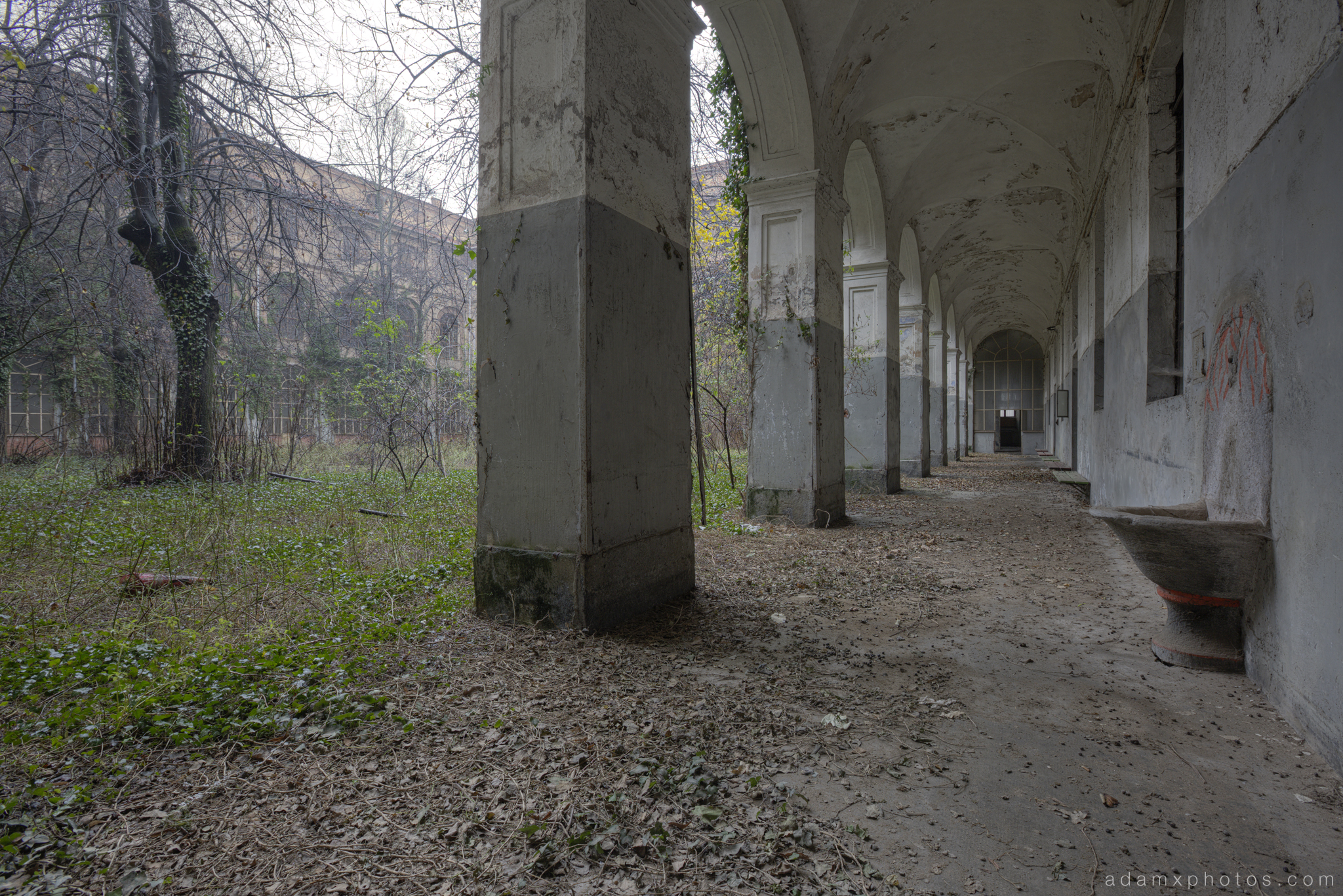 Outside in the cloisters of an internal courtyard.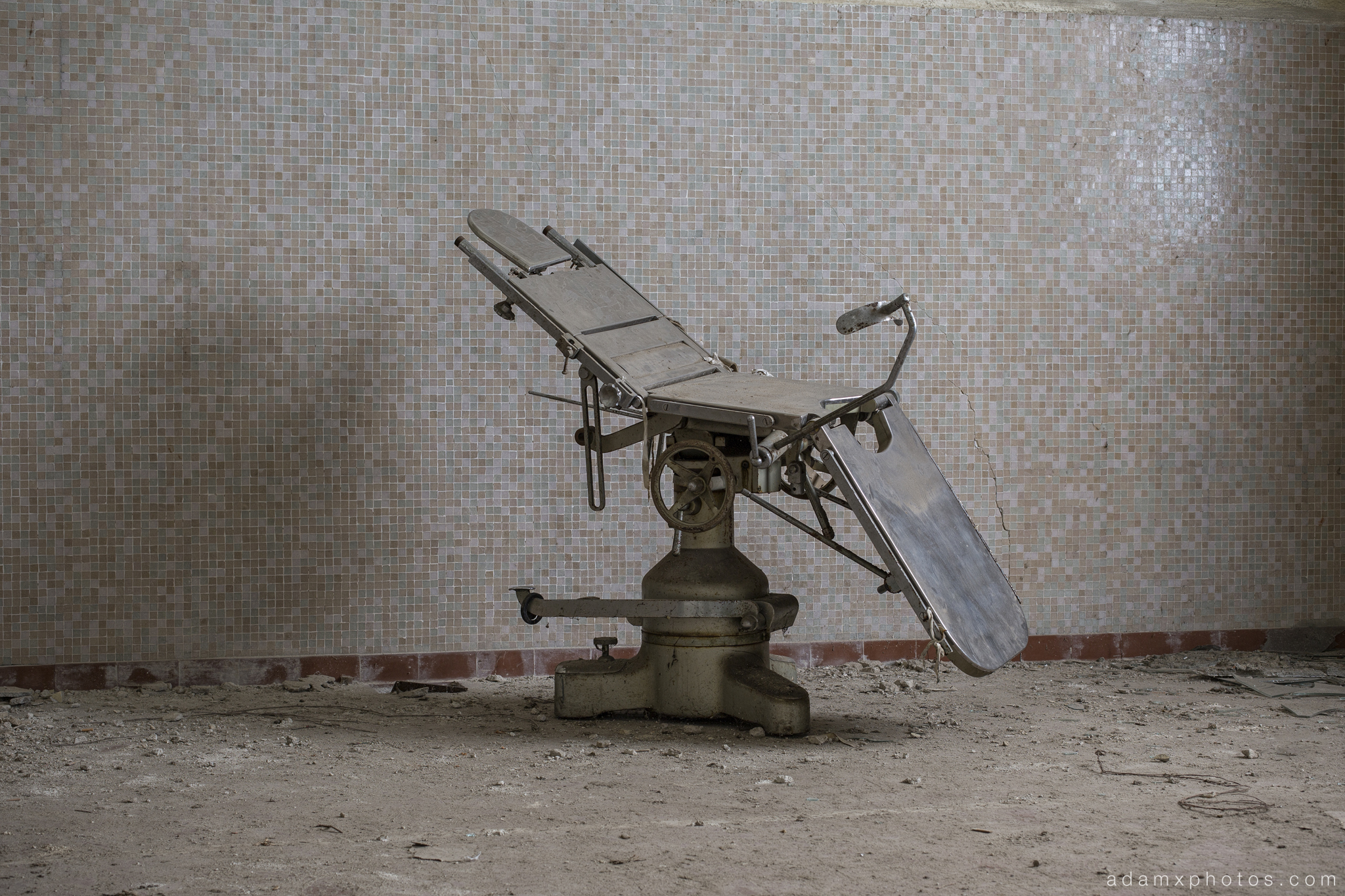 In another room I found this stripped gynaecologist chair.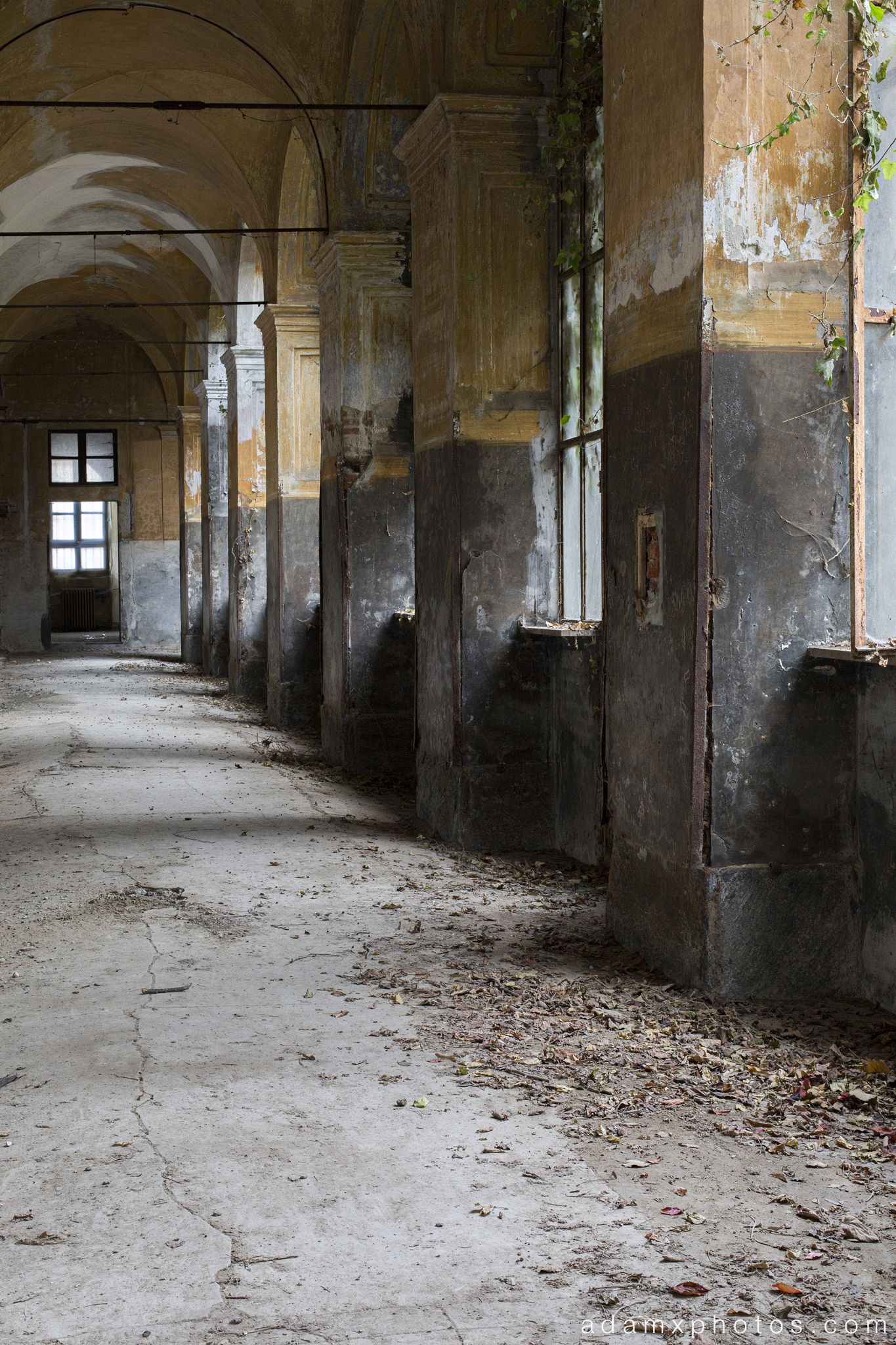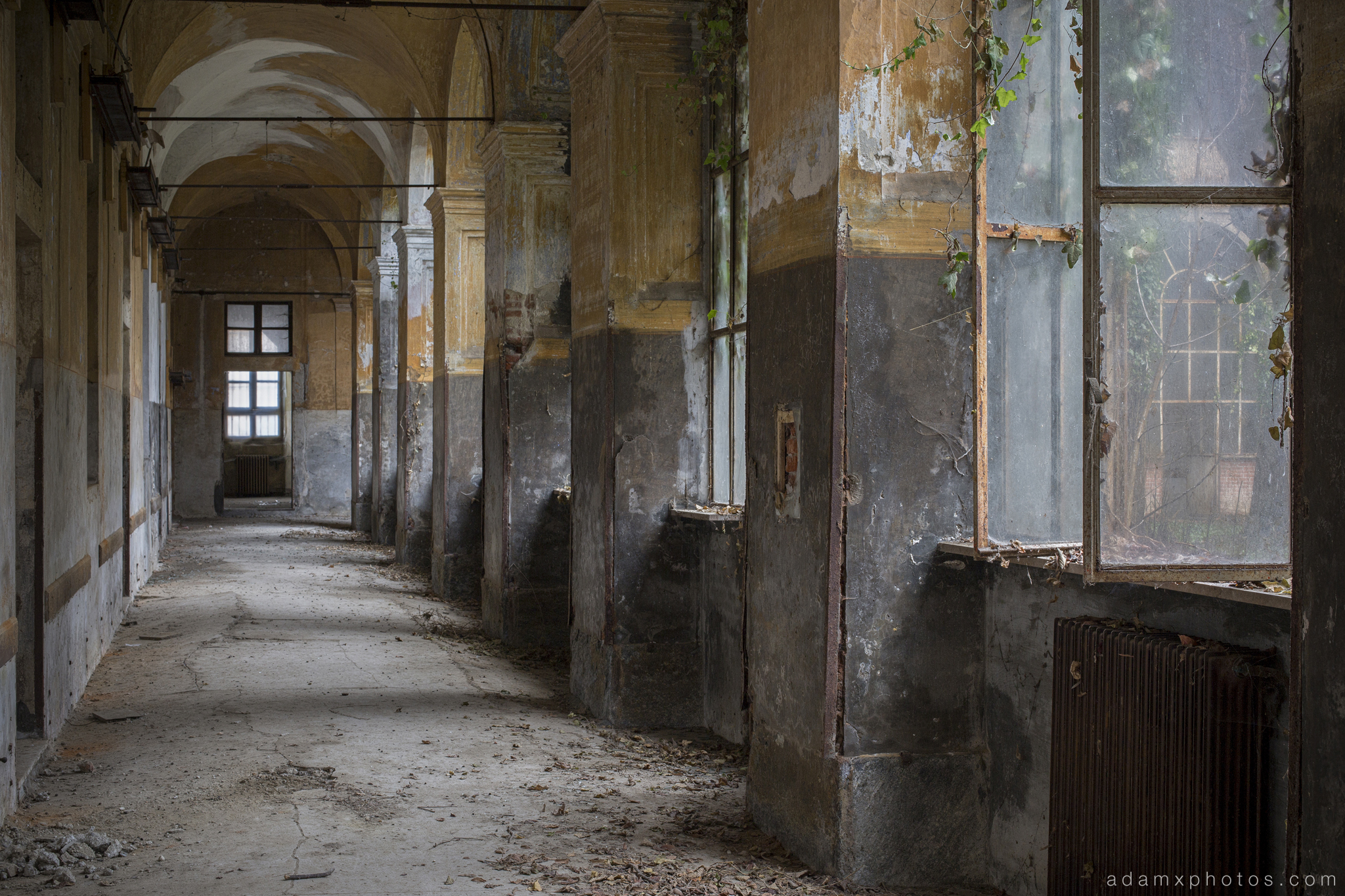 Finally, hunger and fatigue got the better of us, and we made a quick exit and headed off to find some well-earned lunch.
Thanks for coming by – plenty more reports from my backlog coming soon!
Cheers
Adam X