Explore #11 of 'The Picnics & Palaces Tour'
Next stop on our roadtrip were some rather special stairs…
History (translated, abridged and rewritten from here)
VEB Strömungswerke was an East German 'flow works' manufacturer which designed and built jet engines for the aviation industry, including the first German passenger jet. After reunification production continued until the early 1990s.
The large production complex was built in the post-war modernist style between 1956-58. Building number 64 was the former dining house for workers, and whilst most of the surrounding factories were demolished after closure, it was designated as a monument and saved due to its architecture. However it has lain empty ever since, falling victim to increasing disrepair and vandalism, with plans for conversion into residential apartments having stalled in an uncertain economy.
Our Explore
Accessing this large building proved unexpectedly challenging, as it appeared that all of the previously smashed windows had been carefully blocked off with welded iron grilles. However we were all well experienced in searching out the one tiny weak spot in an apparently impenetrable façade, and so it proved again here. With a bit of teamwork and the larger members of our team (James and I!) sucking in our guts we managed to squeeze a way inside.
We then spent an enjoyable hour or so photographing the staircase – the rest of the building was very stripped out, trashed, and unremarkable.
As always, click on a photo to VIEW LARGE

The staircase, taken from about halfway up.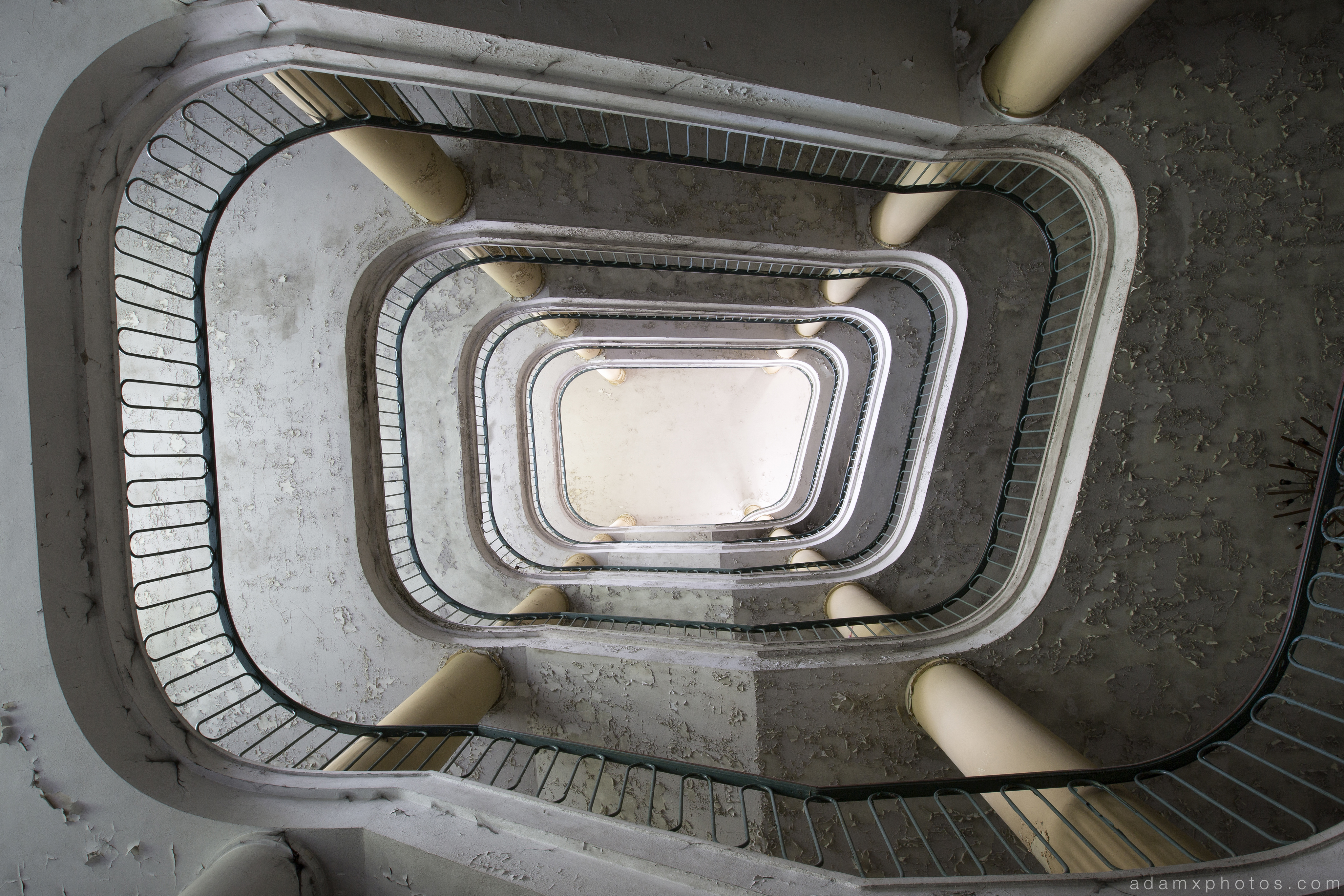 Looking up.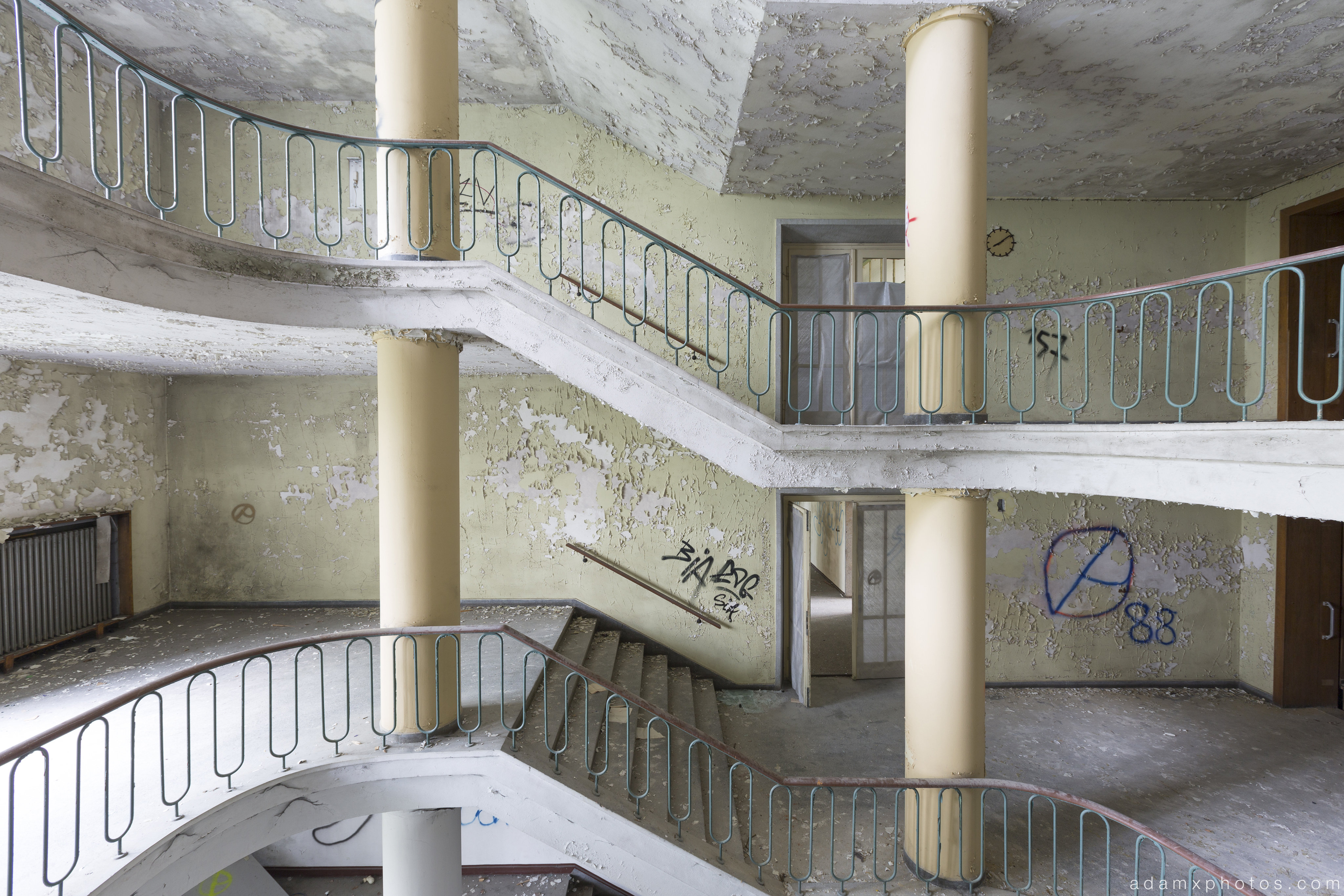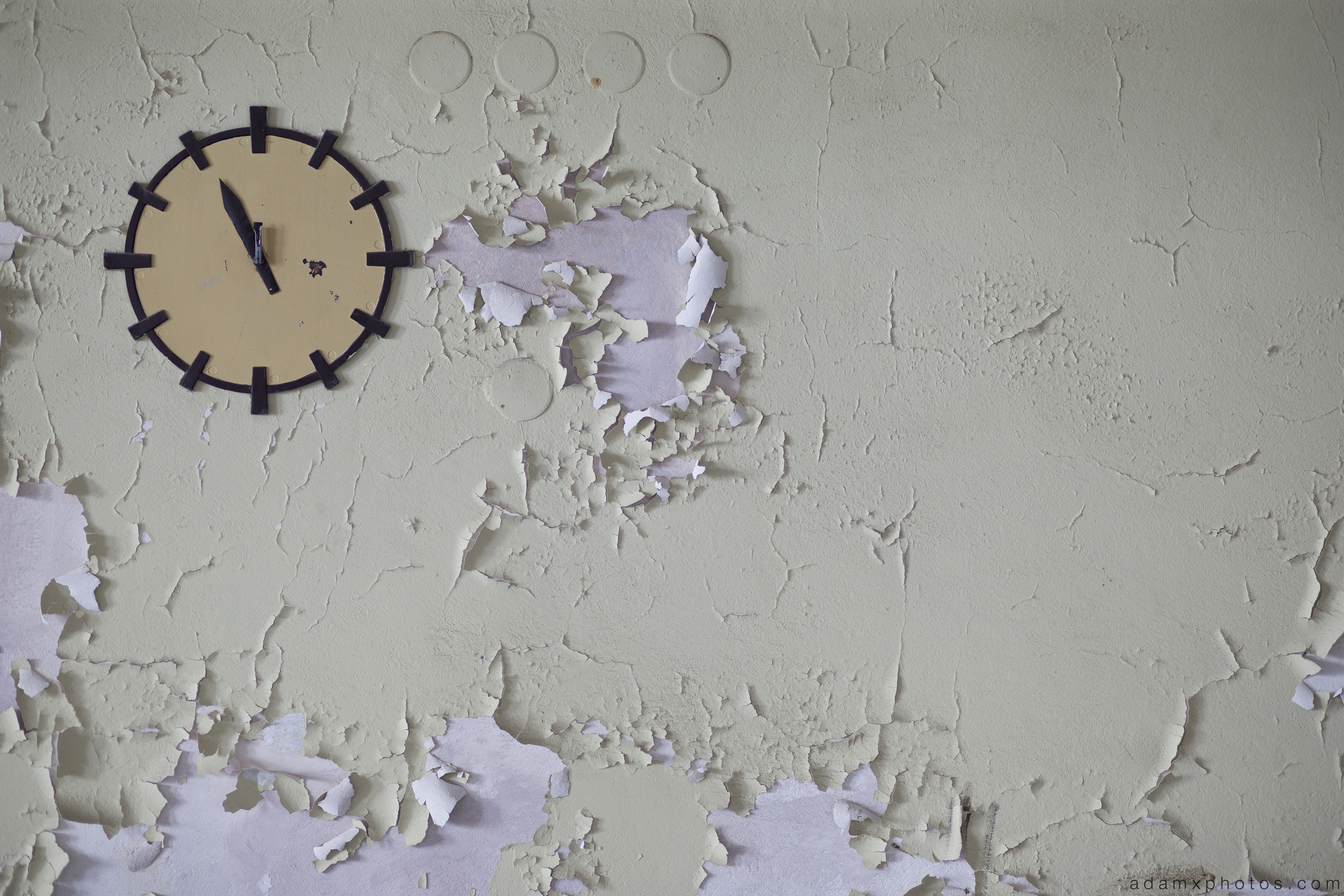 A bit of peeling paint and vintage clock goodness.

Looking down into the stairwell, which had been filled with all sorts of the most heinous old rubbish, including MrDan Explores! 😛

Railings and peeling paint detail.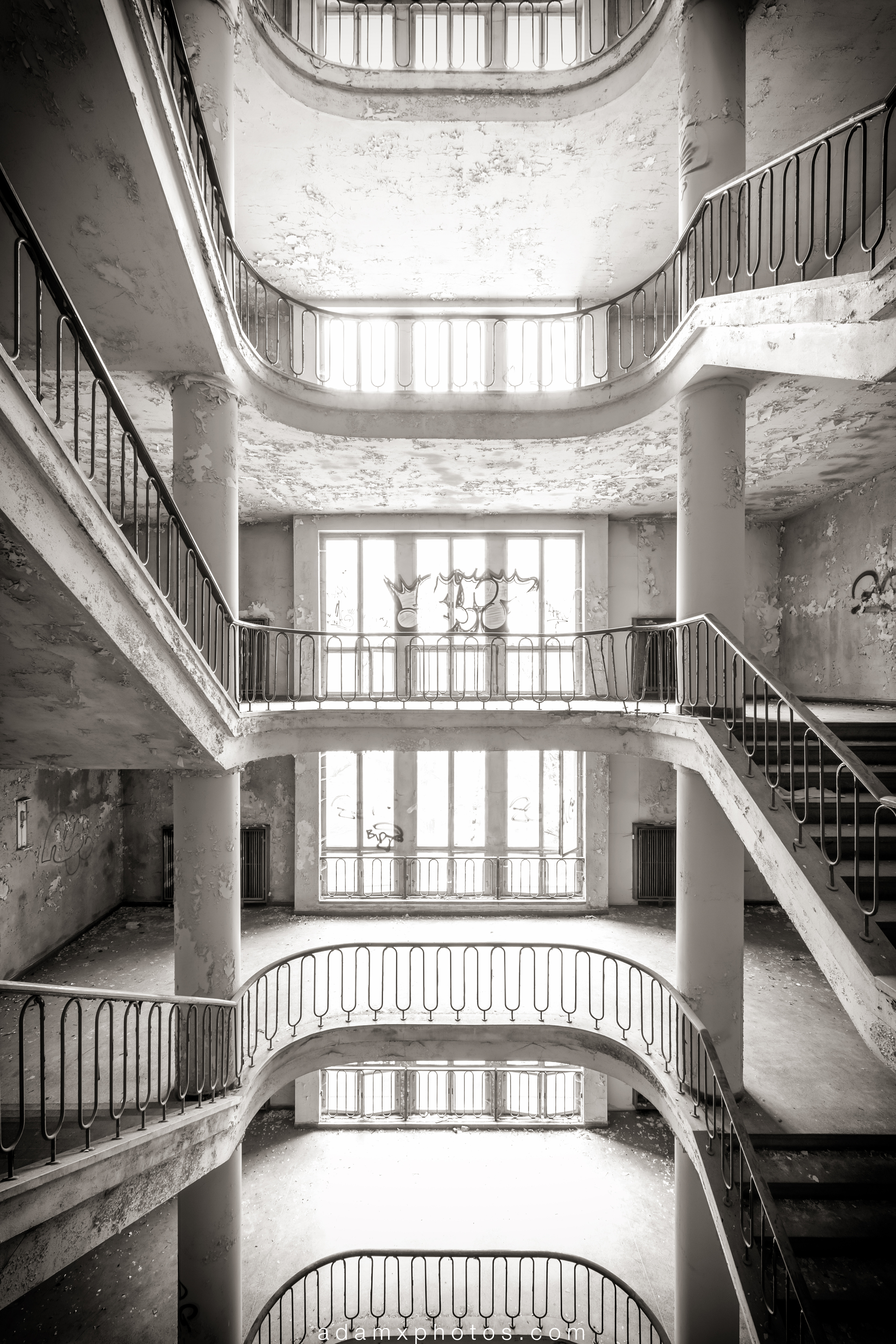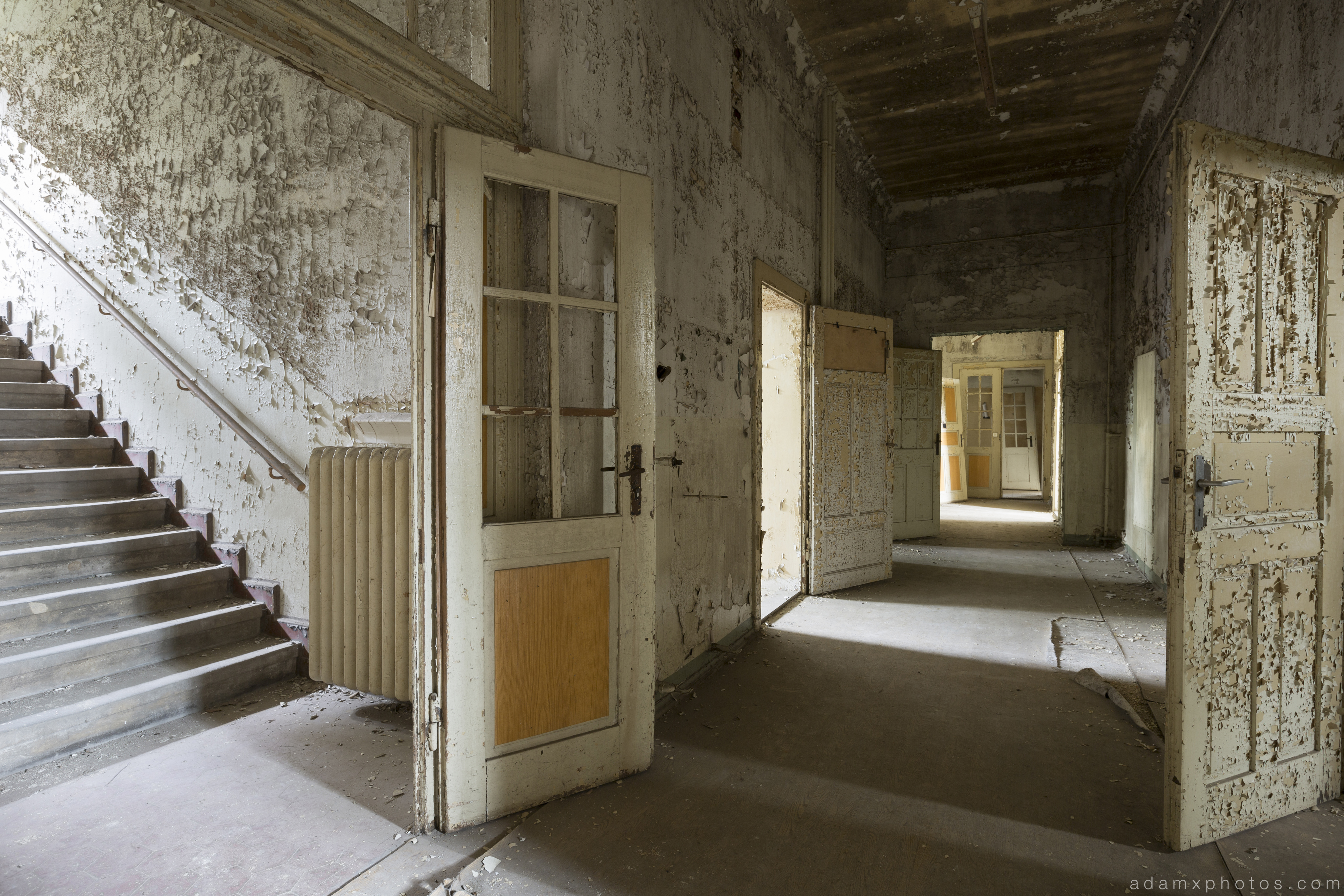 On our way back to the car we couldn't resist ducking into another smaller abandoned building in the complex – this peeling old corridor was about as photogenic as it got in there.
Soon we were back on the road and continuing our journey East…
Thanks for popping in.
Adam X