The big one.
El gordo.
The site that I had promised myself that I would explore before the end of 2013.
An ambition fulfilled – and then some.
When Matthew Adams of the excellent Unexposed Exploration (follow his page, it's all sorts of ace) kindly offered to lead on what would be his 20th visit to Sevs, Kubix_UK and I needed no persuading. Apparently Matthew's first two visits to Sevs lasted 24 and 28 minutes respectively due to the prowess of the legendary security guard Michael, who is widely renowned as one of the best but also friendliest guards in the UK today.
We got lucky. It's was one of Michael's rare days off, and as a result we explored from (almost) dawn until (almost) dusk for 7 1/2 hours until exhaustion and a burning desire for McDonalds finally got the better of us.
Not only did Sevs live up to and exceed my expectations, but the whole day was also just a fantastic laugh, and definitely up there as one of the most enjoyable explores so far. It was also the first time that I had no option but to tackle the evil that is palisade fencing.
The site is absolutely vast – this Bing Maps bird's eye view gives you some idea of the scale of the place – and this is just the main site, not including other outlying villas and buildings, many of which have now been demolished and redeveloped into housing.
A brief background, courtesy of the ubiquitous wiki:
Severalls Hospital in Colchester, Essex, United Kingdom was a psychiatric hospital built in 1910 to the design of architect Frank Whitmore. It opened in May 1913.
The 300-acre (1.2 km2) site housed some 2000 patients and was based on the "Echelon plan" – a specific arrangement of wards, offices and services within easy reach of each other by a network of interconnecting corridors. This meant that staff were able to operate around the site without the need to go outside in bad weather. Unlike modern British hospitals, patients in Severalls were separated according to their gender. Villas were constructed around the main hospital building as accommodation blocks between 1910 and 1935. Most of the buildings are in the Queen Anne style, with few architectural embellishments, typical of the Edwardian period.
Psychiatrists were free to experiment with new treatments on patients seemingly at will, using practices now considered unsuitable such as electro-convulsive therapy (ECT) and the use of frontal lobotomy. The use of these treatments peaked in the 1950s. In her book Madness in Its Place: Narratives of Severalls Hospital, 1913-1997,[1] Diana Gittins notes that often women were admitted by their own family, sometimes as the result of bearing illegitimate children or because they had been raped. As they would not always (or were unable to) carry out daily tasks, they were considered to be insane and some were even subjected to ECT and lobotomy. A change in management during the 1960s (and likely a change in social acceptance) saw reforms introduced including the creation of art and music therapy programs and the widespread use of drugs and medication.
The hospital closed as a psychiatric hospital in the early 1990s following the closure of other psychiatric institutions. However, a small section remained open until 20 March 1997 for the treatment of elderly patients suffering from the effects of serious stroke, etc., as a temporary building for nearby Colchester General Hospital which was in the process of building an entire new building for these patients. A few of the satellite villas as of 2013 are still operational as research facilities on the edge of the site. This includes "Chestnut Villa" (originally Children's Villa), which provides laboratory services, and "Willow House" (originally Male Acute Ward), and Severalls House (originally the Medical Superintendent's residence). "Rivendell", a more modern building is still in use at the entrance to the site. Apart from Chestnut Villa, all remaining Buildings still in use are owned and run by North Essex Partnership University Foundation Trust (NEPFT).
Since 1997 the remaining structures have changed little. Architecturally, the site remains an excellent example of a specific asylum plan. However, the buildings have suffered greatly from vandalism. In 2005 the main hall was subjected to an arson attack and in 2007 the charred building was demolished for safety reasons. The five boilers were removed from the Central Boiler House in 2007. In 2008, the sale of the hospital site, including its extensive grounds, collapsed due to the slow-down in the building industry.
In the past few weeks there has been news of a new bid by a builder to purchase and redevelop the site. Whenever such development finally does go ahead the vast majority of the remaining buildings will be demolished, with only a handful of listed ones being preserved. Whilst Sevs isn't going to disappear overnight, it looks as if the end might finally be approaching for this amazing place.
Anyway, on with the photos. You will see that quite a few of them have been tonemapped – for the uninitiated this is a technique which involves merging several different exposures together into a single shot. This was necessary due to the particularly difficult lighting in many of the locations, and in particular Sevs' famous corridors. Any tonemapping was done from single-shot RAW files, so are produced from different exposures of the same shot as opposed to multiple bracketed photos. If I lost you about 3 sentences ago then don't worry! 😉
It was an early start after a particularly fitful half night's sleep – I have trouble sleeping the night before an explore at the best of times, and this time even more so…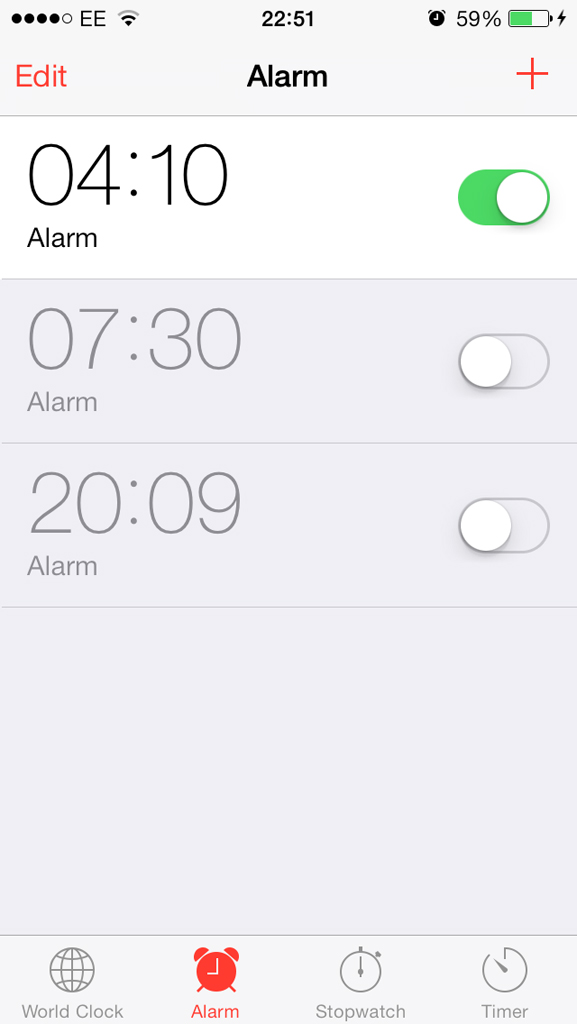 We thought we'd get a group shot in early doors in case Michael nabbed us. Tripods…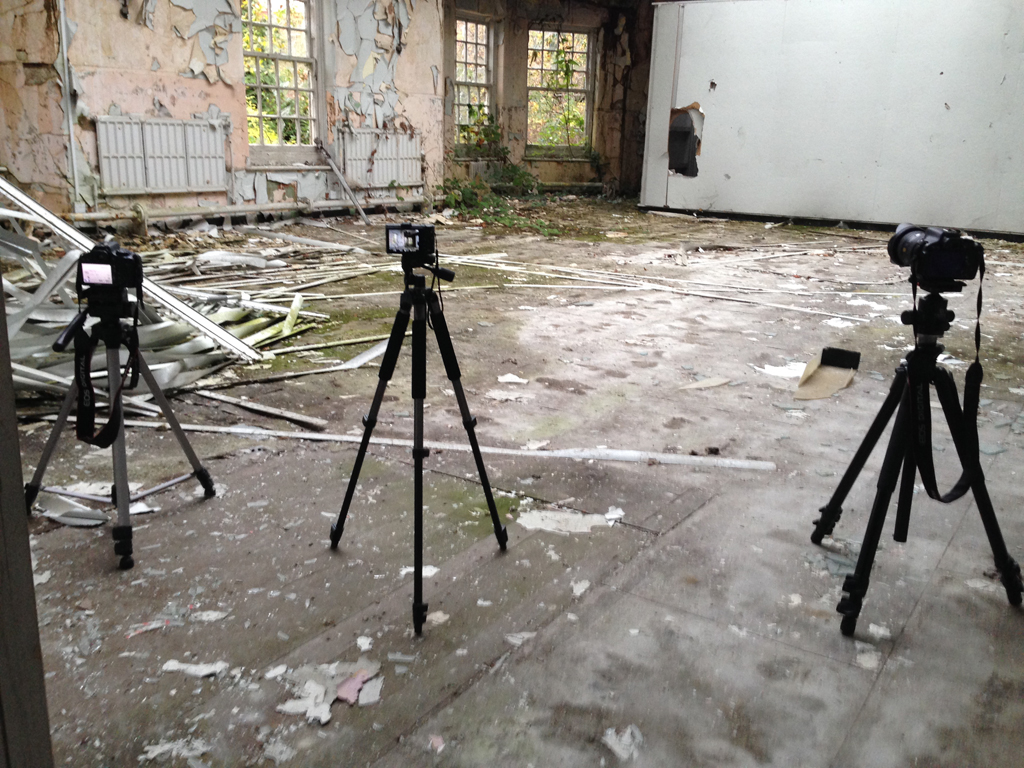 …and explorers.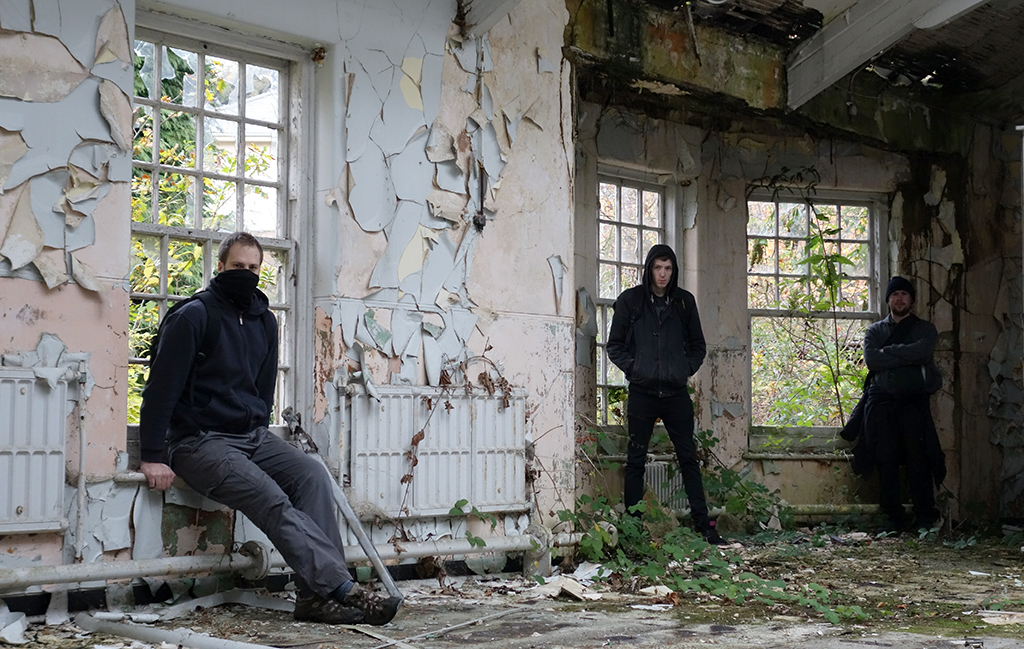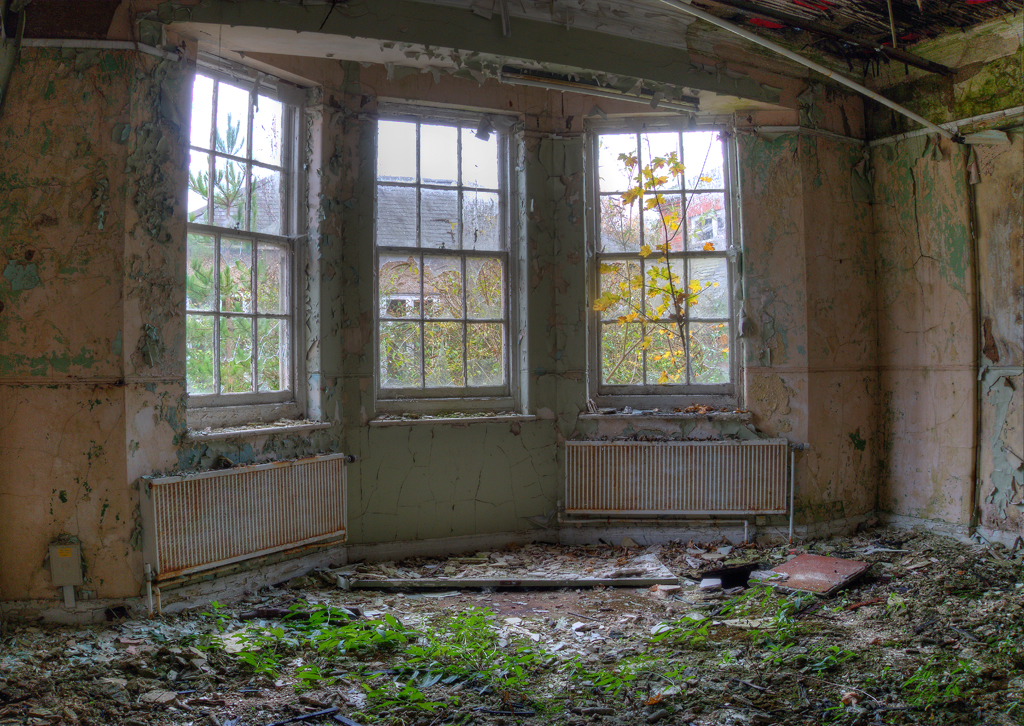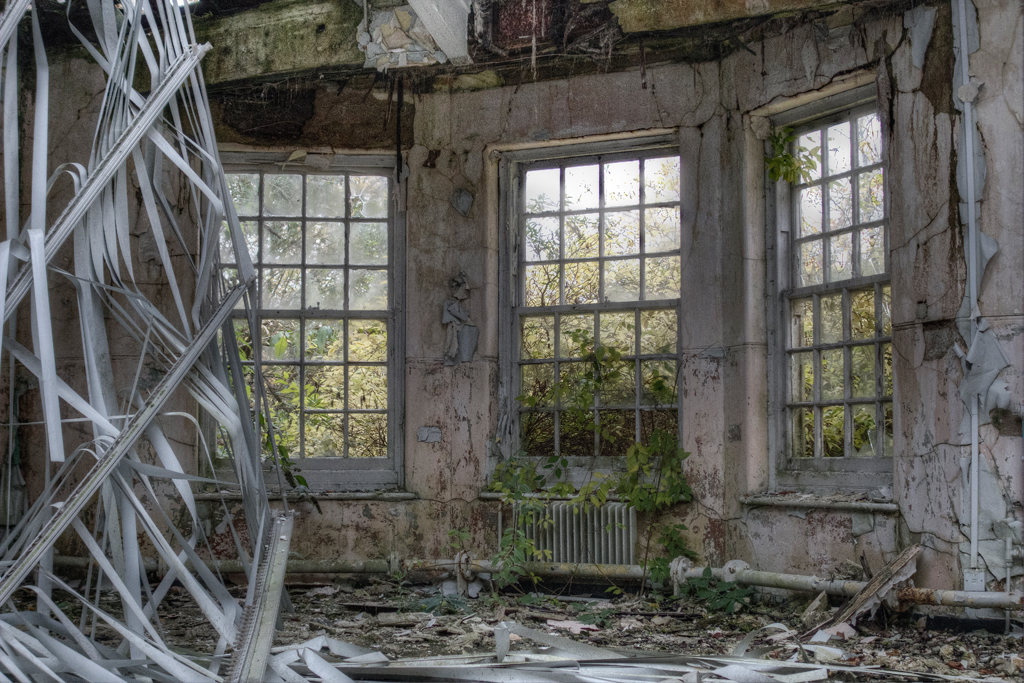 And without further ado, time for some CORRIDOR PORN! 🙂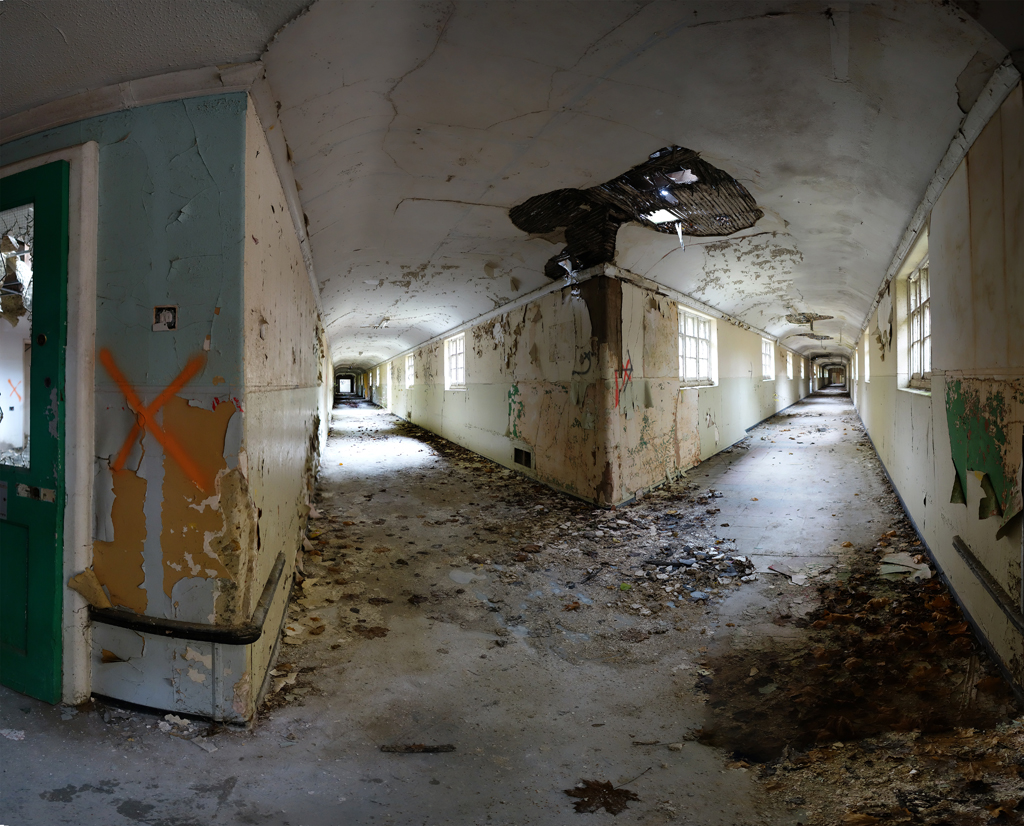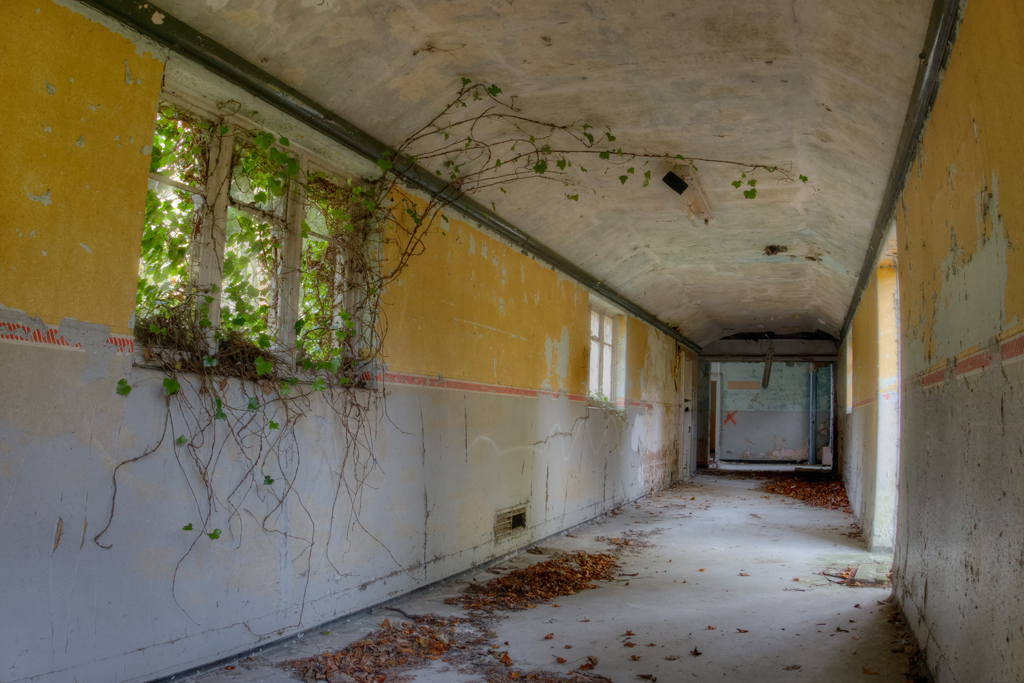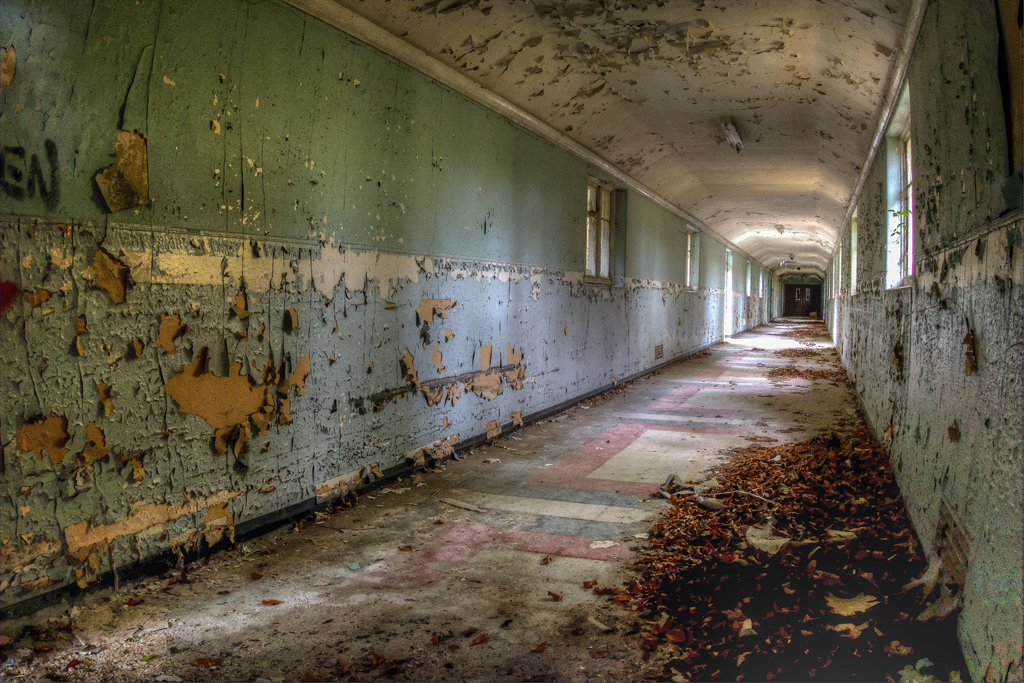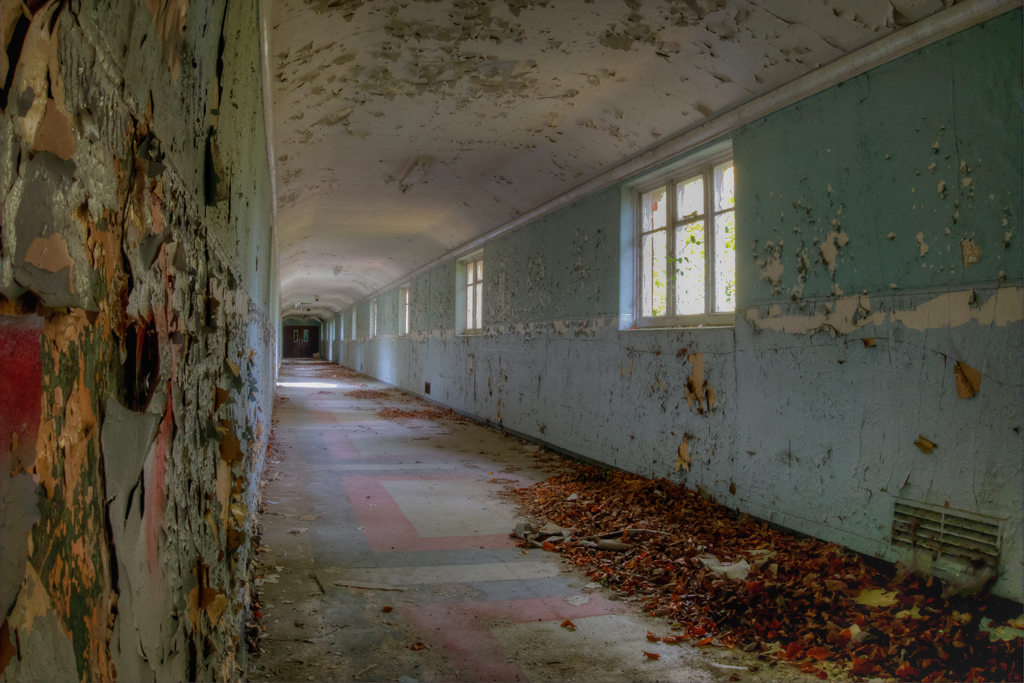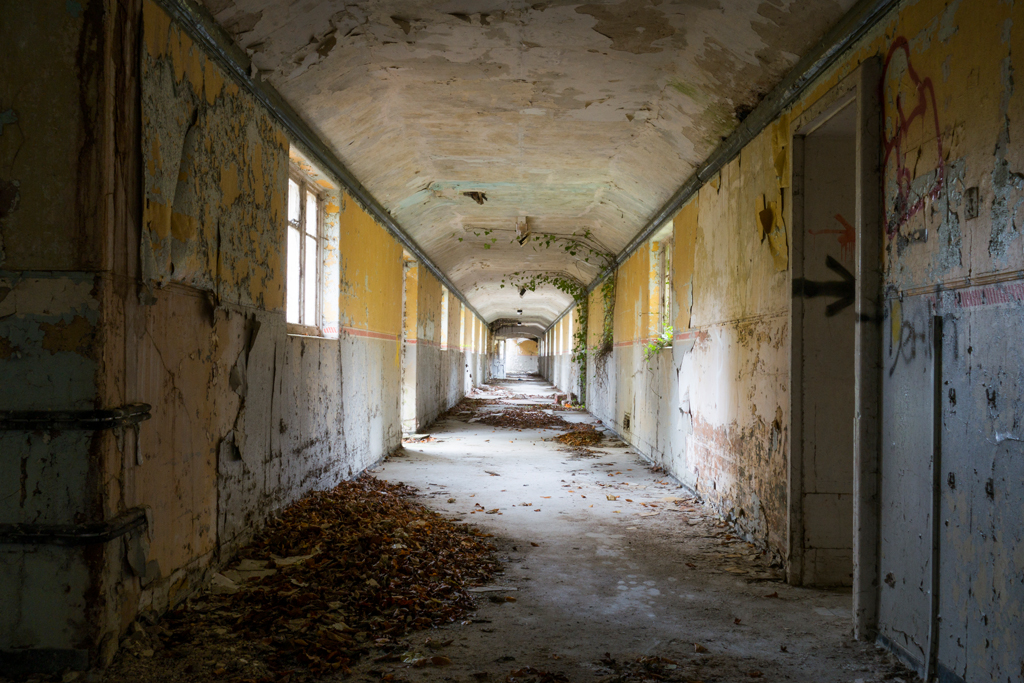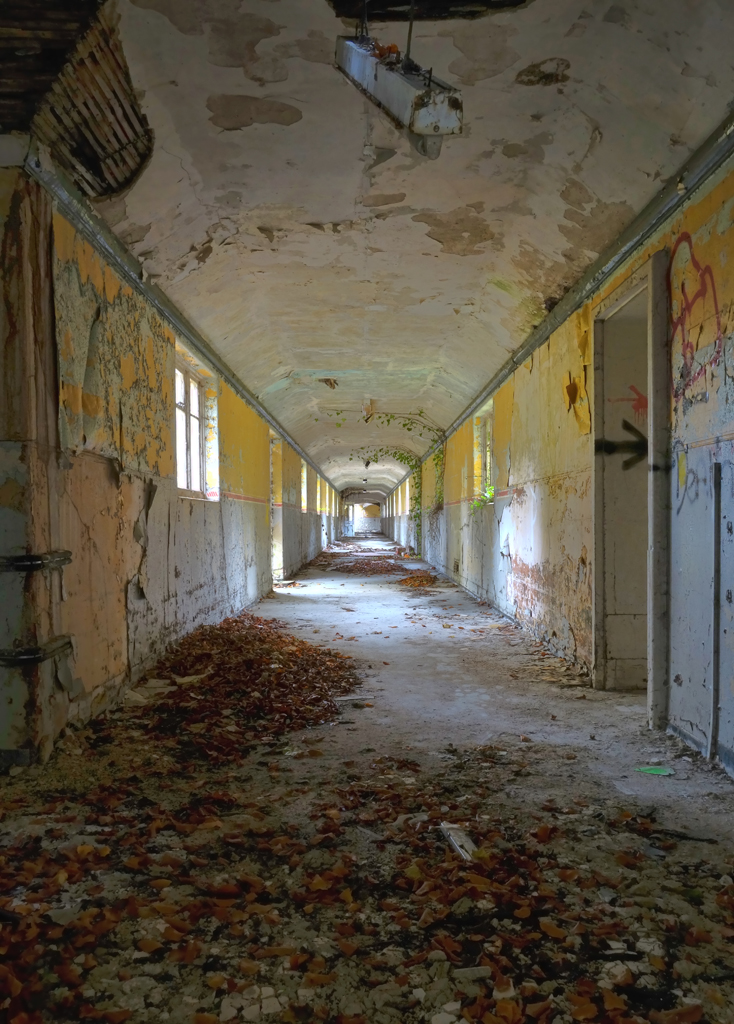 The world-famous Squirrels Boutique…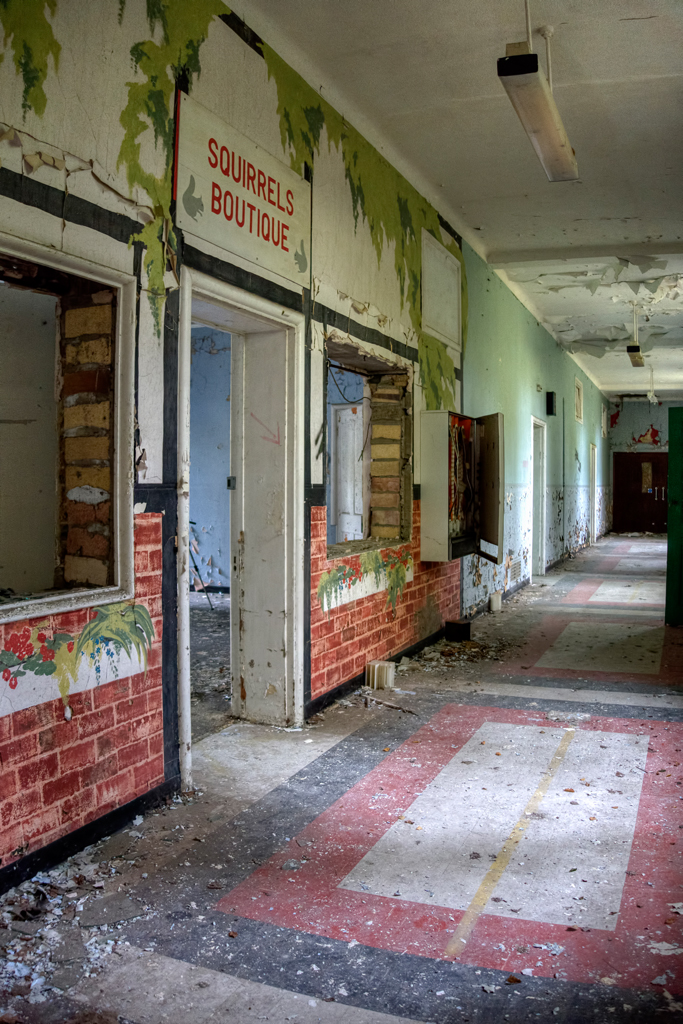 …and the not exactly unfamous bed.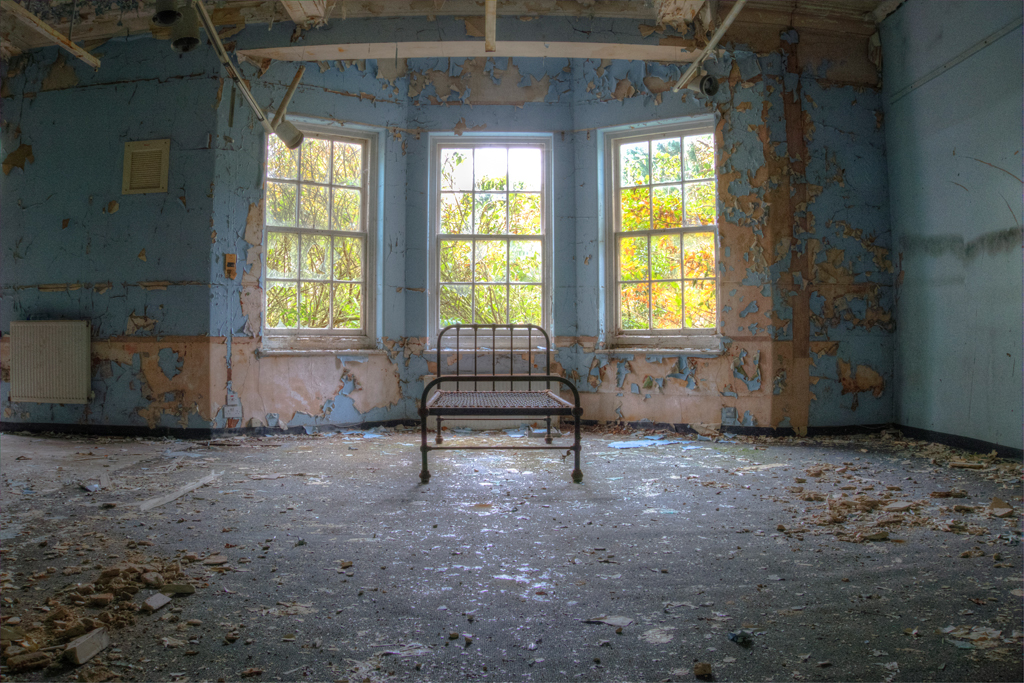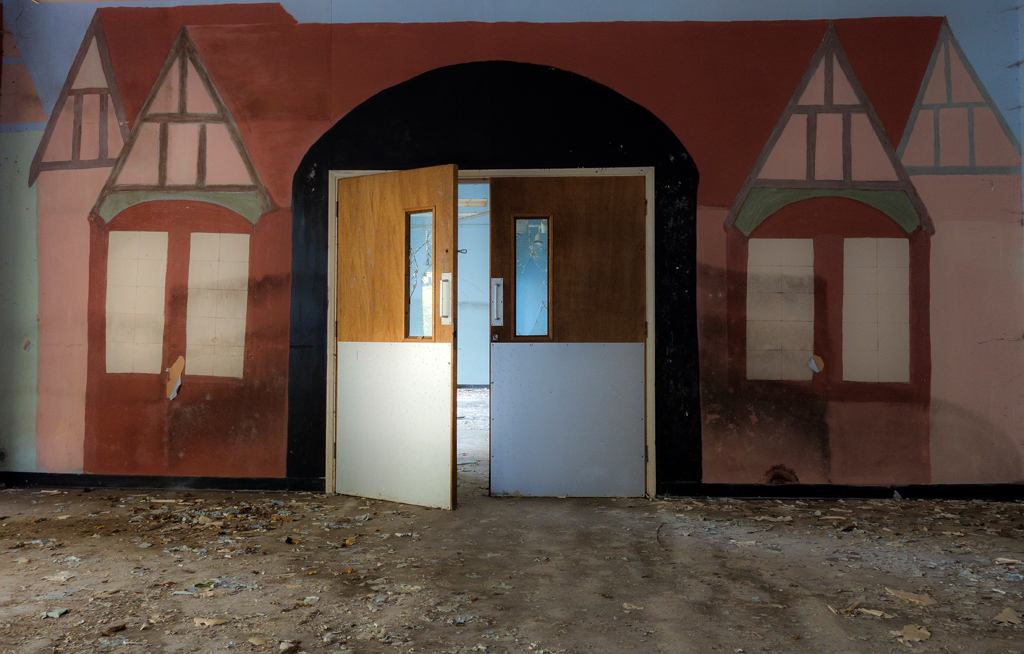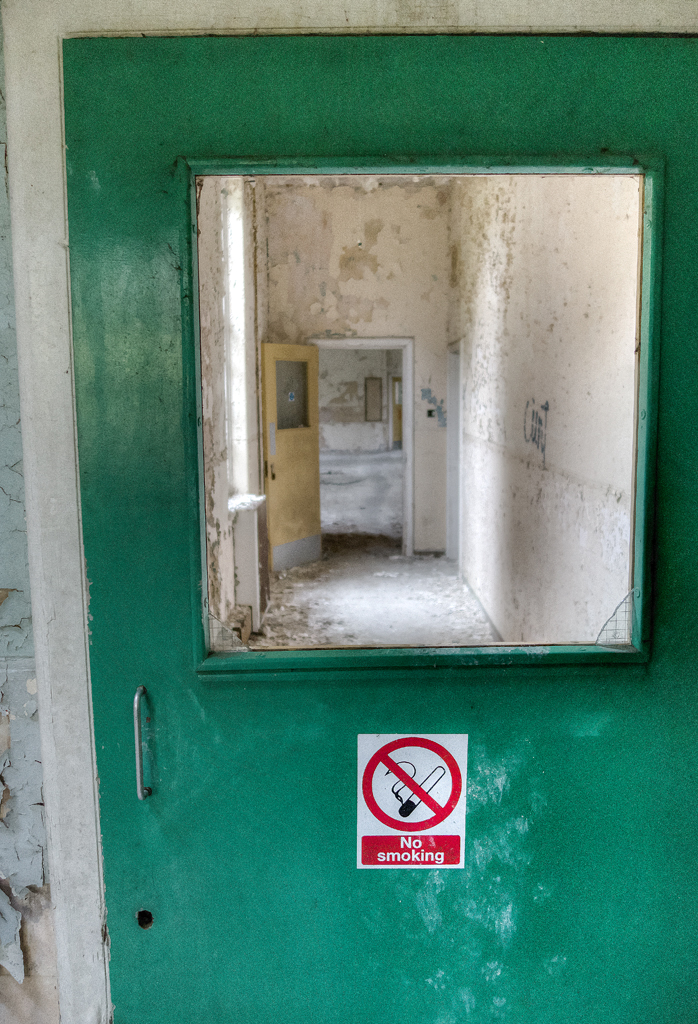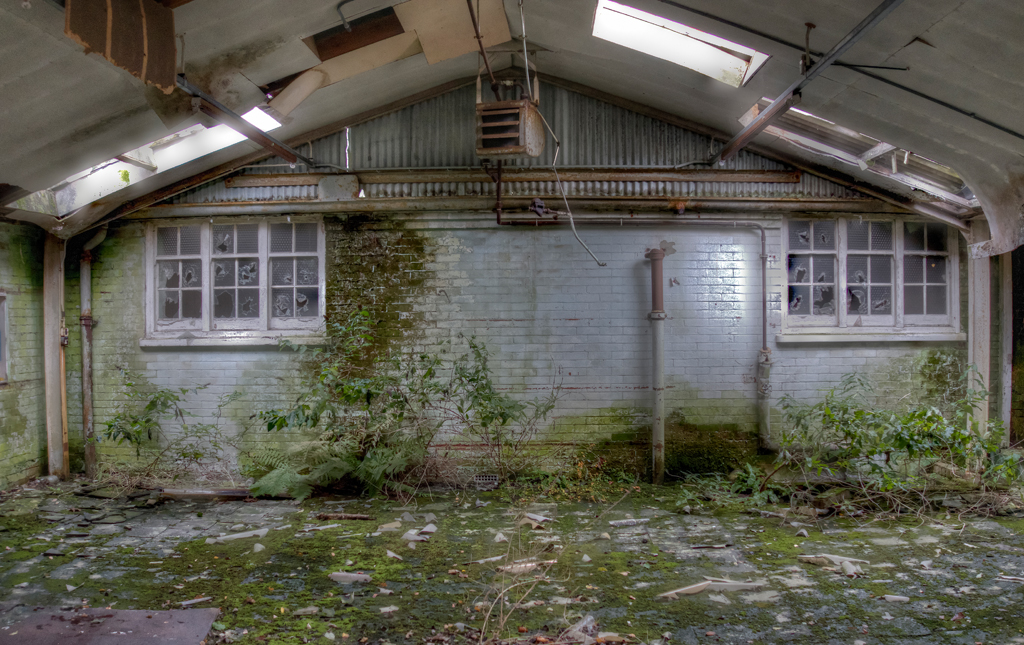 What's that? Some more corridor porn you say? Okay then…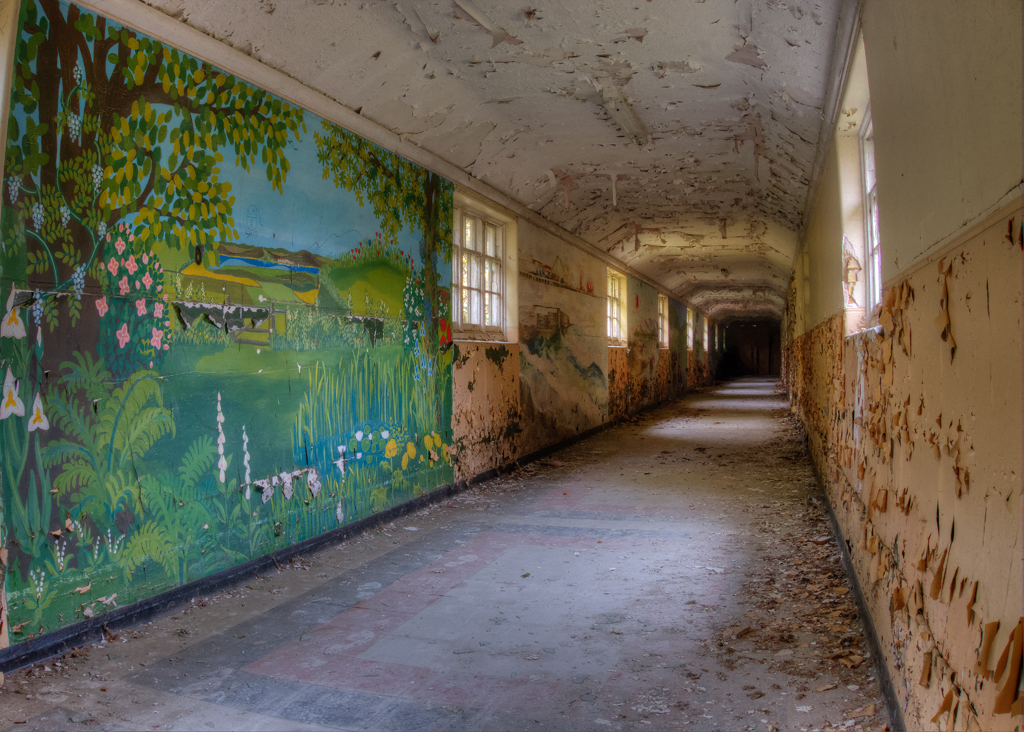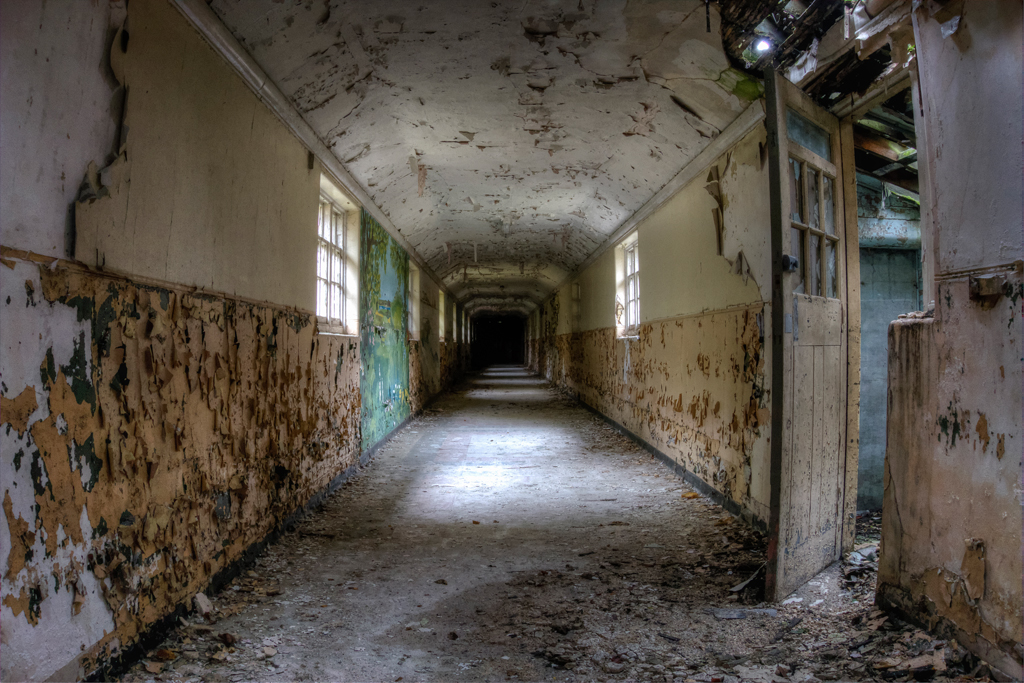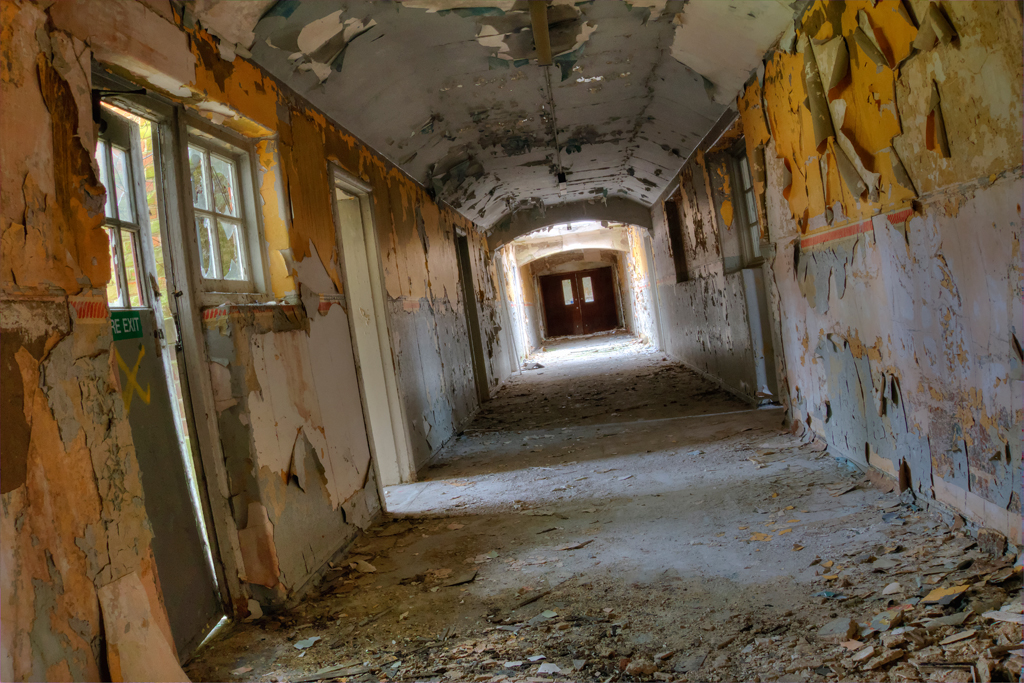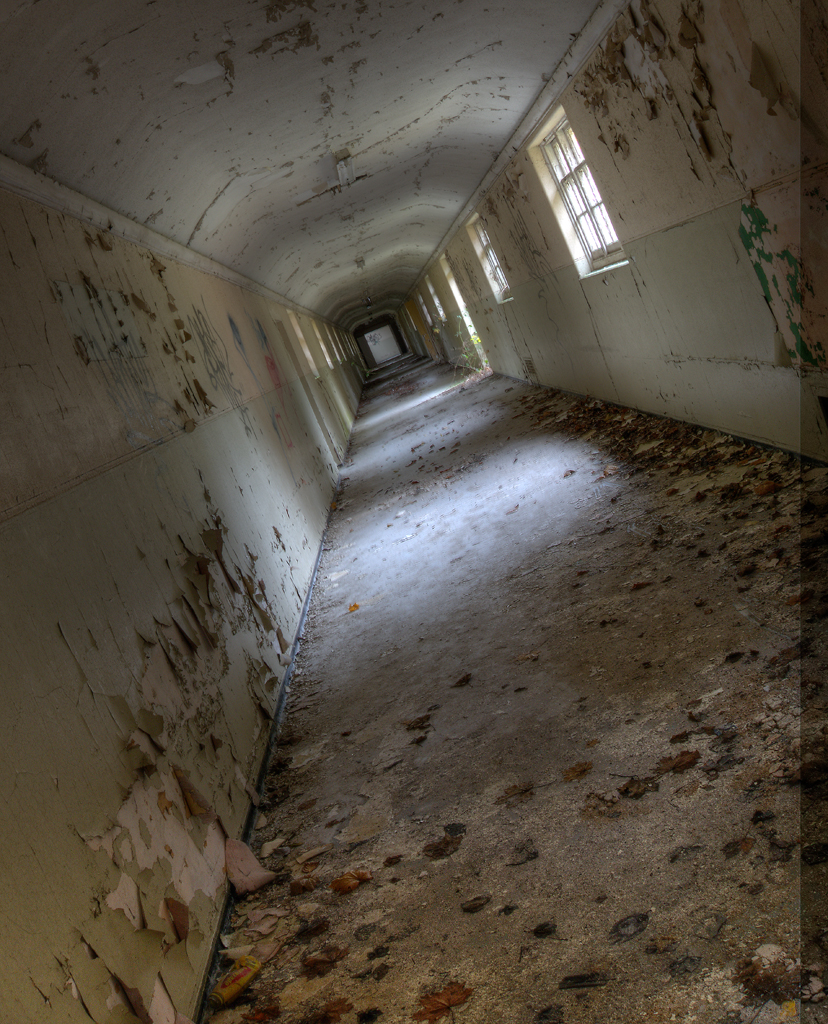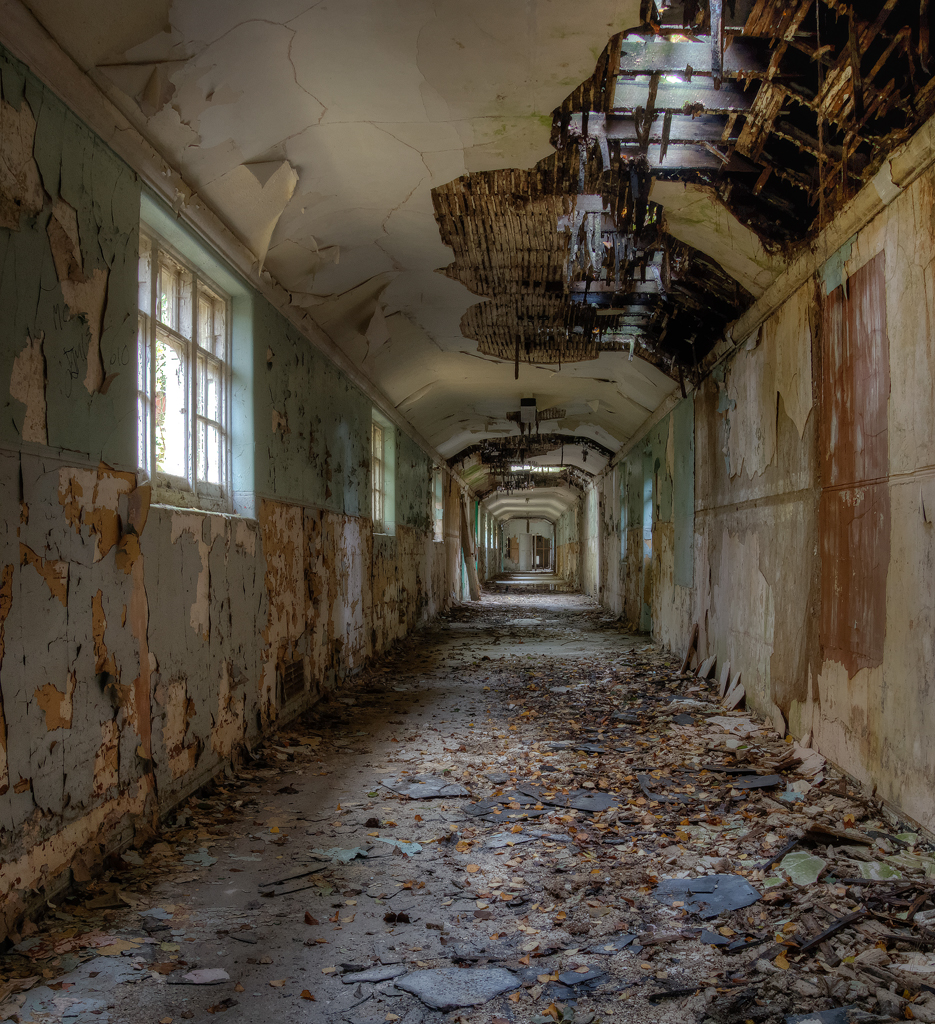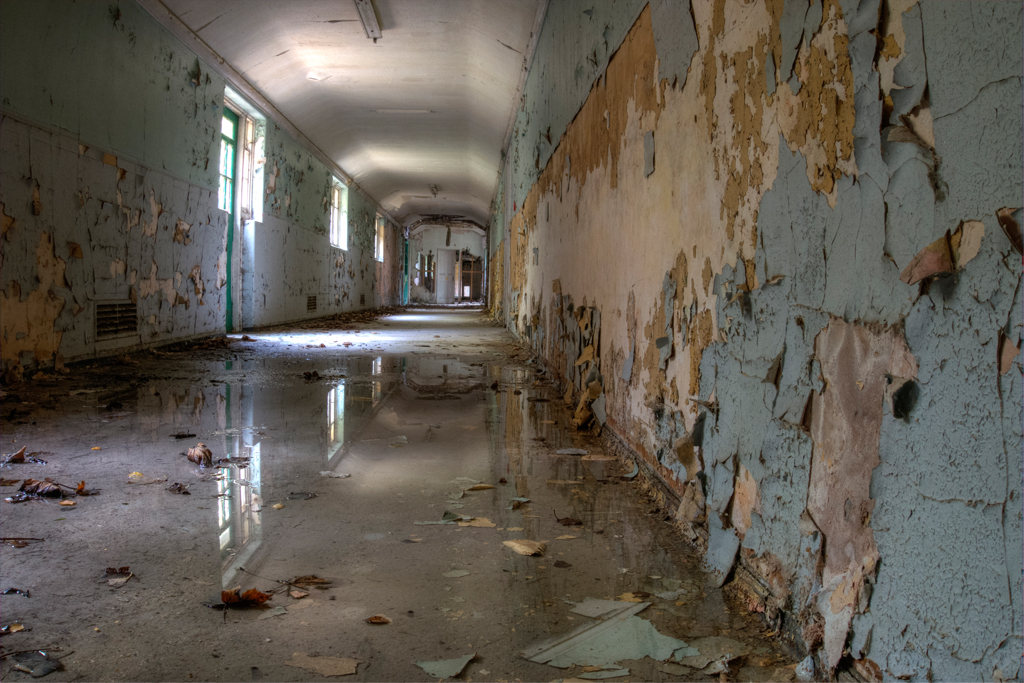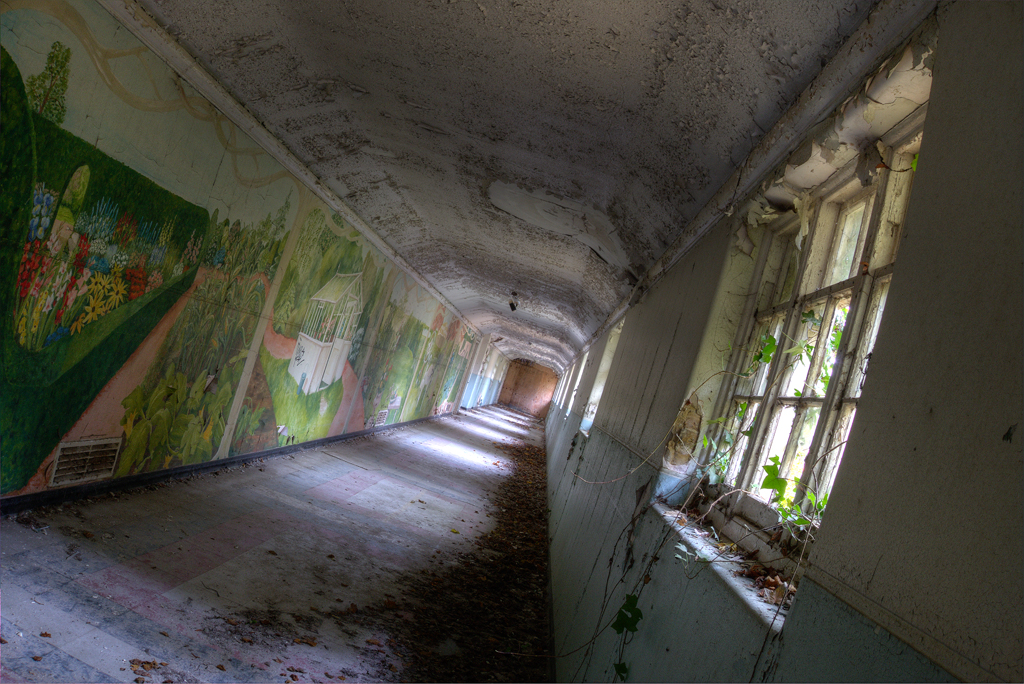 By now we were pretty much at the centre of the site.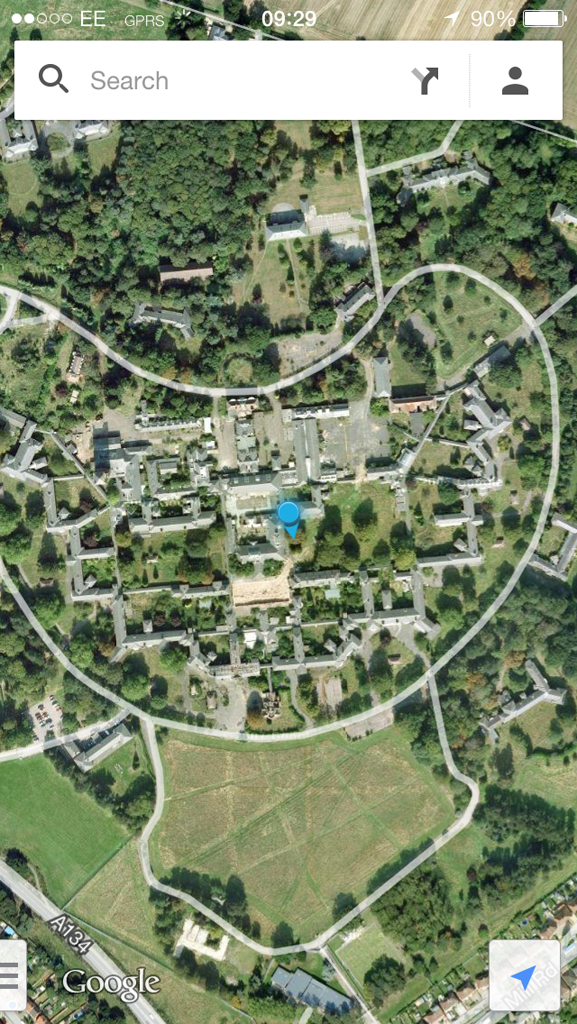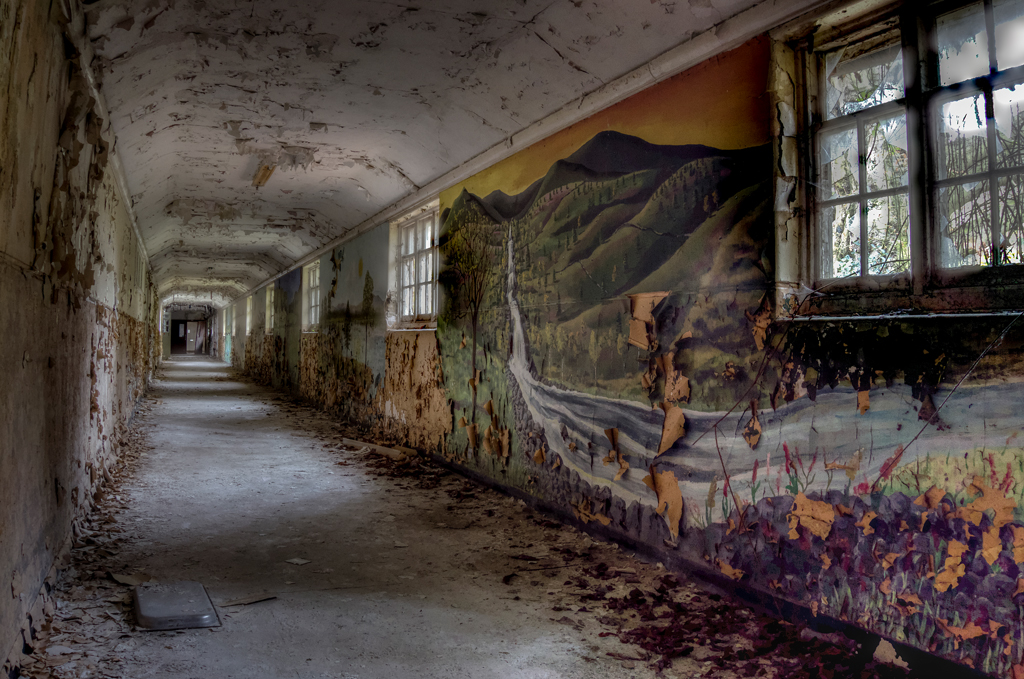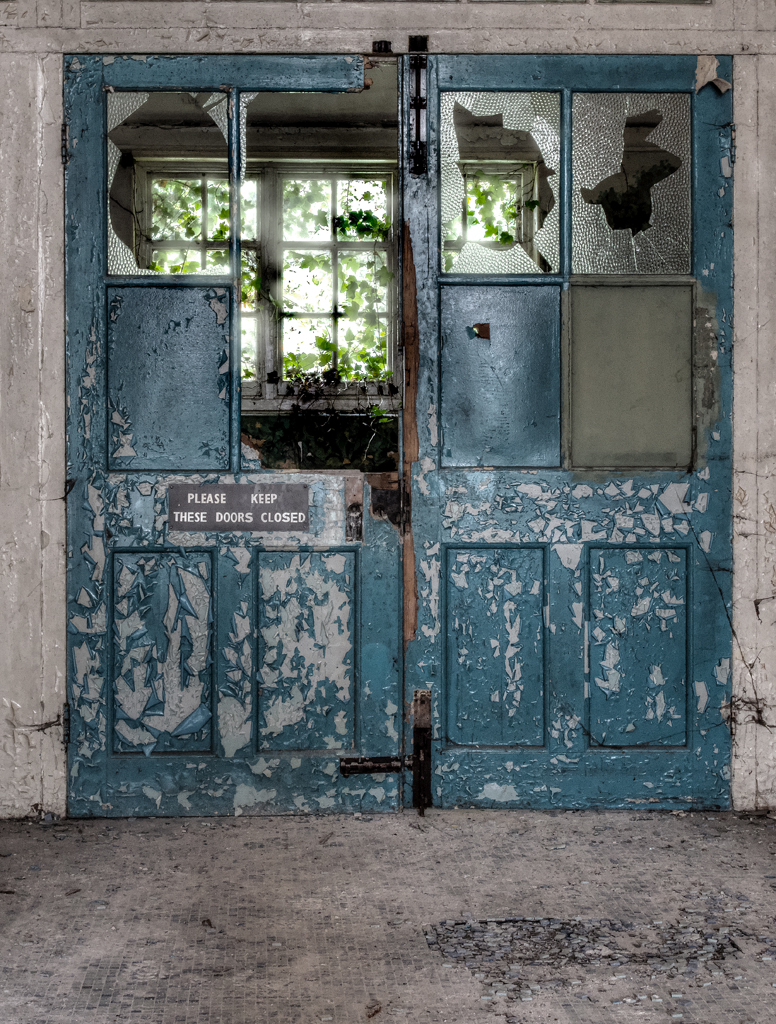 The vast kitchen.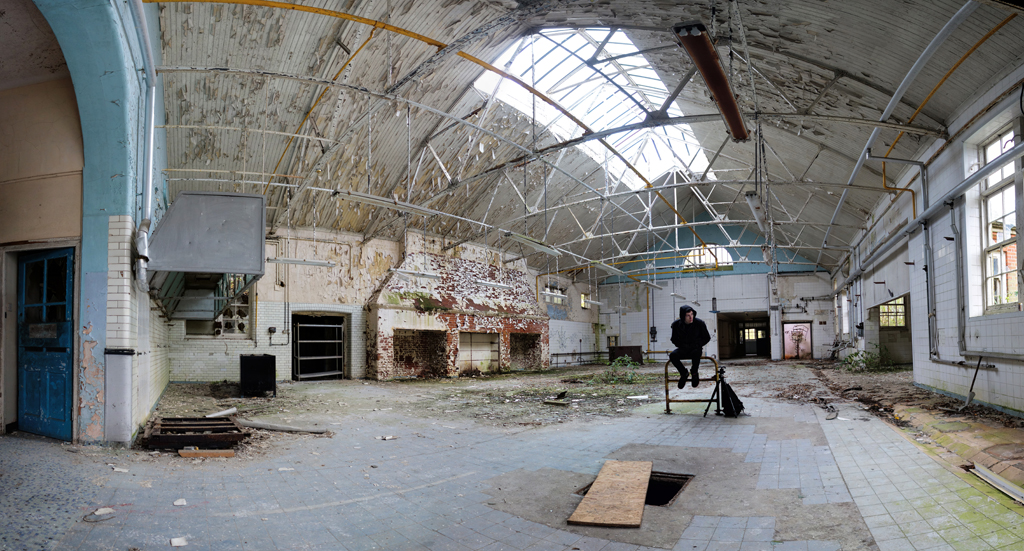 Adam X and Matthew Adams hanging out in the mortuary…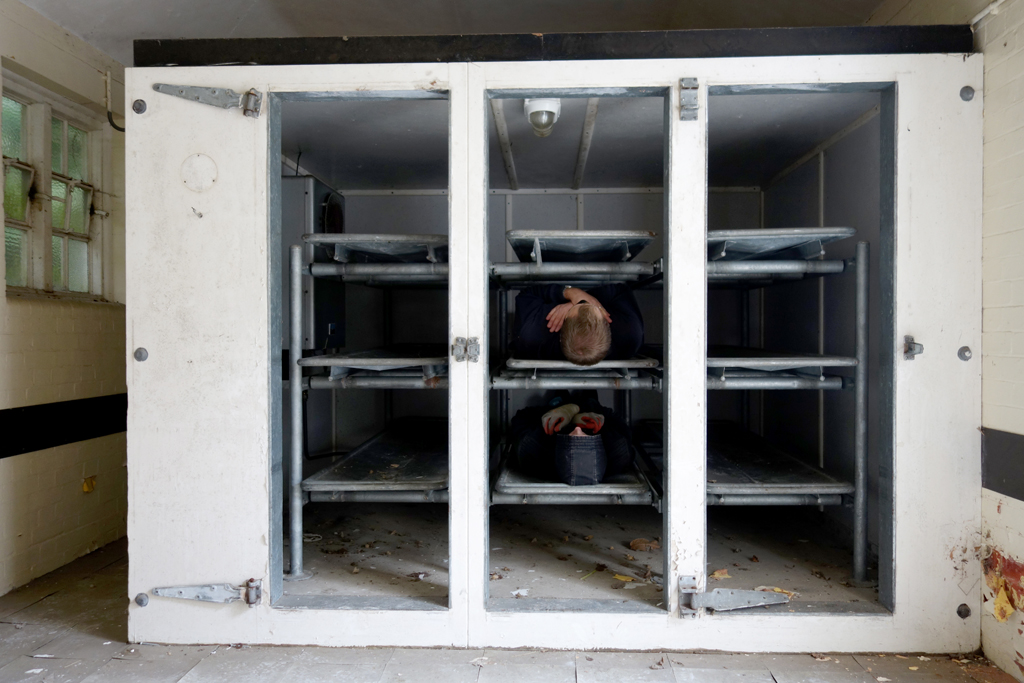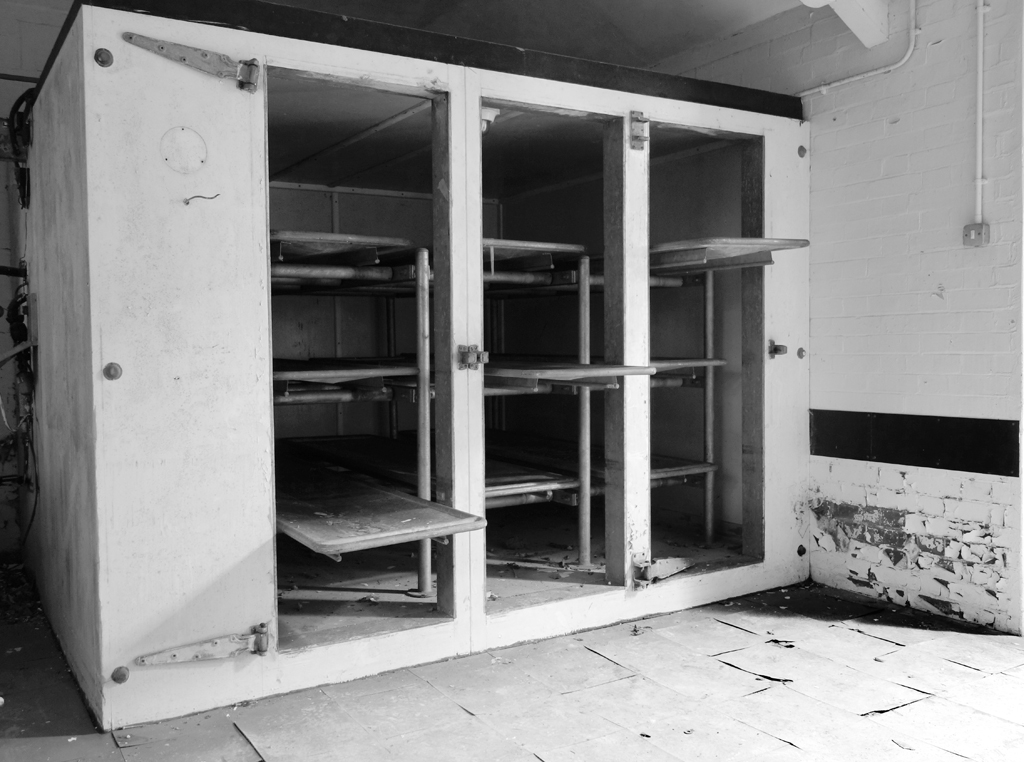 Selfie in the Mortuary? Why not.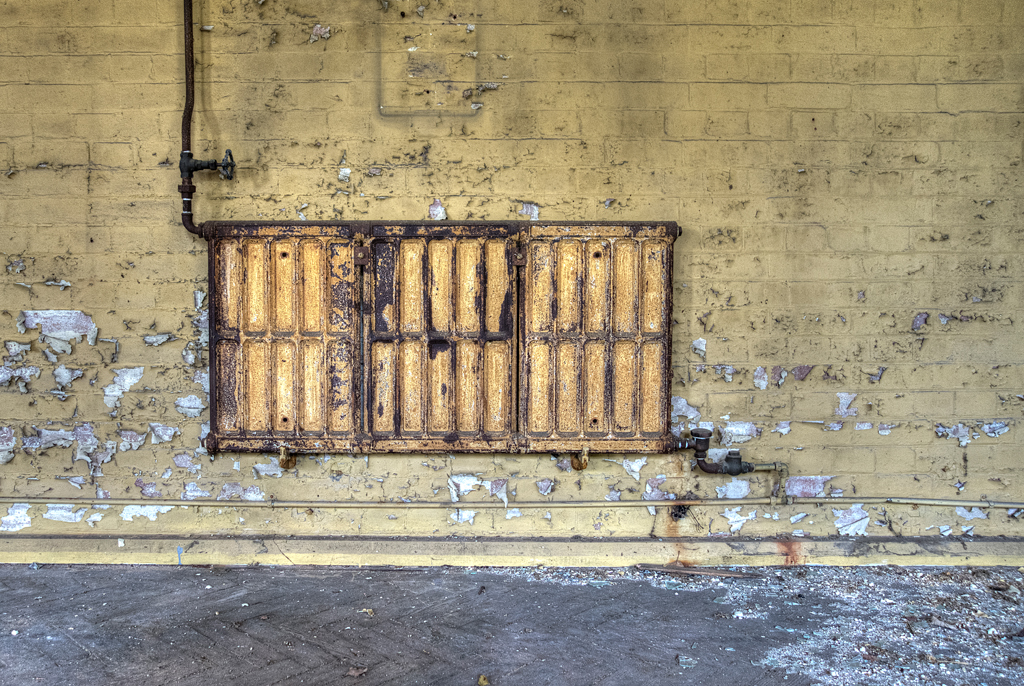 The Admin building is a listed building, and as such is also one of the most secure on the site. However Matthew is a veteran, and after some top secret manoeuvring we were in. The beautiful ornate carved staircase is by far the highlight of what remains…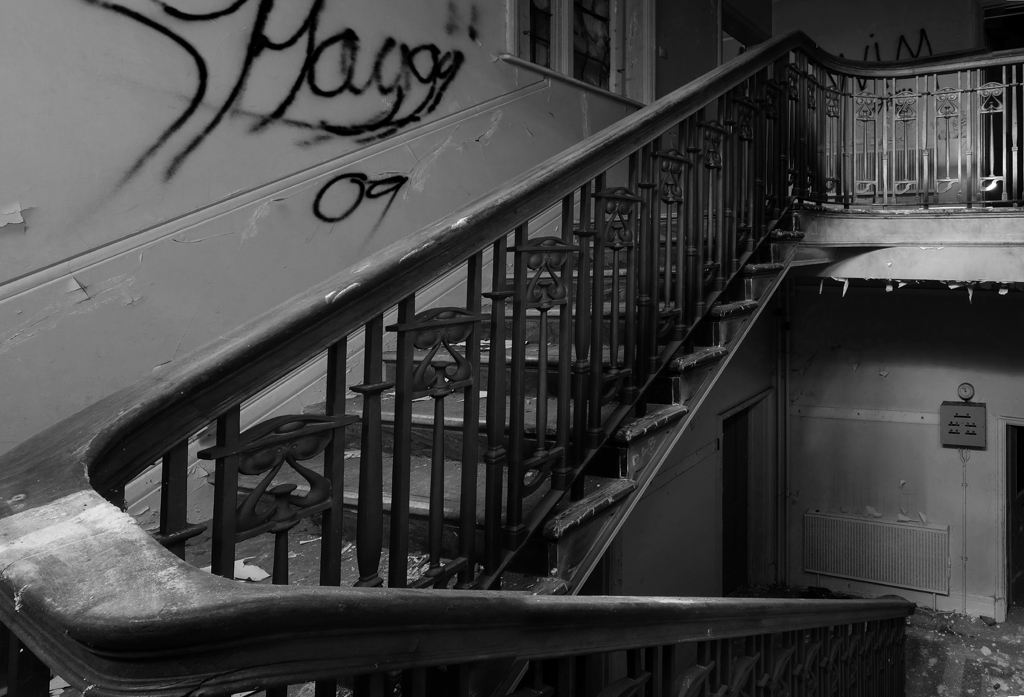 Some of the rooms have suffered from a previous fire.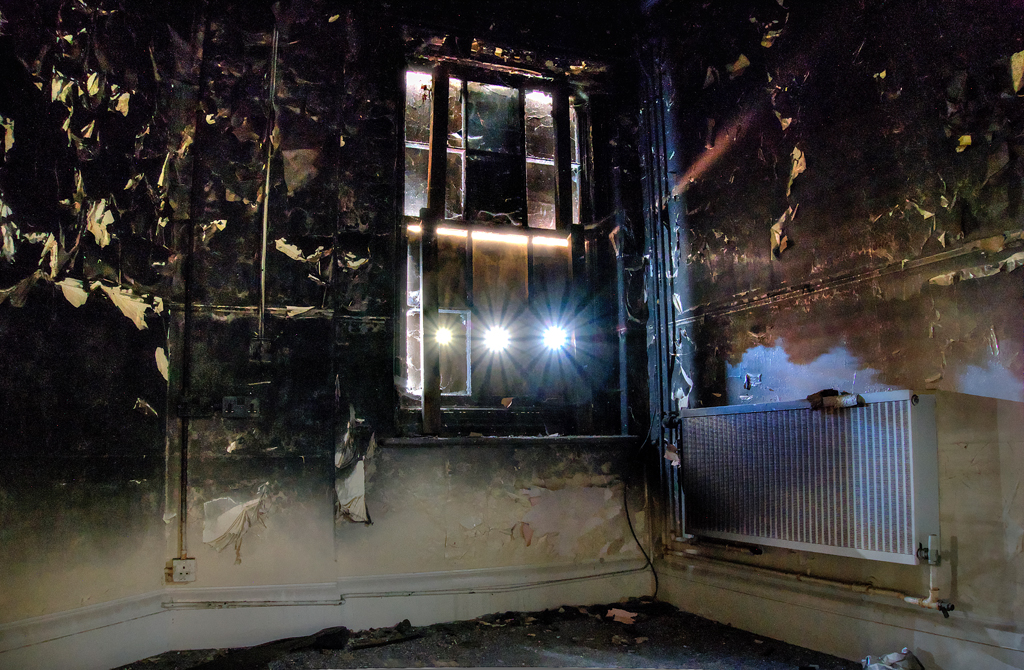 We then ventured up into the loft.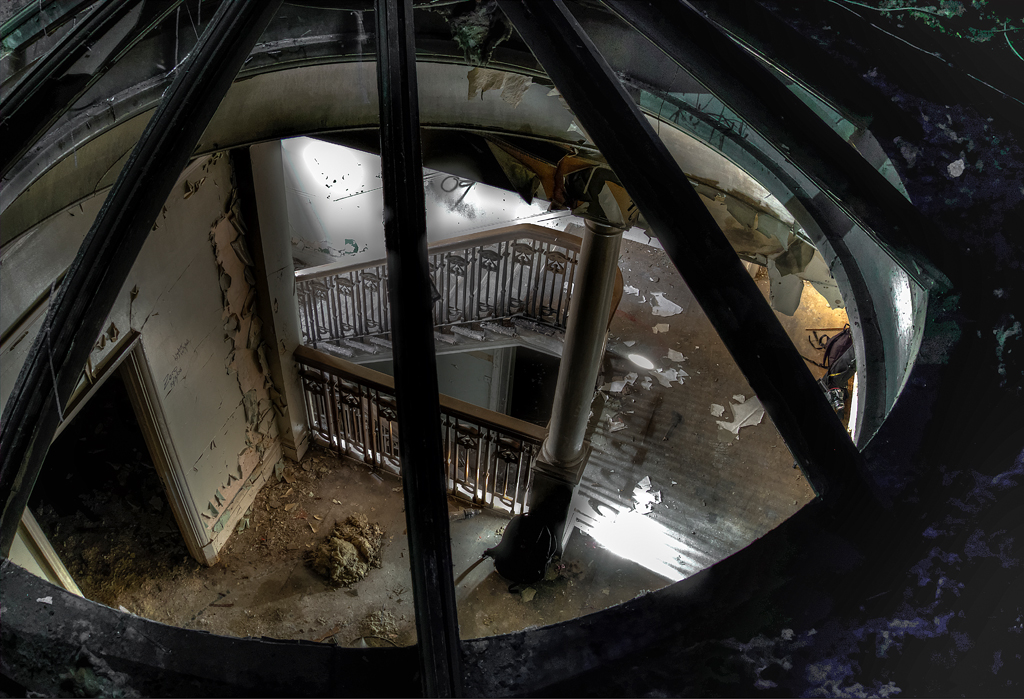 This is the view looking back through a tiny hole in some boarding to where Admin is sealed off from the connecting corridors.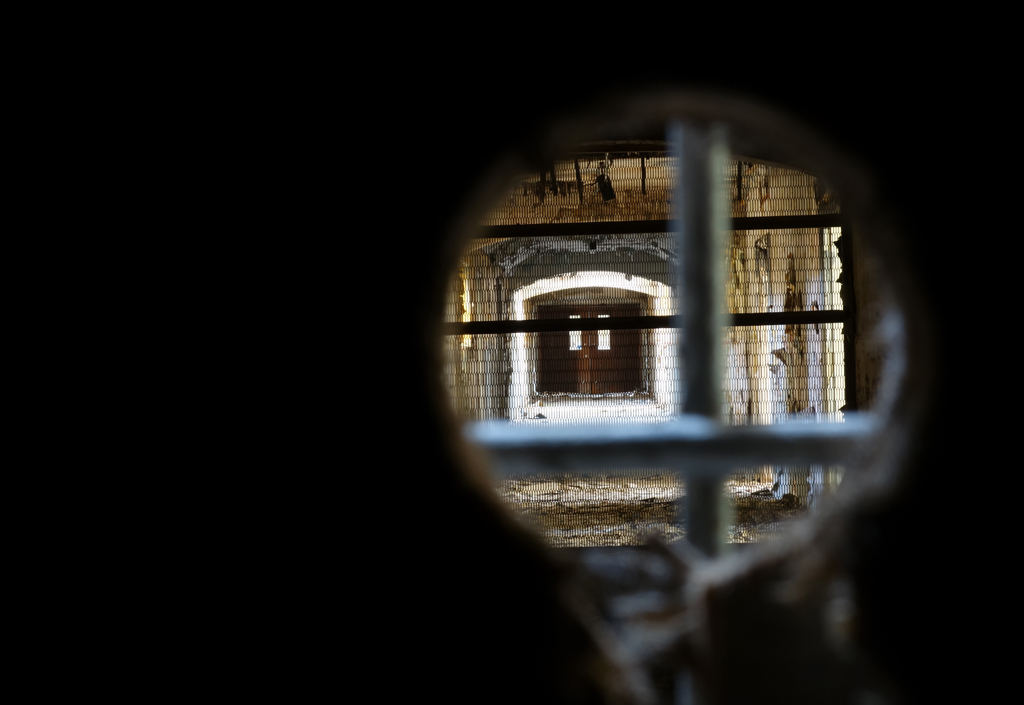 A couple more shots of those beautiful stairs…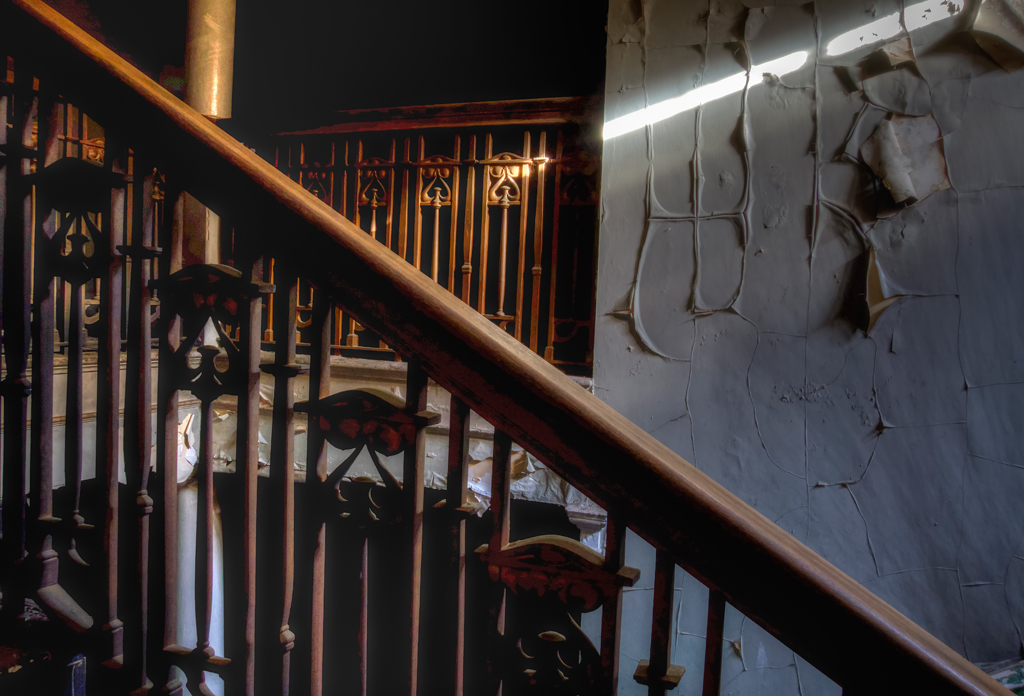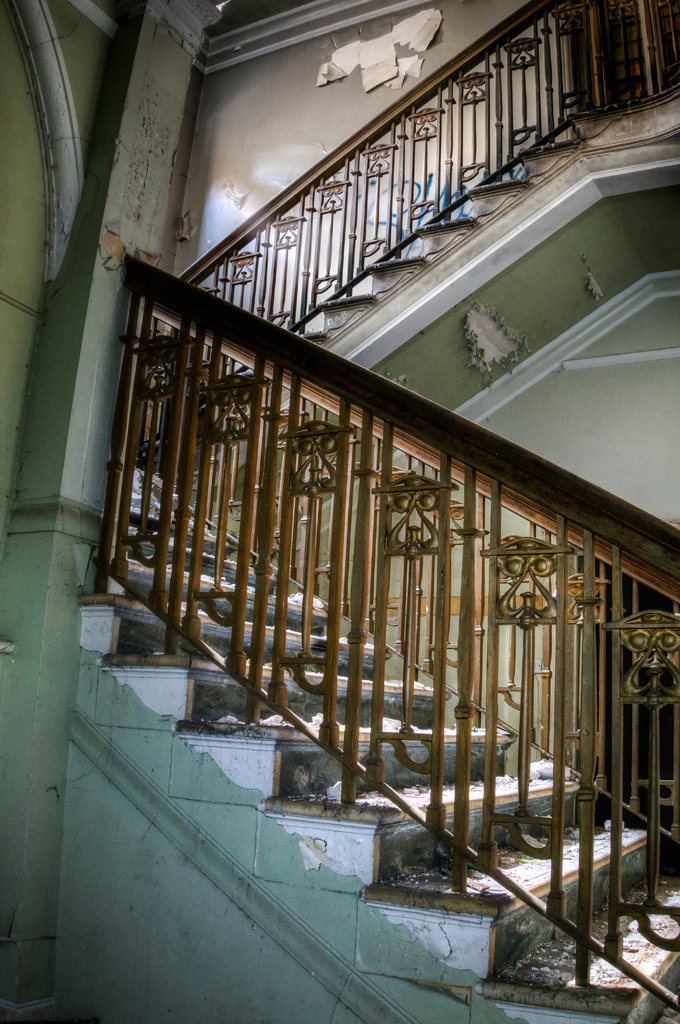 Back into the main labyrinth of buildings…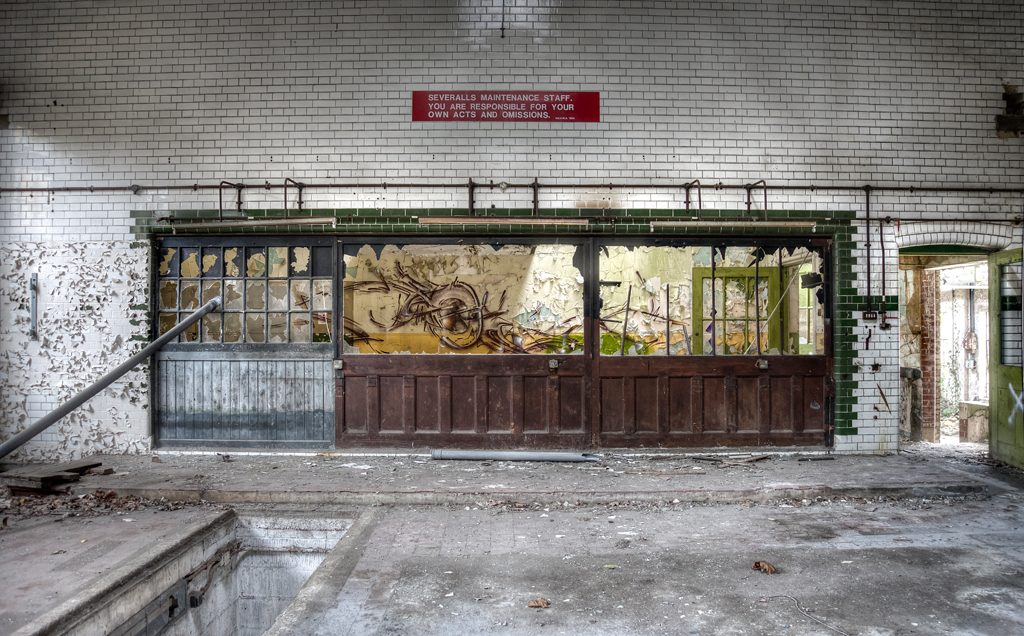 Watch your step…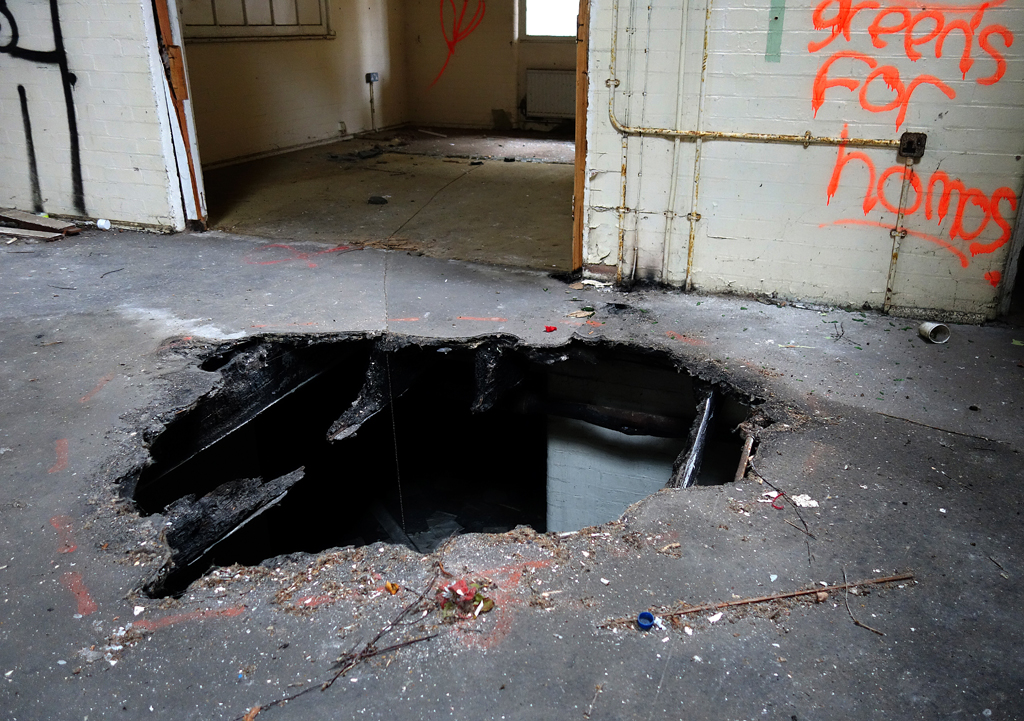 Matthew hanging out. This is a bit of crap shot because it was only after I'd given him a bunk up that he said "Quick! Take a photo!"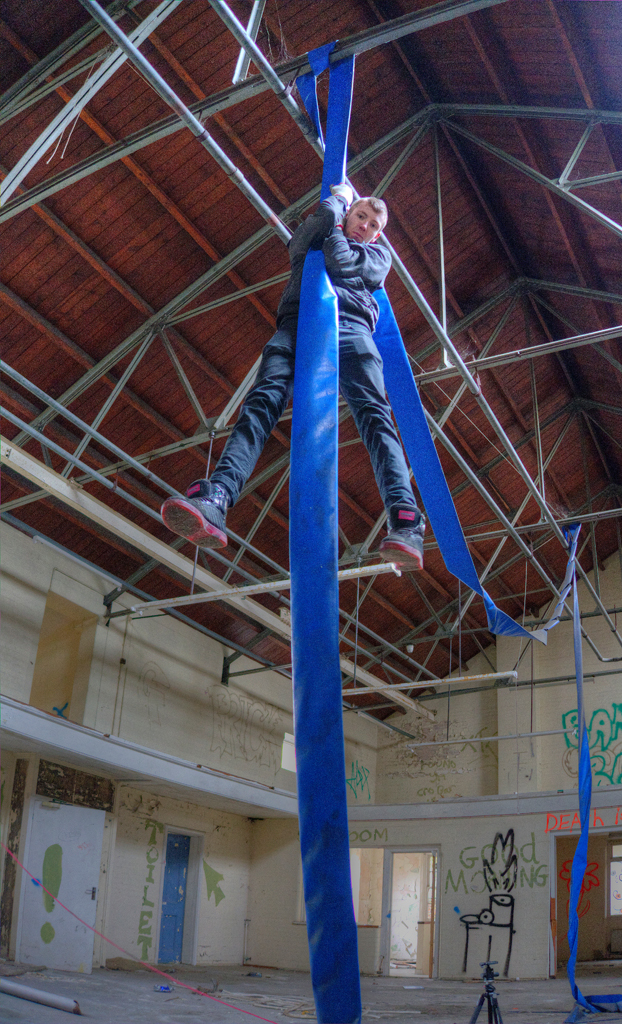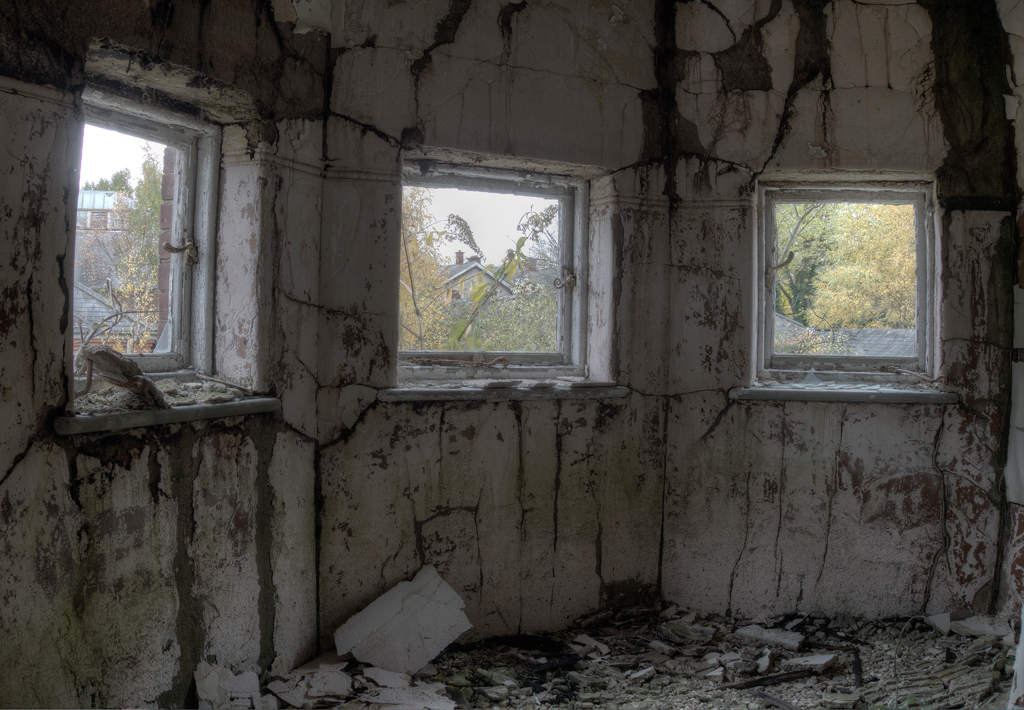 We were the fortunate enough to come across a newly-created commemorative wall, signed with many moving comments by former patients and staff who we later found out had taken a special farewell tour only a few days before our visit.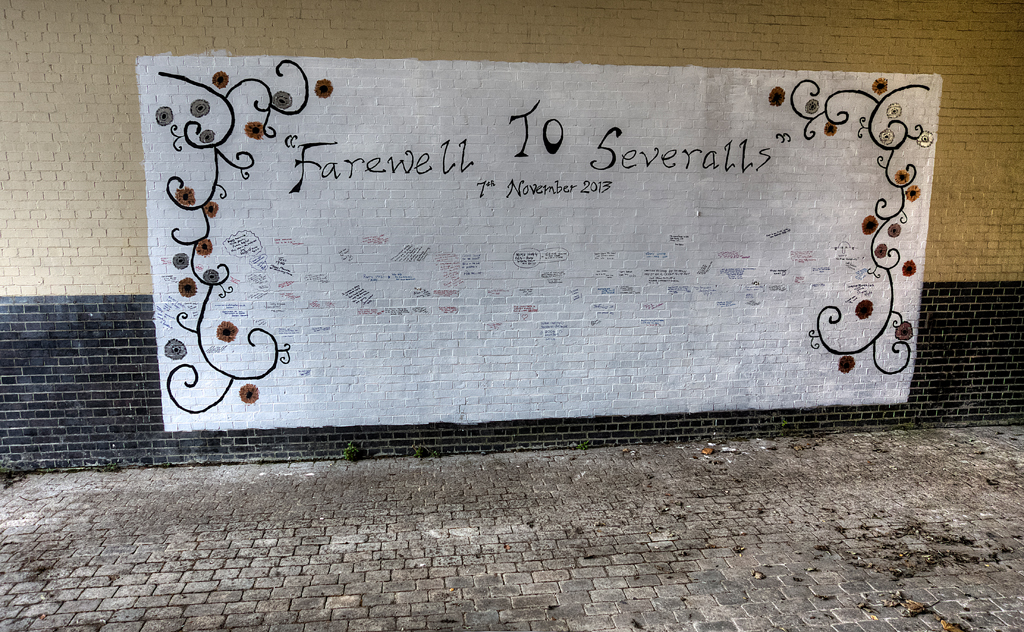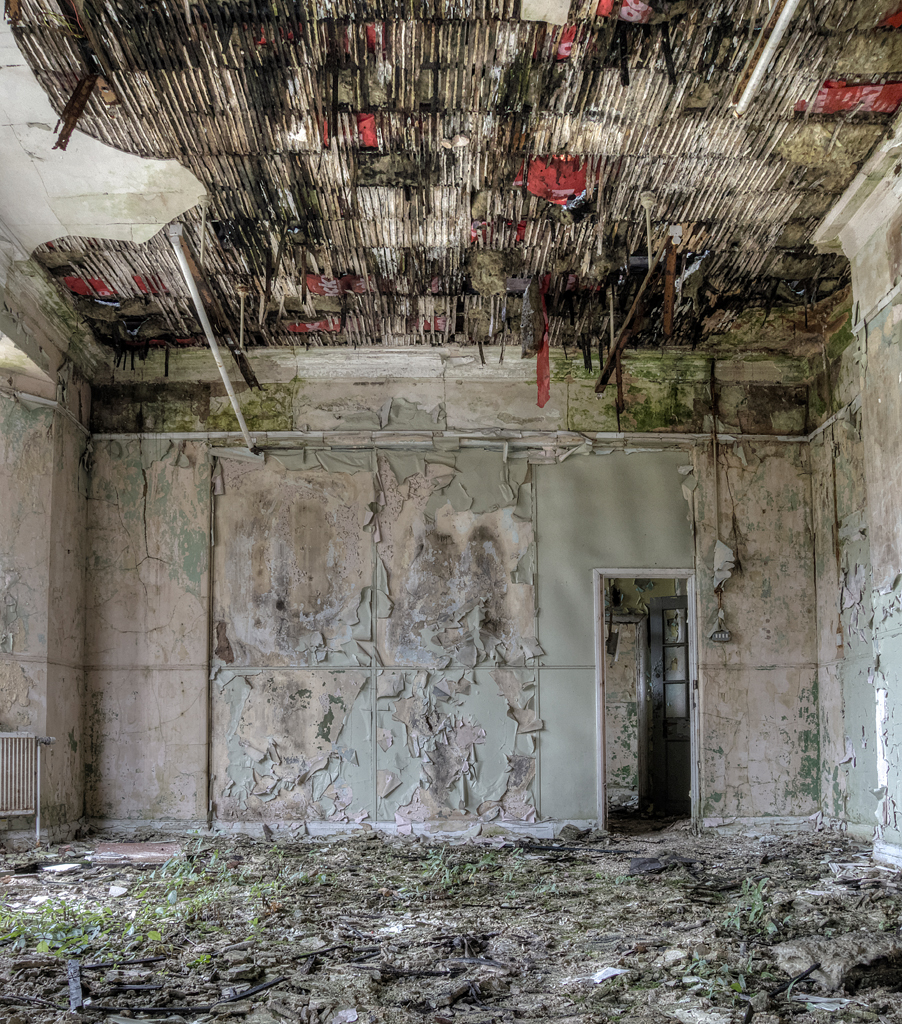 The Water Tower and boiler room.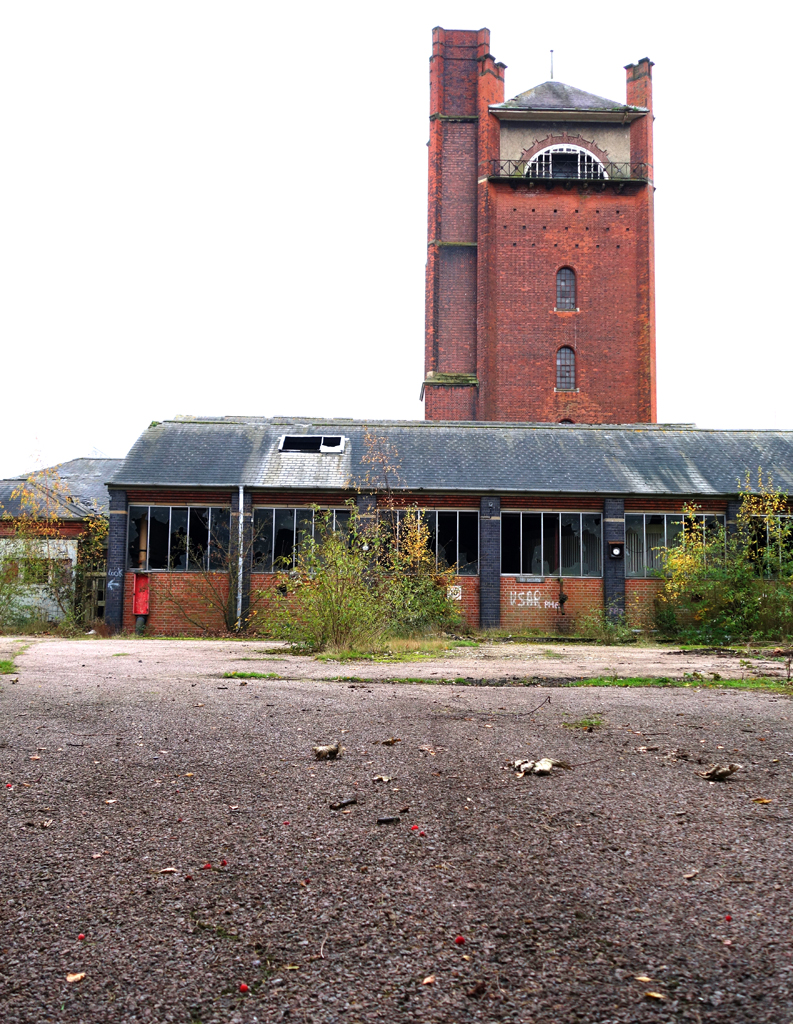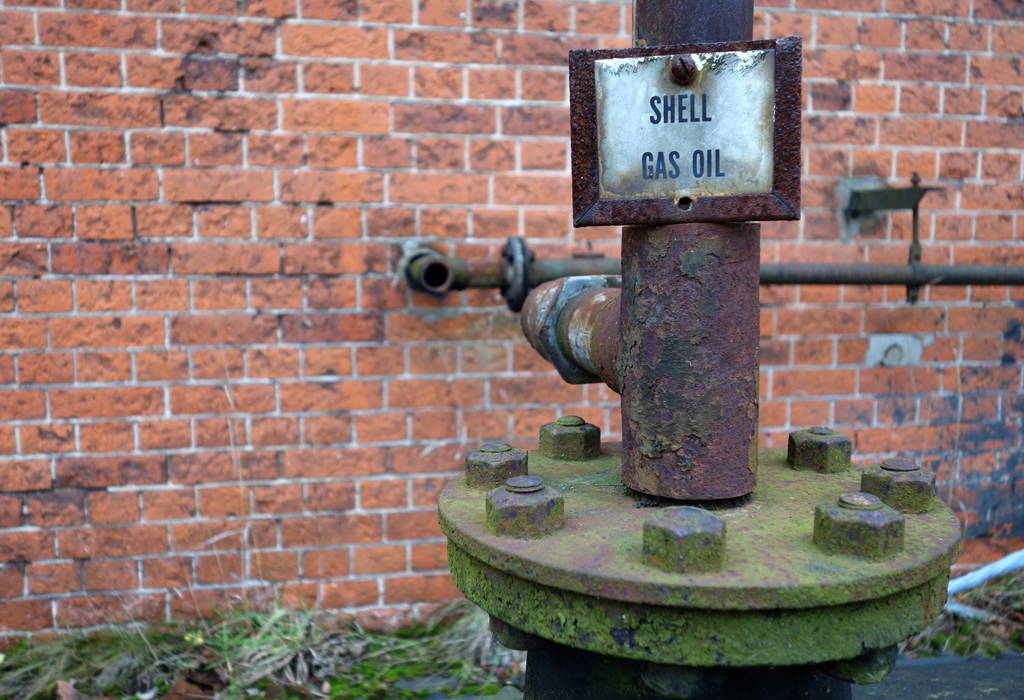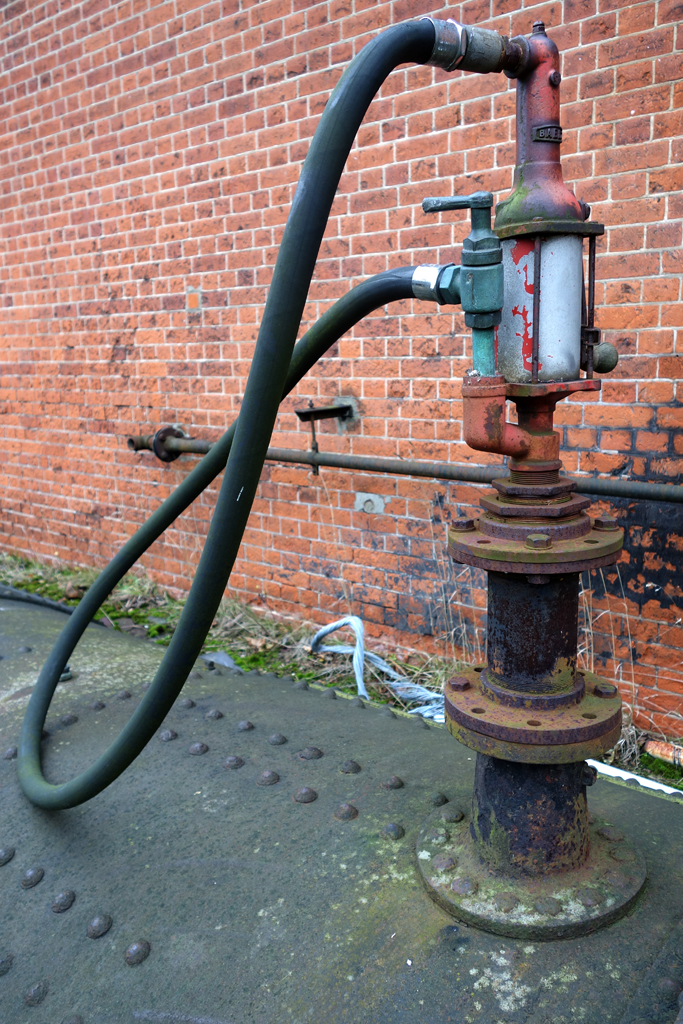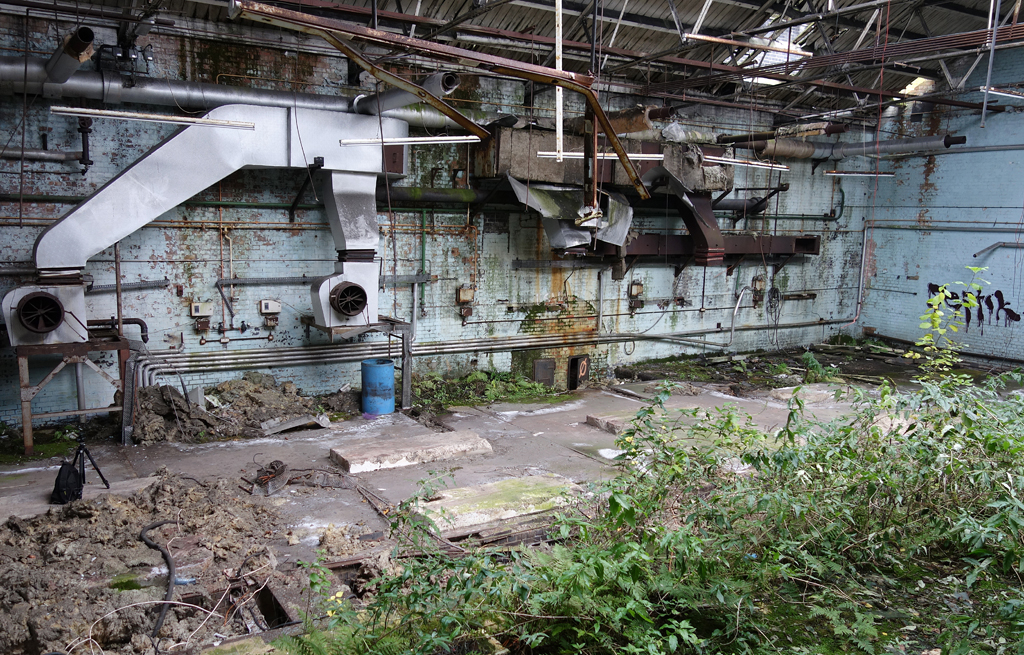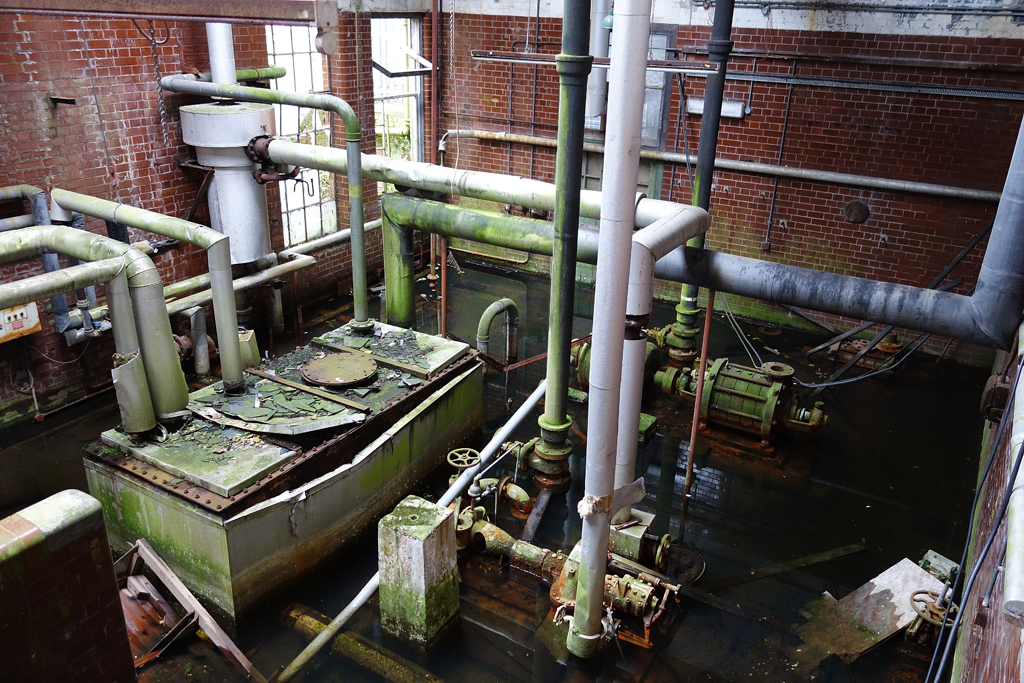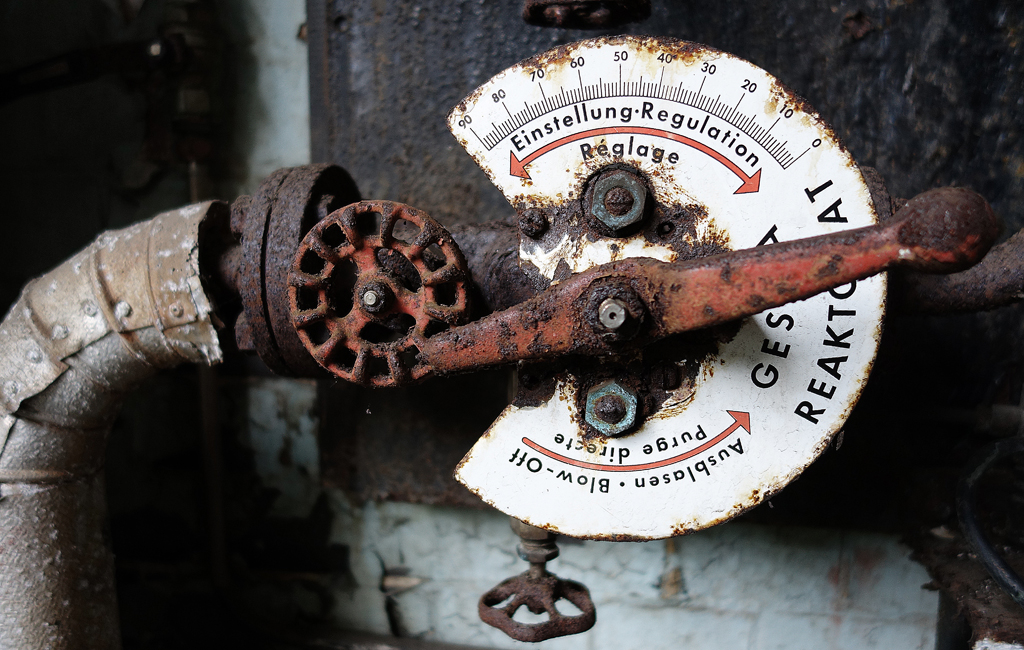 There are numerous service tunnels running underneath the site. However they are riddled with asbestos, and were also flooded with several inches of rainwater when we visited, so we made do with a quick look inside with P3 masks safely on.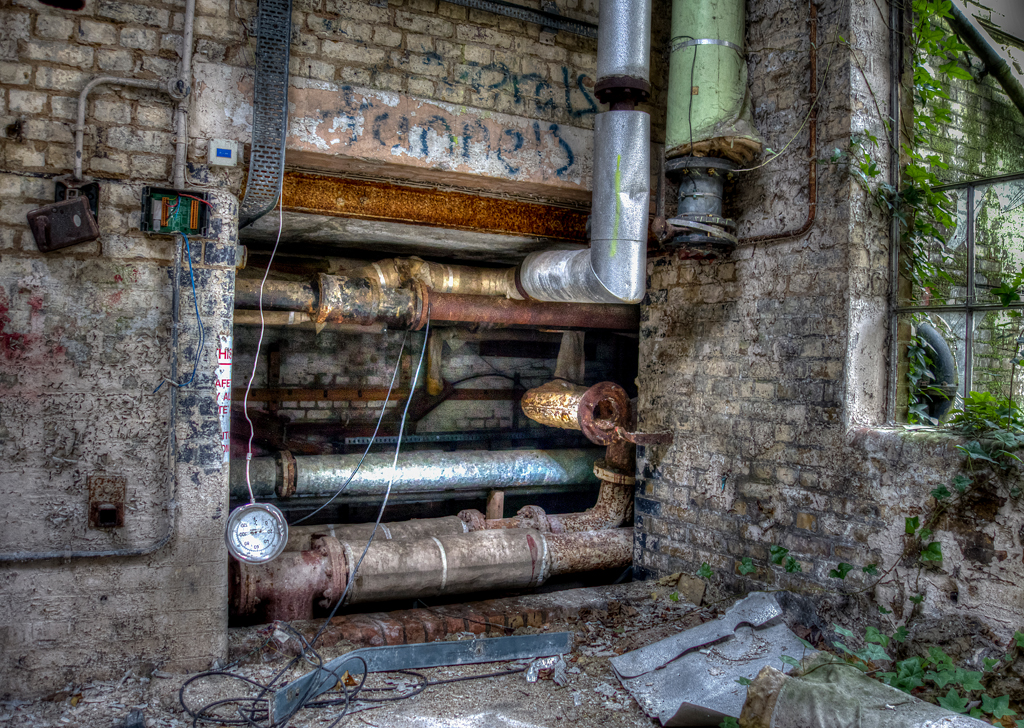 Energy finally waning we walked back past Admin…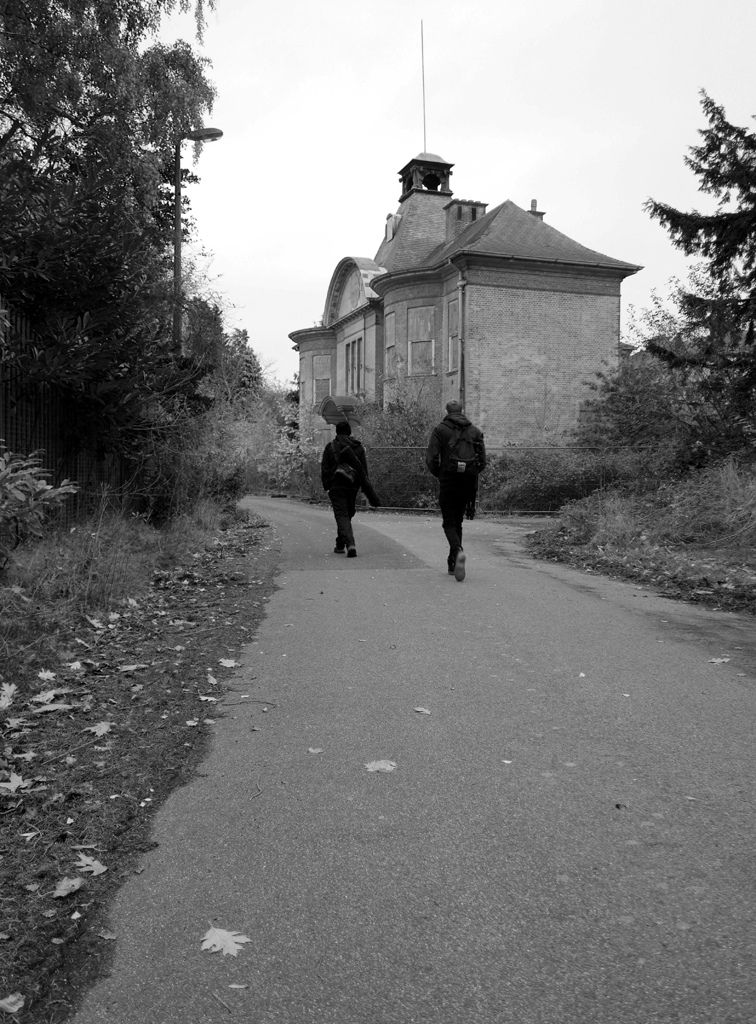 …and took one last shot before heading off for a much-needed Mac Attack.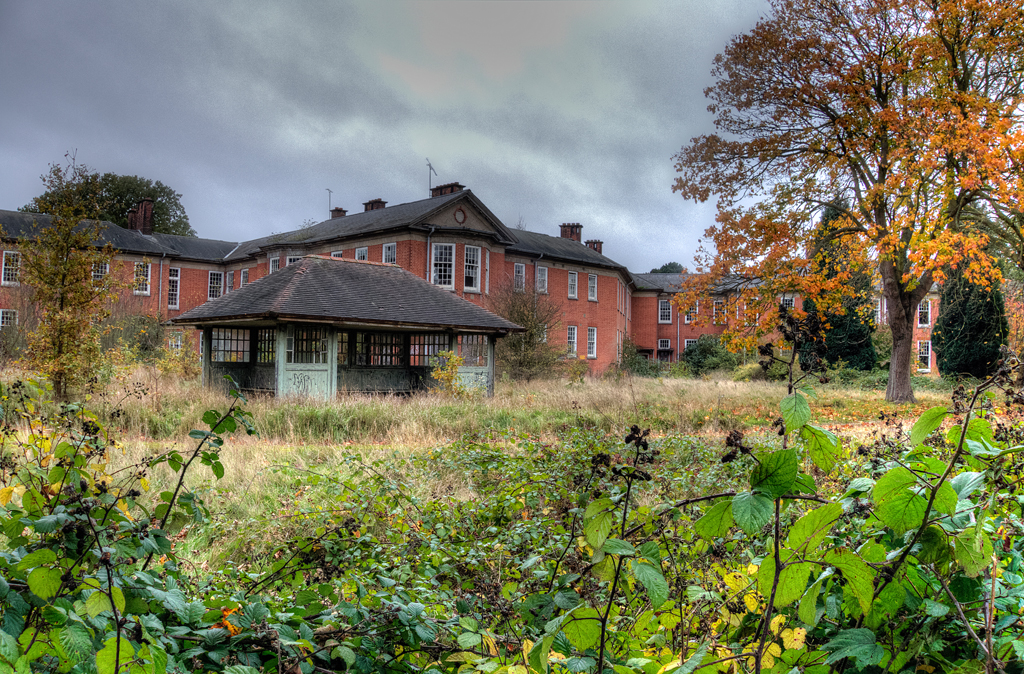 Epilogue:
I happened to revisit Sevs the following weekend with Matthew and some other explorers – we got nabbed by Michael within minutes!
UPDATE 08.12.2013:
When talking to Michael at "Santa Sevs" (report coming soon!) yesterday he said that he wasn't happy with the below photo which I had posted on 28dayslater as it showed his face. Michael, I'm very sorry, and meant no offence in doing so – you are a true legend and a gentleman. The photo has now been removed from my 28dl report, and I've edited it here so that your face is no longer identifiable – I hope that's okay, but if you want me to remove it entirely then I'll happily do so if you let me know through this blog. Cheers, and I hope you enjoy your Xmas present! 🙂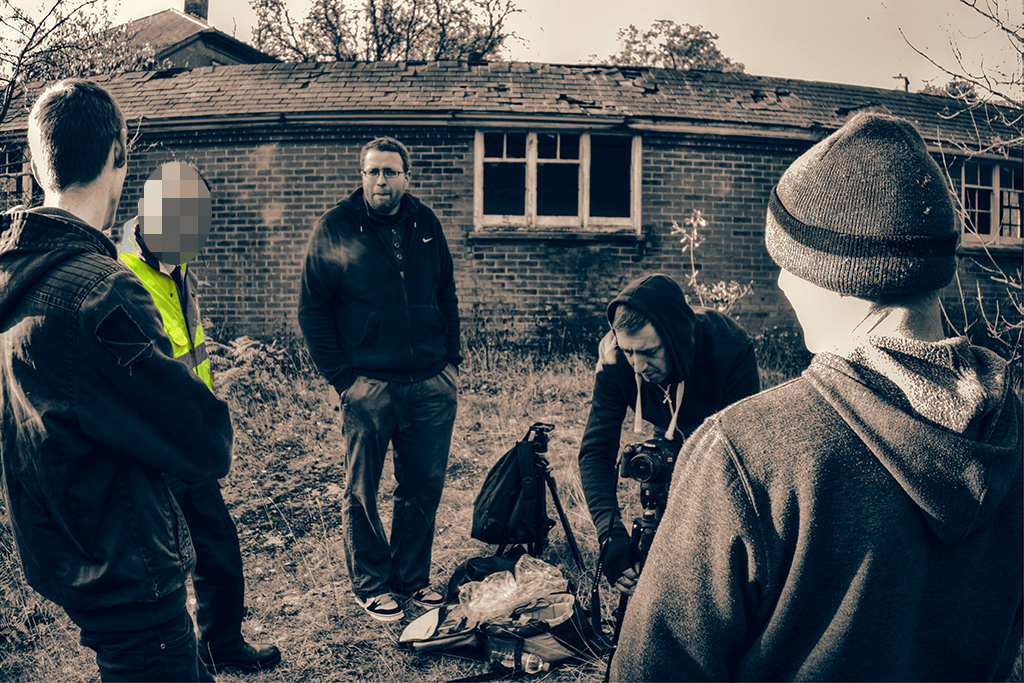 The photo below was taken by Matthew Adams of Unexposed Exploration and is used with his kind permission.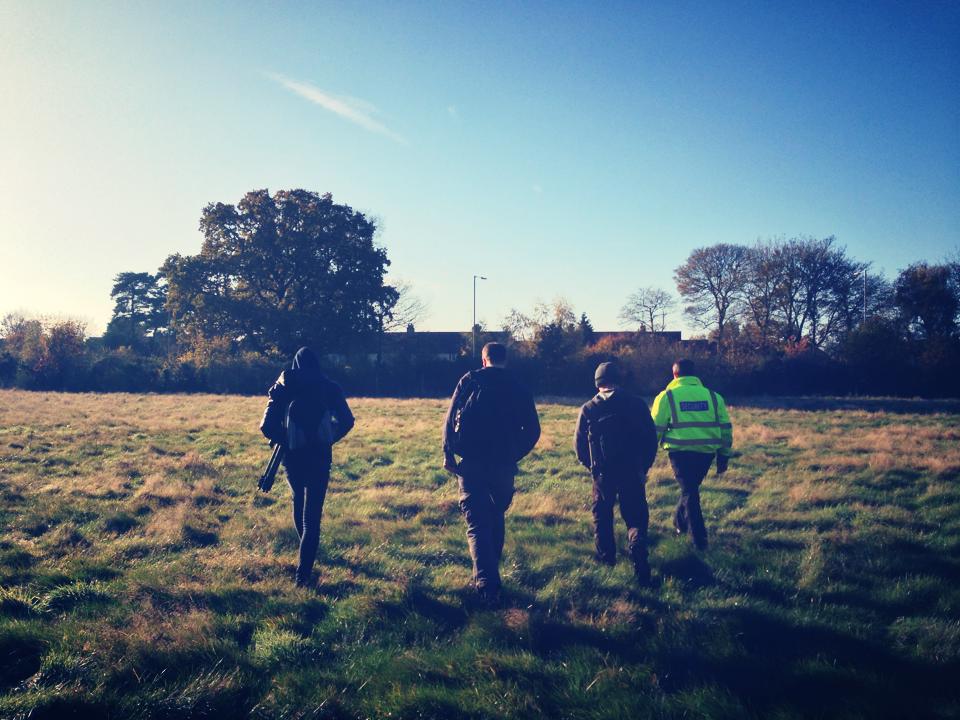 As always, thanks for looking and please sign up to follow this blog if you've not done so already!