Explore #5 of the Berlin or Bust Tour

After the one-shot wonder of my last report at The Blue Hospital, I've got an XL sized report for you this time!
After enjoying a few well-earned beers at our motel the night before, it was a traditionally early (5am!) start for Day Two of our German weekender. Despite our exhaustion we were keen to get going, as we were headed to the centrepiece around which the whole long weekend had been planned – the incomparable and world-famous Beelitz.
History
Originally built in 1898 on the plans of architect Heino Schmieden, this vast complex of approximately 60 buildings was designed as a sanatorium for the Berlin workers' health insurance corporation to treat lung diseases such as tuberculosis, which at that time killed nearly 1 in every 3 Berliners.
Following the outbreak of World War I, Beelitz was used as a military hospital for the Imperial German Army. A young Adolf Hitler was (in)famously treated here between October and November 1916 after being wounded in the leg at the Battle of the Somme.
Beelitz was used as a field hospital to treat wounded Nazis during World War II. It was occupied by Red Army Forces in 1945, and remained a Soviet military hospital for the next 50 years until 1995, well after the fall of the Berlin wall.
In April 1990 Erich Honecker was admitted to Beelitz, after being forced to resign as the head of the East German government on 18 October 1989 shortly before the fall of the Berlin wall on 9 November 1989. It was here that he was diagnosed with the malignant liver tumour from which he died in May 1994.
The site gained further notoriety around this time when the serial killer Wolfgang Schmidt, also known as the Pink Giant or The Beast of Beelitz, murdered four of his six victims in the hospital grounds during 1990. You can read more about his grotesque crimes here if you really want to.
Yet another dark episode in Beelitz's recent past occurred in 2008, when a well-known photographer called Michael F brutally murdered a 20 year old model called Anja P with a frying pan after having photographed her, and then had sex with her corpse.
Following the Soviet withdrawal in 1995 attempts were made to privatise the hospital, but none were successful. Today a few small sections are used for neurological rehabilitation and Parkinson's research, but the majority of the vast complex lies decaying.
According to a company which charges to run photography tours here, there may be an investor looking to renovate the Men's sanatorium buildings in 2015. However, this has not been confirmed.
In recent years the site has also been used as a film location for The Pianist and Valkyrie amongst others, as well as music videos by the likes of Rammstein.
Our Explore
James and I had no intention of paying the €50 fee charged by the tour company which runs visits to some of the main buildings, so we arrived EARLY and did it the urbex way.
As always, click on a photo to VIEW LARGE.
The Men's Bathhouse
First up, we explored the beautiful Men's Bathhouse – this was one location where I really could have done with a fisheye lens to get it all in!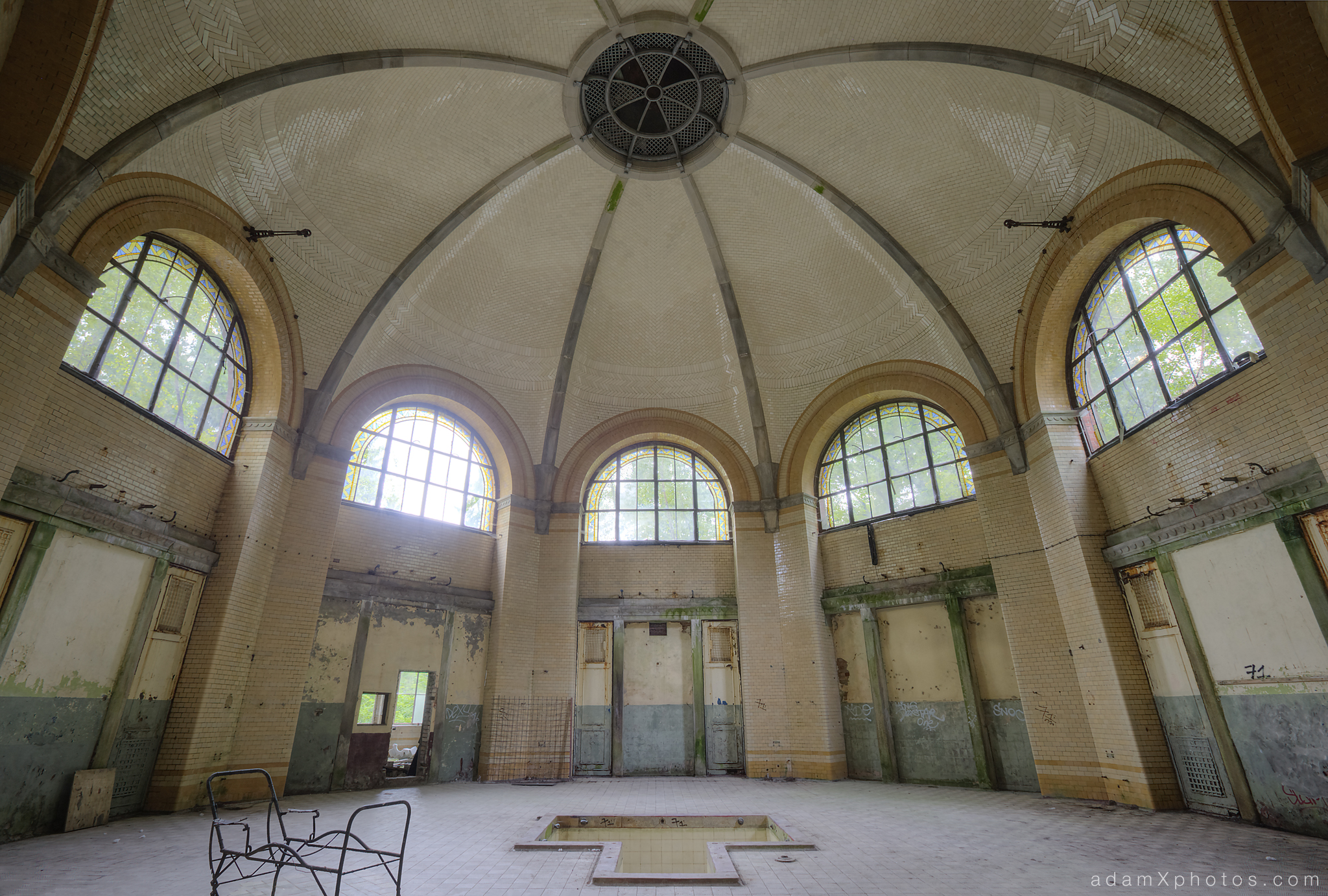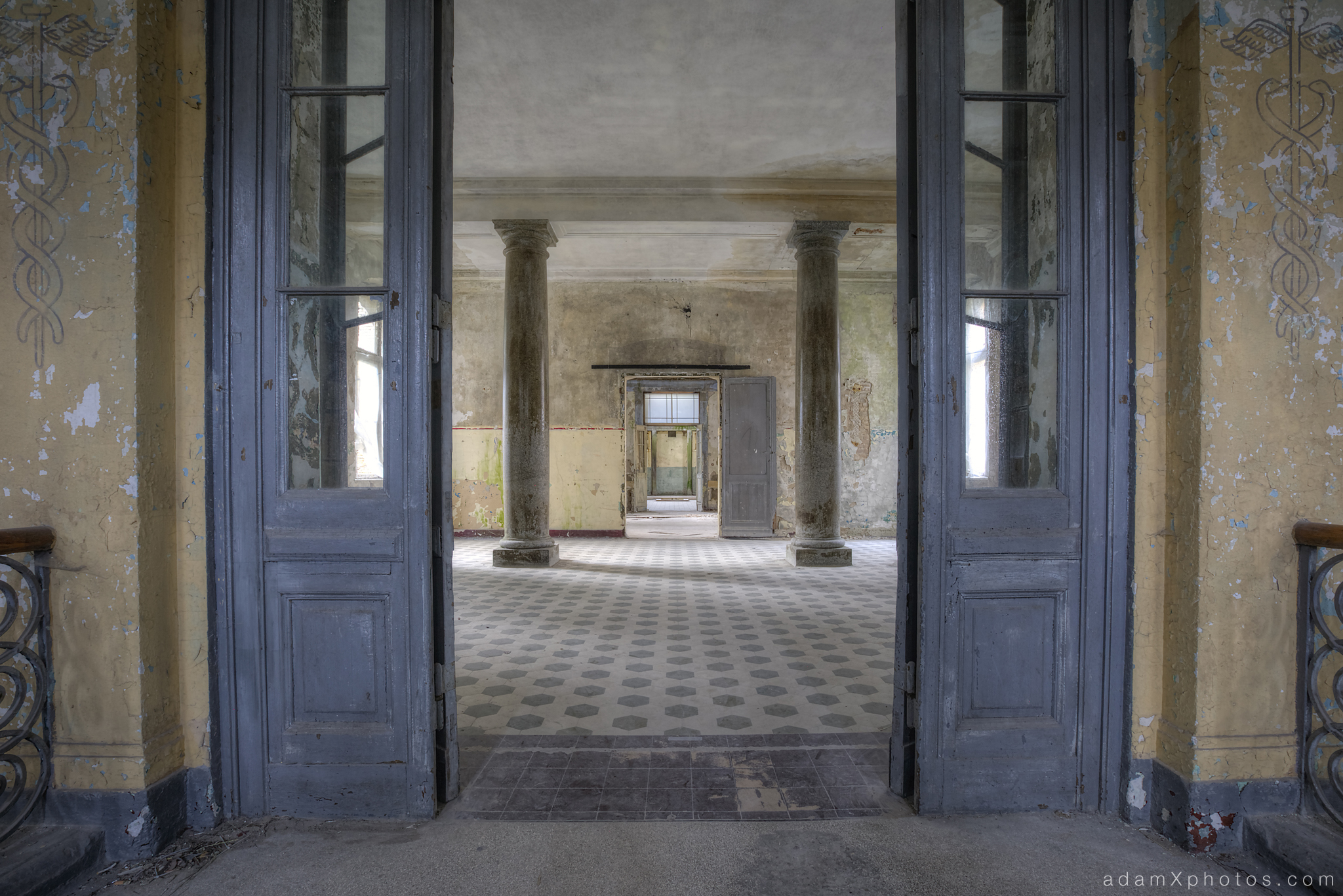 Doors through the Bathhouse reception.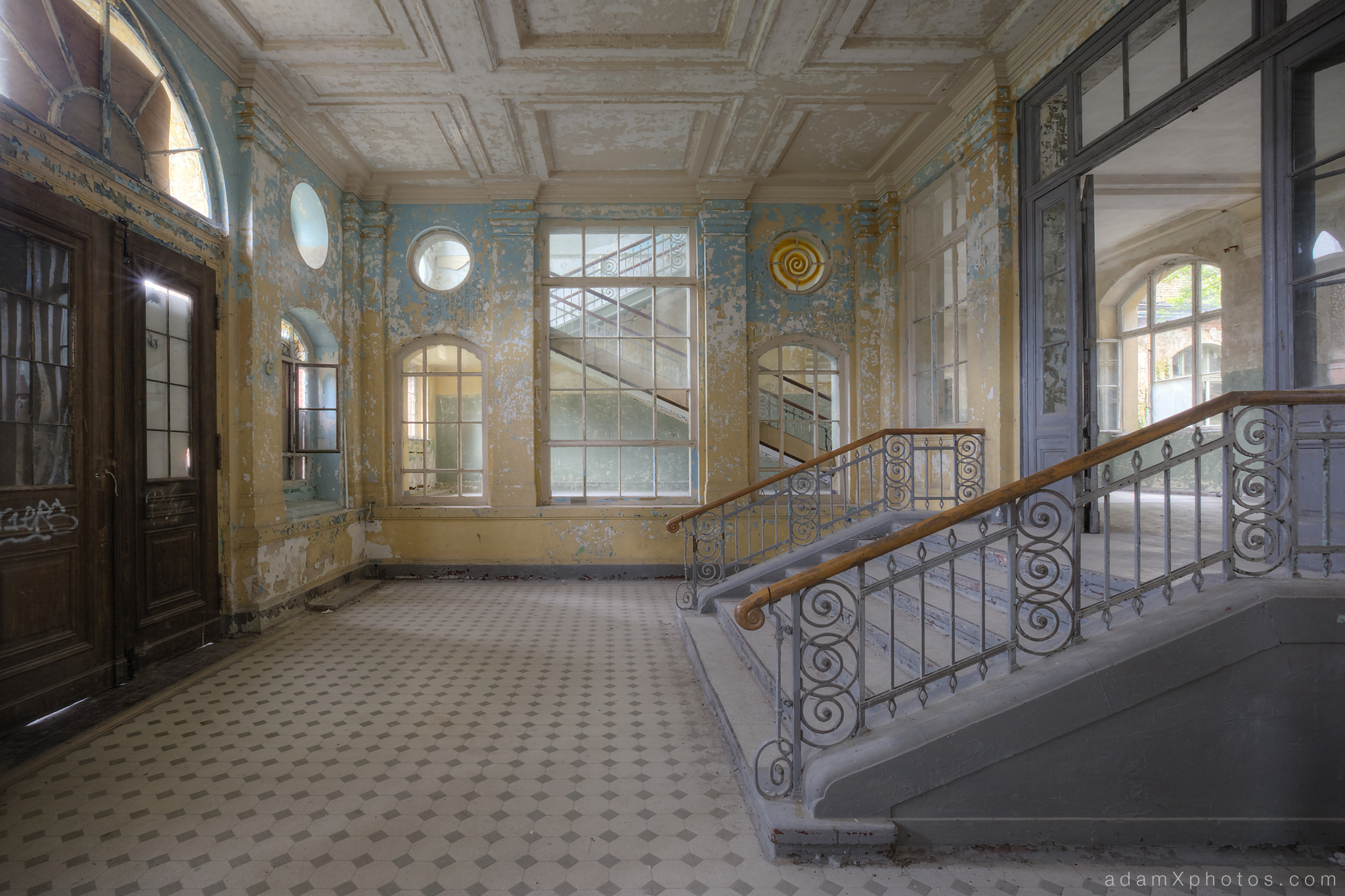 The reception / foyer of the Bathhouse – I loved the delicate decay and ornate floor tiles.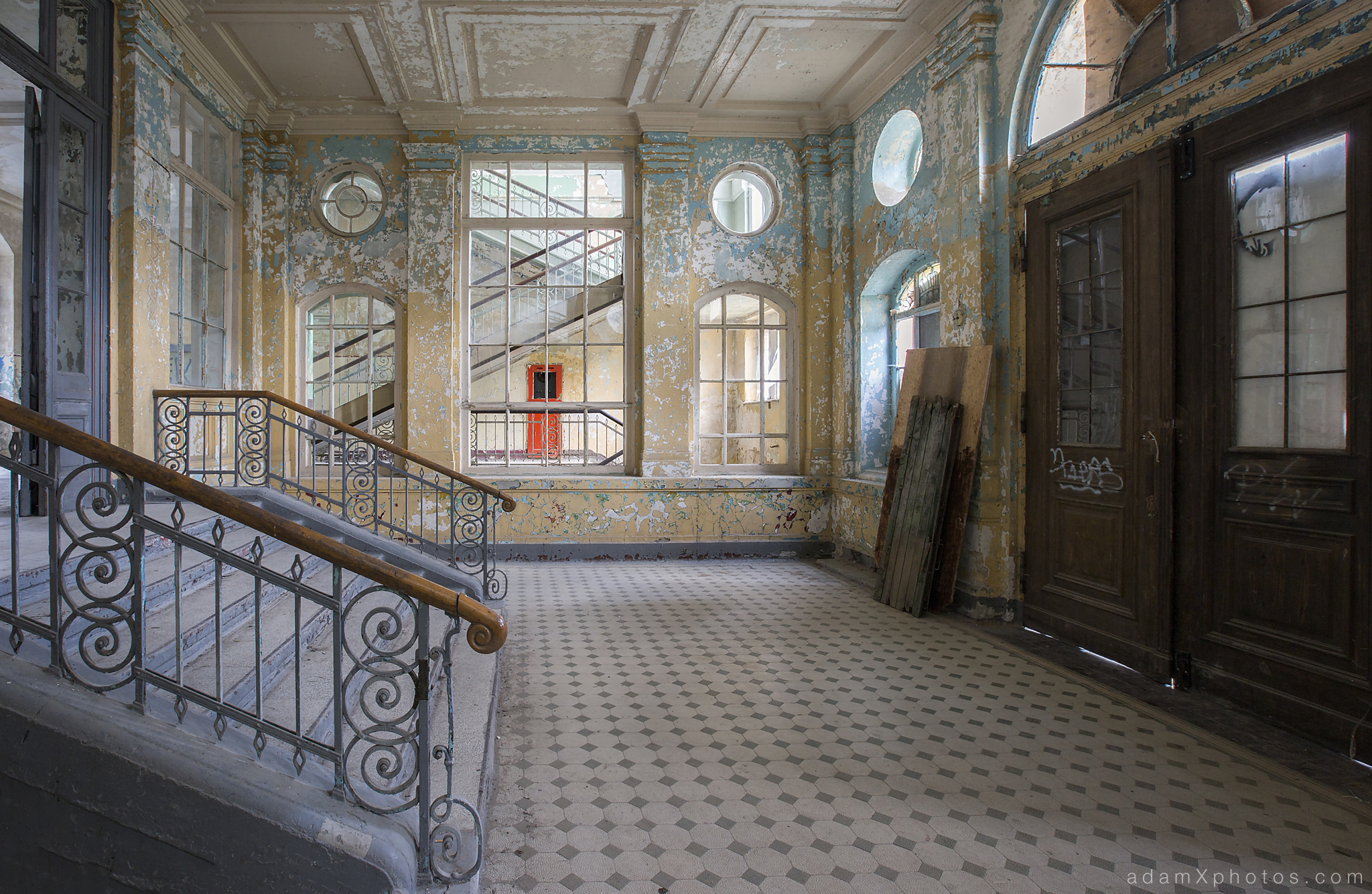 I then explored upstairs…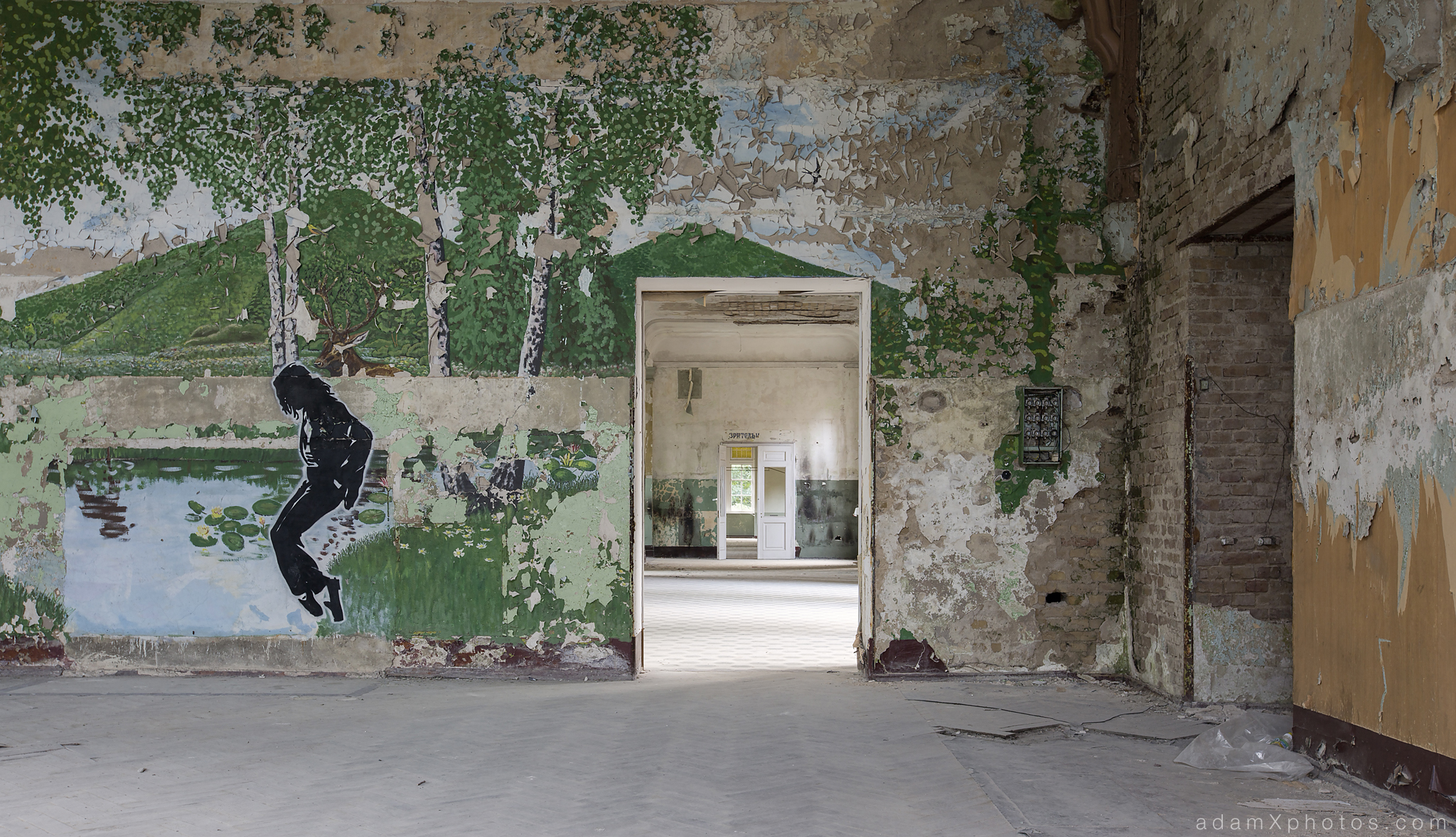 The King of Pop lives on in Beelitz…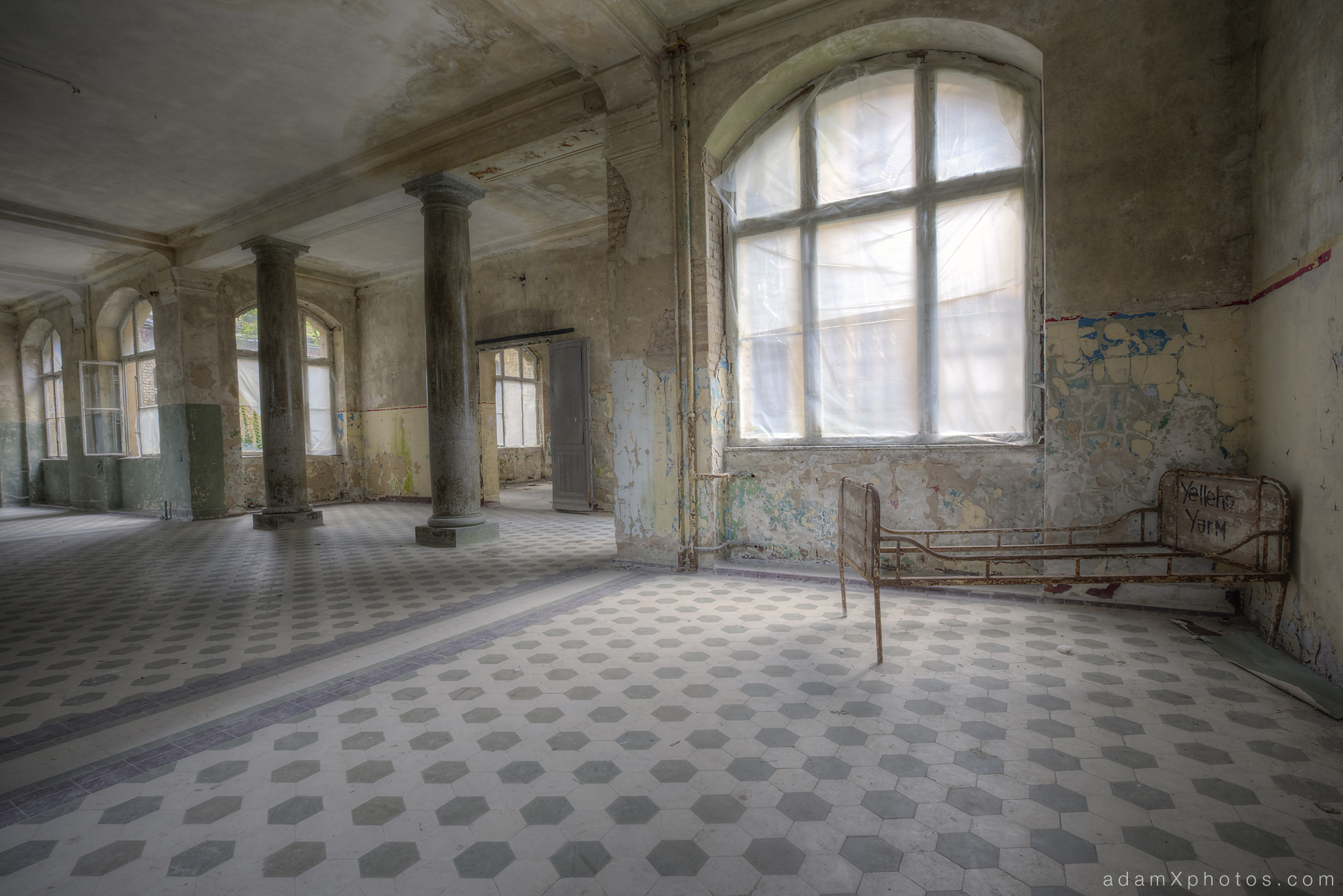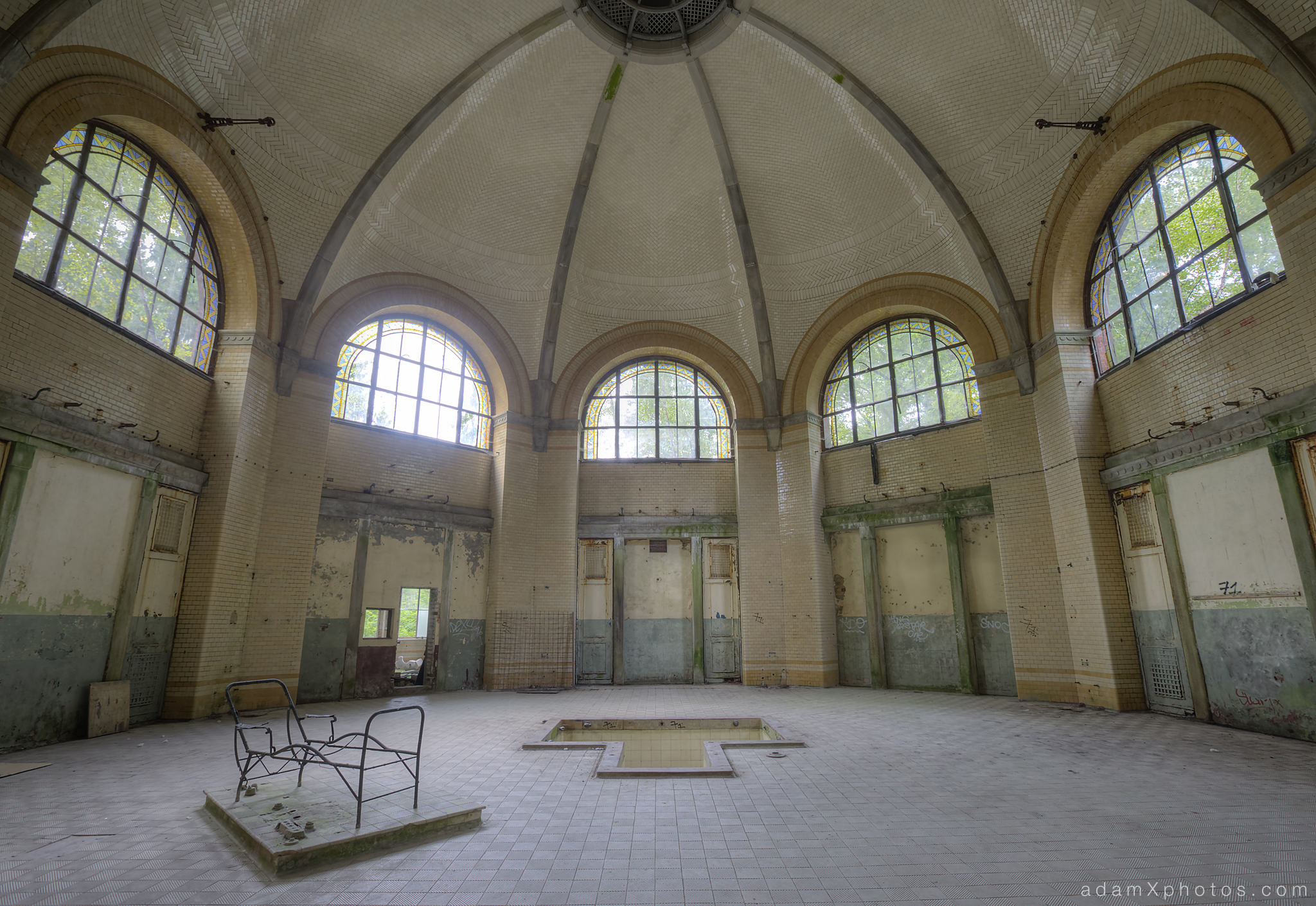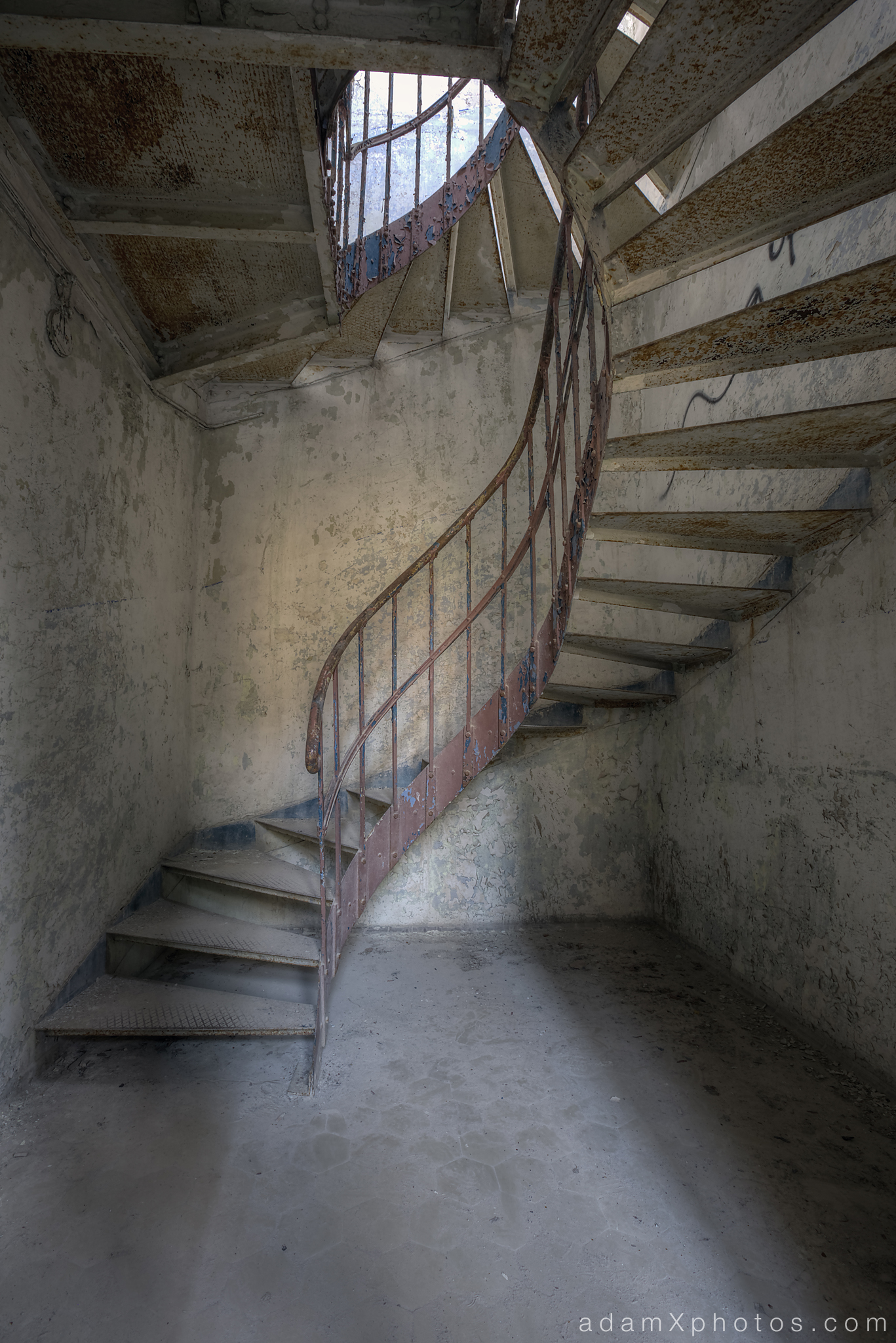 There are so many corridors to photograph in Beelitz, each one a unique combination of detail, colour and decay.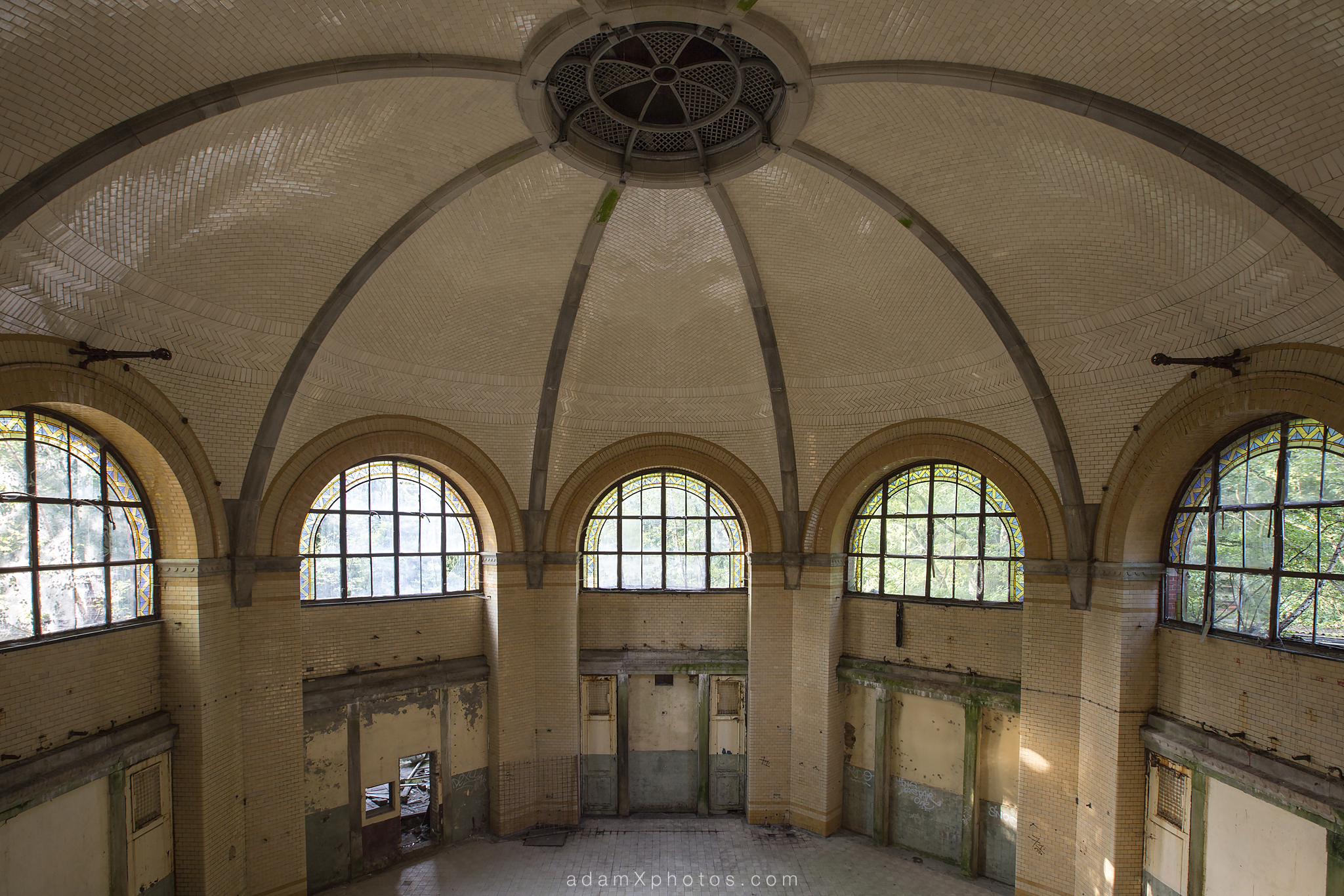 Balancing precariously on a chair wobbling on top of some old boxes I managed to grab this shot through a small window which looked out into the main baths.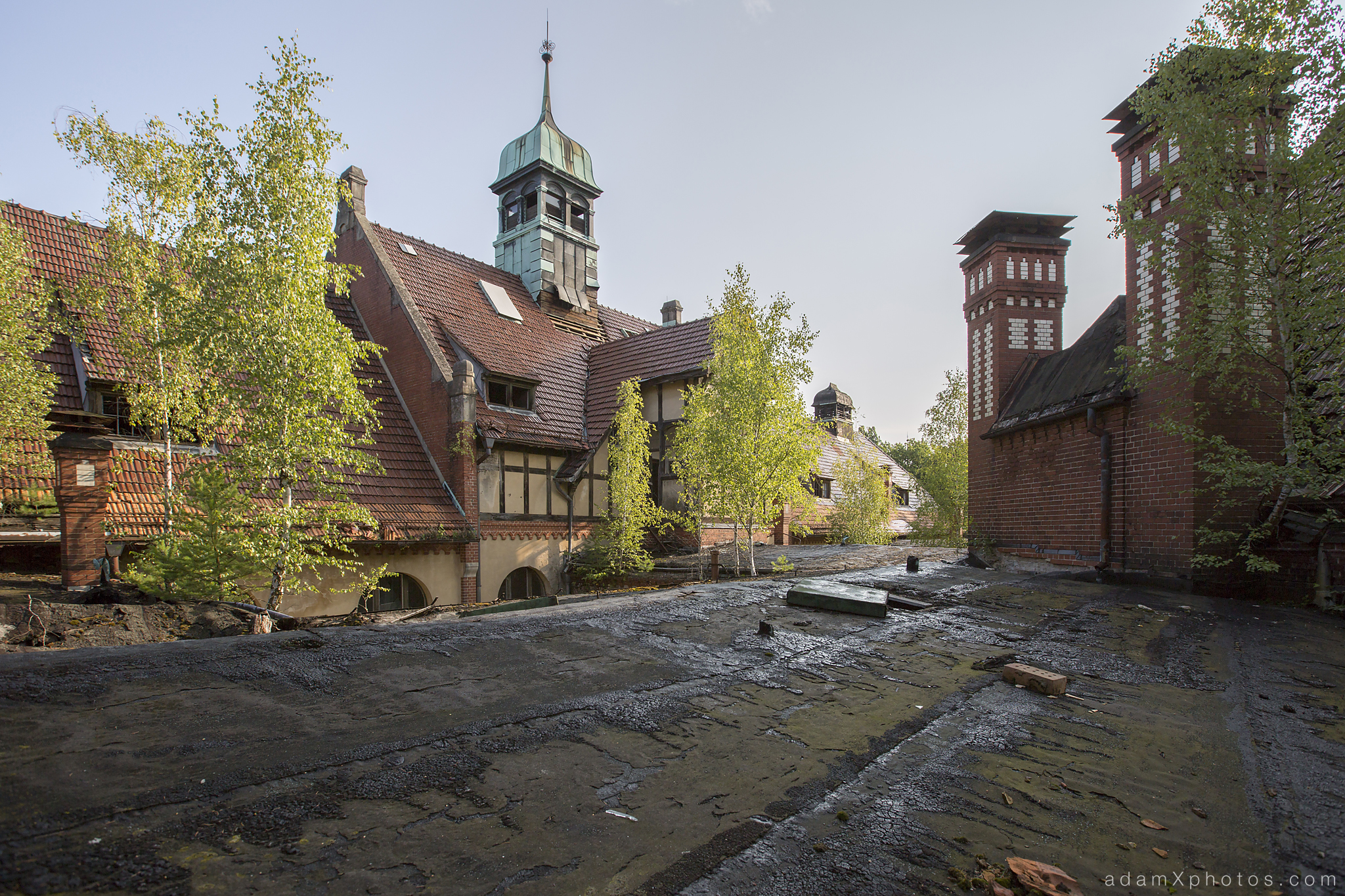 I then ventured gingerly out onto a rooftop and breathed in the warm mid-summer air.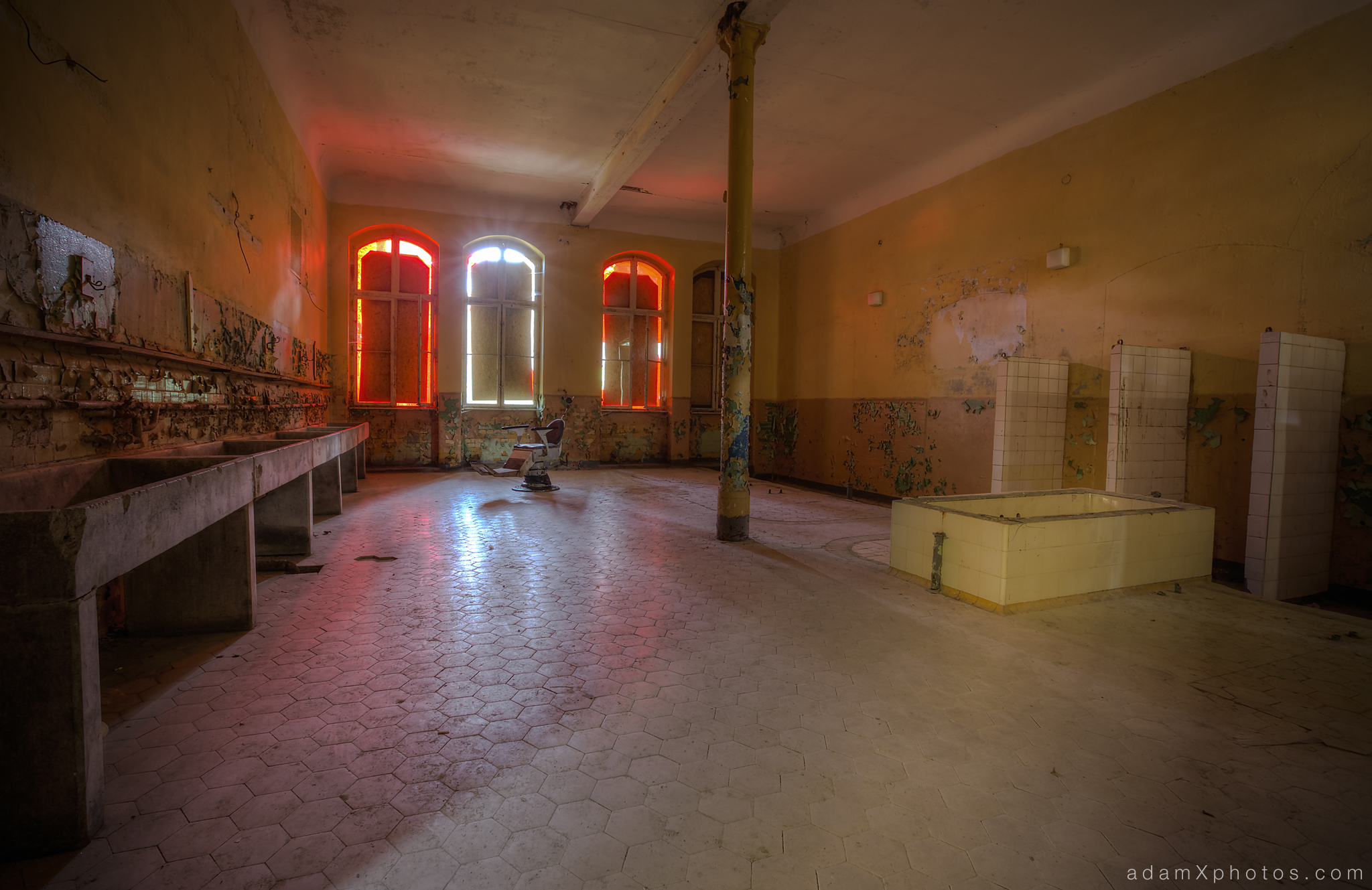 Back downstairs I found this old shower room, tinged with a deep red glow from the window boardings…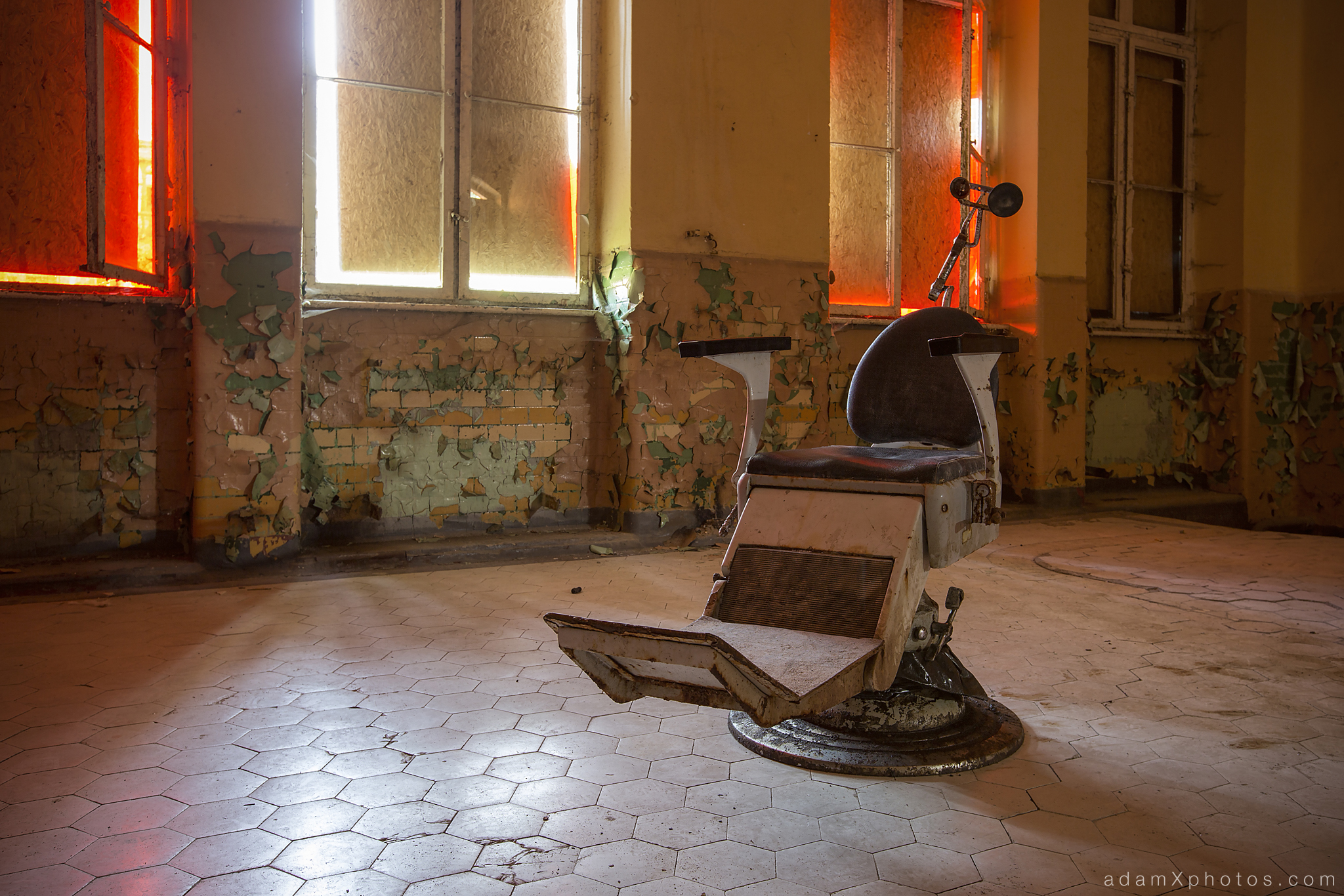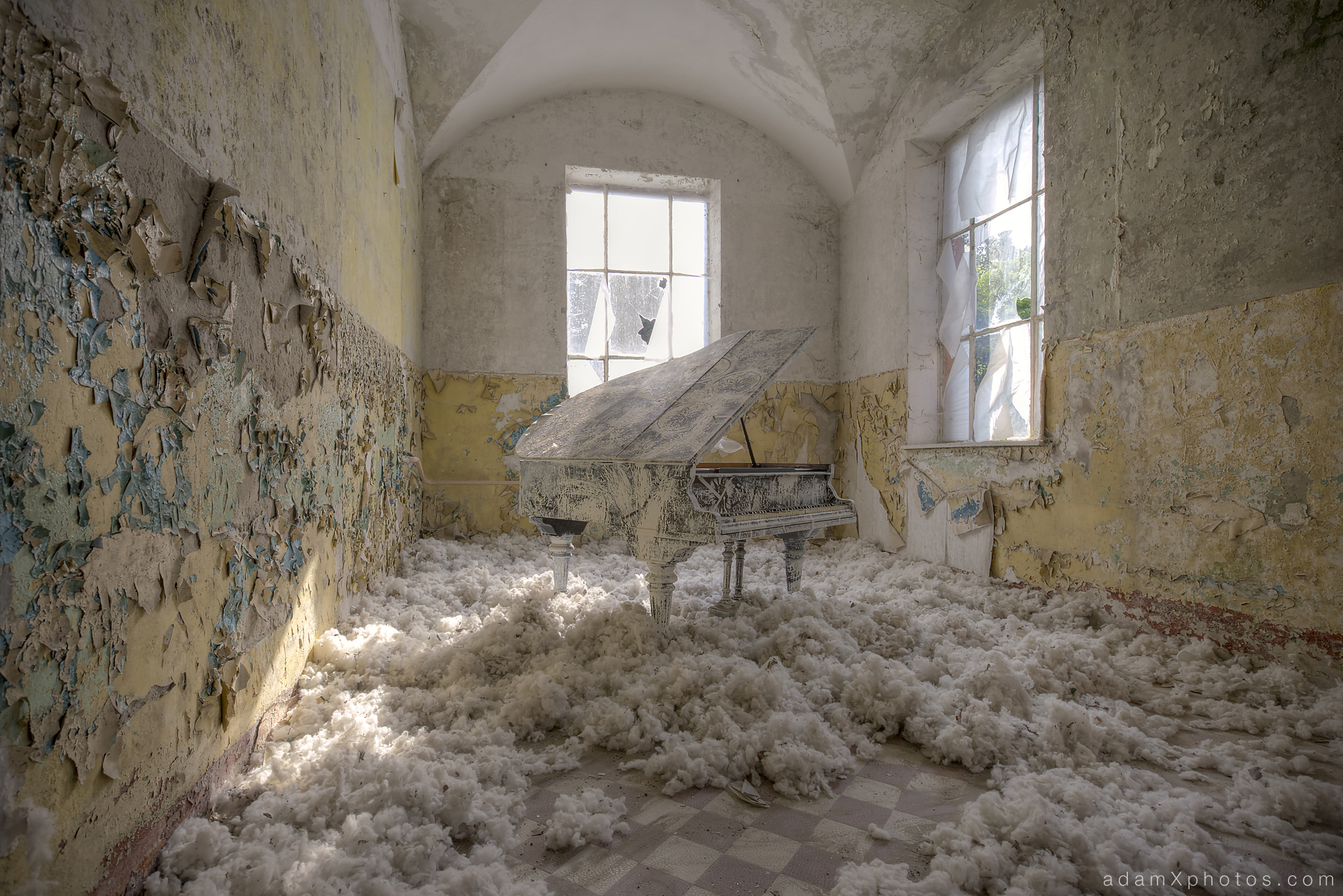 We were just about to move on to the next building, when I decided to have a quick look down a dark and decayed corridor, and turned the corner to see this amazing view!

We then took a quick team shot…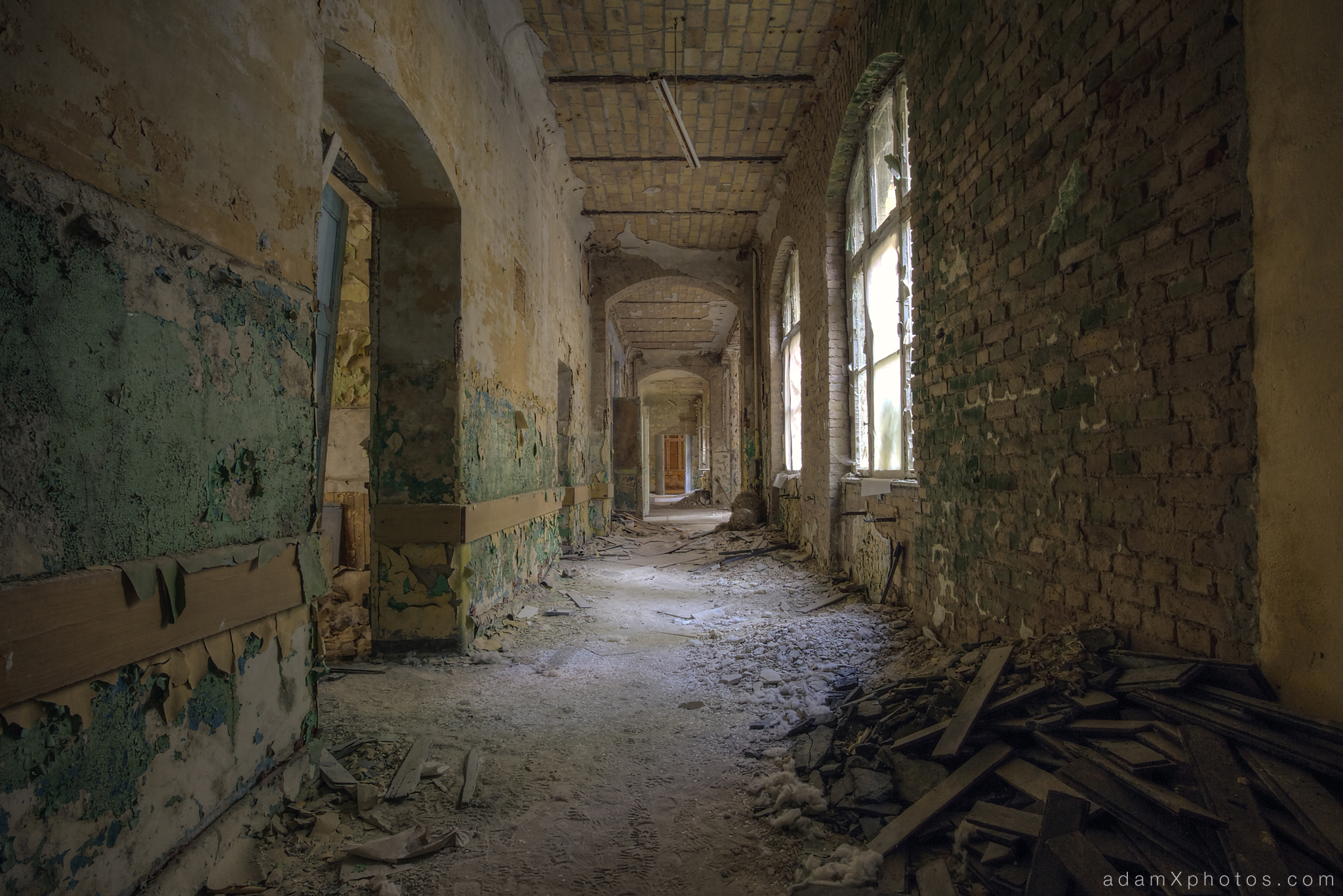 …before heading out and on the the Men's sanatorium.
The Men's Sanatorium
After a bit of searching we worked out our way inside the main building.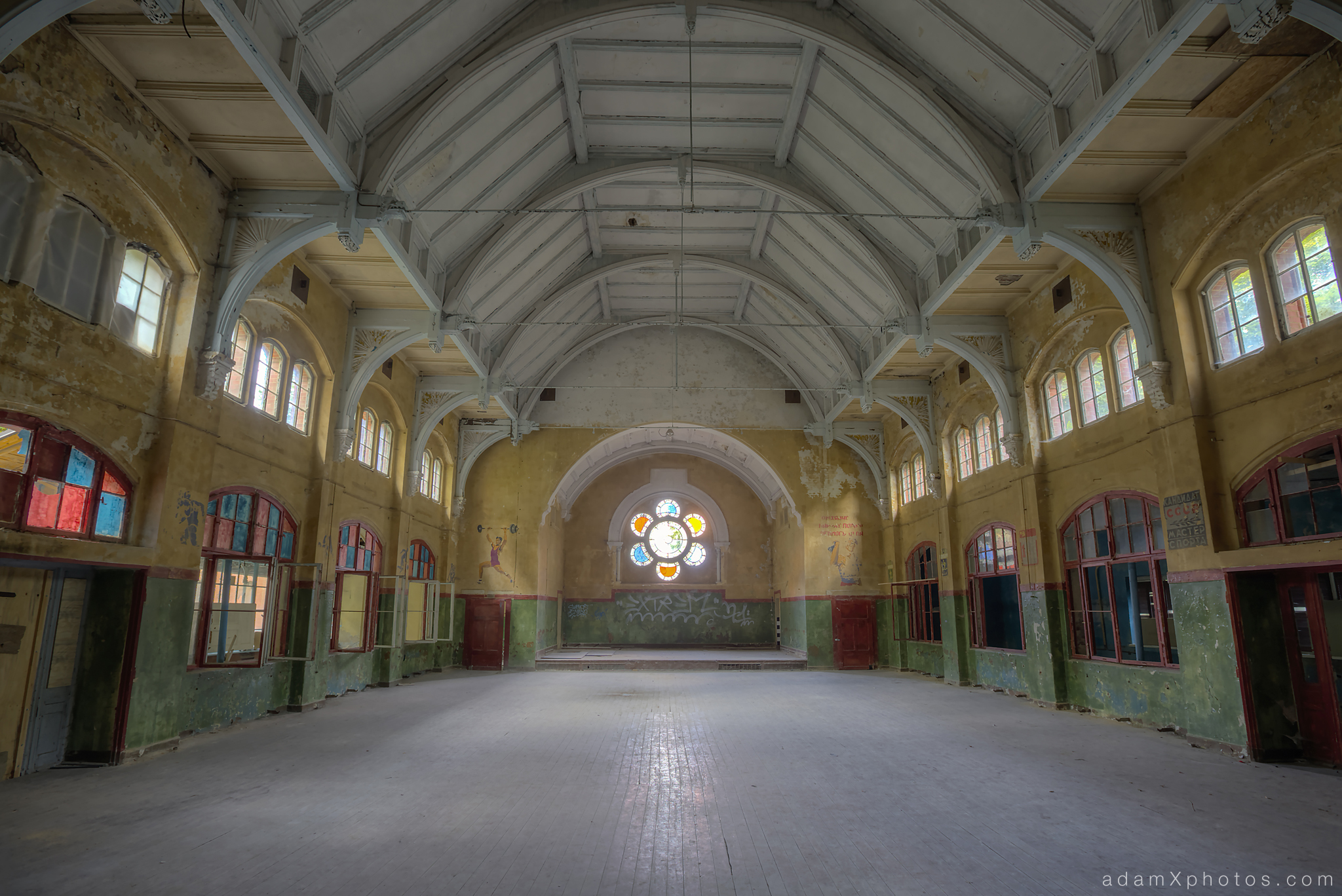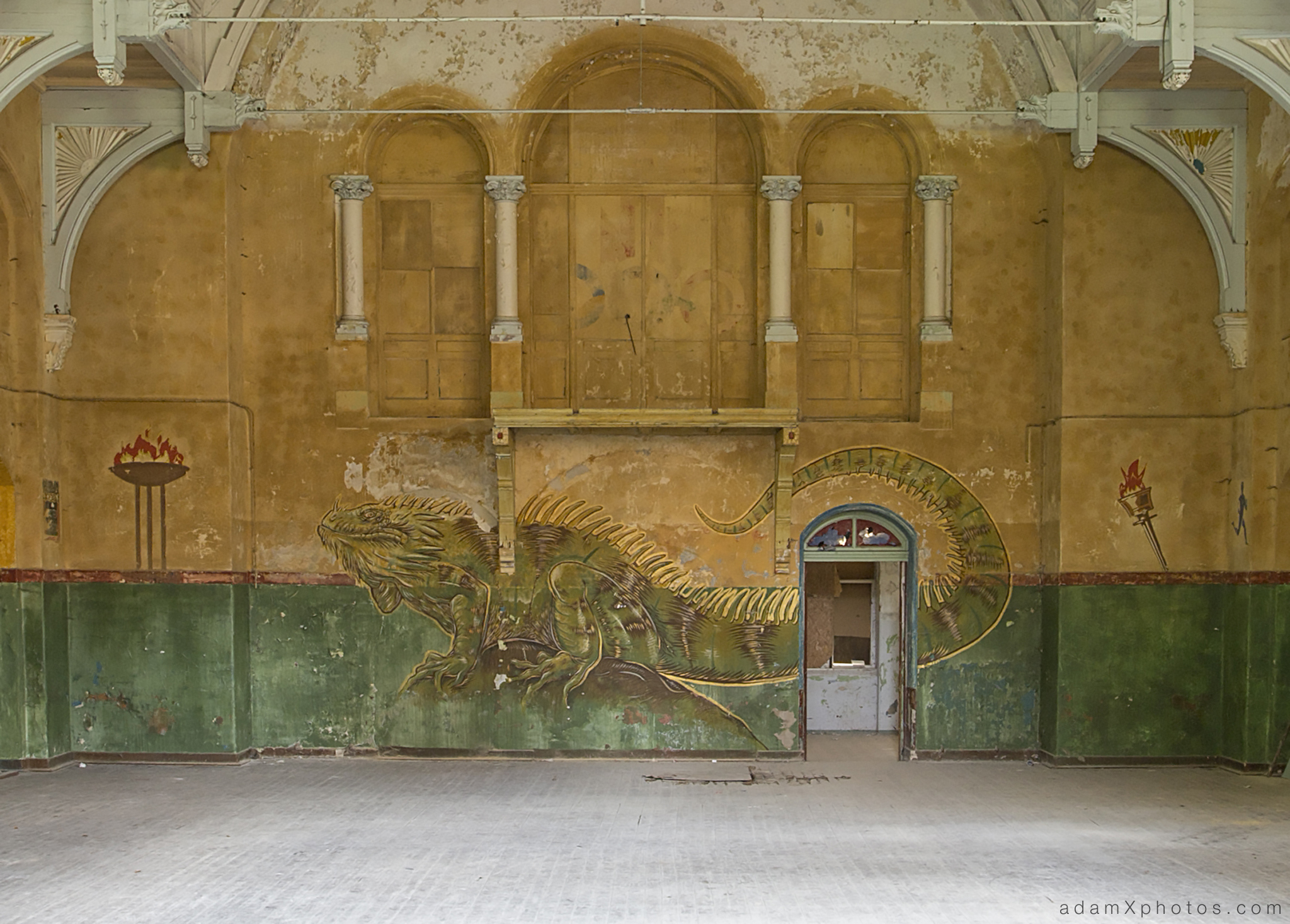 There is lots of graffiti scattered throughout the buildings of Beelitz – this is one of the larger examples.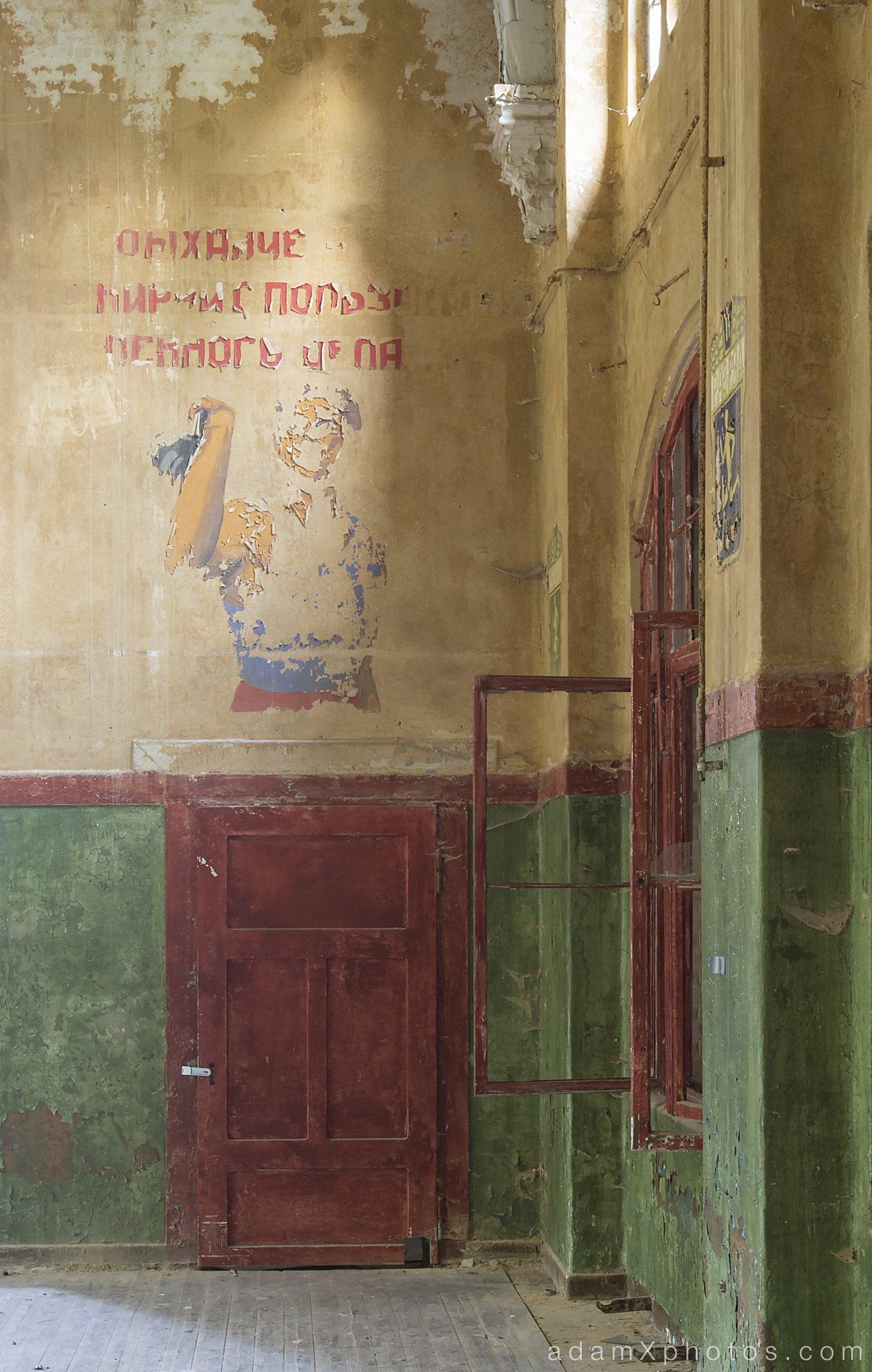 The last peeling remains of a wall painting and slogan from the era of Soviet occupation.

We soon made our way to grand staircase of the main entrance, where I took this shot of my exploring buddy James of James Kerwin Photographic.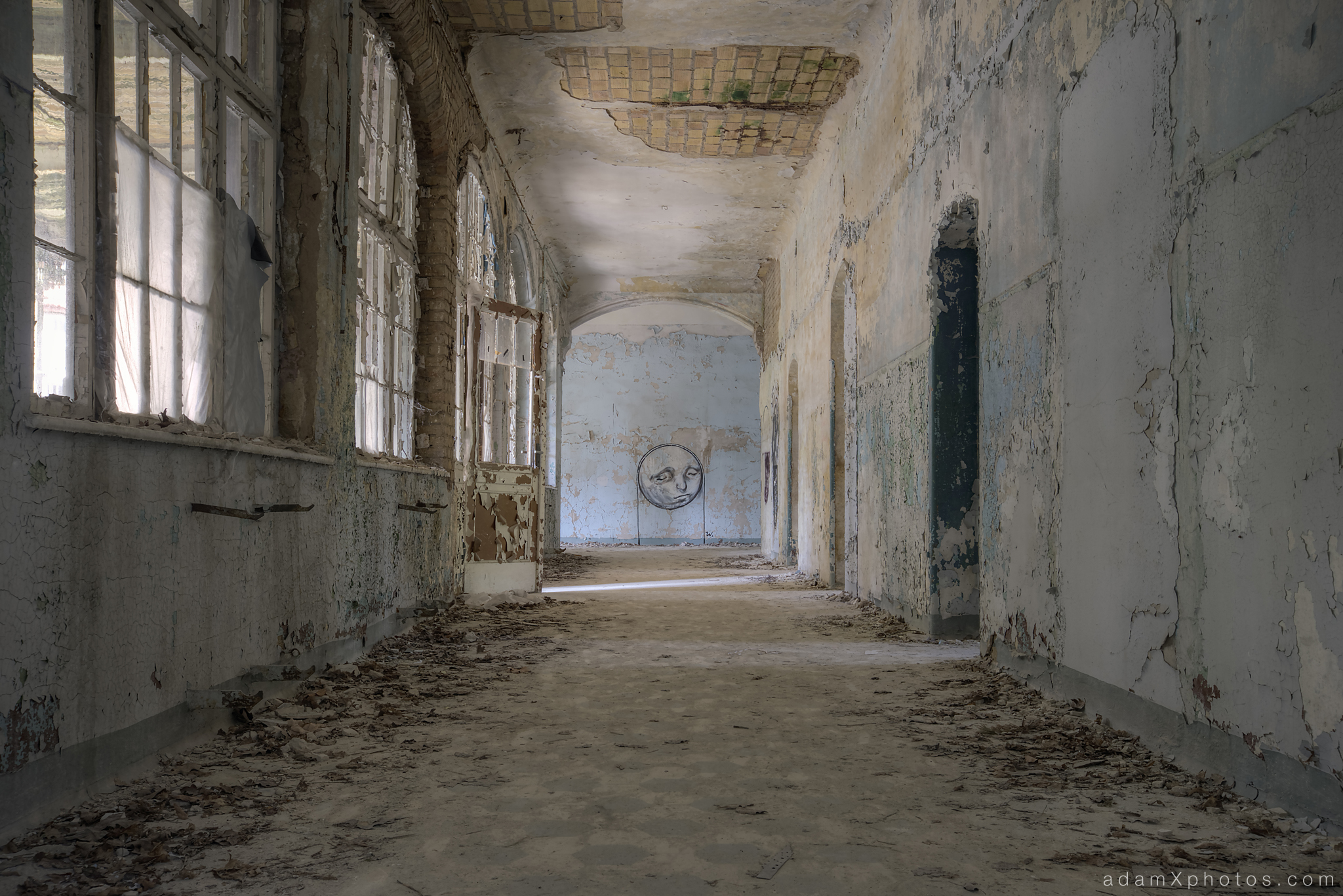 This "Man in the Moon" was one of my favourite pieces of graffiti art that I came across.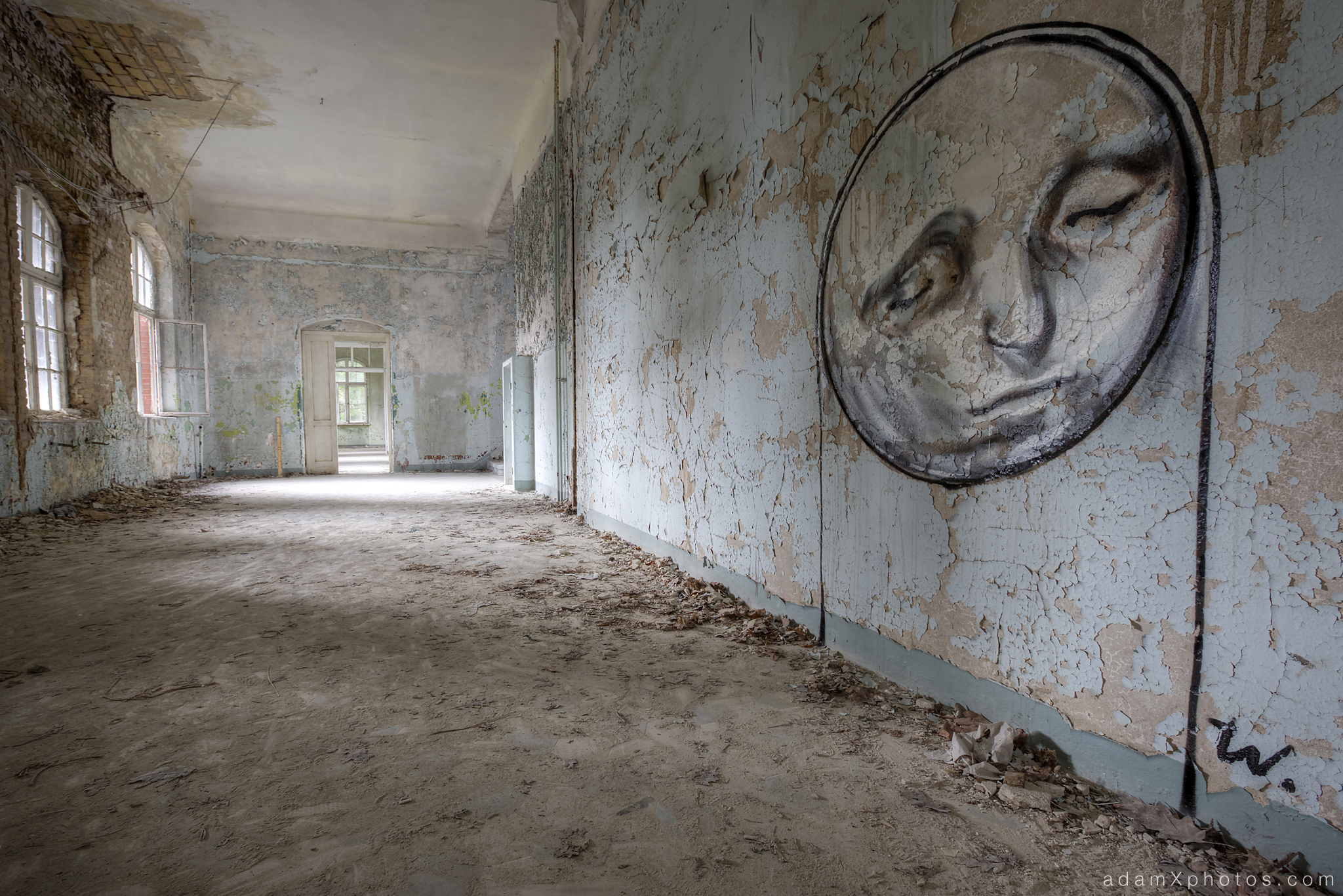 I wonder who the mysterious "W." is? Please drop me a comment on this post if you know the answer!

This face was another great piece of art – graffiti seems the wrong word for such skill!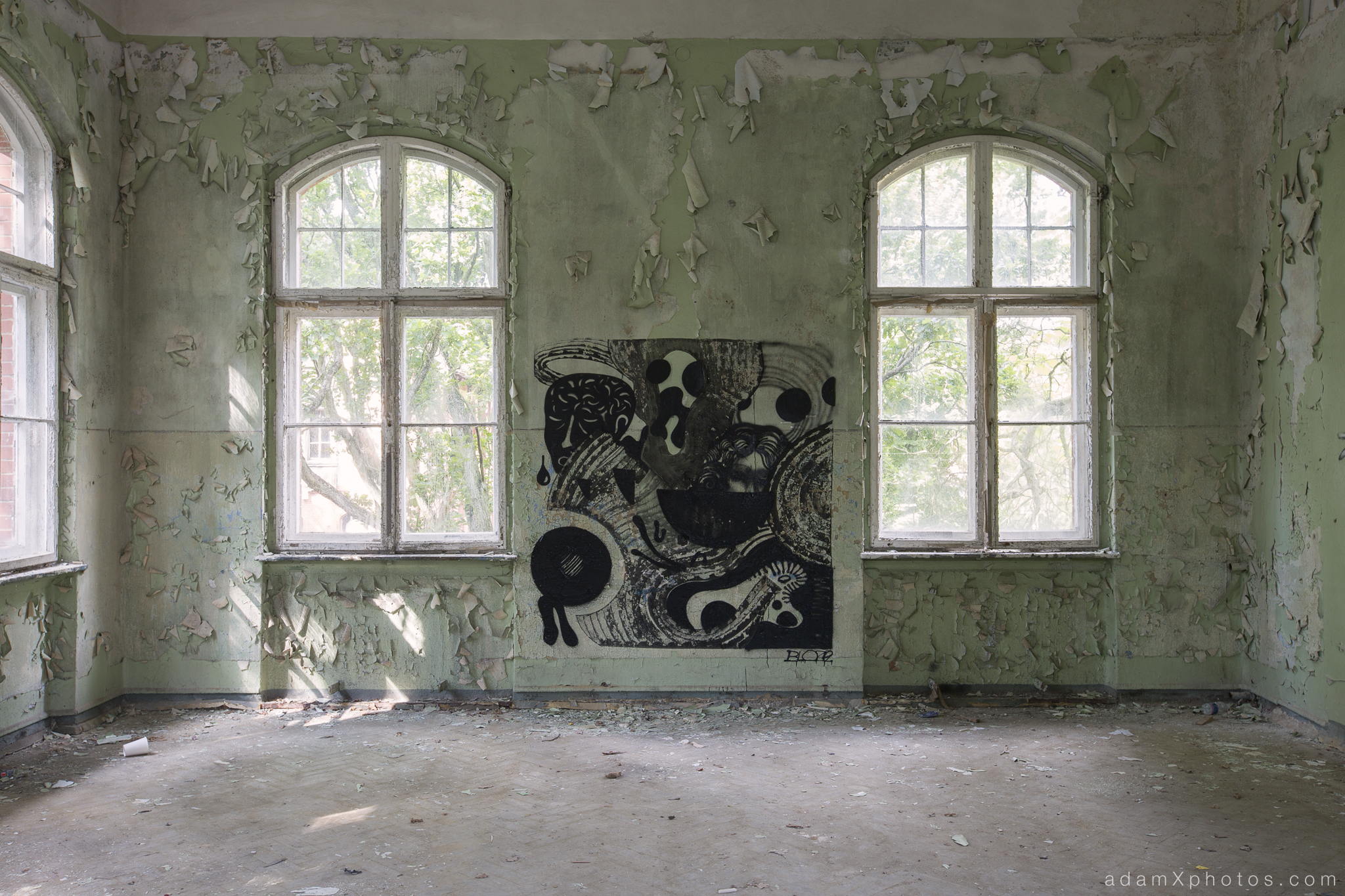 A view of the overgrown exterior of the sanatorium, taken through one of its many broken windows.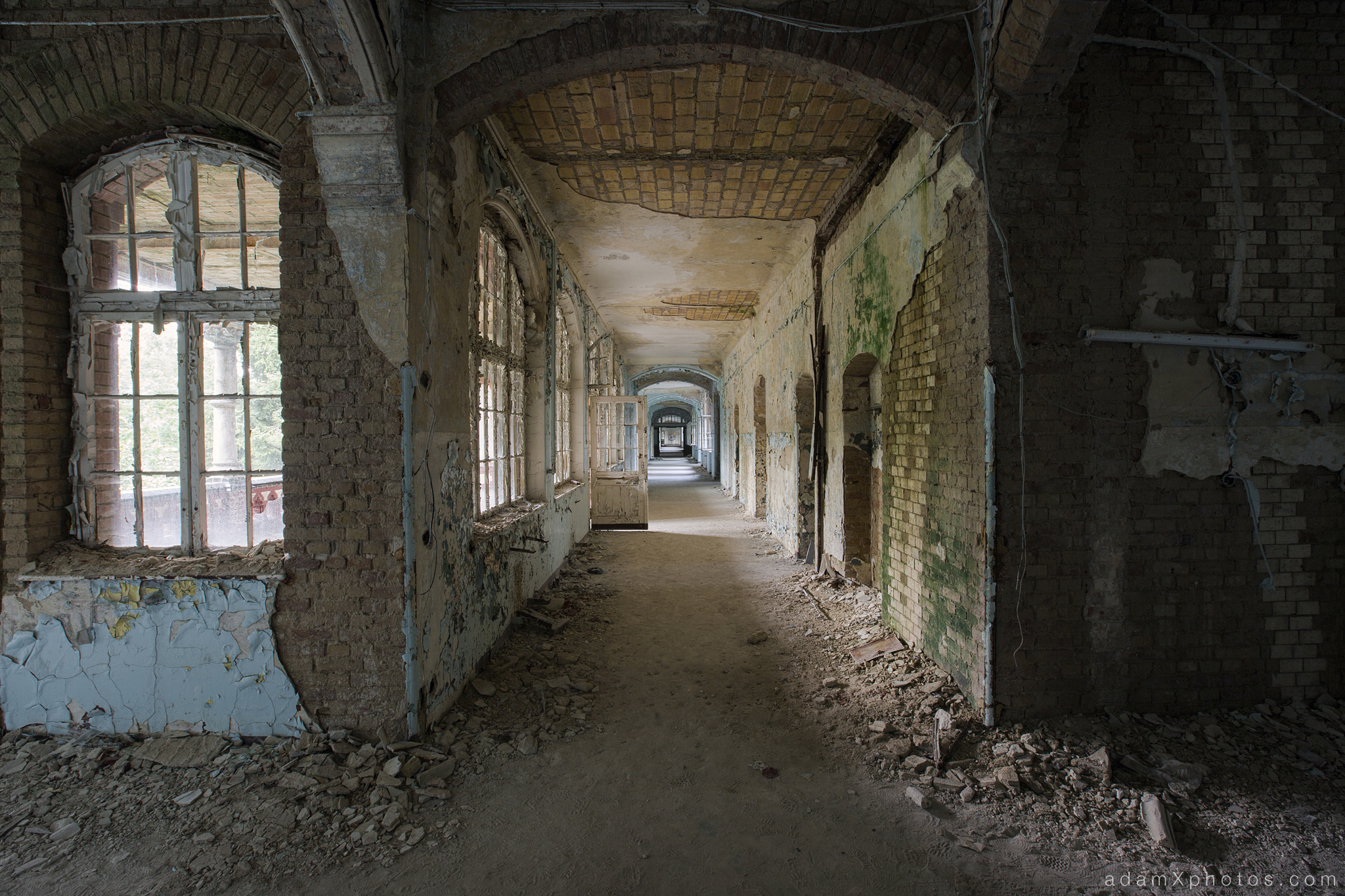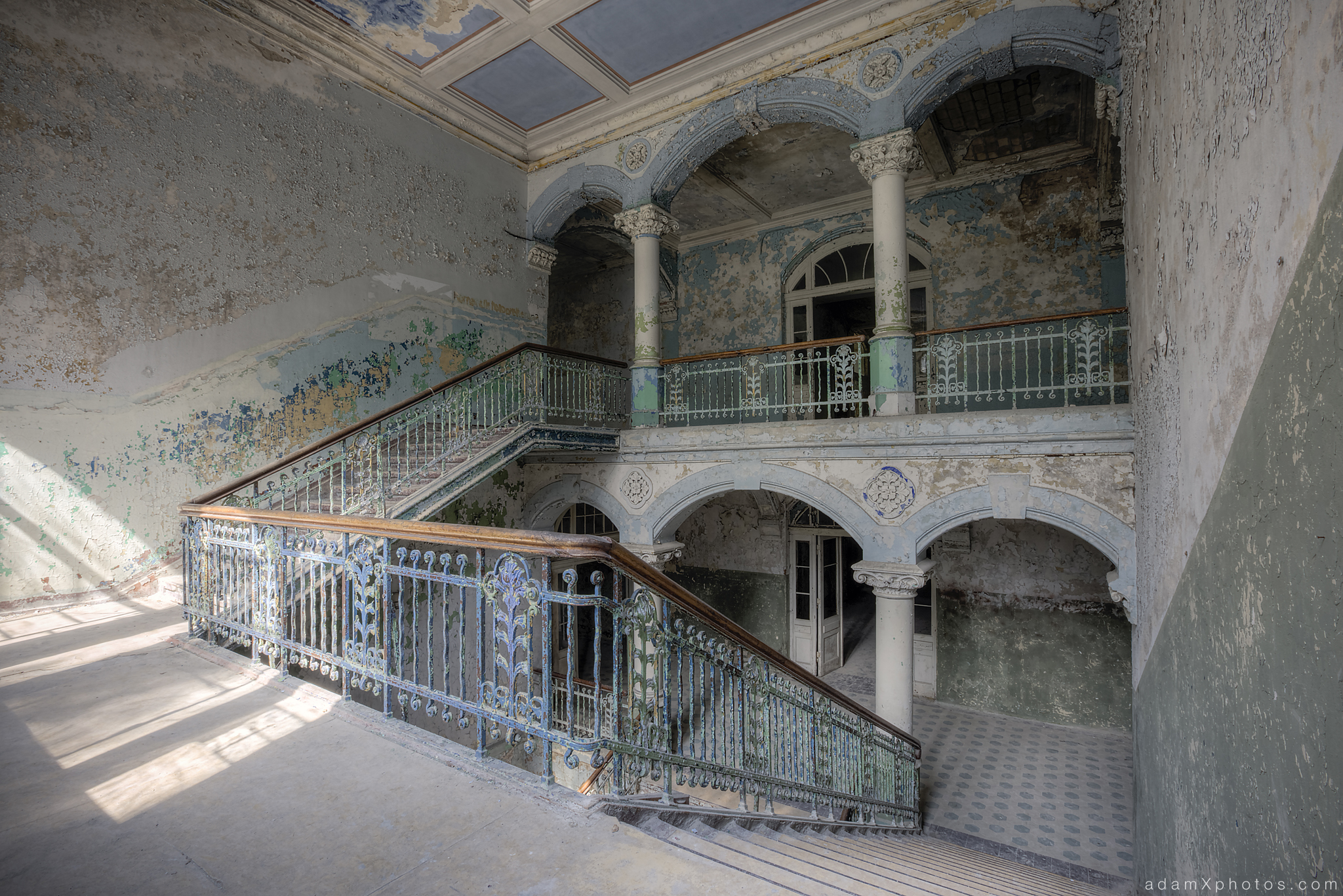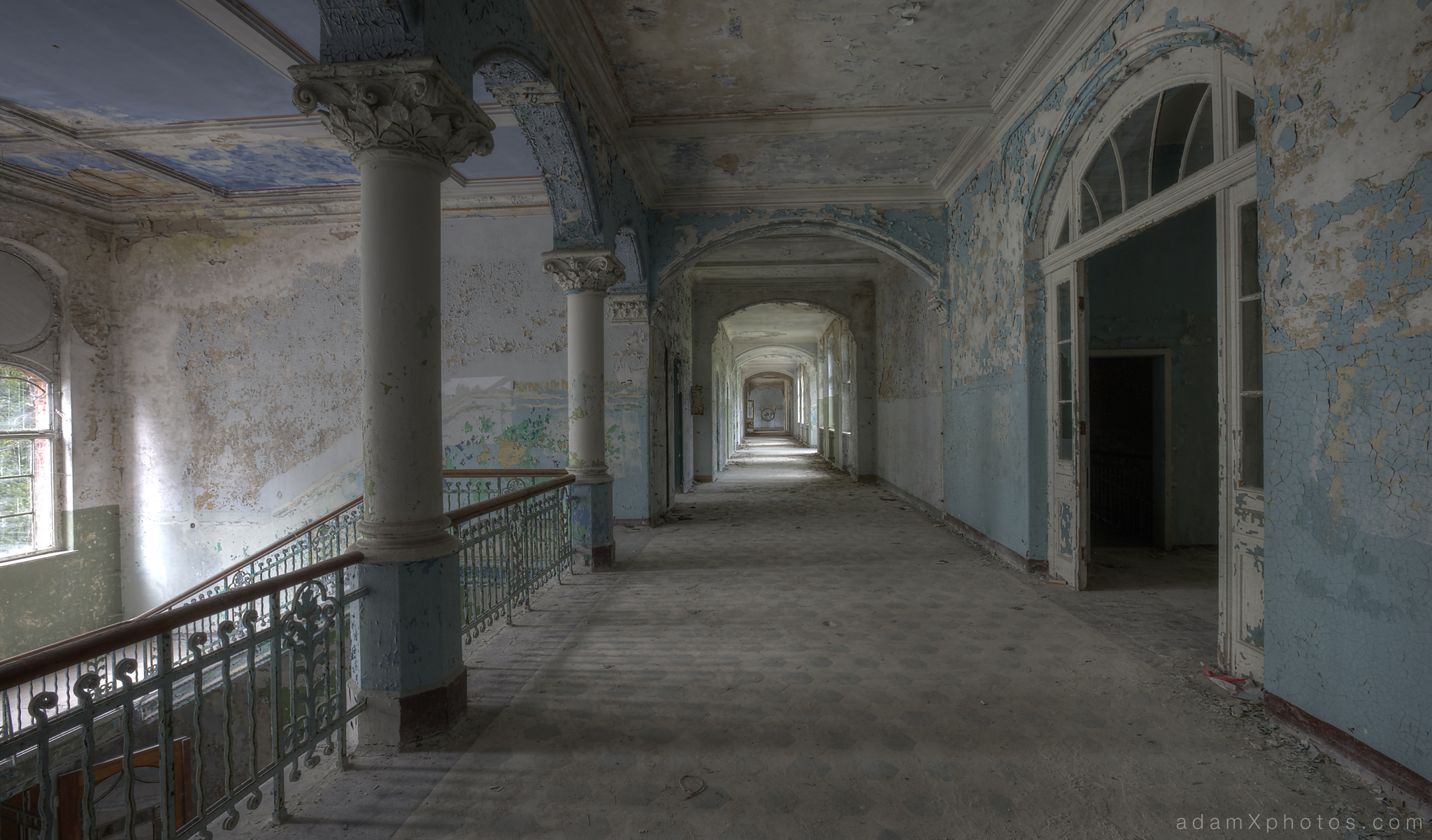 Unfortunately after about an hour or so we were interrupted by a tour group arriving – I was stood on the steps by the main entrance when I heard a VERY loud german voice, and the sound of the front door right below me being unlocked!
I legged it up the stairs, found James, and we hid up in an attic room at the top of a dark and decaying flight of stairs up which we figured the "tourists" would be unlikely to venture. I took the opportunity to have a lie down, which turned into my first sleep in a derp! James amused himself by playing about on his phone and posting photos of me napping on Facebook…
After waiting it out for at nearly an hour it became clear that more and more tour groups were turning up and looking around. Rather than waste more valuable exploring time we decided to make a dash for it, which entailed us performing a sudden disappearing act under some floorboards in front of a couple of baffled tour group members!
And so we went on to a number of other smaller nearby buildings, including the butchers, bakery, and laundry buildings.
Butcher / Bakery / Laundry buildings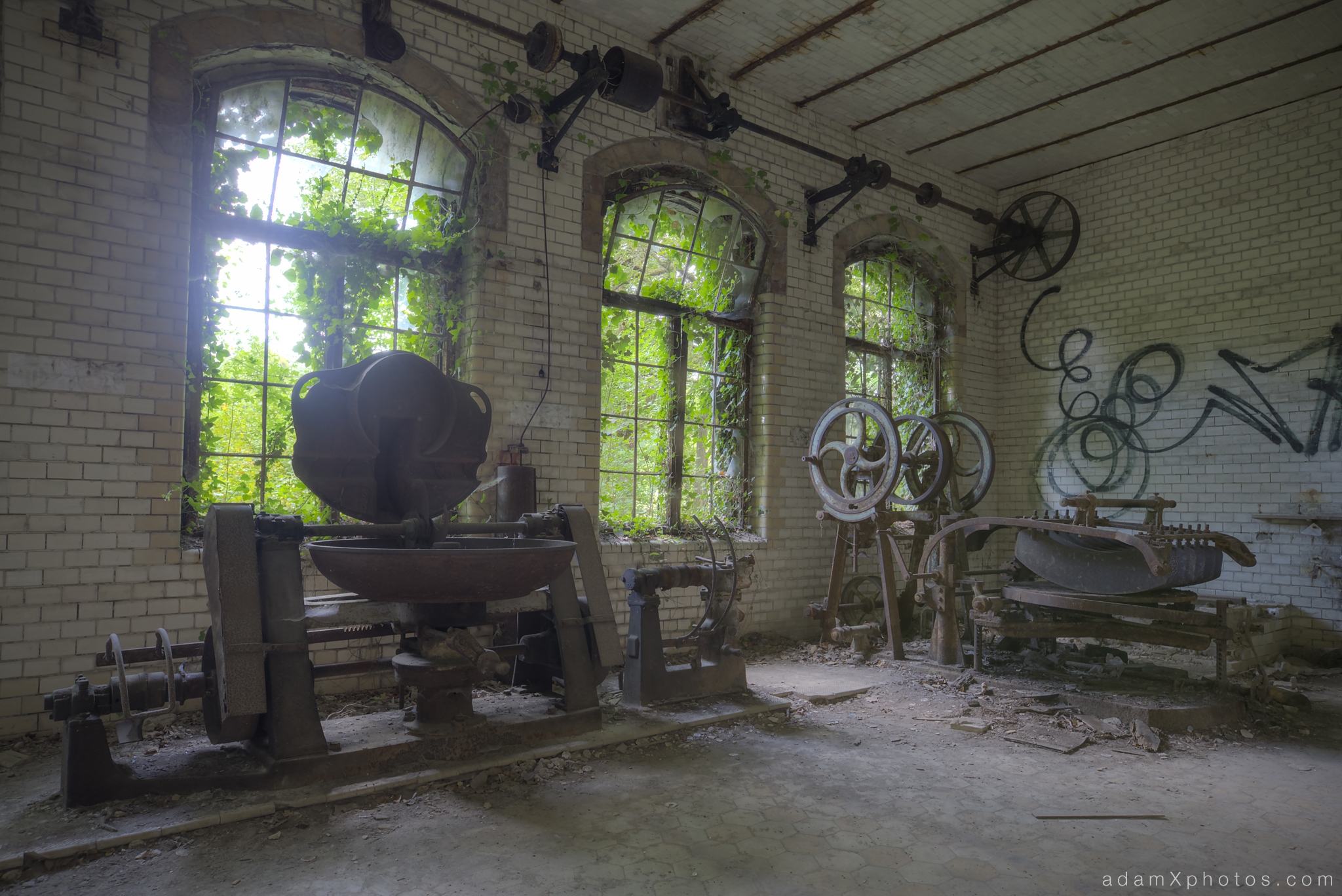 An old oven…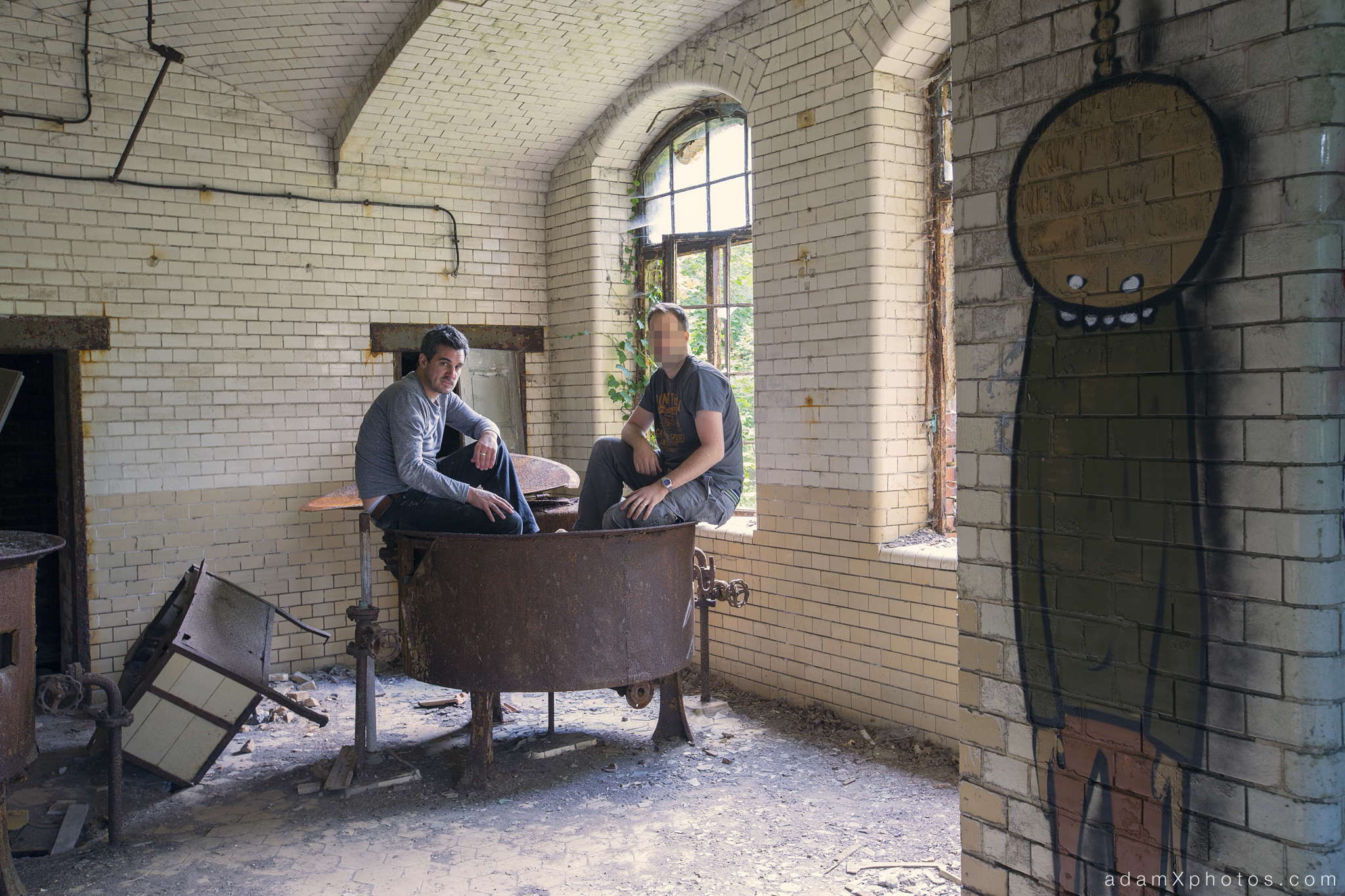 "Come over and hang out my new hot tub" he said. "There'll be loads of girls, champagne and cocaine" he said… 😉
By now we were both pretty exhausted and starving hungry, so we traced our way back through the woods to our car, and had some lunch. We then decided to have a look at the women's sanatorium and associated buildings, which I will post soon as a separate report.
Thanks for looking, I hope you enjoyed the photos and the story of the explore.
Adam X